One of the Least Visited and yet most interesting parks is Lassen Volcanic National Park. The Park itself is famous for having all different types of volcanos. Cinder Cone, Cinder Cone, Shield, Composite, and Plug Dome.
Types of Volcanos
Cinder Cone
The most thought of type of Volcano. Lava and ash is spewed from a vent and over time the volcano builds up into a circular or oval cylinder. Cinder Cone in the park one of these types of Volcanos
Shield Volcano
Shield volcanos are among the largest volcanos on earth (at least that appear as volcanos to us). Almost exclusively basalt, shield volcanos are very flat (since the lava from these are very liquid). The flatness gives them a very broad top which is characteristic of the name. Prospect Peak in the park is an example of this type of Volcano
Composite
Composite Volcanos (often also called Stratovolcanos) are volcanos with very steep sides built from alternating layers of lava, ash, cinder, and rock. The various different types of material is what gives it the name composite. Brokeoff Mountain is an example of this type.
Plug Dome
Also called Lava Dome or Volcanic Dome, Plug Dome volcanos are formed by magma erupting and then hardening and piling up around the vent from the Volcano. The Volcanos look like they have a mini volcano inside their caldera. Lassen Peak is an example of this type.
Cost
Entry fees are required for Lassen Volcanic National Park
Winter Pass – $10.00 – (Dec 1 – Apr 15) Valid 1-7 days
Vehicle Pass – $25.00 – (April 16 – Nov 30) Valid 1-7 days
Motorcycle Pass – $20.00 – Valid 1-7 days
Individual Entrance Pass – $12.00 – Valid 1 – 7 days
Annual Lassen Pass – $50
How to Get there
Address: 38050 Hwy 36 E Mineral, CA 96063
Lassen Volcanic National Park is located in Northern California close to Redding California (about 3 hrs. from Sacramento and 4 hrs from San Francisco). Driving is basically the way to go. Getting here otherwise would be difficult and expensive.
Visitors can also check out the visitors centers at:
Kohm Yah-mah-nee Visitor Center
21820 Lassen National Park Hwy Mineral, CA 96063
Loomis Museum (Summer Only)
29489 Lassen National Park Hwy Shingletown, CA 96088
There is currently no public transportation serving Lassen Volcanic National Park
Hours of Operation
The park is open 24 hrs. / 7 days a week.
Visitor centers are open from 9am to 5pm daily. Except during off season (Winter), Kohm Yah-mah-nee Visitor Center is closed on Monday/Tuesday. Loomis Museum is closed during the winter (Nov – May) and open on Friday – Sunday only (May 27 – June 12)
Winter Access
From Nov. to May access in the park is limited to the Manzanita Lake area and to the Kohm Yah-mah-nee Visitor Center due to snow and inclement weater conditions.
* * * * *
Top Places to Visit
There are a lot of interesting places to visit in Lassen (some more accessible than others)
Brokeoff Mountain
An eroded stratovolcano, Brokeoff Mountain is one of the most popular and scenic hikes in Lassen. The hike takes you through meadows and various different terrains. Hiking boots are recommended due to the difficulty and rugged terrain.
Round Trip Distance: 7.4 miles
Round Trip Time: 6 hours
Bumpass Hell
You should go here, even just for the name. Bumpass Hell is is the largest geothermically active part of the park and you will be treated to steam vents, boiling mudpots, and steaming ground.
There is a wooden walkway that leads you through the various areas of Bumpass Hell. Be sure to be careful (and stay on the path), as it is incredibly dangerous. The mudpots can also throwing boiling mud up into the air, so don't lean close to the ground.
Round Trip Distance: 3 miles
Round Trip Time: ~2hrs
Butte Lake
Located in the Northwest portion of Lassen Volcanic National Park, Butte Lake is a popular stop and campground area in the park. The lake is also the start of the trailhead for Cinder Cone.
Cinder Cone
One of the most unique and beautiful places is Cinder Cone, a dormant Cinder Cone volcano in the park. The trail is challenging as the volcanic ash and steep climb makes it easy for you to slip as you are ascending. Cinder Cone is located in the Northwest part of the park, which makes it a bit secluded from many of the other sites.
Round Trip Distance: 4 miles
Round Trip Time: 3 hours
Cold Boiling Lake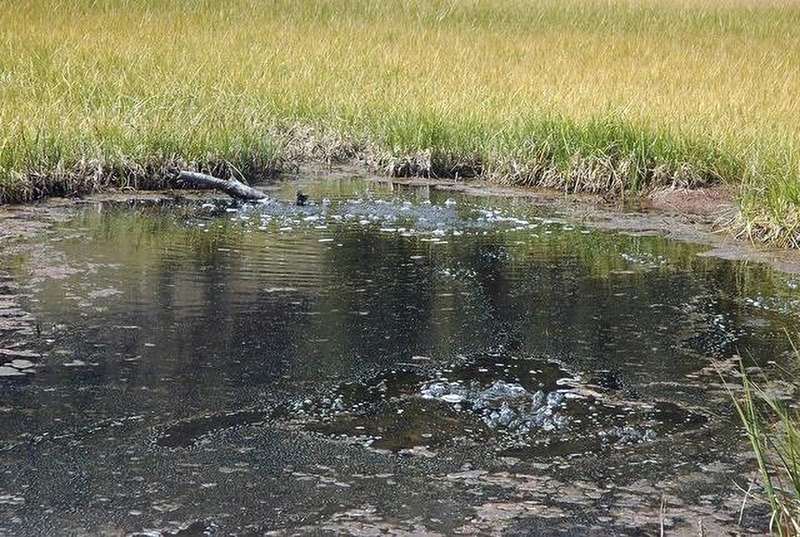 Named because of the gas bubbles that are rising near the surface of the lake. The entire area of Cold Boiling Lake is not bubbling, only a small portion to the side. Be cautious when nearby this area of the Lake.
Devils Kitchen

Another beautifully active area, Devil's kitchen gives you much of the same things you can see in some of the other areas (such as Bumpass Hell) like boiling mudpots, steam vents, and steaming ground. Devil's Kitchen is located in the Warner Valley and is the second largest hydrothermal area of the park.
Round Trip Distance: 4.2 miles
Round Trip Time: 2 hours
Lassen Peak
The park's namesake and the most recent volcano in the park to Erupt (in the early 1900s), Lassen Mountain is also the highest peak in Lassen National Park. Roads close during the winter months due to the amount of snow.
Round Trip Distance: 5 miles
Round Trip Time: 3-5 hours
Manzanita Lake
One of the most popular stops in Lassen, Manzanita lake is a beautiful irregular shaped lake with stunning views of Lassen Mountain. Manzanita Lake is also one of the few areas that are accessible in the park during the winter.
Prospect Peak
Third highest peak in the park. Prospect Peak is a good hike if you want to experience a Shield Volcano in Lassen National Park. One of the most difficult hikes in the park as well given that its mostly volcanic sand (and takes longer to get up), so similar to Cinder Cone, but far longer and more difficult.
Round Trip Distance: ~7 miles
Round Trip Time: ~4 hrs
Sulphur Works
What began as a mine owned by the Supan family, has turned into one of the most popular places to visit in the Park. The Supan family laid claim to the area for a Yellow Ochre Mine (used for paint) and so the Supan Paint Mine was born. Over time the park was able secure the deed for the area and now visitors can see one of the most geothermal areas of the park (at least that is easily accessible to visitors).
Where to Stay
Camping
Camping in the park is possible and there are a variety of campsites. Reservations are required. You can see the list of campsites and reserving here.
Hotels
Choices in the area are not great. However here are a few places nearby that are worth checking out. The closest "major" town is Redding California about 45 minutes away.
Mill Creek – Basic and simple and located close to the park.
The Village at Child's Meadow – Clean and Comfortable and only 10 miles from the park. Associated with neighboring Highlands Ranch.
Highlands Ranch Resort – The most comfortable and costly of the options nearby. The highlands ranch is beautiful (and also has a bar and restaurant).
Lassen Mineral Lodge – Rustic but clean. Located only a few miles to the park.
Other Advice
Always stay on designated trails. Especially in areas that are very active.
Mud and other areas are boiling and extremely dangerous.
Don't swim in lakes or areas that are not designated. Given the nature of the areas, some are boiling and really dangerous in spots.
Driving is required to get here and to get around.
Hikes can take longer than specified, especially in areas with volcanic ash (it takes a long time to traverse these areas)
Wear clothing you don't mind getting ruined as a lot of the ash, mud, etc. can corrode your clothing and shoes.