Maybe you are like me somehow find yourself in Fargo and wonder…
What is there to do in Fargo ND?
You know, I probably had some biases of the place, having only really known about from a movie of the same name (that actually takes places mostly in Minnesota).
So I like you are probably wondering how can I make the most of my time. I will have to say, Fargo is great. I had an amazing time exploring the area and I want to help you do as well.
These 8 Great are a series of posts from around the World. Here I try to narrow down the Best Things to Do in Fargo for all ages. Hope you Enjoy and it helps your trip planning.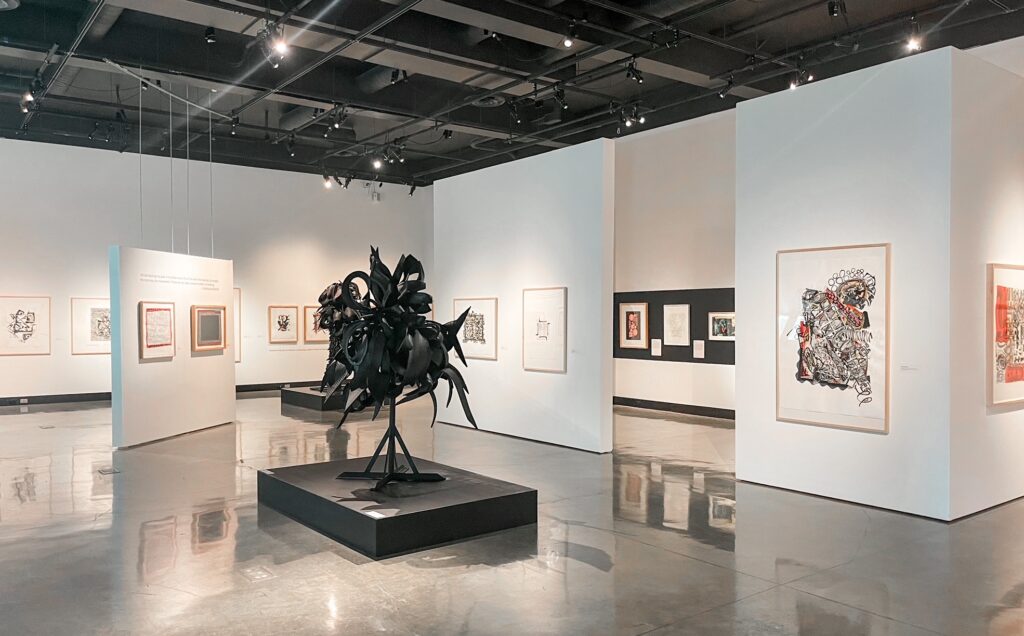 Plains Arts Museum
Address: 704 1st Ave N, Fargo, ND 58102
Hours: 10am – 5pm Mon. – Wed., Sat. 10am – 9pm Thur.; Closed Sunday
Price: Free
Website: Plains Arts Museum
Founded in 1965, the Plains Arts Museum hosts artwork from various traditional, tribal, and contemporary art styles. The Museum has a permanent collection of approx. 4,000 works and a rolling collection from other various institutions as well. The museum is huge, with 56,000 of space in the primary building and a skybridge connecting to the Katherine Kilbourne Burgum Center for Creativity with 25,500 additional sq. feet.
You could definitely spend a few hours and even if you are pressed for time it is worth a look around at some of the amazing artwork.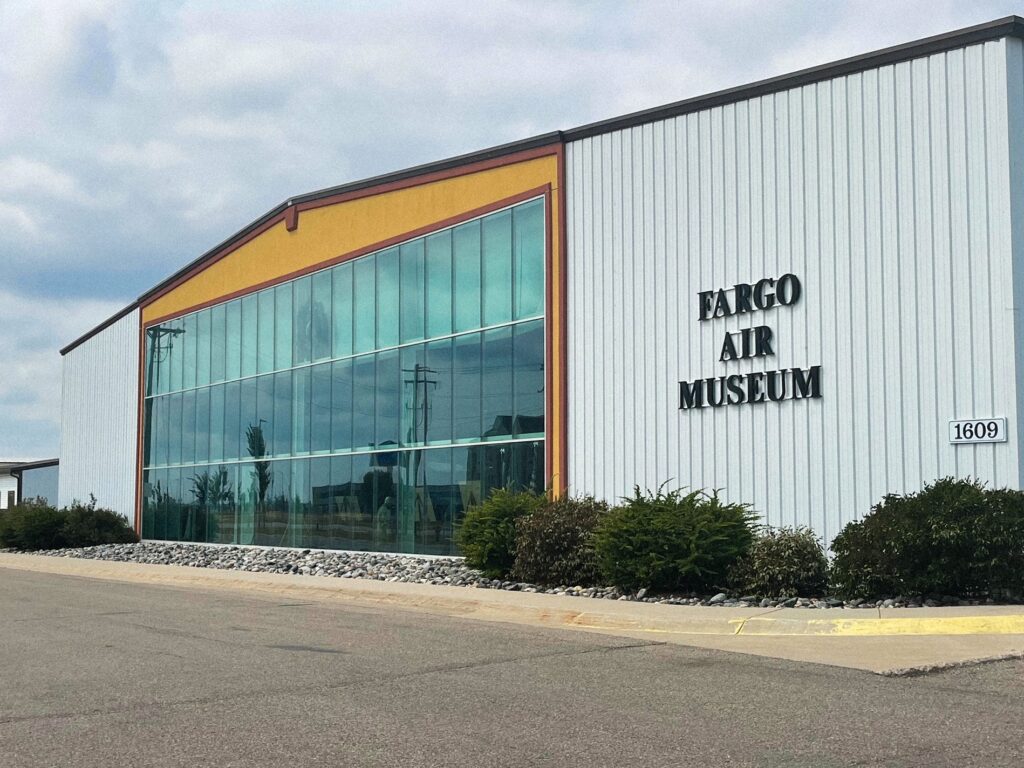 Fargo Air Museum
Address: 1609 19th Ave N, Fargo, ND 58102
Hours: 10am – 5pm Tues – Sat; 10am – 1pm Sun; Closed Monday
Price: Adult (12+): $10; Student/Military/Veteran/Senior: – $8; Child (5 – 11) – $6; Under 5 Free
Website: Fargo Air Museum
I'm a pretty big aerospace buff, so I love Air Museums and Air shows around the world. Started in 2001, Fargo Air Museum houses a good collection of civilian and military aircraft, the majority of which can still fly. They also restore aircraft and host various educational and other events at their facility. Definitely worth checking out if you love planes and great for kids as well.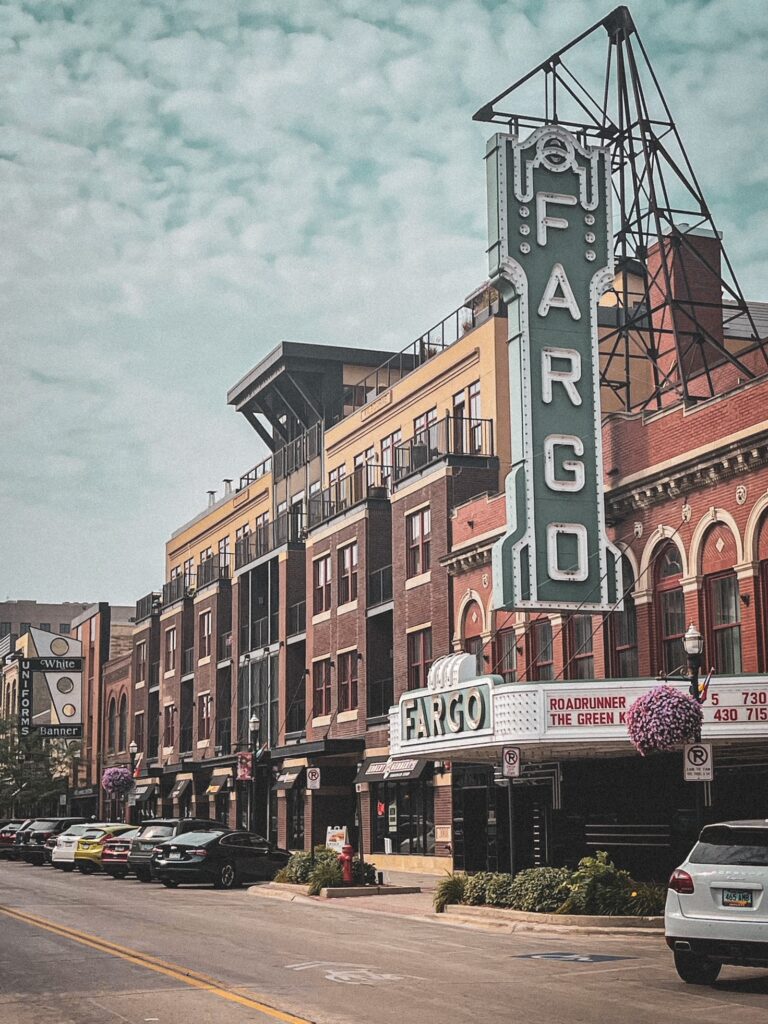 Wander Downtown and Fargo Theatre
Price: Free (or if $ if you go to the theater or cafes)
Website: Fargo Theatre Website
Address (Theatre): 314 Broadway N #4715, Fargo, ND 58102
Downtown Fargo is definitely a pretty cool place with interesting shops and awesome cafes. Be sure to also check out the Fargo Theatre, especially the iconic sign that is on the outside of the theatre as well.
The theatre shows movies as well as other events including plays, ballets and music. The theatre website is the spot to check out for the latest showings.
Regardless wandering is easy in Fargo, the downtown is very manageable and has some cool buildings and it's pretty unlikely you'll get lost (unless you want to).
Eating Great Food
Address (Luna): 1545 S University Dr, Fargo, ND 58103
Website: Luna Restaurant
Address (Nichole's Fine Pastry & Café): 13 8th St S, Fargo, ND 58103
Website: Nichole's Café
Living in New York City tends to bias me and often wrongly. I would say the food scene in Fargo was awesome. I found lots of local specialties on sale from bake goods, to sodas, candies, treats. Great restaurants as well. My favorite was Luna Restaurant, which looks super unassuming from the outside but the food was stellar. What started as a coffee shop turned into a phenomenal farm-to-table spot. Great coffees abound in the town and you won't wont for much in your time. From tacos, to steaks, to pastries (Nichole's was a top choice), Fargo has a lot to offer.
---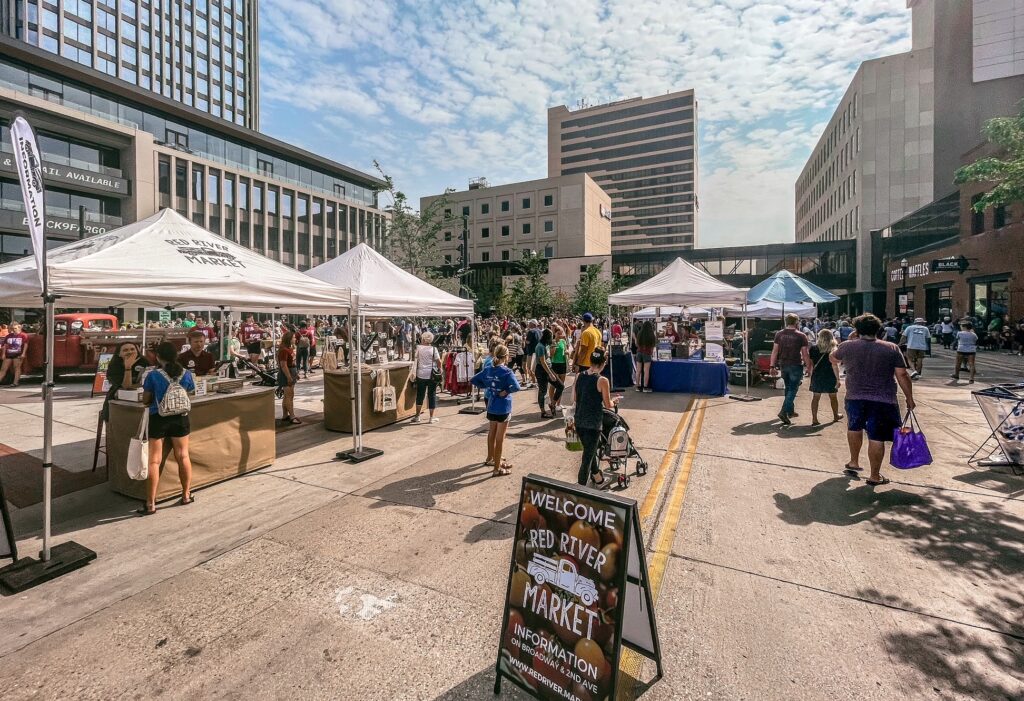 Red River Market
Address: 201 Broadway N, Fargo, ND 58102
Hours: Saturdays 10am – 2pm, July – October
Price: Free
Website: Red River Market
One of the favorite things I got to do in Fargo was explore the downtown Red River Farmer's Market. The market had an amazing selection of food and local goods from North Dakota. I really loved sampling the various local foods and beverages and even brought several bottles of delicious local soda Flannel Fizz along on my road trip.
Generally open during the summer only they do have some Spring Market Days as well. Be sure to check their website for more information. There are even various live performances at the market.
Hjemkomst Center
Address: 202 1st Ave N, Moorhead, MN 56560
Hours: 9am – 5pm Mon – Sat; 12pm – 5pm Sun
Price: Adult $10; Seniors|Students: $9; Youth (Ages 5-17): $8; Under 4 Free
Website: Historical & Cultural Society of Clay County
There's a deep Scandinavian History in the Northern Plains area such as Fargo as well as nearby Minnesota. The Hjemkomst Center in Moorhead MN preserves both this working Viking ship as well as a beautiful Stave church that can be seen on the grounds. The history and the story behind the ship, built by a man from the area and then sailed from the Duluth Minnesota (through the Great Lakes) to Bergen Norway. The motley crew of folks who sailed and their story is fascinating to read about and while the man who dreamed it up did not live to make the journey his family did.
Find the Painted Bison
Price: Free
Website: Fargo Moorhead Bison Map
When I saw this particular Bison in front of the library, I soon learned that there are actually 20 of these hidden around the city. You can find a map of the Bison in the nearby library, or you can do it as a scavenger hunt type thing. It's fun to see all the different patterns. You can find a map on the Moorhead Website or get a map in town.
Be Part of a Postcard
Address: Roberts Street & 1st Avenue, Fargo ND
I'm sure these photos are in a lot of towns. However, I and a lot of others I saw passing it loved taking photos and my family loved receiving a photo of me in front of the Greetings from Fargo ND sign. Definitely worth checking out and sending your own "Postcard" home.
The Address on Google is slightly off. The Mural is on Roberts Street a bit north of 1st.
Other Practical Information
Where to Stay in Fargo
Radisson Blu Fargo
In terms of Location nothing beats it with it's prime spot in Downtown Fargo. Perfect location for exploring the town and having a way to just pop in to rest up. Great especially for the Red River Market that is located next to it on Saturdays.
Nice room, good service, and very clean. Pricier than most other options however. [Check Radisson Blu Prices]
Holiday Inn Express Fargo – West Acres
The prices and hotels get cheaper in West Fargo and certainly you can get some decent hotels for a decent price. The Holiday Inn Express isn't close to the action but Fargo TBH isn't that big and the hotel is reasonably priced and quite clean. Plus a good option for IHG rewards members. [Check Holiday Inn Fargo Prices]
Getting to Fargo ND
Fargo is located in Southeastern North Dakota at the intersection of I-94 and I-29.
By Car
Approximately 3.5 hrs. from Minneapolis, MN via I-94W
Approximately 3 hrs. from Bismarck, ND via I-94E
Approximately 3 hrs. from Sioux Falls SD via I-29N
By Air
The Closest Airport to Fargo is Hector International Airport (FAR). Direct flights include, Los Angeles, Phoenix, Dallas, Orlando, Chicago, and Denver.
Frontier, United, Delta, American, and Allegiant all fly from the airport.
By Train
Fargo is serviced by train via Amtrak. Trains arrive via Grand Forks ND or Detroit Lakes MN and can travel as far as Washington State or Chicago and continue on via connections.
By Bus
Several bus companies service Fargo ND. Including Greyhound where you can connect to Fargo from many further destinations east and west. TBH it's not the most convenient of the options but probably cheaper than most others.
Other Things to Check out near Fargo / North Dakota
There are a lot of other cool things to do in the area around Fargo and in North Dakota in General. Some much check out things.