There are 5 National Park Service Units within the state of Nebraska. While there are none of the 63 "National Parks" within Nebraska, there are several incredible sites including National Monuments, a National Historic Site, National Scenic River, and National Recreation Area.
In addition to the 5 NPS Units, there are 5 additional National Trails that cross through the state as well. National Trails generally have multiple administrators for these special routes.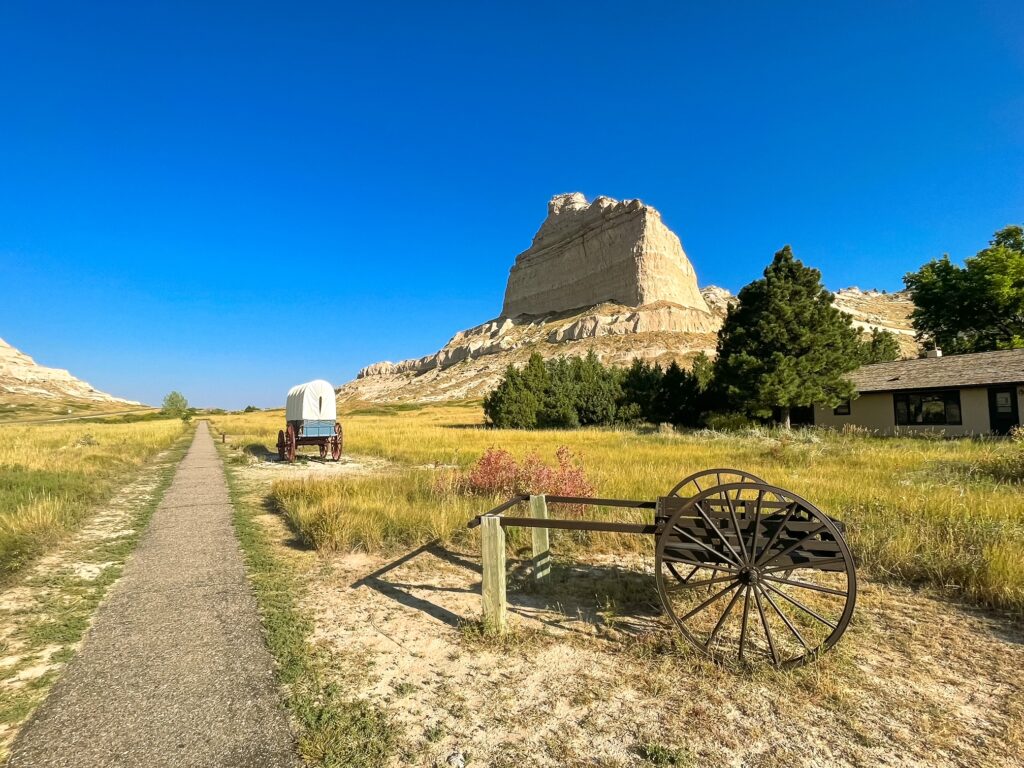 National Monuments in Nebraska
National Monuments are in some ways similar to their big brother National Parks, however tend to protect a greater diversity of places many of which are historical, cultural, or of scientific interest. Additionally, while most National Monuments are administered by the National Park Service, they can be administered by other agencies as well.
The two in Nebraska are maintained and operated by the National Park Service and protect lands that have scientific and cultural importance.
Established in 1997, Agate Fossil Beds NM protects important fossil sites within the state of Nebraska. These sites are some of the most significant fossil quarries for ancient mammals found in this region of the world.
Among the fossils found here include early horse ancestors (Miohippus, Merychippus and Parahippus), a two horned Rhinoceros, a giraffe like camelid, several antelopes, and a large pig. There's several hiking trails as well through the site to experience and learn about some of these sites, where they were found, including the Daemonelix Trail which has incredible fossils from the Paleocastor, an ancient beaver relative.
Read More: Check out our Guide to Agate Fossil Beds NM
Established in 1919, the Scotts Bluff NM protects one of the most important landmarks of several westward trails (Oregon Trail, California Trail, and Pony Express Trail). The bluff was an important landmark for those traveling, they often would use it as a guide point for the trail, a place to rest, and an important place to share and exchange news with travelers.
The bluff was also an important landmark for native tribes as well and there's history of tribal movement through the area for generations prior to European settlements. Named for Hiram Scott (who worked and died near the monument), the bluffs (there are actually two) were points that wagons would travel between on their journeys.
Read More: Explore more in our Guide to Scott's Bluff National Monument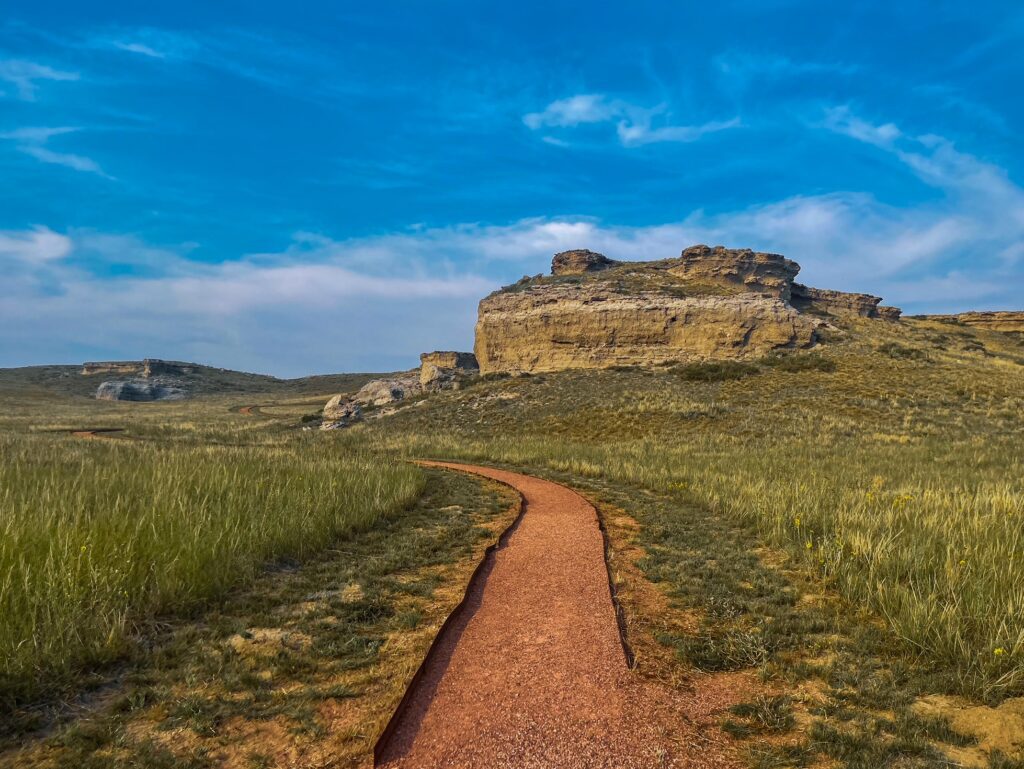 Other National Parks in Nebraska
Beyond the National Monuments there are three other National Park Units within Nevada. These Include a Historic Site, a National Recreation Area, and a National Scenic River.
Homestead National Historic Site
Established in 2021 (1936 as a National Monument), the Homestead National Historic Site traces the history of settlement and homesteading in the Midwest and west. The Homestead Act of 1862 transformed the country, and over time nearly 10% of the United States was settled due to Homesteading. Homesteaders created farms, settlements, towns, industrial areas in the continuous settlement and construction of the United States.
The Homestead Act allowed qualified persons (generally white) to claim up to 160 acres if they settled or 5 years and cultivated/improved the land. Over time over 270 million acres were claimed through Homesteading. The impact had a lasting change on the culture and landscape of the American West.
The Site contains exhibits on the settlers, landscape, impact on native populations, and more. There's historic structures and places you can visit, areas of native tall-grass, a film, learning center and more to explore at the Historic Site.
Missouri National Recreation Area
The National Park contains two free-flowing sections of the Missouri River. Although given that it's dammed in other areas, I'm not sure how specifically free-flowing it can be.
However, the Recreation Area tries to bring alive the imagination of the flowing rivers of America and allows you to be in some ways transported back in time. Established in 1978, the Recreation Area protects over 33,000 acres of river and adjoining land and protects a 59 mile stretch of river between Gavin's Point Dam and Ponca State Park. This area is also parts of the Lewis & Clark National Historic Trail as well.
There are an abundance of activities to do in the Recreation Area as well. Popular activities include fishing, boating, hiking, camping, wildlife viewing, and visiting several of the islands within these areas of the river. Popular points of interest include Goat Island, Spirit Mound Prairie, Gavin's Point Dam, Lewis and Clark Lake, and Fort Randal.
Niobrara National Scenic River
Protecting over 76 miles of the Niobrara River, this National Park Unit preserves the important flora, fauna, and history of this incredible landscape. Designated as a National Scenic River in 1991, the area has become an important place to protect rare plant species that tend to have been lost in many other areas around the park as well. In addition the park protects important fossil areas and history of native cultures that lived through these lands.
These days there's lots to do in the park. Boating is very popular with kayaking, tubing, and canoeing being incredibly popular on the river. There's also many hiking trails in the area, with access to several waterfalls that can be found along the river. Additionally, several bridges span the river as well with 6 that are considered historic! Popular hiking/biking trails include the Cowboy Trail which follows an old rail (rail-to-trail conversion) and even crosses an old rail bridge across the scenic river as well.
Note: Many bikers bring replacement tubes as areas of the Cowboy and other trails have sandburs known to puncture tires and replacement tubes may be limited locally.
National Trails
National Trails are trails that often span across states for various geological or historical nature. Five of these trails transit through Nebraska. These trails are national park service administered (with cancellation stamps) but are so diverse and connect across various parks and other sites that its not necessarily just one spot to visit. Some of the other National Park Sites are along the trails as well.
California National Historic Trail
California National Historic Trail covers over 5,000 miles of trail (over several branches) and traces the historic emigrants who traveled across the west in search of rich farmland and gold. The trail itself hits portions of 10 different states across the west. Among sites to see in Nebraska include, The Archway, Susan Hail Grave, Scotts Bluff, Oak Grove Station, among others. [ CA CO ID KS MO NE NV OR UT WY ]
Lewis and Clark National Historic Trail
The Lewis and Clark National Historical Trail runs about 4,900 miles from Pittsburgh Pennsylvania to Astoria Oregon. Along the trail you can visit quite a few National and State Park sites that comprised the journey of the Corps of Discovery. It follows the historical trail of the Corps as well as the preparatory sections between Pennsylvania and Illinois. Sites within Nebraska include Old Baldy, Niobrara/Missouri Confluence, Several Visitor Centers, Blackbird Hill, and more. [ IA ID IL IN KS KY MO MT NE ND OH PA SD WA WV ]
Mormon Pioneer National Historic Trail
The National Trail covers over 1,300 miles from Illinois to Utah and traces the route that members of The Church of Jesus Christ of Latter-day Saints after leaving Illinois and settling in Utah. Mormons fled Nauvoo Illinois after a mob jailed and killed Joseph Smith and his brother Hyrum. In March 1846, over 500 Mormon Wagons departed Illinois under the leadership of Brigham Young. The trip took approximately 3 months for the journey. Nebraska sites include The Archway, Stuhr Museum, Rebecca Winters' Grave, Fort Kearny, Chimney Rock, and more. [ IL IA NE UT WY ]
Oregon National Historic Trail
One of if not THE most famous of America's historic trails. The Oregon trail follows more than 2,000 miles and cross states from it's start in Independence Missouri through it's terminus in Astoria Oregon. There are an incredible amount of places to visit along the trail including several other National Park units. Within Nebraska the trail has important sites at Scott's Bluff, Rachel E. Pattison Grave, O'Fallon's Bluff, Murdock Wagon Ruts, along with several more. [ ID KS MO NE OR WA WY ]
Pony Express National Historic Trail
One of the most ingenious ideas in America, the Pony Express brought mail from Missouri to California (over 1,800 mile) in 10 days! Young men would ride and drop mail bags for other men to take and continue on the journey on. The service itself only lasted about 18 months, but the legend still enthralls Americans to this day.
The trail cuts through Nebraska with places of interest such as The Archway, Susan Hail Grave, Scotts Bluff, Fort Kearny, and more. [ CA CO KS MO NE NV UT WY ]
Check out Nearby States National Park Sites
Colorado | Kansas | Wyoming | South Dakota | Iowa | Missouri