Unlike what most people think the mountains are not the entire state, Colorado Rockies are it's most iconic aspect. The mountain towns that dot the landscape across the state are destinations in and of themselves. Many of them are also great ski towns, so if that's your sport of choice there's so many to check out. If you are planning your trip to Colorado, here's our list of best mountains towns in Colorado to check out!
---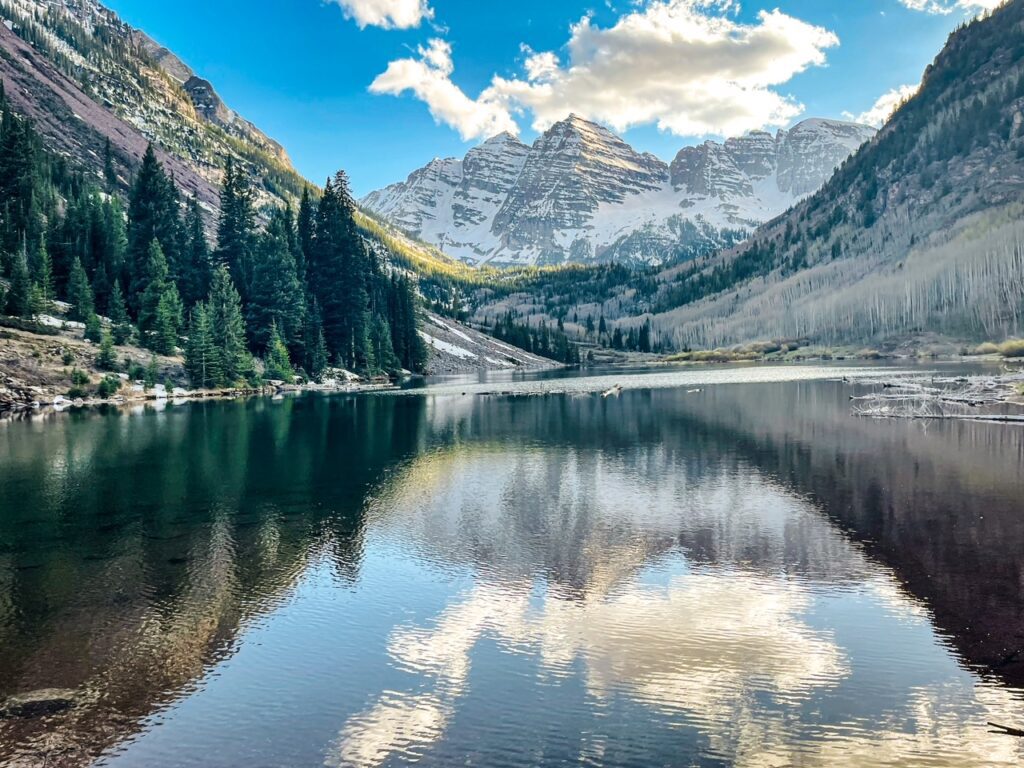 Aspen
One of the most famous towns in Colorado, is that way for a reason. It's known as the playground of the rich, and you can see why with the iconic nature that surrounds this town. The most famous of which is the ski area, Aspen-Snowmass which is actually several different peaks that make up this very large area. It is one of the best ski areas in the world for a reason. Beyond that explore one of my favorite mountain town downtowns with its very walkable center and lovely streets. You won't get lost with its size but you'll want to stay longer for sure.
Must Do: Check out the famous ski area and of course the postcard perfect Maroon Bells (literally the poster for Colorado tourism). You can also explore several nearby ghost towns, some do require a 4WD though.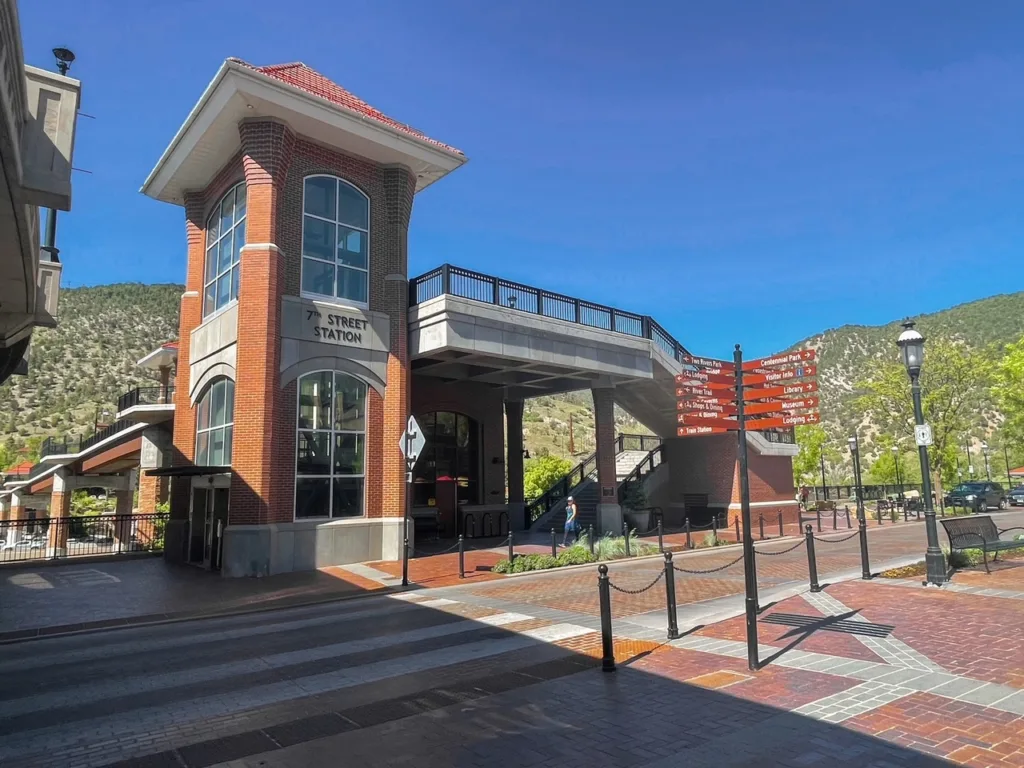 Glenwood Springs
One of my favorite little towns , Glenwood Springs is named for the lovely hot springs that are in this town. You should be sure to visit these hot springs, but its definitely not the only thing in town! There's a lot to explore, including the cute downtown area with great restaurants and shops. It's also connected to Denver and Grand Junction via Amtrak, so you can explore even without a car!
Glenwood Springs also is a great option to stay for exploring nearby more expensive towns like Aspen.
Must Do: Be sure to check out the hot springs in town, the resort has been welcoming people for over 130 years! For those with interest in the old west, you can find Doc Hollidays in the Linwood Cemetery.
Fraser
The small town of Fraser was a hard one for me to choose. But I had to as I find myself out here quite often in both the winter and summer. The town is most known for its proximity to Winter Park ski area. The town is also close to lots of great outdoor activities beyond skiing and boarding, from snowshoeing, rafting, hiking, biking, and fishing. It's also about 40 minute drive from Grand Lake on the West Entrance of Rocky Mountain National Park. The town is small, with a small downtown, but several good restaurants, friendly foods, and an overall chill vibe.
Note: You can also get to Winter Park by train, although the schedule can be a bit annoying, but its a great option for those who don't want to drive.
Must Do: Take some time to go ski Winter Park, in particular the Mary Jane section, with its great trails and smaller crowds. Explore the area by bike or head up north a bit and get some time rafting on the Colorado River.
Avoid: Don't drive from Denver in the winter during inclement weather without snow tires or chains. The drive is quite windy and can be very slick and slippery in the winter.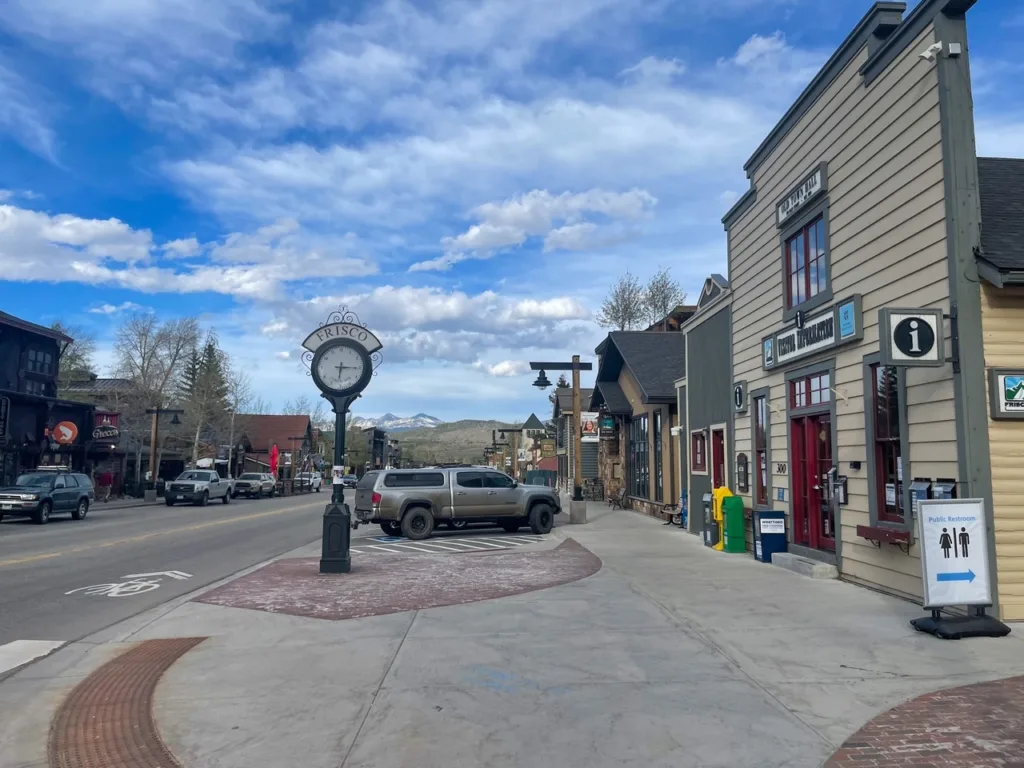 Frisco
Frisco is part of a set of towns (along with Dillon and Silverthorne) in Summit County around the Dillon Reservoir. While any of them are basically similar in terms of location in where to stay, the reason I picked Frisco is it's cute main street, with some great restaurant options. I find it definitely among the more charming settings. The various peaks that you can see around the town are especially beautiful and even more so covered in snow. It's also great if you need to shop for groceries or other conveniences as there' lots of options between the nearby towns. It's also cheaper to stay if you are planning on visiting Vail, Breckenridge, or Beaver Creek.
Must Do: Be sure to check out the great ski areas local to the area. You can paddleboard on the reservoir, or hike buffalo mountain. You can also get some great views from up on Sapphire Point. If you do go to Silverthorne I also recommend checking out the food hall, Bluebird Market.
Telluride
The former mining town is definitely one of the most beautiful and lovely places to experience. It has a great old west charm with its beautiful downtown and it's natural surroundings. The town is also located far from where most people arrive in Colorado, as its about 6 hours from Denver, making it more of a destination than a stop.
The town has a lot in the area, and you can use it as a jumping off point for other spots like Ouray, Durango, and Black Canyon of the Gunnison. The town and area is beautiful all year round.
Must Do: Be sure to check out Telluride Ski Resort, which is known for its high altitude and expert terrain. If you are there at the right time of year, the town comes alive for the annual Telluride Film Festival.
Durango
For those folks who are not from Colorado or the neighboring states, Durango may seem to be very unknown. But the town has lovely charm, friendly folks, and a plethora of activities to do in the area. The town is a perfect jumping off point for Mesa Verde National Park as well as some incredible monuments such as Canyon of the Ancients, Hovenweep, and Aztec Ruins. The nearby National Forests have plenty of places to hike, bike, camp, snowmobile and just get away to stunning nature. The local Hesperus Ski Area is small and rustic, or you can find plenty of spots to do cross country skiing.
Must Do: Spend time in viewing the cliff dwellings at Mesa Verde NP, but also be sure to check out Canyon of the Ancients NM. The highest concentration of Pueblo artifacts in the country. Also the local hot springs is a nice place to relax and recently renovated too.
Avoid: You can probably skip Yucca House NM and Four Corners. The earlier has little you can see, and the latter really isn't worth the visit.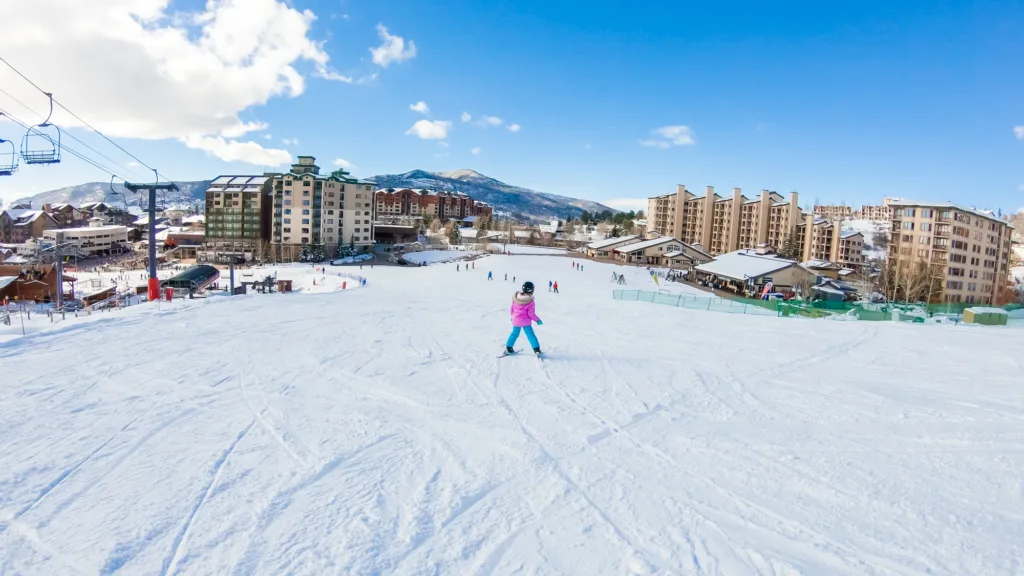 Steamboat Springs
Steamboat is one of my favorite towns and ski areas in Colorado. Located about 3-4 hours from Denver or Fort Collins, the mountain town is more of a destination you have to make plans for. It's got a beautiful rustic old town feel, and one of the liveliest downtown mountain towns I know. It's really gives you a feeling of the old west.
And given that the mountain requires longer drives from Denver, you'll often see fewer crowds than the close to Denver resorts. For those looking to travel to Steamboat Springs, there's also options to fly into Hayden which is a short drive from Steamboat. Definitely better than the drive from Denver if you can avoid it.
Must Do: Be sure to check out Steamboat Springs Resort for skiing or Mountain Biking. Also, there are several hot springs in the area, including the well known Strawberry Hot Springs. The road is rough to the springs but you can also book a shuttle. It's great at night after a day of skiing.
Crested Butte
Crested Butte is one of my favorite mountain and ski towns. It's got some incredible terrain, a cute little downtown strip and miles and miles of just natural beautiful. The town with its iconic peak makes you really think mountain town when you are there. Located in the Gunnison Valley in the heart of the rockies, you'll be surround by gorgeous aspens, flowers, and miles of hiking, biking, off-road, and cross country skiing trails. The town also tends to be cheaper than some of its skiing neighbors like Aspen.
The town is a bit trickier to get to, the local Gunnison-Crested Butte Airport does not nearly have as much service as Denver, Colorado Springs, or Grand Junction which are all several hour drive from the town. But this is also a benefit as it tends to limit crowds.
Must Do: Take a day or more and ski the beautiful Crested Butte Resort, one of the most lovely mountains I've seen for sure. And if you are there in the summer, the wildflower festival is a must!
Buena Vista
The town of Buena Vista is a charming little hamlet in the Arkansas River Valley in among the Rocky Mountains. The town is known for its great outdoor adventure activities. You won't have the downhill resorts of other towns but you'll have plenty of winter activities to do. There's lots of snowmobiling, snowshoeing and cross-country skiing in the area.
But in other seasons the town really comes alive. It's most well known for its mountain biking, hiking, kayaking, rafting, and climbing. It's a particularly great spot for those looking to hit some Colorado 14ers as several are in the area.
The town also has some cool restaurants, bars, and shops to check out for when you are not sending it.
Must Do: Reserve early with the various outfits for rafting and kayaking. And start early if you are planning to hike any of the 8 "collegiate" peaks.
Pagosa Springs
Located in Southwestern Colorado, Pagosa Springs is a hidden gem for those who don't live in the area. It's known for it's beautiful mountain views and passes and of course Wolf Creek Ski Resort, which generally has the earliest start of any resort in Colorado. There's so much to do in the San Juan Mountains that surround the town, from hiking, biking, snow shoeing, fishing, rafting, and more. It's also famous for its hot springs, in particular the mother springs, the deepest in the world.
After all that, enjoy the small downtown and vibes of the town with some cool cafes, art studios, and shops.
Must Do: While it's not on the major passes, get some days in at Wolf Creek, the snowiest resort in Colorado. Also check out the hot springs, some of the best and deepest in the world.
Avoid: Not so much avoid, but it's important to know there are free hot springs in town. You can go nearby some of the resorts and enjoy the springs for free.
Manitou Springs
A Suburb of Colorado Springs, Manitou Springs has some of the best sites in the area. It is the location of the train to Pike's Peak, the Manitou Steps, Cave of the Winds, and Manitou Cliff Dwellings! Its also got some great places to stay and restaurants. I love the cute little downtown area in Manitou Springs with some great little shops and restaurants to explore. Note: parking can be difficult, as there's little free parking and most are limited in time.
Must Do: Take the cogway to the top of Pike's Peak, explore the Cave of the Winds, Manitou Cliff Dwellings (there are combo passes available or a coupon), and the try your stamina at the Manitou Incline. Reserve your free ticket online for the incline.
Avoid: Don't attempt the Manitou Incline outside of scheduled hours (6am – 6pm). It's not allowed and it affects the neighbors in the area. Don't ruin it for everyone.
Breckenridge
Located about 1.5 hours from Denver, Breckenridge is most known for its ski area of the same name. However, unlike some of the other ski towns, its one of the best places to explore and stay in the area. The old mining town is now a posh location for great food, world class skiing, and great nature to explore. In the winter everything revolves around skiing, but in the summer, the town comes alive as well with lovely streets to walk, great restaurants, and no shortage of great nature to explore. Hiking, Mountain Biking, and climbing are all in abundance in the town and surrounding national forest. It's got a cute downtown strip with lots of great shops, which is one of the reasons its a must visit in my book.
Must Do: Go Skiing at Breckenridge. Be sure to spend some time on Peak 6 (my favorite area and generally less crowded). Check out the local Nordic center for cross-country skiing. Explore the beautiful and historic downtown and take a tour of the local country boy mine.
Avoid: Avoid Holiday weekends in the winter. Prices and crowds are just crazy. Go mid-week if you can or shoulder season (spring).
Estes Park
The Gateway to Rocky Mountain National Park and one of the most beautiful towns in Colorado, Estes Park is a must for any visitors to Colorado. You should definitely go to Rocky Mountain NP at least once on a trip through Colorado and Estes Park makes a great place to stay as well as a great destination. The town is known for its beautiful outdoor adventures including rock climbing, via ferrata, mountain biking and more. There's also some great little restaurants to check out in town as well.
Must Do: Explore Rocky Mountain National Park, the Stanley Hotel, Estes Park Aerial Tramway, drive the Peak to Peak scenic byway.
Avoid: Don't be stuck without your Rocky Mountain NP Time Ticket. Be sure to reserve your entry ticket for Rocky Mountain NP before you arrive!
Other Posts to Explore