Visiting the Nazca Lines in Peru is one of the highlights of a trip through the South American Country. Viewing the lines require getting some serious altitude as the lines are so large along the desert landscape. Their are dozens of lines and hundreds of related markings so seeing all of them won't happen. But it's really not necessary as seeing quite a few will still inspire you and have you in awe of the ancients.
What are the Nazca Lines
The Nazca Lines are a group of geoglyphs located in the Nazca Desert in Southern Peru. Created by the Nazca people, the geoglyphs are both shapes of people and animals as well as small and very long geographical shapes. Quite a few of the lines, stretch for miles in various directions.
There were hundreds of shapes created by the people over about 1000 years (from 500 BC – 500 CE) during two primary periods; the Paracas Period and Nazca Period. While many of the lines have been discovered, there are actually still more being discovered to this day. Especially ones that have faded and require special equipment to see.
The vast majority of the lines need to be seen from air. Actually to truly appreciate them you need to see them from high elevation for the shapes and scale to really be understood.
Where are the Nazca Lines Located
The Nazca Lines are Located in Southern Peru, about 7 hours south of Lima and 2.5 hours south of Ica, Peru. The lines are located in the a desert area of Peru, which is one of the reasons that the lines have been so well preserved from the elements and time.
Methods to Seeing the Nazca Lines
The Nazca lines by the principle of them being large drawings in the desert, require elevation to see them properly. For that reason, viewing the lines are either done by flight, or from a higher building. The two ways most people can see them are either from the Nazca viewing Tower located on the route south into Nazca city, or from a flight from Nazca airport.
Nazca Observation Tower
Location: Route 1 South | Price: 6 Soles
For those who are unwilling, unable, or rather not do the Nazca Flight. The Nazca Tower is the "next best" thing to do to view the Nazca Lines. The nearly several story tall building gives you an ok view of several of the Nazca lines. It requires you to be able to walk up several flights of stairs if that's a concern for you.
The price of the tower, 6 soles, needs to be paid at a small booth next to the tower.
From our bus several folks only did the Nazca tower. For those on the way somewhere else who don't want to spend or deal with the flight. it's worth getting the chance to see some of the lines.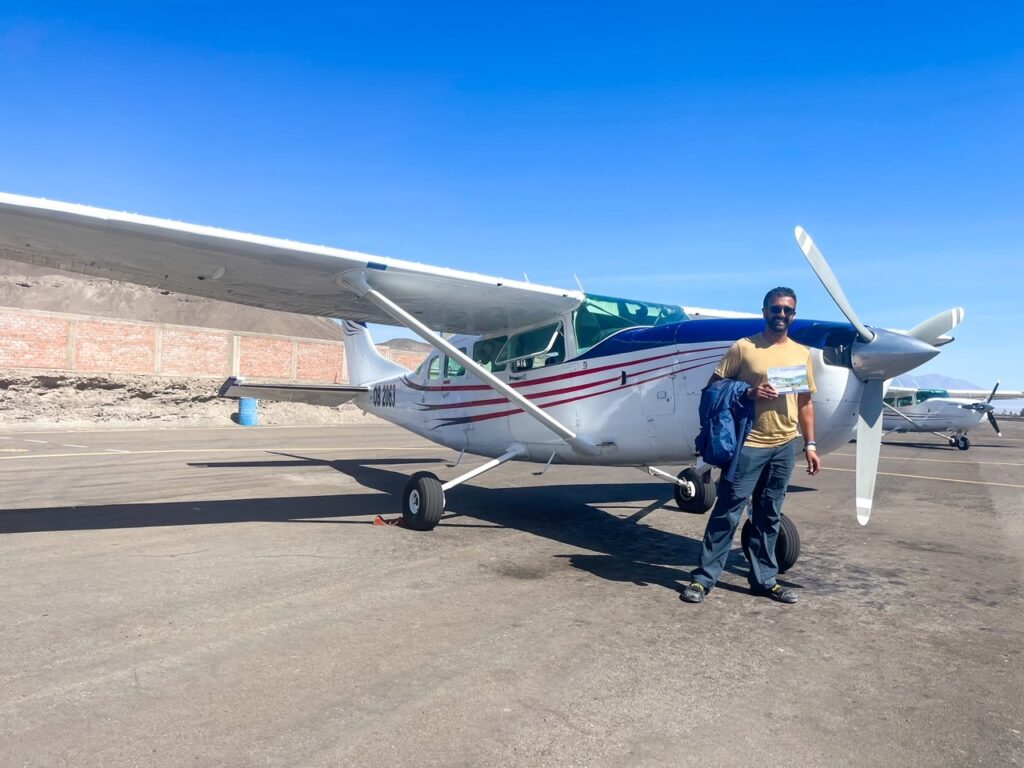 Nazca Flights
Location: Nazca Airport | Price: $60-100 (USD)
By far the best way to see the lines (but also the most expensive), is the Nazca flights. The airport in many ways caters specifically to people doing Nazca overflights. There are also so many different options for flying, so you'll likely have the ability to even book on site. This will save you money likely, but also you'll need extra time as flights may not be available exactly when you arrive.
The flights are in small Cessna planes usually about 6 – 8 people per plane. The planes need to turn far to the right or left side to allow you to "look down" on the lines. Do note if you tend to get motion sick, as many people find that this motion increases the feeling.
Flights last about 30 minutes. For the most part each airline offers similar experience. Although some do offer more lines than others. You can shop around if you are in person. If you are booking as part of a tour, you'll still likely get a great experience.
What's it Like to Fly over the Nazca Lines
You'll be seated in the airplane by weight. They will weigh you prior to boarding the plane and they will need to balance the plane prior to take-off. Each of the flights takes off from the runway behind the airport.
You'll each be given a headset and seated on one-side of the small airplane. They'll generally hand you a guide on which lines you'll see and in what order. If you are lucky they'll even add in a few extra ones during the flight.
The flight path takes you through each of the lines and often will go through the most famous ones so that folks on either side of the plane will get a view "looking down". They tend to advise you not to look at the other side of the plane when it turns that way (to reduce motion sickness). I don't get sick (or at least haven't yet) so I was bad at heading that.
Flights last about 30 minutes and come back over the aqueducts which are also a cool site (and one you can also visit separately from the flight).
Note the areas of most of the lines are off-limits for traveling on by foot. You can't see them well from land anyway, and walking on the lines will damage them.
More Tips for Seeing the Nazca Lines
If you are short on time or just passing through Nazca. It's worth doing the Observation Tower. Many buses stop, so check if yours does
If you are flying. Be sure to have Cash. As you'll need to pay the taxes at the Nazca Airport prior to your flight.
Be sure to take any medication or precautions for motion sickness. It's a small plane with a lot of side-to-side movement. Many people get motion sick.
Flights can have a significant range of prices even if most tours are similar. Prices range from about 50-100 depending on when and where you book. You'll save more booking in person in Nazca and can maybe even get a cheaper flight (if you can join an existing one).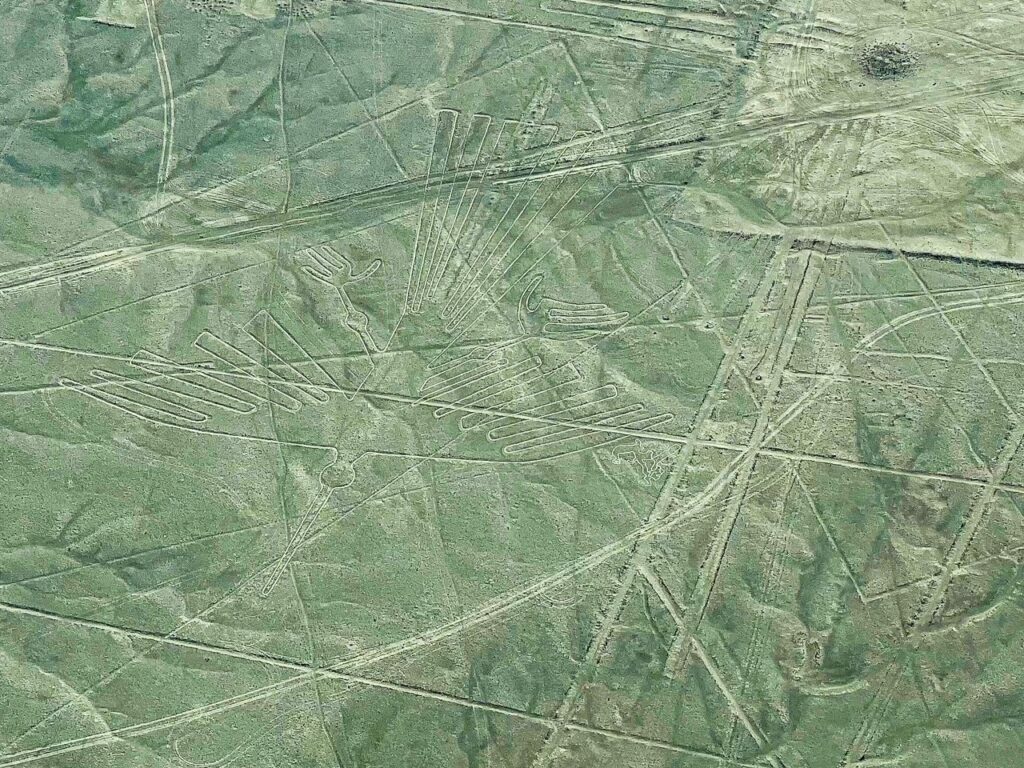 Getting to Nazca
By Car
Nasca is reached by road via Route 1, Panamericana Sur. Most people will visit it by coming from the north from Lima or other locations. The road does get pretty rough in some areas. So make sure your car is ok with handling rough roads, dirt roads, etc.
Distances:
Lima (420 km | 7 hours)
Paracas (190 km | 3 hours)
Ica (115 km | 2 hours)
Arequipa (570 km | 10 hours)
Ayacucho (340 km | 8.5 hours)
By Bus
There are bus options that go to and through Nazca. You can stop in Nazca on the bus and then pick up another bus on your way to your next destination. There are local buses that can be picked up in Ica that head south to Nazca. Most buses from Lima will transfer in Ica.
Cruz del Sur offers luxury and very comfortable buses that go to and through Nazca, although you'll also need to transfer at Ica.
By Tour
One of the easiest ways to see Nazca is via a tour. This is definitely the easiest way in my opinion as connections to Nazca are not the easiest to do. Especially if you are only going for the flight (its easier if you are stopping on your way to Arequipa, etc).
If you want to just go for a flight and leave and want to least amount of friction, tour groups can book it the easiest. It can sometimes be as much as you booking on your own since you'll have more difficulty filling a plane especially in slower seasons.
Get your Guide and Viator have an incredible array of Nazca flight options. Flights are generally similar (30 mins) but you can ask how many lines you'll see. Other tours like Peru Hop have day trips from Lima and Huacachina to Nazca.
Other Posts you May Like