There are so many great places to explore in Peru and in Lima in particular. If you have to ask me what my favorite neighborhood is in the Peruvian Capital, it would be the beautiful Miraflores. The neighborhood along the coast has beautiful views, amazing restaurants, good coffee, chocolate, historical sites, parks, and so much more!
It also feels as one of the safest and most walkable in the city as well. I greatly enjoyed walking and exploring the neighborhood and never once felt unsafe in the area. We want to help you with your enjoyment too! So explore along with the Best Things to Do in Miraflores.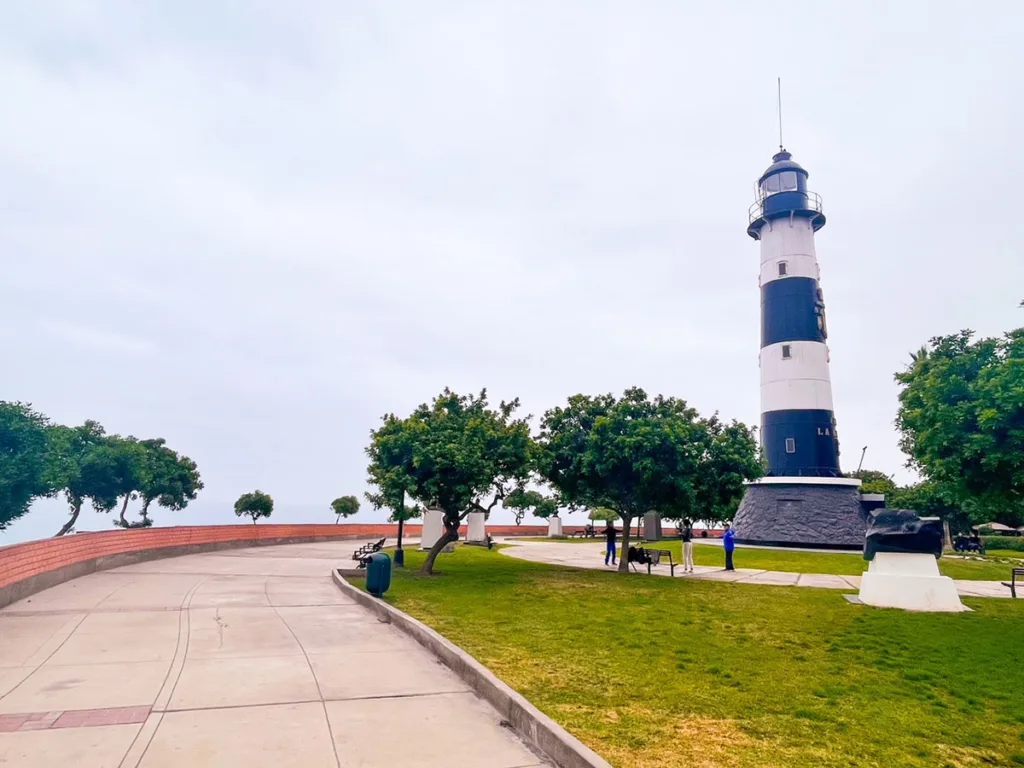 Stroll or Bike the Malecon
Location: Malecón de Miraflores Peru
This is one of my favorite parts of the city and the neighborhood. The nearly 6 mile long path snakes along the cliff-side of the city. The area is very green and has lots of wonderful views and is a popular place for folks to sit, walk, and bike along the cliffside coast.
You'll see many of the sites listed below as well as other great sites to visit too. Including the cute Marine Lighthouse (Faro de la Marina) which while you can't enter is a nice landmark along the pathway as well.
So grab a coffee at one of the many coffee shops or cafes along the way and take a stroll. Be sure to stop and enjoy the view and the sites along the way as well.
Larcomar Shopping Center
Location: Mal. de la Reserva 610, Miraflores 15074, Peru
It's hard to find a shopping center with a more beautiful location. What struck me about Larcomar is its amazing location along the cliffs overlooking the Pacific Ocean. It has all the shopping you could want from international to local brands.
There are also several really great cafes and restaurants in the area. If shopping is on your agenda this is a good place to stop. It really feels like an incredibly well designed shopping center with a great open/closed architecture as well as the various levels and ways of getting around. And of course the views, you really can't beat the views.
Indian Market
Location: Av. Petit Thouars 5321, Miraflores 15074, Peru
If you are looking for souvenirs and other local goods, the Indian market in Miraflores has lots of vendors under one roof. The area has some great options in terms of alpaca clothing, pottery, mugs, and other textiles and decorations.
Beyond just the main Indian market you'll see other related markets in the area as well. It's worth exploring and asking around on prices and trying to figure out quality. I've found most people in Peru to be honest on what material the goods are, but you should always do your best to do due diligence when buying.
The great aspect of the market is that you can find products from all across Peru. However, in our opinion you may be better pressed buying some of the products such as Alpaca in some of the regions that more specialize in that (such as Cusco).
Love Park (Parque del Amor)
Location: Parque del Amor, lima 15074, Peru
Located on the coastal cliff walkway around Lima, Love Park is dedicated to love and lovers everywhere. The small park is centered around a statue of lovers in amorous embrace. Or at least that's my assumption, it did take me a bit to figure out it was love related.
The statue, known as the "kiss" (by Victor Delfin) definitely is the center of the park, and beyond that along the walls and benches you'll see other tiles and mosaics. It's not a park you need long to see it all, but it's a fun place to sit, enjoy the views over the ocean. Especially if you can spend the time with someone you love.
Surfing in the Pacific Ocean
If you look out of the Southern Pacific Ocean of Lima you might see the various dots along coastal water. And it might likely be lots of surfers braving the rocks of the area to find some great waves to surf on.
Surfing is a popular sport in the area and it's easy to see why with the coast and waves of the area. If you are an experienced surfer there are plenty of places to go and lots of spots to rent boards and wetsuits as well.
For those who may want to try it there are folks offering surfing lessons and it's a great spot for access and cost to try. While I didn't go, one of the friends I was traveling with to Peru did give it a shot and had a great experience with guides from Viator.
John F Kennedy Park (Parque Kennedy)
Location: Miraflores 15074, Peru
Named for the US President, JFK Park is famous as a nice respite from the bustle of the city as well as its many stray cats. People told me there were lots of cats in the park, but I was still shocked at how they basically run this park.
The park occupies about 5 acres in the center of Miraflores and it is a place for folks of all ages and walks to meet, chat, and enjoy the day. While the park existed prior to JFK, it was renamed to his honor due to his work on the Alliance for Progress which worked to foster cooperation between North and South America.
There are two sections of the park actually, with Parque Kennedy occupying the southern section and Miraflores Central Park as the northern side. And while it's in fact two parks, I've seen both sides referred to as Kennedy Park.
Beyond the park, do enjoy the beautiful architecture and area of the city around the park as well. And be sure to be kind to all the wonderful felines in the park too. They do make it such a fun and charming place to explore.
Huaca Pucllana
Location: Ca. Gral. Borgoño cuadra 8, Miraflores 15074, Peru
You will likely walk by this immense pyramid if you find yourself exploring Miraflores. The Huaca Pucllana is a massive clay and adobe structure built by the Lima Culture which existed in the area between 200 and 700 AD.
The structure served as an important ceremonial and administrative structure for the culture built upon a series of platforms. The site has areas dedicated to the God Pachacamac and was used as an important center for controlling and administering the area in particular over the agriculture and irrigation zone in the area.
The Lima culture was one of the important pre-Incan cultures in Peru and several you can explore as you travel around the country. Following the Lima culture, the Wari also used the site and holds several important archeological sites from that civilization too including burial sites.
Walking Tours
There is no better way to explore a place than by foot. It gets you into the neighborhood and slows you down to really take in the sights, sounds, and smells around you. You can most certainly do your own walking tour. I found it wonderful just getting lost among the streets as I tried to make my way around the neighborhood and find places to try and little alleys and avenues to explore.
It was especially great getting into the residential areas and seeing the way people lived in Peru as well. For those wanting more structure, there are some great walking tours. Ones that take you align the cliffs, through restaurants, churches, and more and explain the history of the places. 
I personally preferred the ones that included food (like the food tour below), but there were also great tours of art and culture as well. Get your Guide, Viator, and AirBNB have some great options for all interests. There are also many a free walking tour (although nothing is truly free, some are still good) such as this one from Inka Milky Way.
Food Tour
One of my favorite parts of Lima (and travel in general) is the Food. You can make your own food tour of some of the impressive establishments of Lima, or better yet take a nice local food tour with several of the outfits throughout town.

I particularly loved my tour from Exquisito Peru, which took me through places in both Miraflores and Barranco. You'll get to experience some of the best options from Lima Soltado to Ceviche.
Ceviche in Lima
While Peru may or may not have invented the art of ceviche, they certainly perfected it. Ceviche is known as the national dish of Peru, and Lima is one of the best places to try this incredible delicacy.
I thought I knew ceviche until I came to Lima. The options for the various different fish, the art in making a beautiful dish, and the sides of corn and other things that go along with the dish make it perfection.
There's no shortage of places to get some great ceviche, from Huascar to La Mar to La Rosa Nautica. There's some great amazing places. You should go, and watch them craft it if you can. It's truly a work of magic.
Art Tour: Barranco
While not in Miraflores, you'd be doing yourself a disservice to not pop by nearby Barranco. Barranco is one of the hipper neighborhoods in Peru, with great restaurants, fun vibe, and of course some amazing street art.
There are art tours you can take throughout the neighborhood via Viator, Get Your Guide, or AirBNB Experiences. Or you can do it yourself as well. However, with an art tour and some local knowledge / language skills you'll likely get more out of the visit. 
One of my favorite parts of the tour was getting to visit Jade Rivera's Studio. Ask if you can if it's open to visitors when you are there.
Other Posts you May Like