History of Grant-Kohrs Ranch
The history of Grant-Kohrs Ranch started like many others, with a business idea. In 1840s, Canadian Johnny Francis Grant and his brother James began making their fortune trading with travelers moving west along the Oregon Trail. Their business would trade one healthy cow or horse for two trail-weary ones. Over time, the duo acquired quite a herd from their endeavors. With all these cows and horses to feed, Grant started using Deer Lodge Valley to graze all his animals.
Finding success in Deer Lodge Valley, several years later in 1859 he built a ranch and settled in the area more permanently. Johnny married a local Shoshone woman along with several women through alliances and he, his wives, and his many children lived on the land. He ended up convincing others traders to also settle near him thus creating the town still known today as Deer Lodge.
With Grant's education in French, English contracts were not as familiar to him and he often found himself at a disadvantage in negotiations. Additional racial and other prejudices persisted and eventually he grew frustrated. in 1866 Grant decided to return to Canada, selling his land and ranch to Conrad Kohrs.
The Kohrs Years
Conrad Kohrs traveled to Montana in search of fortune in gold. While not finding a fortune in gold, he found one in selling beef to local miners. Kohrs managed to build a population of over 50,000 cattle grazing on over 10million acres. While other cattle owners went bankrupt after a particularly bad winter, Kohr's managed to hold on. Kohrs along with his half-brother John Bielenberg ran the Kohrs ranch and became quite successful at it too. Kohr's became known as the Montana Cattle King.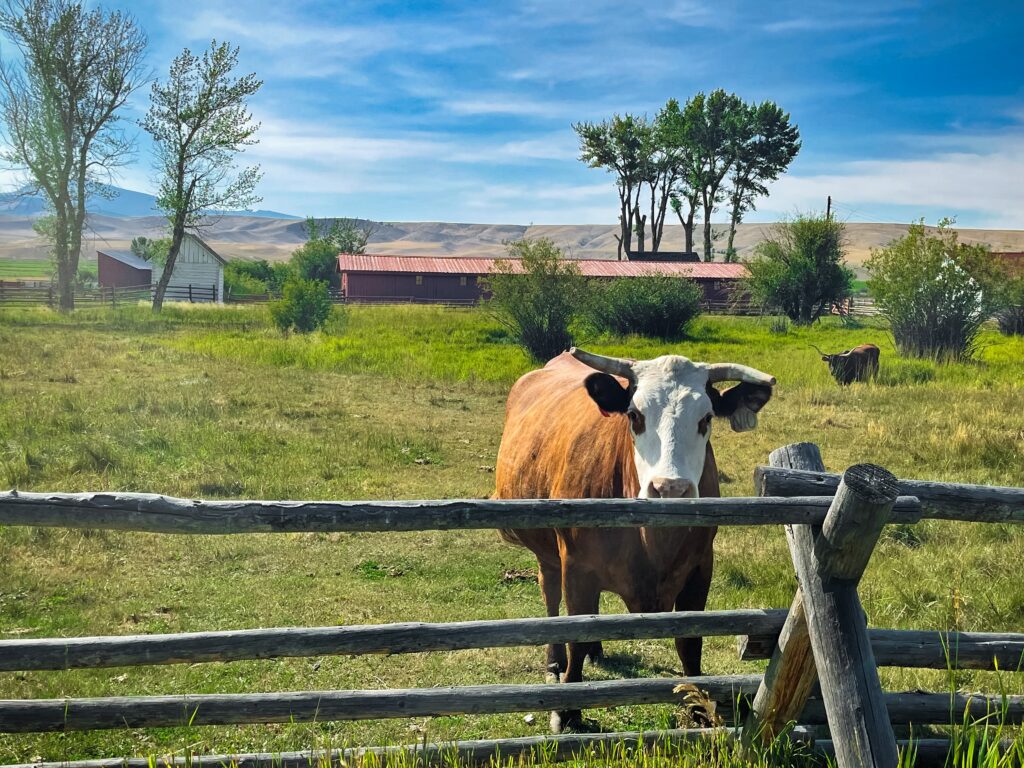 Becoming a National Park Ranch
It was in the 1960s that the original Grant-Kohr's Ranch was suggested as a possible National Historic Site. In the 1970s Con Warren agreed to sell his ranch to the National Park Service insisting it continue running as a living ranch. Later that year additional acreage was purchased that allowed it to run as it is today. In 1972, the park was finally established as the Grant-Kohr's Ranch National Historic Site as it is today. Several new buildings were added to park over time. However, many of the buildings you see on site do still remain from the Grant and Kohr's days of ranch ownership. Including the furnished ranch house decorated by Augusta Kruse Kohrs.
Visiting the Grant-Kohrs Ranch
Formerly covering 10million acres, the current ranch covers far fewer acres than it originally controlled. But it is still quite large, covering over 1600 acres in it's present form. The Farm is a working cattle ranch with hundreds of heads of cattle that still go to market when the time comes.
When you first arrive at the site, you are greeted by a set of brown buildings at the end of the parking lot which are the visitors center and bathrooms. Both important first stops.
The park has has roaming cattle of several varieties as well as a few different ones fenced closer to the paths. Various horses can also be seen including the set of massive Belgian Draft horses which should be seen if they are nearby.
Many of the buildings from the ranch are further down the path. You'll see the ranch house as well as other various ranch buildings and a chuck wagon. The chuck wagon was a source of food, drink, and news for cowboys out on the open range.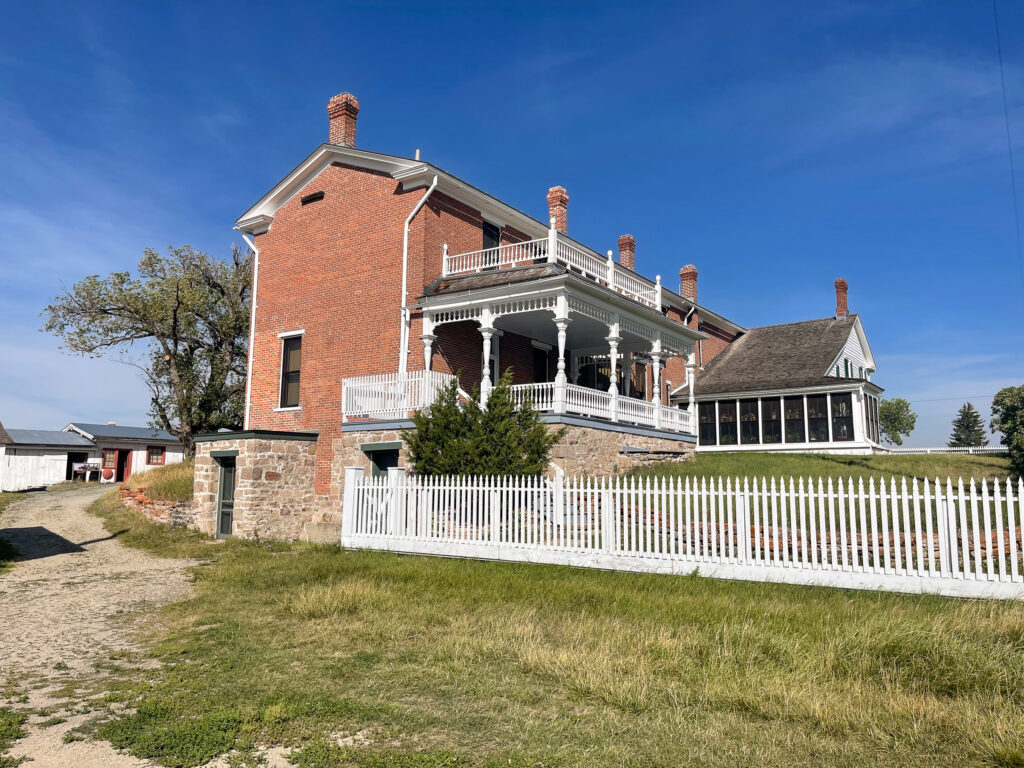 Things to do
Exploring the Historic Buildings of Grant-Kohrs
There are actually a fair number of historic buildings to explore on the grounds. Many of the buildings in the original ranch do date back to the times of Grant and Kohrs. Also, quite a few of the buildings showcase what they are used for and have information on their purpose. You can see and learn about daily life on the farm as you tour the site.
There are tours of the Ranch House that go several times a day. Tour size is limited so may fill up.
Wander the Trails
There are several trails from short 1/2 mile trails to longer multi-mile trails through the ranch and land. The longer trails through West Gulch and The West Range gives you a scope of the size of the land and the landscape surrounding the ranch. Shorter nature trails and walks through the ranch allow a more personal view of the ranch area.
Learn about the Area
There are several ways to learn more about Montana and Butte. One of the most important aspects of the ranch is their work cleaning up the superfund site by the river. The copper mining industry in Butte polluted the river and the land in the region. Butte in many ways "was" Montana during those years.
Spend some time at the Chuck Wagon as well to learn stories of the area and cowboys in the range. The chuck wagon was a good story center and the ranch keeps the tradition alive.
Practical Information
Address: 251 Grant Circle Deer Lodge, MT 59722
Visitor Center
The visitor center is located just past the parking lot after you enter the property. The visitor center also has a small shop as well.
Ranch House Tours: There are tours of the Ranch House daily. These tours have a limit of 12 persons so they may fill up. Last tour is at 3:30pm
Park Hours
9:00 – 5:30 (Memorial Day – Labor Day)
9:00 – 4:30 (rest of the year)
Fees
Free
National Park Passport Stamp Location
There is a National Park Passport (cancelation) Stamp located within the Visitor's Center
Website: Official NPS Grant-Kohrs Site
Getting to Grant-Kohrs Ranch
Getting to Grant Kohrs Ranch is rather straightforward in approach. It's also an easy pit-stop on travel between Missoula and Butte Montana.
Eastbound:
Take I-90E from Missoula to Exit 184. Turn right onto I-90BL E. After 3/4 of a mile turn right.
Westbound:
Take I-90W from Butte to Exit 184. Turn left onto I-90BL E. After 3/4 of a mile turn right. If you are coming from Bozeman, add in an extra 1 hr. 15-30 minutes for the distance from Bozeman MT to Butte Montana. You'll pass Butte on your way from Bozeman to Grant-Kohrs Ranch NHS.
Distance:
Bozeman to Grant-Kohrs Ranch NHS (via Butte): 124 miles (2 hrs.)
Butte Montana to Grant-Kohrs Ranch: 40 miles (35-40 minutes)
Missoula to Grant-Kohrs Ranch: 80 miles (1hr 15 minutes)
Helena to Grant-Kohrs Ranch NHS: 54 miles (1 hr.)