With its beautiful country-side, rugged, coast, and storied history, Normandy is one of the best places to visit in France. Most people know it as the place of D-Day the landmark invasion during World War 2 that was a turning point in the war. However, while there is a lot to see (and should be seen) in relation to that, there is actually quite a bit more to Normandy as well. Below are some of the incredible things to see in Normandy.
Mont Saint-Michel
The beautiful UNESCO World Heritage site of Mont Saint-Michel is one of our favorites and one of the most beautiful communes and abbeys in the world. While it no longer turns into an island (due to the causeway created) it is still an impressive site to behold. Be sure to get there during one of the times that you can catch one of the guided tours (definitely worth doing and a great way to see and learn about the history)
Address: 50170 Mont Saint-Michel, France
Hours:
July & Aug: everyday 9:30am-7pm
Easter – Sept: Mon – Sat: 9:30am-6.30pm; Sun. 9:30am-12:30pm / 1:30pm-6pm
March & Oct: Mon – Sat: 9:30am-6pm (5:30pm Oct); Sun. 9:30am-12:30pm / 1:30pm-5:30pm (5pm Oct)
Nov – Feb: Mon – Sat: 10am-5pm (5:30pm during school holidays); Sun: 10am-12:30pm / 1:30pm-5pm
Omaha Beach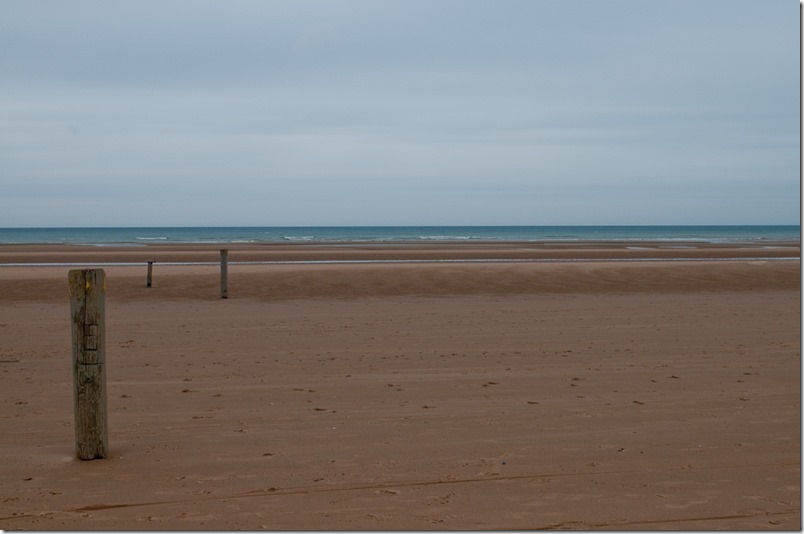 Most famous in America vs. other places. Omaha Beach is the site of the bloodiest invasions of D-Day in Normandy. US troops stormed Omaha and Utah beach (British troops landed at Gold and Storm and Canadian troops at Juno beach).
American Cemetery
Above Omaha beach you can find the American Cemetery in Colleville-sur-mer where 9,380 US servicemen are buried that lost their lives during D-Day and the ensuing operations. The graves are beautiful aligned and is a solemn testament to those who made the ultimate sacrifice in the face of tyranny. There is also a wall of missing which contains the names of 1557 that were missing (some have since been recovered and marked).
Address: 14710 Colleville-sur-Mer, France
Hours: Open Daily 9am – 5pm
Musée du Débarquement
One of my personal favorite places in Normandy and one that I knew nothing about until I go. This museum chronicles the building of harbors that would be needed for post invasion of Normandy. They had to send in people in secret to survey the land as well as build all the harbor pieces in the UK and tow and sink them. There were plans for a US and British harbors (storms caused issue with the American one). This was one of the most incredible feats of engineering executed and something that so few know about.
Address: Place du 6 Juin, 14117 Arromanches-les-Bains
Hours: Mon-Sat – 9am-6pm / Sun 10am-6pm
Le Havre

Photo: Gary Bembridge (CC)
One of the largest (and most picturesque) ports in France, Le Havre is a great place for a few nights or even just for dinner passing through. We loved wandering the streets and sitting in the restaurants along the water. Le Havre is also famous as one of the homes of Monet where he painted many of his great works (Giverny where his famous waterlilies are from is nearby).
The Bayeux Tapestry

Photo: Dennis Jarvis (CC)
Known as possibly one of the earliest known works of Propaganda, the Bayeux tapestry tells the tale of the conquest of England by William the Conqueror (Duke of Normandy). One of the most amazing pieces of tapestry work and remarkably well preserved, this UNESCO world heritage site is definitely worth visiting. You will certainly be impressed by its size and detail.
Pointe du hoc
One of the most imposing and difficult assaults of World War 2. Army Rangers trained in Scotland for the difficult assault where they needed land on the coast, run along a thin strip of beach, and climb 100 ft climbs under constant fire to destroy the artillery guns that could threaten troops landing on Omaha and Utah beaches. One of the bloodiest and most important assaults of the war.
Address: 14450 Cricqueville-en-Bessin, France
Hours: April-Sept 9am-6pm / otherwise 9am-5pm
Longues Sur Mer
Part of the Atlantic wall, Longues-Sur-Mer were long range Naval guns that were a threat to Allied ships in the bay. The battery was heavily bombed in the leadup to the Normandy invasion (both from air and from sea). The guns themselves were not destroyed but communication lines were disrupted which helped to prevent the Allies from suffering losses from the guns. You can tour the heavily fortified batteries that are still in fairly good shape.
Address: 39 Rue de la Mer, 14400 Longues-sur-Mer, France
Hours: Site is open 24/7 – Information booth: 10am – 6pm
Honfleur
Honfleur is a picturesque little seaside town that is perfect spot for a day or two during your tour (also a good possible home base for your time in Normandy (although we prefer the location of Caen). Definitely our stop here and sitting at a restaurant along the water was our favorite of the trip (and we got to chat with some wonderful locals too). We found the city beautiful and very friendly indeed.
Carentan

Photo: johnantoni (CC)
I've been wanting to see Carentan and its hedges since watching Band of Brothers on HBO. Known as one of the main spots where paratroopers landed during the initial days of invasion. The town itself is really rather lovely to wander about. If you are interested in more of the war history, be sure to check out the Airborne museum in nearby Sainte-Mère-Église
Airborne Museum; Address:
14 Rue Eisenhower, 50480 Sainte-Mère-Église, France
Hours: Daily 9am – 7pm
Giverny

Photo: Ian McKellar (CC)
Claude Monet is certainly famous as an artist and most famous for his beautiful depictions of waterlilies. Giverny is the beautiful village in the France country side that was his muse for these incredible works. Be sure to check out the Monet house and Gardens while in town. It does get very crowded in the high season.
Monet Foundation Address: 84 rue Claude Monet 27620 Giverny
Hours: Mar 22 – Nov 1: 9:30am – 6pm
* * * * *
Getting There
Normandy is about 3 hrs west of Paris located along the Northwestern coast of France. Some of the sites such as Giverny are closer (about 90minutes) and some such as Mont St Michel closer to 4hrs.
Connections to Normandy are limited. Most people travel here by bus or private vehicle. Private vehicle is recommended as it is difficult to see many of the sites without your own set of transportation. Organized tours are also available but these can limit your time in places.
Normandy is also a great stop on the way to or from from Paris! For more Paris travel, you might want to check out this post on a great weekend in Paris.
* * * * *
Have you been to Normandy? Any favorites that we may have missed that you would think would rank higher (or should not be missed)? Let us know!