I really didn't know what to do in Bahrain. It seemed just a simple respite from the boredom of daily work life in Saudi just over the causeway. I was surprised though when most of my coworkers wanted to visit a Mosque while in Bahrain.
Really? It seemed that they didn't really think much of religion in general senses and it was a surprise though. Perhaps I misjudged them. And truly I was impressed by the Al-Fateh mosque as well. One of the largest I have visited and certainly the largest for Bahrain.
About the Mosque
Built in 1988 the mosque and was named after Ahmed Al-Fateh (Ahmed ibn Muhammad ibn Khalifa) who was the founder of Bahrain (in the 18th century). The title Al-Fateh means the "opener" or the "conquerer" in Arabic. The mosque has the ability to host over 7000 worshippers and includes some interesting features such as one of the largest fiberglass domes. There is also a library with several thousand books including some over a century old as well.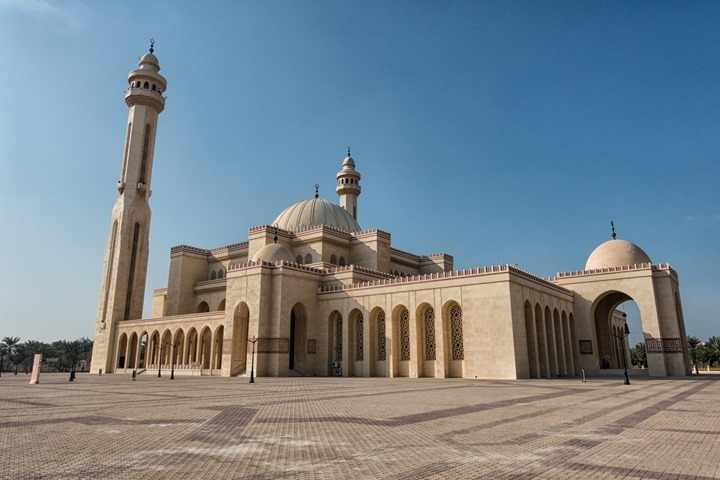 Visiting the Mosque
"Are you here for the tour or prayer?" – the person at the reception asked.
I guess perhaps a bit of both I replied. We are both here for the tour. She looked us both up and down and asked my coworker where he was from.
"USA" – he replied.

"OK, so one American for the tour." – she stated.

"Umm there are two of us" – I attempted to interject.

"Oh are you going on the tour too?" She seemed surprised.

"Yes, we are both on the tour" – I tried again to explain.

"OK good" – she said as she turned to her colleague. "One American, and he can go on the tour too (in reference to me)".

"Umm there are two Americans. we are both from the US". – I sighed.
One of the issues with being a bit racially ambiguous in this region of the world is that people don't quite know how to place you. They couldn't figure out where I was from. At least one assumed I was Bahraini perhaps, and most figured I wasn't there for the tour or at least could just kind of tag along. I found that this distinction had both its positives and negatives. Blending in is a plus, but sometimes looking foreign is also an advantage as well.
Exploring the Mosque
The mosque itself. is quite a sight to see. You can definitely tell that details were not spared in the construction. The tour guide was sure to point out the various aspects of the construction and the design. He even noted some of the specific things like the beautiful glass that was individually blown for the different lanterns and how the little bubbles in the glass reflected the light in various ways.
As someone who is a bit attached to taking photos, I had a hard time concentrating on parts of the tour as I was in awe of the construction and wanted to try to find ways to get good photographs of the place. There are various spots one can wander towards and a few places one can get up high to get some more interesting photos of the place. They seemed to be pretty receptive to ones wandering around, and again as I said, one of the advantages of possibly looking local is that people are less likely to stop you I found.
Mosque Tour
If you do get a chance, I recommend taking the tour. The tour guides seem to hail from various countries around the world which I found quite impressive. My first tour guide was from Uzbekistan which was fascinating as I had yet to meet any Muslims from there myself.
They seem to follow a few different paths in their tours. Most of them explain a bit about the history of the place, some information about the construction, and various aspects about the faith as well. I really found the explanations about the faith very well done. My coworkers were quite interested and they seemed to learn quite a lot about Islam and were able to easily relate to a lot of the explanations.
The tour guides did ask a lot of questions too which I found good, although often most of the people in the tour either didn't know the answer or felt embarrassed to answer. Oddly though it seemed the tour guides would then turn to me and be like so "what do you think?" and I felt expected to answer correctly. Not that I truly minded but it seemed a bit staged as well ha!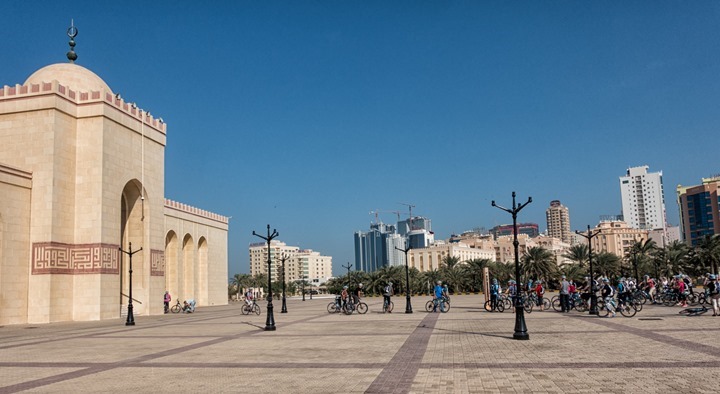 Should you Visit the Al Fateh Mosque?
The masjid is very popular among tourists and it was certainly one of the highlights of a stay in Bahrain. If you do go, do realize that you might have to wait on tours as there seemed to be a lot of folks coming and going from there and other tour companies busing folks in. However the people working there were incredible and so receptive and welcoming to people.
They also had a lot of free material to pass along. Although in my case they seemed excited if I could take some to distribute to Muslim friends back in the US (some of the material is geared towards non-Muslims and some towards Muslims).
Even for those who may not be into religions I think it is valuable in terms of understanding the region and the culture. They are not here to pressure people into religion only in trying to explain how Islam fits into the life and culture of the people who live here and practice it. Definitely worthwhile from a cultural understanding point of view. I found that most of the people I went on the tour with seemed to get a lot from the tour and the guides who gave it.
Practical Information
Visiting Hours
The mosque is open for tours daily from 9am to 4pm (except Fridays) and is one of the few mosques in the area that is open and encourages non-Muslims to visit.
Mosques are meant for prayer so note that during prayers times the mosque will be closed to visitors. However most of the prayer times are the start of when a particular prayer occurs so there is some leeway in prayer times. So if see people praying during your visit, please don't disturb them.
What to Wear
Please make sure you dress appropriately for the mosque. There is some clothes they have on loan for those who are not dressed as conservatively though so be sure to ask in case you arrive without proper attire.
Cost
The mosque is free to visit and the tour is quite good. I've been on the tour a few times with different people and each one was a bit different. So it might be worth another visit if you find yourself in town with other folks as well.
Feel free to ask lots of questions, actually it is encouraged. I found the tour guides to be fantastic and quite knowledgeable.
Prayer Info and Etiquette
The primary role of a mosque is for prayer. Please keep that in mind for any visit.
While there are 5 compulsory (Fard) prayers each day there are a lot of other non-compulsory prayers (Sunnah) as well. There will be a clock/board that displays the prayer times for each day, and the mosque may ask you to move out of an area during those times for people praying.
At the prescribed time you'll head a person reciting the call to prayer (Adhan) which will announce the start of prayer. Following that usually after about 10-20 minutes the actual prayer will start with another call (Iqamah).
The prayer times are generally at the start of the prayer time and have time in terms of when one can pray. Muslims don't have to pray exactly at those times although it is preferred to pray in congregation.
Regardless it's important that even if you are at the mosque between prayer times you will likely see people praying. Some important things to pay attention to:
Do not disturb people praying. Please don't talk to or otherwise interfere with their prayer. Also please don't talk loudly if you are close to someone praying.
Try to avoid getting close or crossing close in front of people. Muslims cannot talk or otherwise stop their prayer ones they start (until the end) so generally they won't react or try to react as little as possible (some point put their arm out to stop you from crossing right in front of them).
Don't go in front of a person praying and face them. Whether to take photos or watch or otherwise. If you are going to, it is best to do it from behind the worshippers. Ask the tour guide what is allowed.
During the Adhan (Call to Prayer), it is respectful to not talk during it. If you need to, please try to do so quietly.
If people ask you to move, listen. Also, in congregation Muslims need to fill-up each row without gaps.
Read More