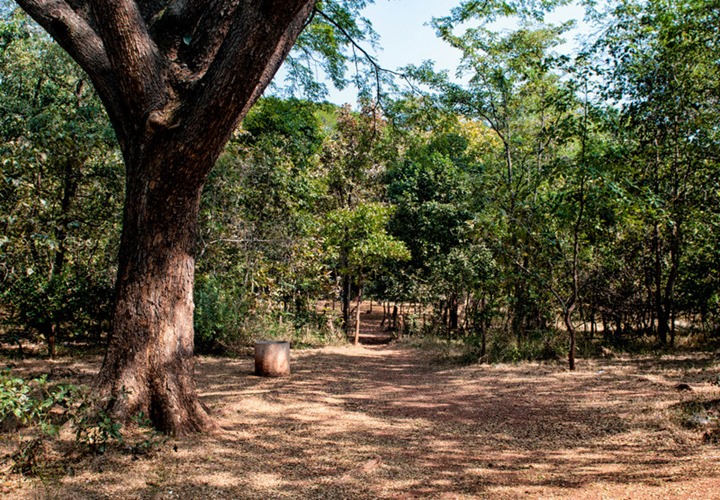 "Time spent in India has a extraordinary effect on one. " – Tahir Shah
He clearly never spent much time at an Indian bus station, or perhaps that effect might be anger, frustration, or confusion.  I jest…sort of.
It's 600am and we are wandering through the crowds of the city bus terminal in Hyderabad.  Buses, cars, rickshaws, carts and people of all shapes and sizes push there way through as we try to navigate and not lose one another.  I'm here with my cousin, a Hyderabadi local, and he assures me everything is fine.  But I can see the look on his face is as confused and lost as my own.
We ask for directions which seem to conflict with each other.  Constantly we move as we try to avoid buses that seem to be unconcerned with us as we unsuccessfully search for our bus.  It seems we find one, the 530 AM bus that is just starting to come into the station an hour late, already overflowing with people.  There are even folks in the doorway, squeezing as much as possible to be inside.
It's a 1.5 hr ride, and as I start to consider possibly squeezing in along side, there are now folks holding onto those people in the doorway too.  I think two dangling from the door is probably already two too many…
I try to listen to my cousin discussing with the information booth in various languages.  If my Urdu could be considered abysmal my Telugu is more than non-existent. I just sorta stare at the letters and smile.  So after a meal, and more wandering, we determined by 8am that the 630am bus is probably not going to show up.
"Plan B?"
He mentioned something about heading to some hills or jungle.  Sounded interesting.  One of the difficult things about going to India, for me, is that I really never get to look around at all.  I mean I love my family who lives there, but I also want to…you know…see India.
On a bus and a prayer
For some place neither of us have been, he seemed to know where to go.  Or at least was really good at faking it.  How anyone can navigate the local bus system here I'll never figure out.  Maybe all those squiggly lines on the bus signs actually mean something.
There is something about taking buses here that is a bit of fun and full contact.  On more than a few occasions we had to jump on or off buses why they were still rolling.  I was working on perfecting how to successfully slam into the door as I leapt on the bus without actually injuring myself.
Through various bus connections and door related injuries we ended up finding ourselves in some small bus station in some random village next to the Indian version of Starbucks (Cafe Coffee day).  Except now with the arrival of Starbucks in India, I don't know what I'll call them.
Just as an FYI, Cafe Coffee day, if you say you are going to give someone change, you don't wait until after  you made the order and give it to us before you tell us oh wait no I don't actually have change nor will make any effort to go and find any.  Ugh…maybe I'd rather have Starbucks…
The area was small, a few dirt roads where buses stopped at a makeshift station and a large Hindu temple with several groups wandering towards it.  It seemed that folks where here for some combination of the two.  We sat sipping coffee and hot chocolate watching the various folks milling about and of course our bus coming and quickly driving away.  Easy come, easy go.
Luckily I was not alone or I'd likely be dead by now, but my cousin in his easy demeanor was able to find another bus going in the general direction.  We boarded and rode through several different towns are regions.  At least one rather large but still with dirt streets and cows wandering about.  Definitely a far cry from the high tech boom of Hyderabad.  My travel partner would point and show me how his home province of Tellengana lacked so much in development.  "See how under developed it is here.  All the money goes to Andhra." he said obviously upset.  I wonder if this division is why there is so much push from many to separate Andhra and Tellengana into two states.  Being an outsider you have the benefit and drawback of missing out on so much of the history on why things happen to be.
We were dumped on the side of the a dusty road and we wandered around a bit.  I tried desperately to prop myself on a stump to peer over a fence to take a photo of a beautiful building in the distance.  I think it was a school.  We wandered around until a few buses came and went until one that was apparently ours starting pulling away.  Off running we went again.  This seemed to be a theme of the trip I would imagine.  Finally the last leg of the journey out to the jungle.  We had to take it to the end and only cost us about another 30 Rupees a person (about 0.50 USD).  After all the various diesel fumes and smells of the crowd packed buses, I was looking forward to the clean air of the outdoors.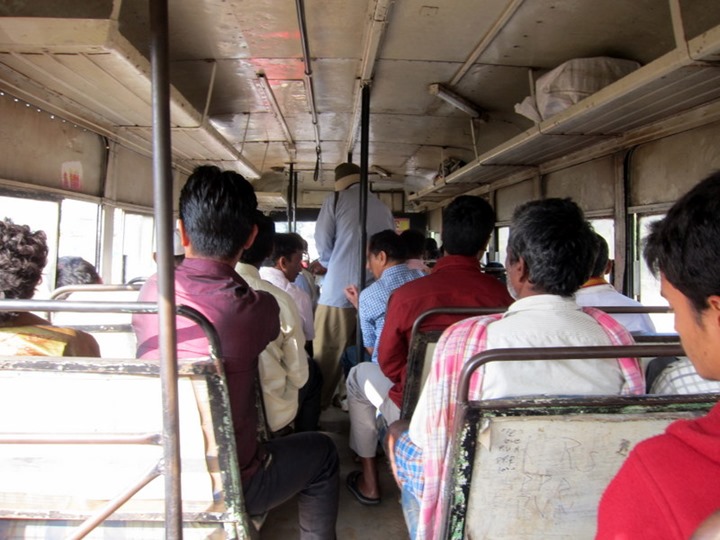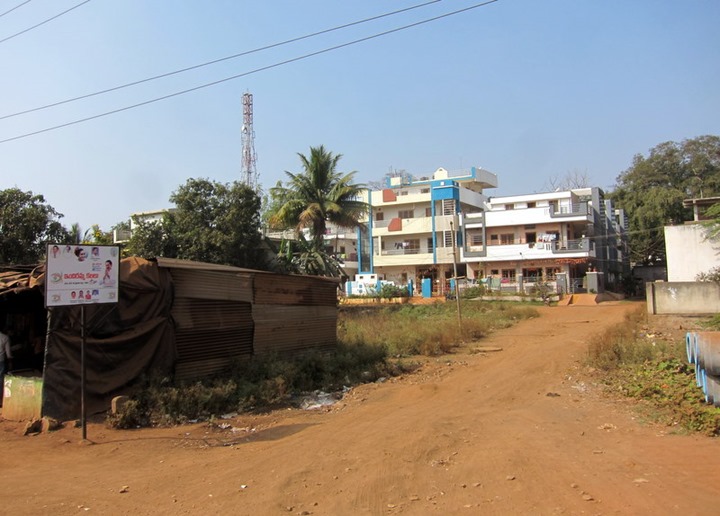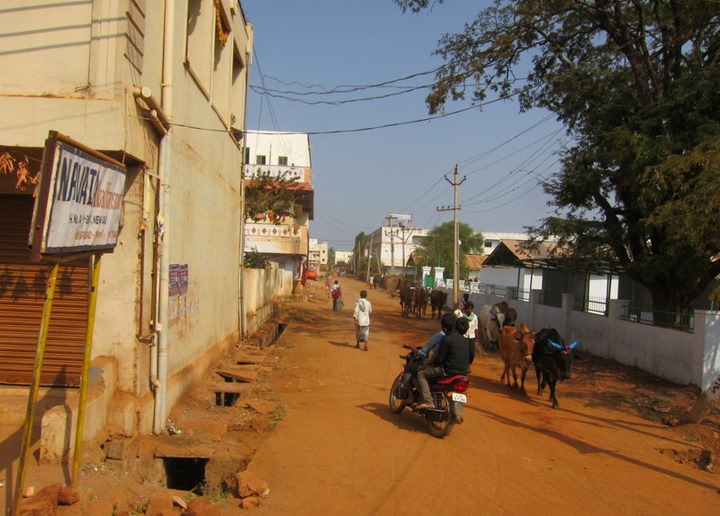 Dreams of Kipyard
One of my favorite books growing up was the Jungle Book.  Many nights I would beg my mom to read from the large book about the stories of Rikki-Tikki-Tavi, Mowgli, Bagheera, Sher Khan, and more.  It was the Indian jungle of dreams, however this place was not at all like those stories.
"This is the jungle?" – I asked.

"Well it's not the real jungle." – he replied.

"Then what are we doing here?"
I feel like I was played…
We were dropped off alone at the side of the road.  A few small stores and restaurants behind us and a large Hindu temple across the street.  It could have basically been anywhere in rural India.  We wandered a bit down the road past a few signs and through a few trees.
Now what?
Next to the one of the temples to the right of large statue of Hanuman we noticed a few folks wandering down hill and figured we'd follow.  It seems most of the people here were for the temples and not necessarily to trek out in the forest of the areas.
We wandered down the trail into the woods below, past more temples and other tourists.  Besides the bugs outside it was a nice day to be out.  I tried to convince my cousin that there were Tigers lurking nearby but he wasn't believing it, although I started to slightly.  I even tried to size him up on occasion to determine if I could outrun him if necessary.
After wandering around in the woods for a while trying to see what was to be seen.  Walking along trails, hopping over streams and climbing up large hills (and nearly falling to our deaths climbing down) we basically "saw" everything there was to see.  Which was fun, but really not much.  It was while we sat outside the park at one of the cafes sipping Maaza and Almond milk watching some village cows meander by and buses forgetting to stop for us that I knew the reason wasn't really what we saw but the experience of getting here and getting to spend time with my cousin who I had only met twice previously.  We had both seen each other grow actually in an odd sort of way, meeting for the first time both as young boys 20 years prior and then again 7 years ago and now grown here in 2014.
It was also probably the first time in 20 years I had been outside the boundaries of Hyderabad too.  Strange as that may seem.  So as we chased the last bus trying to flag it down to take us home, it was a wonderful day to spend outdoors together.