Also known as the Granada Relocation Camp, Amache National Historic Site is the location of a Japanese Internment Camp in Colorado.
The camp housed nearly 10,000 detainees across is history from 1942 – 1945. The camp was one of the larger camps among the dozens of relocation facilities that houses Japanese inmates. These concentration camps are a dark moment in US history and one that is important to remember.
About Amache National Historic Site
Amache is one of the newest National Park Sites. The Site was designated a National Park Site in March 2022. For that reason, you'll notice that it doesn't have the level of information that most other National Park Sites employ. I hope sometime soon they'll construct and run a visitor center in the area.
Amache began operation as one of the relocation camps under Executive Order 9066 which relocated people of Japanese origin from areas of the Western United States. Some areas saw more impact than others, such as Hawaii with nearly 1/3 of its population Japanese, a small number of the population was sent to mainland camps.
During it's operations over 10,000 people passed through the camps at Amache. At it's peak in 1943 the camp housed nearly 7,500 persons.
Remember, the area and facilities were basic and stark. Amache is not is in the dust bowl area of Colorado, closer to Oklahoma. The area is dry, with lots of dust storms, hot summers, cold winters. The facilities were stark with many families sharing barracks that did not have toilets or running water. Generally several barracks would share common mess and latrine facilities between them.
People were removed from their homes and lives, made to abandon houses and property with little regard or time.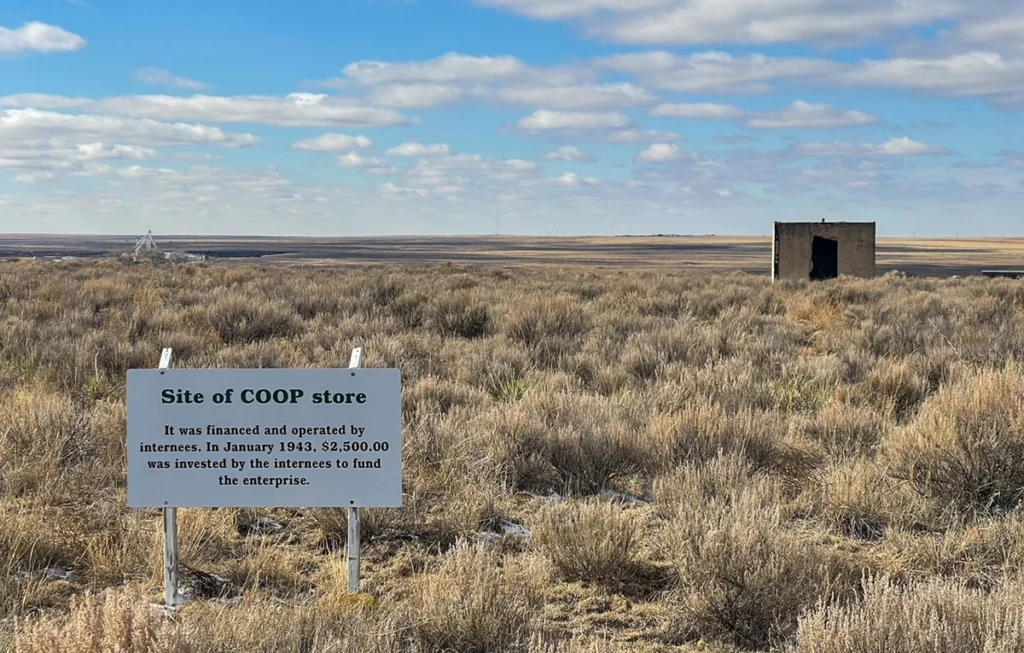 Many of the buildings on the site are gone, however much of the roads and foundations of these buildings remain. You'll notice as you wander around the site the overgrown grasses growing among the old stone foundations.
More than 120,000 persons of Japanese descent were incarcerated across 75 identified "relocation" sites. Some were more harsh than others, and some like Tule Lake were particularly stark housing more "uncooperative" detainees. Canada and Mexico even enacted their own version of this executive order, relocating Japanese citizens and person from their homes.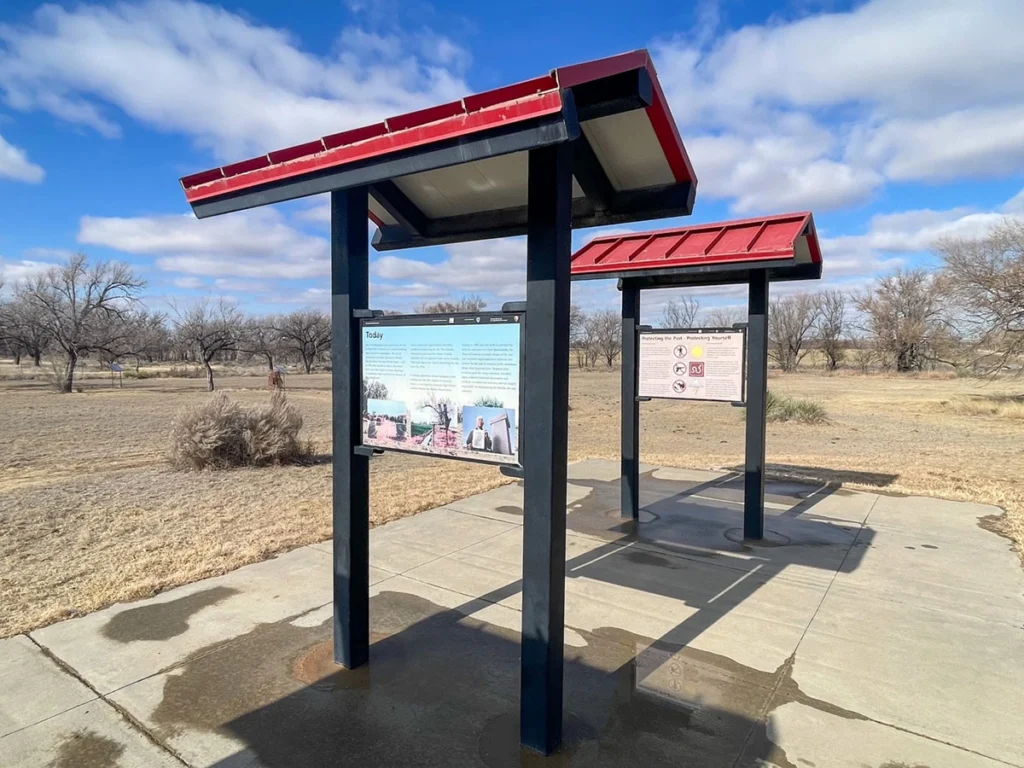 Visiting Amache National Historic Site
The site is rather stark and sadly much of the actual site no longer exists. I've visited now several of these camps including Minidoka and Manzanar and each just reminds you of the tragic parts of history. Important to remember if any country really wants to improve.
When driving around, there are thankfully some signage that points to some of the activities and buildings that used to exist here. Such as the silk screening shop, barracks, sports fields, and others.
There are a few buildings, however looking at them, such as the barracks they appear to be reconstructed. In many places you'll see foundations that still exist of old buildings, but nothing more beyond it.
There's a water tower and a guard tower that are still standing as well. I can't seem to find if they are original. Based on information from signs it appears they are however.
There's also a cemetery that I think is important to visit. It was by far the most moving part of the site and one of the few that felt still exist. Be sure to read the signage here, as it really is moving to learn and understand the people who lived and died here at this site.
The one thing I find sad is that some of the site is taken up by a town dump. When trying to find the cemetery, google maps directs you through that area which is obviously wrong.
Sure towns need dumps, but why did they pick this site? I'm not sure how this will play out when NPS takes over more of the site. Will they keep the dump or relocate it somewhere else?
Things To Do
The site is rather open and undeveloped in terms of a national park site currently. However, there are some buildings as well as signage you can see within the site.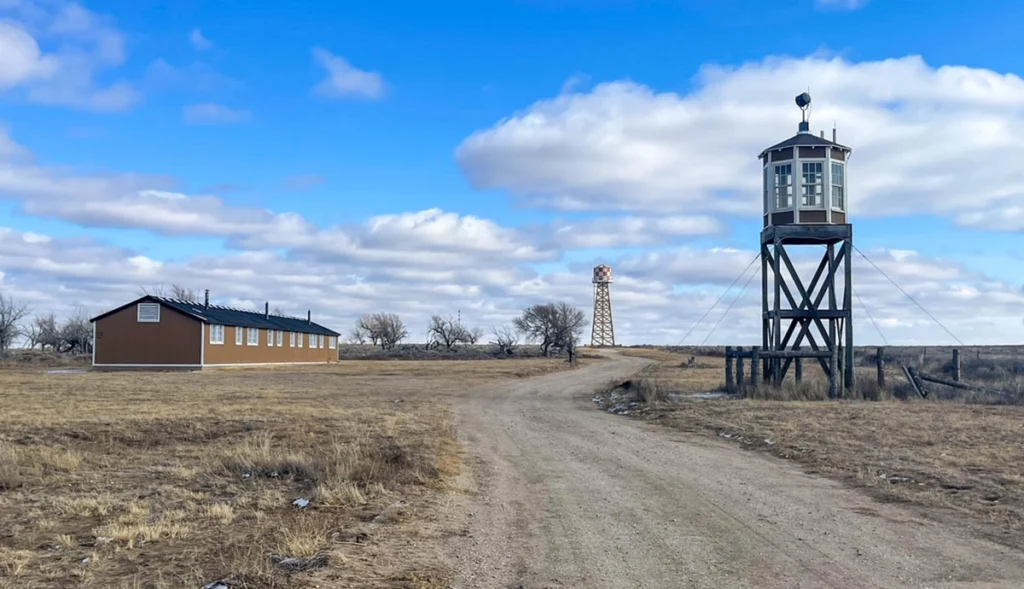 Auto Tour
The main activity for visiting Amache is an Auto Tour of the facility. When you enter you'll be greeted by the Honor Roll which shows the folks served with the US Military. Along the way you'll see quite a few dirt roads that lead in various directions. Along the way there are stationed placards with information on activities as well as former buildings on the site. Additionally, there's a few buildings you can explore including reconstructed barracks as well as seeing the guard tower, water tower, and cemetery.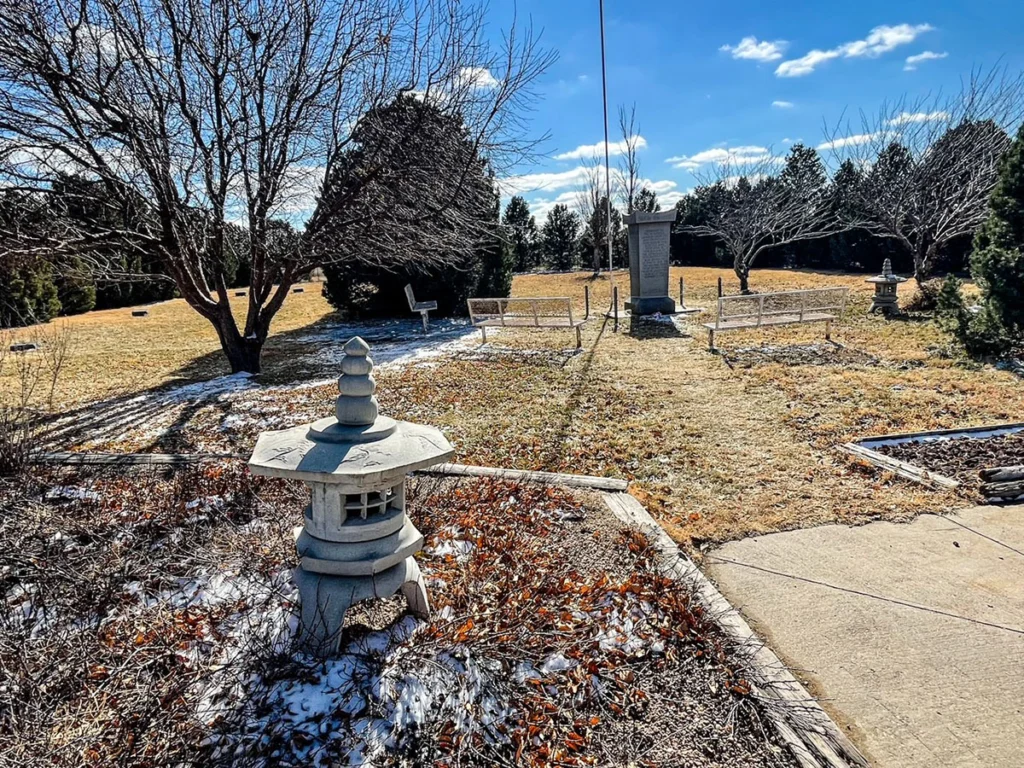 Amache Cemetery
The most moving part of the experience is visiting the cemetery for the former Granada relocation camp. The names of those who died as well as those who died in service of their country are inscribed here. Many loyal Americans. There were over 30 from here who volunteered for World War 2, and over 7,000 who remained interred here at the camp. The lives of so many upended and destroyed. These people gave more than they ever should have been asked to give.
Note: The cemetery location is not where Google Maps directs you. Instead use this location for the entrance to the cemetery.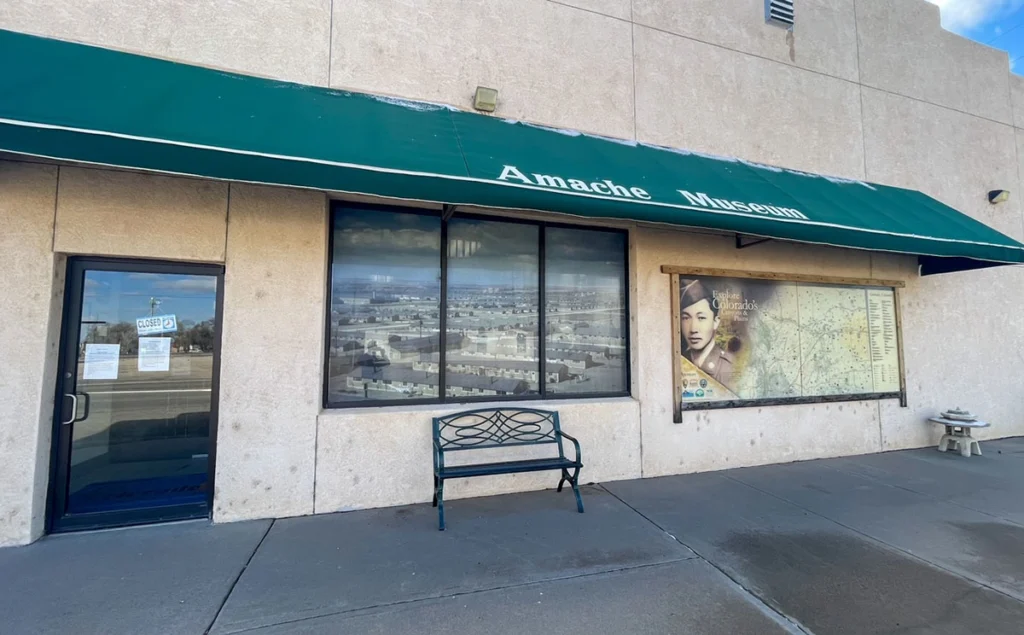 Amache Museum
Address: 205 E Goff Ave, Granada, CO 81041
The Amache Preservation Society runs the Amache Museum in nearby Granada Colorado. The organization maintains artifacts and history of the site as well as great information on the overall relocation/internment program.
The museum contains photographs, artifacts, and stories of the ethnic Japanese who were interned here. The society also handles and works on artifact gathering, site digs, cemetery maintenance and more. The also do occasional tours of the grounds as well.
Be sure to check times for the museum as it does have days and seasons when opening hours change. Unfortunately the museum was closed during my recent visit. So I'll need to return again to explore.
Basic Information
Visitor Center
There's currently no National Park Site visitor center for this location. I believe they will at some point open one. However, there was no signage as to when or if that would be. There is an Amache Museum in Granada at 205 E Goff Ave, Granada, CO 81041.
Address
The Address of the Location is: County Rd 23 5/10 Granada, CO 81041. You'll see a small sign off the US-385 that points to Amache as the only current designation.
Fees
The site is currently not charging any fees.
Hours
The site is currently open from Sunrise to Sunset. Most of the areas are open, however look for any signage for closures of places such as the cemetery.
Website: Official NPS Website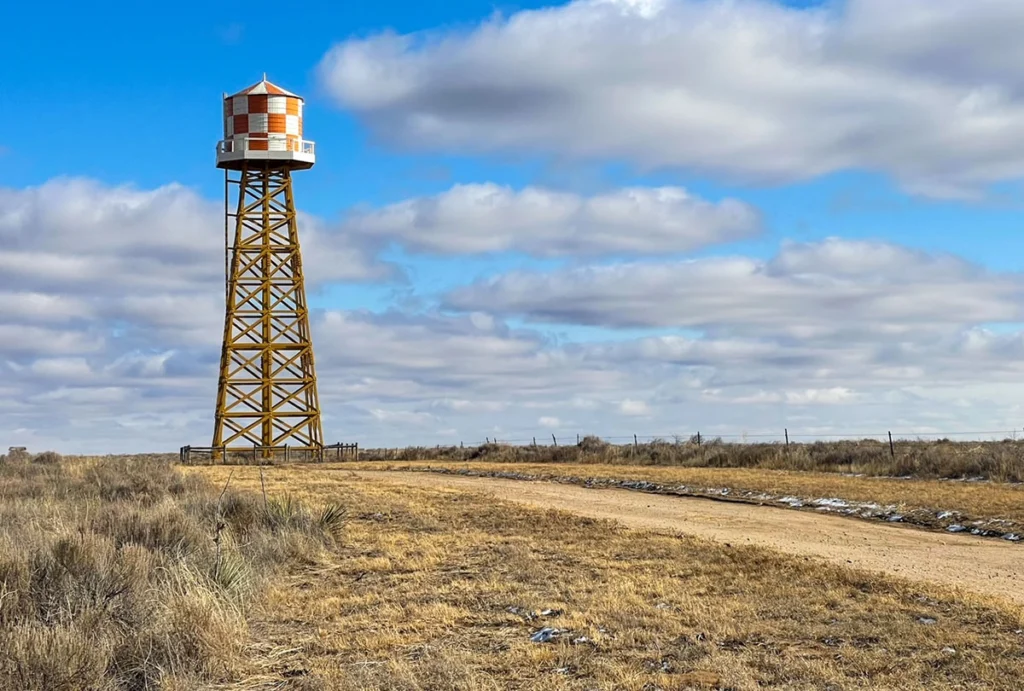 Getting to Amache National Historic Site
Amache is located in Eastern Colorado outside of the town of Granada (which is why it is also called Granada Relocation Camp). Locals often refer to it as Camp Amache.
The main entrance to the camp is located of US-385 and the sign for the camp is really small so it's pretty easy to miss. I missed it my first time past.
When entering the camp you'll see small arrow pointing to Amache, continue down the road and you'll see a "Camp Amache" Sign on the left and then a small parking area with information and a Honor Roll Monument on the right.
You can continue through the park here along the dirt roads. It helps to have something that is good in rutted dirt roads. You should be extra careful after rains as the roads can get muddy.
Distance to Amache National Historic Site
Other Posts You May Like