Park City is one of the premier mountain destinations in the world with so much within its border. From the world-class Park City Mountain Resort (largest ski resort in the United States) and Deer Valley Resort to the postcard perfect downtown and mountain areas. There's so much to do from the Sundance Film Festival, fantastic cuisine, and outdoor adventures.
However, for most visitors, there's so much to do in the regions around here, so you should take the opportunity to explore beyond its borders. Having visited several times myself in various seasons, I wanted to share the best weekend and day trips from Park City Utah.
Salt Lake City
Distance from Park City: 45 mins – 1 hour
Eat: Red Iguana 2
The Capital and largest in Utah, Salt Lake City has lots to explore within the city. Situated on the shores of the great salt lake there's lots to its history from Native Americans, to early explorers, Mormons, and more modern day changes.
For those who it's their first time, be sure to check out temple square in downtown Salt Lake City, you'll get to explore Mormon history as well as learn about the faith and its time in the US. We definitely recommend taking the time to experience the tabernacle if they are doing tours or concerts. You'll also should view the Mormon Temple, Mormon Conference Center, Beehive house and more in the area. Beyond that, amazing gardens, museums, and historic places are worth a visit as well.
Read More: Check out the Best Things to Do in Salt Lake City
Great Salt Lake
Distance from Park City: 1 hour
Eat: Red Iguana 2
Known as the largest salt lake in the western hemisphere and one of the largest terminal lakes (it has no outlets, which in many ways contributes to its saltiness). The lake was previously known as Lake Bonneville which was a large freshwater lake that covered much of the region tens of thousands of years ago.
There's a lot to see and explore in the lake. We find seeing the landscape and sunrises and sunsets from the lake some of the best. Especially views from Antelope Island which we will describe later. Parts of the lake even tend to freeze in the winter so you can walk on it, although we recommend caution in doing so.
Can you swim in the Lake? In a word, yes! However, it seems I had a hard time finding folks, especially locals who've done so. It reminds me of going to the dead sea. Folks flock there to swim in the sea, however, they don't take the same opportunity here in Utah. Odd?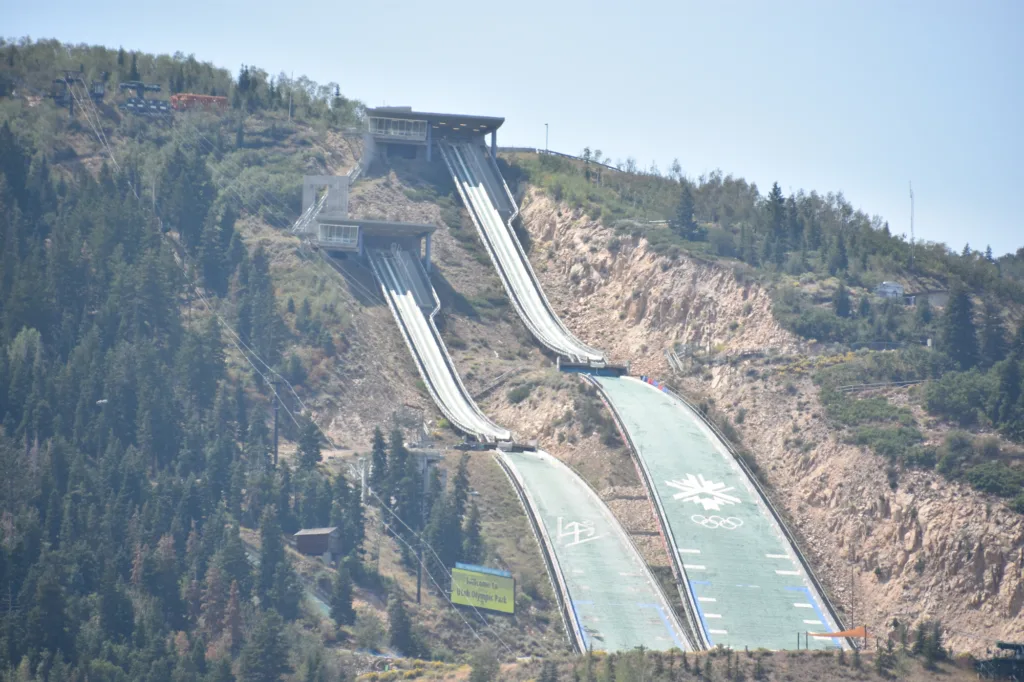 Utah Olympic Park Areas
Distance from Park City: 20 – 60 minutes
Since the 2002 Olympics there are still several areas that showcase both amazing venues and history of the Olympics in Utah. The Winter Olympic games brought athletes from around the world to venues around both Salt Lake City and Park City.
Located 20 minutes outside of Park city, the Utah Olympic Park has plenty of activities during both the summer and winter months. The park houses a sliding track, six nordic ski jumps, museum, and lots of fun summer activities too with bobsled, obstacle courses, and more.
The Salt Lake City Olympic Park features the location of the Olympic Cauldron, while the Utah Olympic Oval contains the speed skating track along with skating times for locals, visitors, and those training as well.
The Soldier Hollow Nordic Center near Heber city hosted the nordic tracks for the olympics, including cross country, biathlon, and more. There's also plenty in the summer from hiking, mountain biking, swimming, and waterskiing on the reservoir.
Guardsman Pass
Distance from Park City: 30 minutes
Open Seasonally (only in the summer), Guardsman Pass is the most direct route between Park City and the areas of the Wasatch Canyon and perhaps Salt Lake City as well.
While it's not the fastest way to Salt Lake City it's certainly the most scenic. The Guardsman Pass winds its way through the mountains topping off at 9,717 feet with gorgeous views of the mountains and valleys. It's worth the scenic drive if you have the time to travel through it.
The pass is closed during the winter. And for good reason. Even in the summer it can feel vertigo inducing at times. There's not many spots to actually stop along the way, however there are a few spots with parking (although they fill up often) and a few trailheads for those who want to explore the area. Even as just a driving route it's worth the visit.
Kamas, Utah
Distance from Park City: 20 minutes
Eat: Mirror Lake Diner
Kamas is a small town on the outskirts of Park City. It is a small little community with access to some of the best nature and parks of the Wasatch Mountains.
Set at the foothills of the Uintas-Wasatch National Park, there's so much to do from hiking, biking, cross-country skiing, snowmobiling, and even 4 wheel driving. It's also an amazing location for fall when the leaves change and the area comes alive in color.
It's got some great small-town charm with about 2,000 residents and a lovely and friendly Utah demeanor. Overall very friendly folks and just a perfect place to escape Park City or bigger cities in the area.
Heber City, Utah
Distance from Park City: 20 minutes
Eat: Dairy Keen
Located only 20 minutes from Park City, Heber City makes a easy day trip from town. The top thing in the city is obviously the Heber Valley Railroad which provides great information on the history of the trains as well as scenic train rides through the valley. They even have fun theme days and rides for the trains as well.
Beyond the trains, there's lots of hiking in the nearby mountains, a cool little town to explore, and even some stuff in the nearby area. In local Midway be sure to check out the Homestead Crater, featuring geothermal hot springs as well as places to explore. You can even do your open water dives here too! It's really a unique experience to explore.
Sundance Mountain Resort
Distance from Park City: 45 minutes
Eat: Tree Room
Located between Provo and Park City, Sundance Mountain Resort is a perfect getaway for those looking for more seclusion.
The resort has everything from skiing, to fine dining, mountain biking, hiking, and its connection with the arts. Beyond the downhill slopes there is also the Sundance Nordic Center that is great for those wanting to cross-country ski as well.
While the Sundance Film Festival (one of my favorite activities) is more synonymous these days with Park City, the festival actually got its start and name from this resort.
The one tricky part is that costs local to the resort are pricey. Food is great, but if you want to save you will have to drive some.
Ogden, Utah
Distance from Park City: 1 hour
Where to Eat: Table 25
Located an hour north from Park City and about 40 minutes from Salt Lake City, Ogden became the first settlement in the now state of Utah.
There's quite a few things to explore in Ogden for visitors, from the historic downtown to museums, and even some nearby ski areas. For kids the Ogden George Eccles Dinosaur Park is a fun place to wander, explore, see the statues and learn about dinosaur history in the area. Hill Aerospace museum is a great spot to check out for those who love engineering and aerospace.
Be sure to wander the historic 25th street with its lovely architecture and good restaurants and shops. It's also worth a quick stop at Union Station as well during your exploring. Beyond this outdoor adventures from skiing, hiking, biking and more abound in the mountains on the outskirts of town.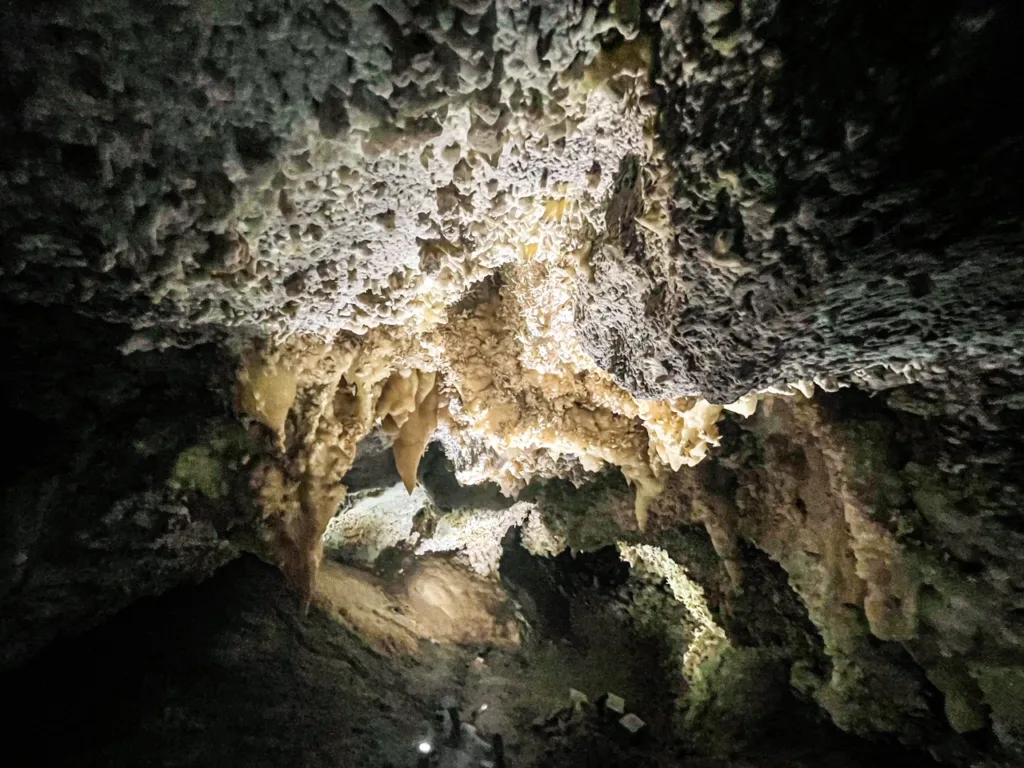 Timpanogos Caves National Monument
Distance from Park City: 1 hour
Eat: MakanMakan Asian Restaurant
The National Monument protects the cave system as well as the mountain area and trails in the Timpanogos Historic District. The caves are known for their particular crystal structures that exist throughout the various rooms of the cave.
Visiting the caves require timed tickets for tours of the caves, and several options are available for different cave tours. The standard tour takes visitors through several rooms of the cave, showcasing the beautiful cave structures. There are also options for visiting some backareas of the caves which require some climbing and other squeezing to get through small areas and view water areas as well.
Even if you've been to other caves, seeing the beautiful cave structures, some milky white and many with some really interesting shapes is worth the wander through this structure.
Just note, getting to the cave entrance requires a 1.5 mile uphill walk (and then 1.5 miles downhill) to reach the cave entrance. You need to be prepared for this and it generally takes about 45 -1 hour to reach the cave from the visitors center (so be sure to budget this time when visiting).
Provo, Utah
Distance from Park City: 1 hour
Eat: Black Sheep Cafe
The third largest city in Utah and the home of Brigham Young University, Provo has a lot to experience within this city. There's a lot to see and experience in the town from some great museums such as the Bear Life Science Museum, Brigham Young University Museum of Art, Museum of Paleontology, Museum of People and Culture and More.
Also you can explore Mormon religious places such as the Provo Utah and City Temples which are both very lovely in architecture and have some incredible manicured grounds to explore.
Beyond that, exploration in the Provo Canyon and nature that surrounds the town, as well as some cool shops and restaurants in the city as well. There's definitely a lot to do for a day trip to the city.
Evanston, Wyoming
Distance from Park City: 1 hour
Eat: Bon Rico
Evanston has become my go-to stop along the way between Denver and Salt Lake City now for the times I've gone. But it's more than just a layover. There's a lot to do in the area. The nice little town has a lot going for it. There's plenty of outdoor adventures in the area from the mountains adjacent to the town. You'll get the chance to explore some areas that see a lot fewer folks as many people don't think to come out here.
There's also a lot to do in town with the Bear river winding its way through the center. You can kayak, canoe, fish in the waters or hike, bike, horseback ride, camp and 4WD in the region as well. There's also adjoining Bear River State Park that has camping and plenty of activities and wildlife viewing from moose, elk, pronghorn antelope, eagles and other birds.
Beyond that, quick stops at the Evanston Train Station and Uinta County Museums are a nice little stop for some history of the area as well.
Echo State Park
Distance from Park City: 1 hour
Eat: Denise's Home Plate
Located an hour north of Park City, Echo State Park has some good outdoor activities including water activities on the adjacent Echo Reservoir.
The park allows fishing (including ice fishing!), boating, camping, hiking, mountain biking and is a great spot for stargazing as well.
Day use costs are $20 per vehicle ($4 walk-ins) and camping starts at $40 for single sites.
Big Cottonwood Canyon Ski Areas
Distance from Park City: 1 hour
Eat: Honeycomb Grill
The Ski resorts of Brighton and Solitude in Big Cottonwood Canyon offer world class terrain without as much of the fame of its bigger friends in Little cottonwood canyon. Don't get me wrong they can still get busy but certainly less crowds than Snowbird or Alta.
But they are both great areas in their own right with some incredibly diverse terrain, good snow, and mostly expert ski runs.
For those planning to go, be sure to check conditions of the road and snow. Sometimes they can close for avalanche risk, and many times snow chains are required. If you don't have them or don't plan to get them there are also bus options from Salt Lake City.
Little Cottonwood Canyon Ski Areas
Distance from Park City: 1.5 hours
Eat: SeventyOne
There's certainly nothing little about the ski areas in Little Cottonwood Canyon. This canyon gives skiers access to the epic (although they are on ikon) mountains of Alta and Snowbird, some of the most legendary terrain and snow in the world and the most famous in the Wasatch Mountains.
While I've driven in the canyon before, I did my first ski runs here in Winter of 2023 and it was incredible and sometimes vertigo-inducing looking down at the terrain from the top of the tram.
For those who are skiers, Alta offers lots of acres of incredible fun and reportedly better snow than its neighbor Snowbird.
We definitely recommend going on a weekday for lower crowds and to pay attention to snow conditions and road conditions. They can sometimes close the roads into the canyon in the winter due to avalanche risk.
Eden, Utah
Distance from Park City: 1.5 hours
Where to Eat: Peddler's Cafe
Having been here I can see why they call this place Eden. The beautiful mountain town, located on the shore of Pineview Reservoir is a pretty special place. It has an overall relaxed atmosphere with some incredible views of the surrounding mountains and landscape.
The town is small, there's few places to eat in the area which can be tough if you are there for a while. Also few hotels so you'll be dependent on the limited AirBNB inventory often as well. The local Power Mountain (PowMow) is also such a great spot to visit for skiing or other outdoor activities. It was definitely a local mountain, with chill workers and lots of open terrain to explore. Something that was so welcome to all of us who visited. 
We also loved the cafe we recommended, that was part real estate office, but had a cool multi-use area with live music and can support coworking at times as well.
There's also a lot of wildlife in the area, especially Elk, many that seemed to have no fear of humans. So definitely drive and walk carefully.
Antelope Island State Park
Distance from Park City: 1.5 hours
Eat: Island Buffalo Grill
The beautiful state park of Antelope Island is close to the city yet feels a world away. You can explore old homesteads, farmland, hiking trails and see quite a lot of wildlife, including Bison!
This was my friends' first experience seeing wild bison, and such an impressive landscape to explore. The island used to host many different peoples over its history from native tribes to Mormon settlers. Beyond Bison you can also see Mule Deer, Bighorn Sheep, pronghorn, and various other animals.
The island (seasonally, as sometimes it's a peninsula) is the largest of the islands within the Great Salt Lake and offers both day and overnight experience to visitors. You can camp at several campsites on the island as well as explore a multitude of on-road and unpaved roads and trails.
The island is day-use except for those with overnight camping passes. Fees for visiting are $15 per car with overnight camping fees ranging from $30 – $40.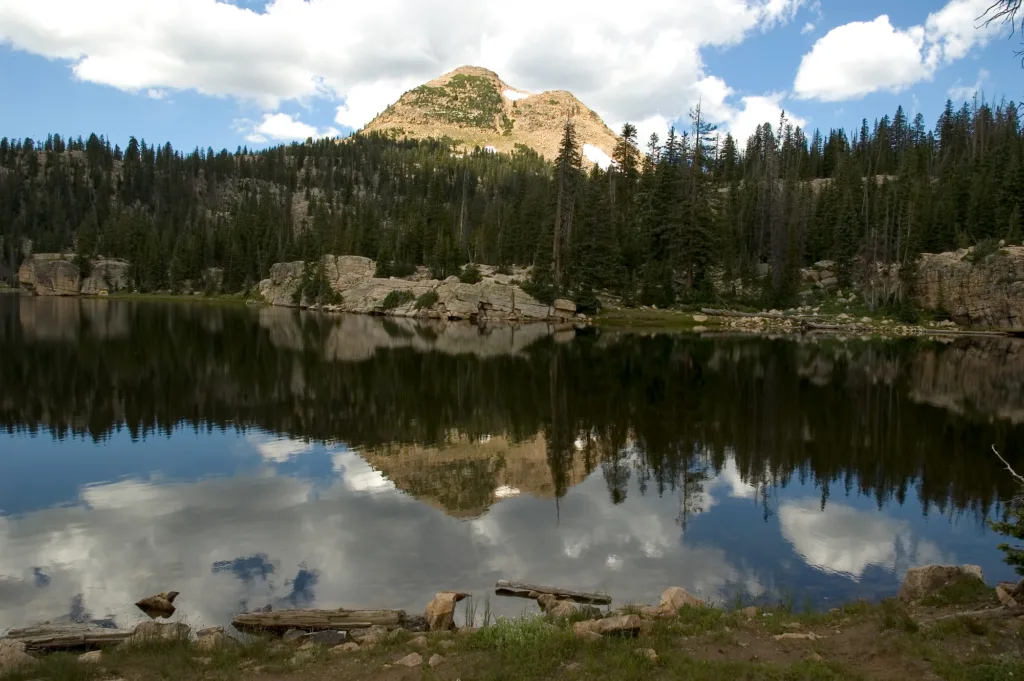 Mirror Lake & Mirror Lake Scenic Byway
Distance from Park City: 1 – 1.5 hours
Eat: Mirror Lake Diner
The water is so still and clear that it really does resemble a mirror as its name suggests. Mirror Lake is a stunning location with views of the mountains and has lots of great activities from fishing, camping, hiking, horseback riding, and more. The area and sites are very popular and for good reason, it is a fun and beautiful location to escape from civilization.
The Mirror Lake Scenic Byway, winding 42 miles along Route 50, is one of the most popular scenic byways in the state and area. You'll wind your way through forests and along mountain peaks topping off at 10,715 feet along Bald Mountain Pass (highest paved road in Utah). There's great pullovers for vistas of the mountains and area as well along the way.
Note: Driving the byway is free, however many of the recreation areas along the way are fee-use areas.
Crystal Hot Springs
Distance from Park City: 1.5 hours
Eat: J C's Country Diner
I hadn't even heard of this place until my friend made a special trip out here during her visit to the area (to get a puppy for her daughter).
Crystal Hot Springs is an institution, founded in 1901, the site has been helping visitors and locals for over a century. The springs are also known for having a high concentration of minerals which is one of its biggest draws.
The pools range in temperature from 120 – 134°F (51°C – 57°C) with constantly flowing water. There is even a natural cold spring that feeds the area as well.
There are several pools, hot tubs, waterslides and more for use. And best part, the prices are also quite reasonable as well.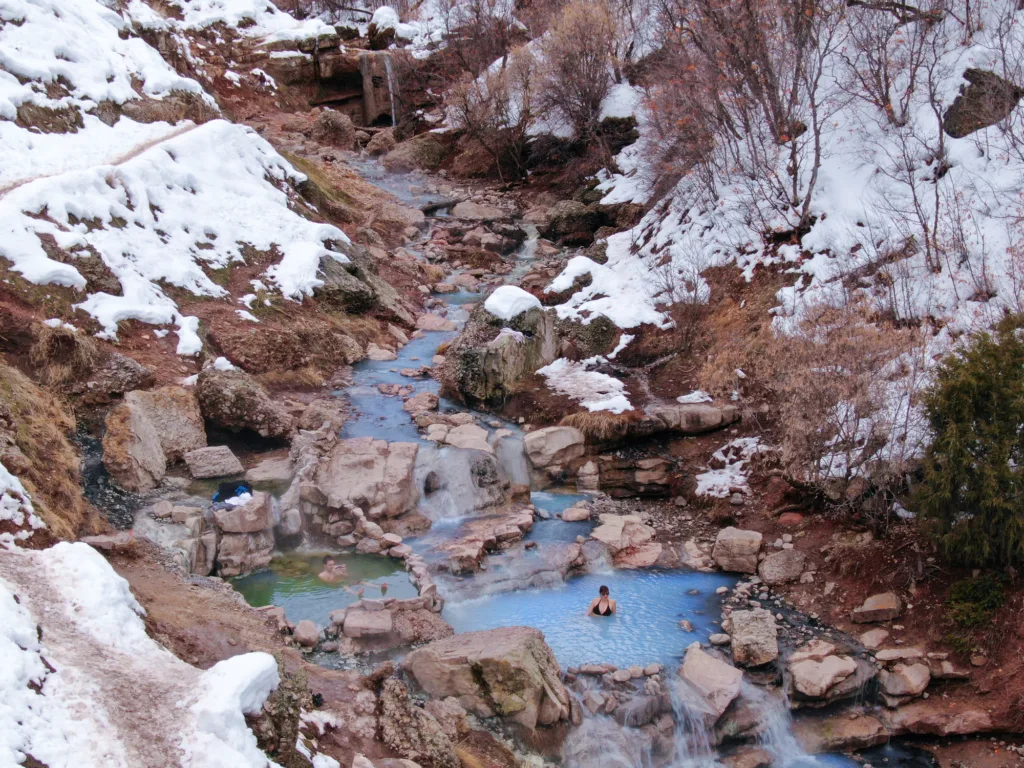 Diamond Fork Hot Springs
Distance from Park City: 1.5 hour drive and 1 hour hike
Eat: Glade's Drive Inn
Located within Diamond Fork Canyon, the Fifth Water Hot Springs brings good things to those willing to make the trek. The hot springs are located off sixth water creek an offshoot of diamond fork river.
To get to the hot springs folks will need to drive about 2 hours from Park City with the last about 10 miles along a dirt road. You should definitely ask about conditions as while usually you can navigate it with two-wheel drive, weather does play a role in your ability to drive it. Higher clearance is always recommended.
Getting out to the park requires about 2.5 miles of hiking, each way. The fifth water hot springs trail generally takes about an hour each way to reach the hot springs. Once there you'll find several pools and a small waterfall.
The trail is popular during various seasons and when the roads and weather are good. But it's definitely possible to have parts at time to yourself as well.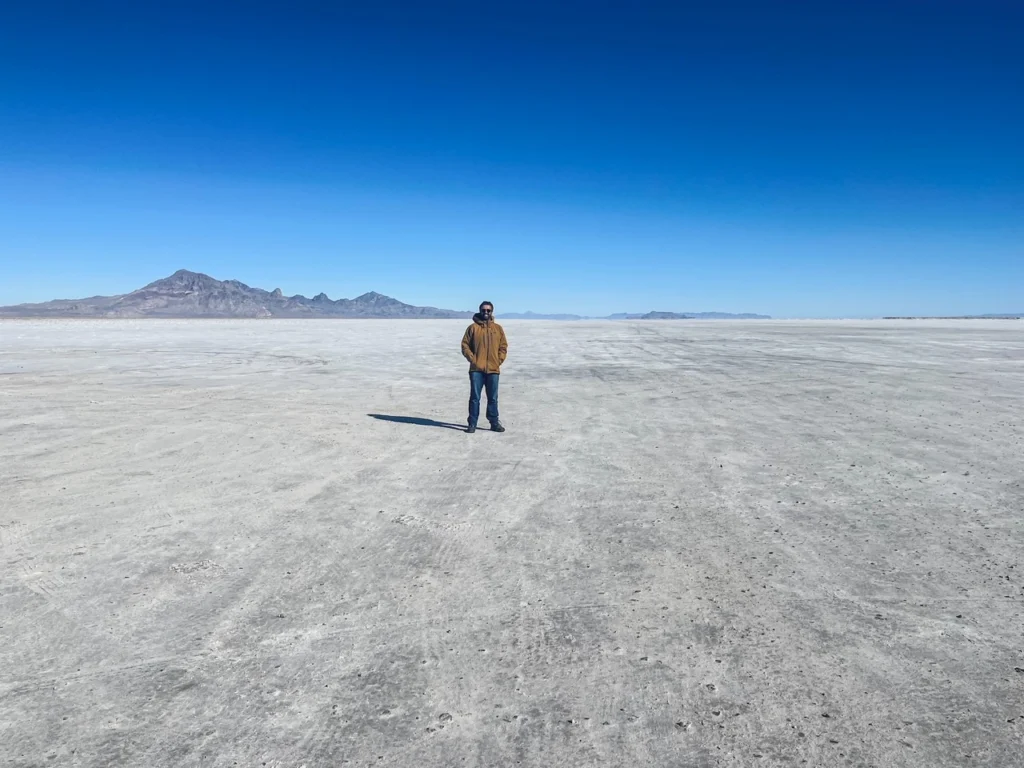 Bonneville Salt Flats
Distance from Park City: 2 hours
Eat: Romanza
Bonneville Salt Flats are one of the most unique areas in Utah, and it's incredibly big and flat salt-area has seen the conquering of some of the biggest land speed records. These days less of the land speed records are tested here (more in the black rock desert), but it still is an incredible place to test vehicles.
You can even bring your vehicle out here, and drive fast along the flat salt landscape. There's so much open land, and you can certainly try out your vehicle to see how it works.
There are seasonal closures for the salt flats however, with winters in particular difficult given rains which make the flats muddy and inhospitable to driving. Regardless, even if you don't want to drive on the flats, it's an incredible place to visit. There's no camping on the flats, however there are options nearby as well as in Wendover (closest town; over the border in Nevada).
Read More: Visitor's Guide to the Bonneville Salt Flats
Golden Spike National Historical Park
Distance from Park City: 2 hours
Eat: Golden Spike Burgers
In many ways, how the west was won was due to the railroad. And on May 10, 1869 the railroad spike that united the transcontinental railroad was driven at Promontory Point Utah. There was action on both railroads to meet as they drove construction eastward and westward until they met here.
The spike unfortunately that united the railroad is no longer here at Promontory point and instead resides at Stanford University. Of note, Leland Stanford the founder of the university was present the day the spike was driven.
The National Historic Site protects the area of Promontory Point, historical artifacts, walking trails to various important landmarks, as well as historic railroad artifacts such as a Jupiter Locomotive engine.
Read More: Visitor's Guide to Golden Spike National Historic Park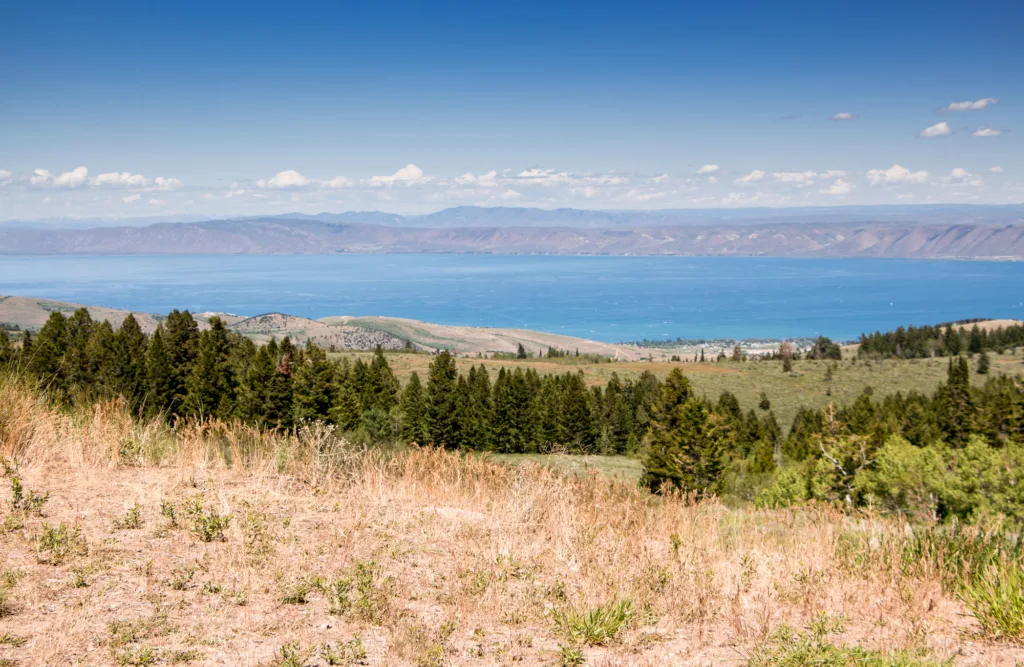 Bear Lake, Utah
Distance from Park City: 2.5 hours
Eat: Bear Trapper Restaurant
This gorgeous lake is a perfect place for a day trip or longer when in the Park City or Salt Lake City area. Especially in the summer months it has so much to do from swimming, fishing, boating, water skiing, hiking, and more.
The lake is really large and there's also a cool Bear Lake State Park on the shores that you can visit and stay at. There's facilities at the park, although a cost to visit and use as well. There's also beaches on the lake as well as places to camp in the area as well.
We recommend spending the night, but a day trip is a perfect visit if your time is limited.
Bear Lake also makes a great stop-over point for folks heading north to Yellowstone National Park.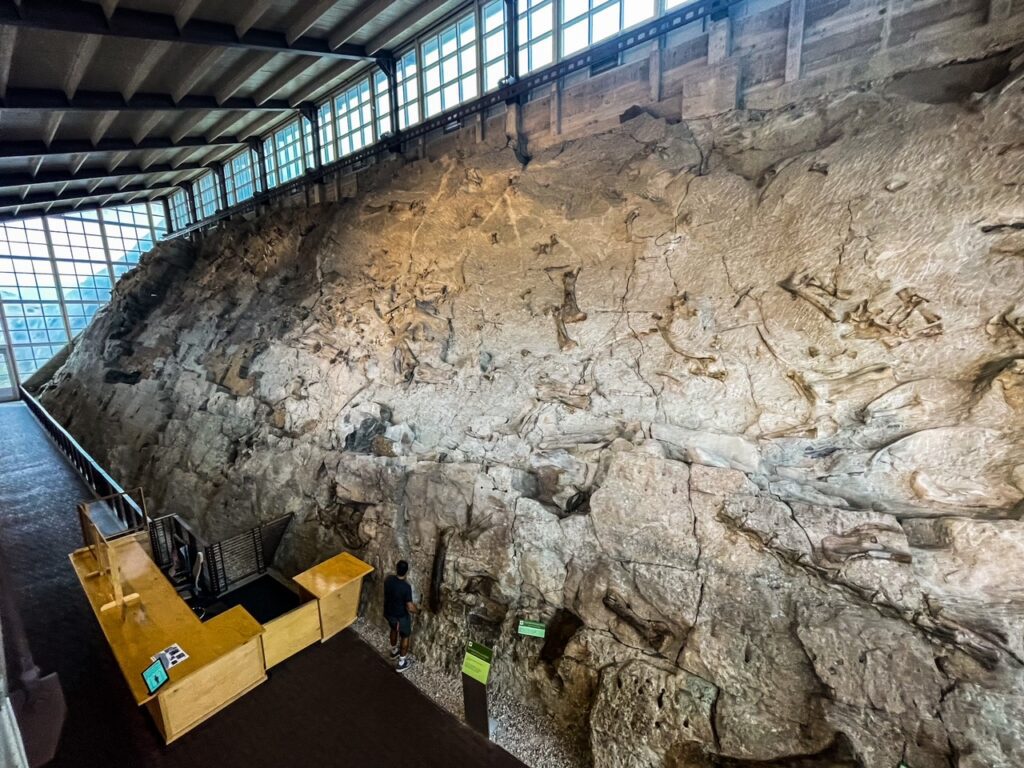 Dinosaur National Monument
Distance from Park City: 3 hours
Eat: Antica Forma
Dinosaur National Monument is a huge national monument on the border of Utah and Colorado. But if you are coming from Utah, the first area you hit is also the best. Or at least the one with the most activities related to dinosaurs and fossils. The Utah part of the monument has the famous dinosaur quarry, which is what the area is named for.
You should definitely not miss the quarry building with the partially excavated fossils on display. Beyond that there are several incredible hiking trails as well as several places to see rock art in the area. Be sure to look for the lizard petroglyph which is the symbol of the National Monument as well.
If you have time, be sure to continue east into the canyon area of the park with views of the Yampa and Green river and with some really cool hiking trails, scenic drives/overlooks, and places to just get lost.
While this can be done in a day-trip it's far and there's a lot to see. There's several places to stay in the local area, but if I had to offer one suggestion, if you can, camp. It was some of the most incredible stars I've seen in my life.
Read More: Explore Our Post on Visiting Dinosaur National Monument
City of Rocks National Reserve, Idaho
Distance from Park City: 3 hours
Eat: Rock City Mercantile
Located in southern Idaho, City of Rocks was an important landmark and travel point for those traveling westward on the CaliforniaTrail.
The unique and amazing rock formations seem to have life and they really do resemble their names such as Elephant Rock, Window Arch, Twin Sisters, and others. These days the park is known mostly for its climbing, but it's got a lot to do even for those who don't climb.
There's a scenic auto route through the reserve, with areas to stop and get close to the various rock formations. Be sure to especially stop and see the emigrant names at Register Rock, which is a frozen in time piece of American history.
For those who have time, there's camping, horseback riding, and lots of hiking in the area. There are several campsites you can stay at, and stargazing is amazing with its remote location. Be sure to stop at the visitor center for maps, park movie, gifts, and the national park passport stamp.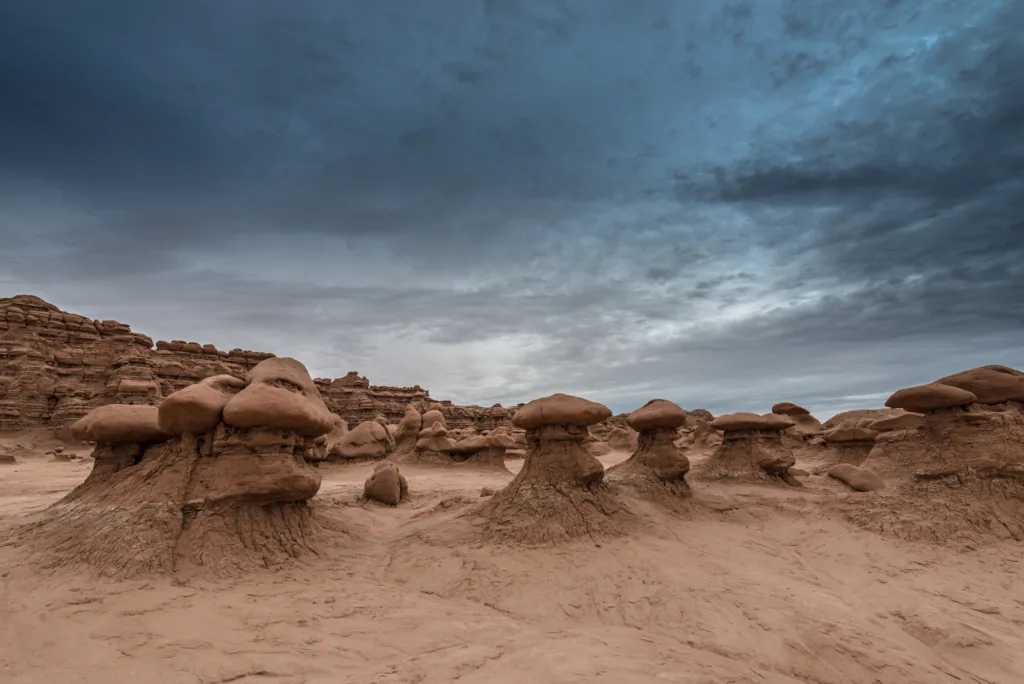 Goblin Valley State Park
Distance from Park City: 4 hours
Eat: Duke's Slick Rock
Definitely a fun experience for a state park in the area, with some really amazing rock formations and places to explore. This is one of the best places close to Park City and Salt Lake City to see the incredible mushroom shaped hoodoos rock formations that developed through years of erosion.
Goblin Valley State Park has plenty of outdoor activities to explore from hiking, mountain biking, camping, and great stargazing. It is designated as an international dark sky location and hosts several stargazing events throughout the year.
There's plenty to do in the nearly 10,000 acre park, that you'll have no trouble filling a day trip out here. If you can, spending the night camping is worthwhile and a great way to watch the stars. Day use fees are $20 per vehicle and camping is $45 or $150 for yurts (when available).
Bring food if you can. There's few services nearby. Hanksville is the closest (30 miles) but further away from Park City.
Where to Stay in Park City
Marriott Summit Watch: Probably the best location for access to restaurants and shopping in Park City. Also close to buses for access to ski areas.
Sheraton Park City: It's a nice hotel with good rooms and good service. Further outside of the downtown. But there is a bus that goes from the Sheraton to downtown. Walking isn't bad but about 30 minutes.
Treasure Mountain Inn: Good Location up the hill from downtown Park City. Nice in that it's quieter here than it would be on the main strip.
---
Are there any other places you are thinking to explore in the area? Would you like to know about further trips (4 hours +) that can be done in a long day or weekend? Let us know and we can add in our knowledge from our travels across Utah.