This is a Post about How to get to Glacier National Park and not on things to do in and around Glacier National Park. That's covered in another post. So, my goal is to cover logistics and planning.
Given Glacier NP's size and location in Northwest Montana, there are an incredible amount of options and logistics for getting to and from the park. And whether or not you are planning to stay or visit the East or Western side of the Park.
Most visitors tend to visit and stay on the Western side of the Park (for those not staying in the park). There are a lot more towns and options on that side, but that also increases the expense as well. You can may be able to save money by staying on the east, but food and other options will be more limited too.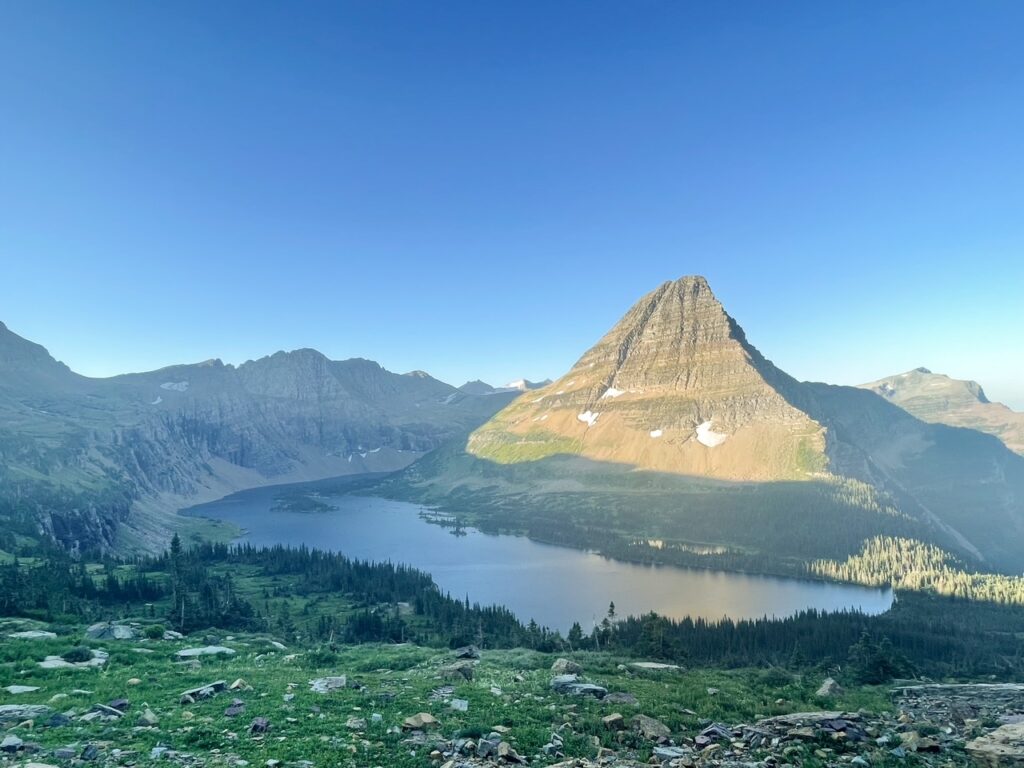 Table of Contents
Where is Glacier National Park
Located in Northwest Montana, Glacier National Park borders Canada to the north, Blackfeet Indian Reservation to the East, Flathead National Forest and Reservation to the south and Kootenai National Forest to the West. The Park is actually a sister park with Canadian Waterton Lakes National Park and the park brochures label it as a combo-park. Glacier straddles several areas and towns many of which are unincorporated communities in Flathead and Glacier County.
Glacier National Park Entrances
West Entrance
Address: Going to the Sun Road, West Glacier, MT
By far the most popular Entrance to Glacier National Park. This brings you to the Apgar area with campgrounds, restaurants, store and a Visitor Center. Folks can also take the time to visit, swim or boat on Lake MacDonald.
To Get There: The west entrance is located off US-2E about 18 miles (22 minutes) from Columbia Falls MT or 28 miles (40 minutes) from Whitefish MT.
Note: Going to the Sun Road has time-restrictions during the summer to limit traffic on the road.
St Mary's Entrance
Address: Going to the Sun Road, Browning Montana
The popular entrance on the east side of Glacier National Park and the entrance to Going to the Sun Road from the East Side.
To Get There: The St. Mary's Entrance is located west of St. Mary's Montana. From town you'll turn onto the Going to the Sun Road (you should see signs). There is also a Visitor's Center located at the Entrance.
Note: Going to the Sun Road has time-restrictions during the summer to limit traffic on the road.
Many Glaciers
Address: Route 3, Browning Montana
This Entrance allows you access to the Many Glacier Lodge, Campground and Hikes on this area of Glacier National Park. This entrance does not connect to other areas of the park by road and you'll need to drive back out to get to other sites. Currently they also require timed vehicle entry for Many Glaciers.
To get There: The Entrance is located west of Babb, Montana. To get here, from Babb, take Route 3 west for about 8 miles.
Two Medicine
Address: East Glacier MT
Two Medicine Entrance gives you access to trails and campgrounds in the South Eastern Side of Glacier NP near the Two Medicine Lakes. You'll need a timed vehicle entry for certain dates for Two Medicine.
To get there: From East Glacier Park, MT head North on Route 49 for about 3.5 miles. You'll see the road split, stay to the left onto 2 Medicine Road. The entrance station will be about 4 miles down the road.
Camas Creek Entrance
Address: Camus Road, Polebridge, MT
Located off North Fork Road, Camas Creek Entrance was a popular "backdoor" entrance into Glacier National Park. The Entrance until recently didn't even have an official entrance station. However, I learned a new one opened spring 2022. These days it's popularity also requires a timed-vehicle entrance.
North Fork Road (Route 486) is a mostly dirt/gravel road, so make sure you are ok with that with your vehicle. Its still a good option and isn't popular with tourists at all. Most don't know it exists. You'll drive about 22 miles on North Fork Road from Columbia Falls MT. After passing several campgrounds, N. Fork Road will continue left and you'll see a turn for Camas Road on the right. Turn right and continue to the entrance station.
Polebridge Entrance
Address: 714 Glacier Dr, Polebridge, MT 59928
Also located in Polebridge Montana. The Polebridge Entrance is located north of the Camas Creek Entrance.
This is the Northern most entrance on the west side and a good option for those looking for hikes and access away from the busy Going to the Sun Road.
The road is mostly dirt/gravel in terms of access to the entrance and certainly one that is not well visited. To get here. from Columbia Falls MT take Route 486 (N Forks Road) north for about 35 miles. You'll actually pass the turn-off for Camas Creek on your way to this entrance. You'll cross into the town of Polebridge and turn left on Glacier Dr. and once you cross the river you'll be in Glacier NP and should see the Ranger Station nearby.
Chief Mountain Way
This is not an "official" entrance as it is more of a traverse road between the US and Canada. However, the road does bring you into the park and there are trailheads and parking you can access from the road as well. So for all intents and purposes it's still a valid access point.
Hiking between Canada and the US in Glacier National Park
Given that the parks of Waterton Lakes National Park of Canada and Glacier National Park of the US are connected, one may wonder, can you hike between the parks?
The answer is yes, but its not so simple either I suppose.
Given that its an international Border even with the "peace park status" you need to still have valid ID to cross into either country. The area where you can cross between the parks is called "Goat Haunt" named for the nearby Goat Haunt Mountain.
Traveling from Canada to the US
You are required to have a valid Passport (with entrance to the US), Enhanced Driver's License, U.S. Passport Card, or NEXUS Card. Additionally, you must check in with a Customs and Border Agent within the Goat Haunt Area (between11:15am and 5:00 pm daily).
Traveling from the US to Canada
There is not Canadian border patrol person, however you still must check-in with Canadian Customs by calling (403) 653-3535 as soon as you arrive in Waterton. You may still be rejected for entry however.
Canada / US Border Crossings outside of Glacier NP
The closest border crossings between Canada and the US outside of Glacier National Park depends on which side of the park you are on.
Western Side of Glacier NP
Eureka, MT
Address: 7915 US-93, Eureka, MT 59917
The closest border crossing on the western side of Glacier National Park is in Eureka Montana. The crossing is about 2 hrs from the West Entrance of Glacier National Park.
Distance: Glacier NP; 96miles (2 hrs.) | Whitefish; 65miles (1hr 15minutes)
East Side Glacier NP
On the East Side you have two options for crossing to Canada by road. One inside of the Park and the other in nearby Babb, Montana
Browning, MT
Address: 1395 Chief Mountain Hwy, Browning, MT 59417
This one is located within Glacier NP and crosses into Waterton Lakes off Route 17N. This is the best option if you are planning to drive between the two parks of Waterton and Glacier.
Distance: St Mary's: 27miles (35 mins); Many Glaciers: 30 miles (47 mins)
Babb MT
Address: 1523 US-89, Babb, MT 59411
Depending on where in Canada you are going or coming from. It may be easier to cross at Babb Montana. It is only slightly closer than going directly to the Browning Montana crossing (which is better if you are going to or from Waterton NP)
Distance: East Glacier Entrance: 59 miles (1hr); Many Glaciers: 22 miles (33 mins)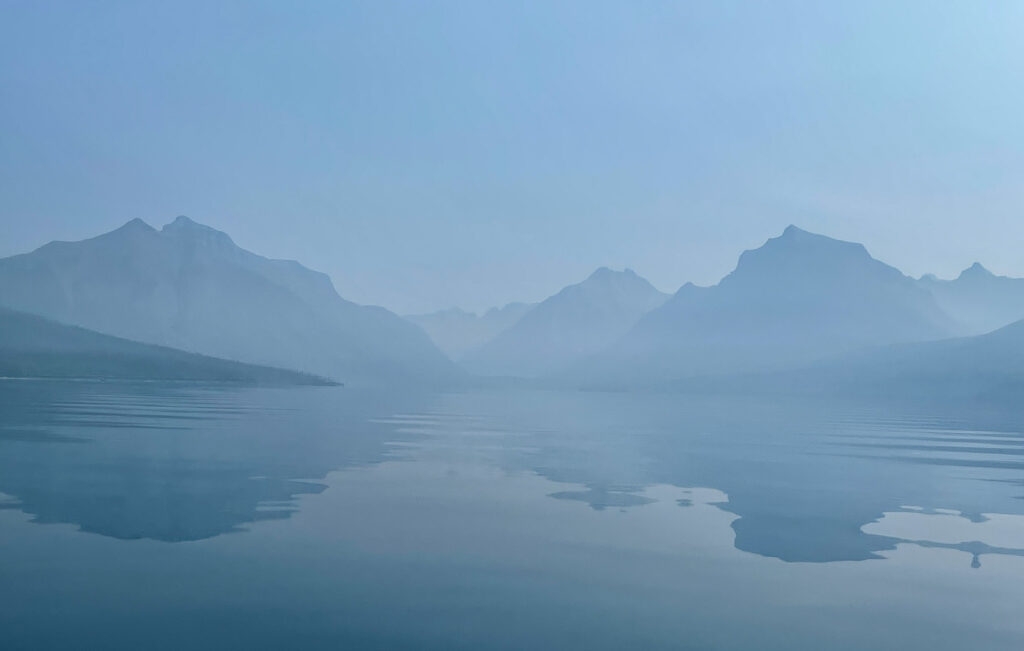 Flying to Glacier National Park
Flying to Glacier National Park is possible and you have a few options. There are a few airports close to Glacier National Park, with the one in Kalispell being the closest.
Kalispell, Montana
Glacier Park International Airport in Kalispell, Montana is Glacier National Park's nearest airport. It is located about halfway between Whitefish and Kalispell.
Given that it's a small airport, it's limited in plane size and can tend to be pretty expensive or require extra connections.
Airport: Glacier Park International Airport
Address: 4170 US-2, Kalispell, MT 59901
Distance to Glacier NP: 25 miles (~30 minute drive)
Missoula, Montana
Better options for connections and flights. Although a longer drive. Worth looking if the price is too high or connection time for Kalispell is too long.
Airport: Missoula International Airport
Address: 5225 U.S. Highway 10 W, Missoula, MT 59808
Distance to Glacier NP: 132 miles (~2.5 hr. drive)
Great Falls, Montana
Closest Option for East Glacier Entrances. Small Airport but with major airline connections.
Airport: Great Falls International Airport
Address: 2800 Terminal Dr, Great Falls, MT 59404
Distance to Glacier NP: 141 miles (~2.25 hr. drive)
Helena, Montana
Another Option for the East Entrance. It may or may not be better than Great Falls. It's Actually not a large airport even for a state capital. It's further than Great Falls.
Airport: Helena Regional Airport
Address: 2850 Mercer Loop, Helena, MT 59602
Distance to Glacier NP: 185 miles (3 hrs.)
Glacier NP by Bus
You can get to areas near Glacier National Park by long-distance or even shorter distance buses from Missoula, Helena and further beyond (often with connections in those places). There is also a shuttle/bus system that runs through Glacier National Park.
To be honest, none of these are the most convenient, but they are good options for those without a car, or without a reservation for the going to the sun road during peak times.
You will likely want to switch to a train at some point as getting all the way to Glacier NP by bus is a bit tricky. You could also take a bus to Whitefish or Kalispell and then a taxi or private car to Glacier NP. But for most long distance trips, its almost always better to take a bus to somewhere on the train line and then Amtrak. Overall this is not a convenient or cheap way to go.
Look for tickets to Whitefish or Kalispell on Greyhound.com. If you are coming from further away it might be better to connect to the train line closer to there if possible.
Glacier Shuttle System
There are free shuttle services that go between the various stops within the park. The full list of stops are:
| | | |
| --- | --- | --- |
| Apgar Visitor Center | The Loop | St. Mary Falls |
| Sprague Creek Campground | Logan Pass Transfer Location | Sunrift Gorge |
| Lake McDonald Lodge | Siyeh Bend | Sun Point Transfer Location |
| Avalanche Creek Transfer Location | Jackson Glacier Overlook | Rising Sun Boat Dock |
| St. Mary Visitor Center | | |
Not all buses stop at all locations however, so be sure to check before you board if there's a specific spot you are trying to get to.
Hiker Biker Shuttle
7:00 am – 3:00 pm every 30 minutes (Weekends: May 7 to June 26)
Stops at the Apgar Visitor Center, Lake McDonald Lodge, and Avalanche Creek only.
15 passengers max (there's a bike trailer too)
Express Shuttle (Non-stop to Logan Pass)
Daily July 1 and continues through Labor Day. (Sometimes reduced services for rest of September)
Non-stop from Apgar Visitor Center to Logan Pass: 7:00 am – 8:30 am (Every 15 minutes)
Non-stop from St. Mary Visitor Center to Logan Pass 8:00 am – 8:45 am (Every 15 minutes)
Approx. 15 passengers max
Full Shuttle Service
Stops at every stop on the list above
From West to East (9:00 am – 7:00 pm)
From East to West (8:00 am – 7:00 pm)
There are shuttle transfers if you want to go further in one direction.
Pay attention to to the time if you need to go further

Last shuttle departures

From Apgar Visitor Center with connections to St. Mary Visitor Center ~4:20 pm.
From Apgar Visitor Center to Avalanche Creek without connections ~5:20 pm.
From the St. Mary Visitor Center with connections to Apgar Visitor Center ~5 pm.
Last departure from Logan Pass ~7 pm.

Try not to wait until last bus. Or you could get stuck!
Reduced Late Season Service: Labor Day – Late September
9:00 am – 5:00 pm (~every 30 minutes)
Last departures

From the Apgar Visitor Center with connections to St. Mary ~3:30 pm.
From Apgar Visitor Center to Avalanche Creek ~4:15 pm.
Shuttle service ends at Logan Pass and Avalanche Creek ~5:00 pm.
---
Getting to Glacier NP by Train
Glacier National Park does have service to the areas outside of the Park via Amtrak. It is actually a popular trip as well given how beautiful the landscape you'll traverse.
There are Amtrak Stations in East Glacier and West Glacier on either end of the park. The Train travels south along the park through Essex Montana.
However, it should be noted that getting into and through the park is going to be tough without your own transportation. You could rent a car near West Glacier although that may be expensive. You may have better luck picking up a car in Kalispell or Whitefish (also has an Amtrak Station).
Amtrak does have several tourist trips that include boat rides by Two Medicine and tours into the Park that you can book through their site. Check out the Amtrak Glacier Trip Site for more information and prices.
West Glacier Amtrak Station
Address: 12544 US-2, West Glacier, MT 59936
Ticketing: There is no ticket booth at this station
Parking: Parking is available
This is a simple station without a shelter or ticket booth.
East Glacier Amtrak Station
Address: 400 Highway 49 North East Glacier Park, MT 59434
Ticketing: There is a ticket booth
Hours: 9:00 AM – 12:00 PM; 5:30 PM – 8:30 PM
Parking: No Parking Available
Storage: Storage is available (although not for skis/boards)
This is the bigger of the two Glacier Stations. Also where most of the Amtrak tours start and end if you book one of those.
---
Whitefish Amtrak Station
Address: 500 Depot St, Whitefish, MT 59937
Ticketing: There is ticketing available
Hours: 6:00 AM – 2:00 PM; 4:00 PM – 11:30 PM
Parking: Parking is available at this location
Storage: Available (including Ski Storage)
Whitefish is a station within the town of Whitefish which is close to the West Entrance to the Park. You'll have more options for lodging as well as cars/foods here. It's also a good jumping off point for skiing at Whitefish mountain.
Driving to Glacier National Park
You can drive to Glacier National Park from many places. I've actually done this drive from different locations even across country from New York!
I'll help you navigate how to get here and the best places to make the trip from.
Distances to Glacier National Park
Below are the various distances to Glacier from well places you may find yourself. Some of these have ranges depending on which way you go or if you go to West Glacier Entrance or to St Mary's Entrance (east end of Going to the Sun Road). If a place's shortest route from one entrance to the other is through the park (e.g., from Spokane) , I only included time to the nearest entrance.
Missoula to Glacier NP: 138 miles (2.5hrs)
Helena to Glacier NP: ~200 miles (3-4 hrs.)
Butte MT to Glacier NP: ~250 miles (4 – 4.5 hrs.)
Bozeman to Glacier NP: 300 – 350 (5 – 5.5 hrs.)
Billings MT to Glacier NP: 375 – 420miles (6 – 7 hrs.)
Spokane to Glacier NP: 275 miles (~5hrs)
Mammoth Springs Yellowstone NP to Glacier NP: (400 – 430 miles (6.5 – 7.25 hrs)
Jackson WY to Glacier NP: 500 – 600 miles (8.5 – 9 hrs.)
Theodore Roosevelt NP to Glacier NP: 542-570 miles (9 hrs.)
North Cascades NP to Glacier NP: 500 miles (10 hrs.)
Mount Rainier NP to Glacier NP: ~560 miles (9.5 – 10.5 hrs.)
Boise Idaho to Glacier NP: 500 – 655 miles (10-11hrs.)
Salt Lake City to Glacier NP: ~650-700 miles (10-11hrs.)
Denver to Glacier NP: Approx. 900-1000 miles (16 -18 hrs.)
I'm planning to include various longer drives between Glacier National Park (such as driving Denver, Colorado to Glacier NP) and some of the above destinations. Planning out the road trip logistics and places is taking longer than expected, and wanted to get this guide up sooner. But these will be coming soon!
---
Anything missing that you want to know? Send me an email or a comment and let me know and I'll try to update.
Other Posts you May Like