Sitting alone in the café in Jordan I was working hard to try to plan my holiday travels.  Holiday from Holiday travels perhaps is the proper term as I was on Holiday in Jordan (although studying Arabic). After purchasing my tickets and telling friends I was going to Turkey one of my friends from my old Jordan visit told me that I must visit Haydarpasa Gar in Turkey.  Why?  Because it is where the Hejaz Railway started.  After my visiting to the Hejaz Station in Jordan I knew I could not miss it.  My friend –M- who is living in Turkey didn't know it, but he was about to be my unofficial tour guide.
What is the Hejaz?
Spanning several countries, the Hejaz railway was a train line that connected Istanbul down through the Arab countries all the way to Mecca and Medina in modern day Saudi Arabia.  It was an impressive rail line completed over a hundred years ago.  Stop and stations such as those in Damascus are legendary but alas due to the war have remained inaccessible.  While I cannot visit all the stations along the line, the very least I could try to see its point of origin.
"I want to go to the Asian side." I mentioned to him soon after we dropped off my lack of bags (another city another lost bag!).  He lived on the Asian side and even he was a bit confused with my request.  I was trying to see about getting us to go there without him really knowing so as not to complain (I can be a bit sneaky like that).  He seemed to agree and we wandered about Kadikoy people watching and food sampling.  You can see the train station however from the water and my friend had no idea that was what that place was.  It was through asking random locals that we were able to find out where exactly this place is.  A surprisingly short walk from the main ferry terminal.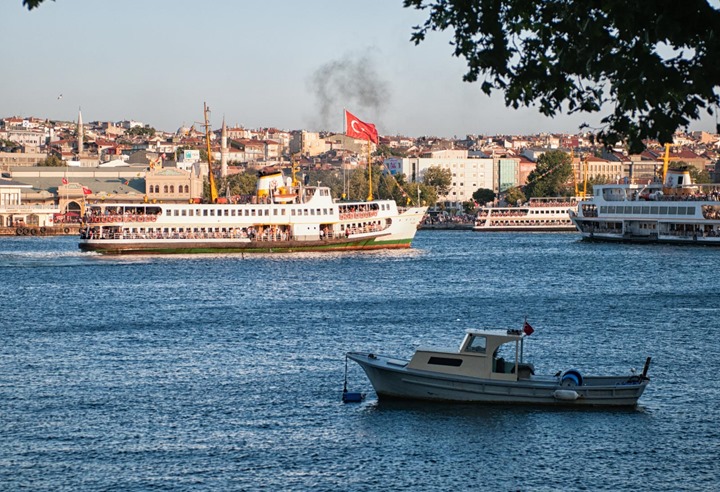 The train station itself is absolutely beautiful but really rather quiet. We saw a restaurant that seemed to be doing regular business and a few people lazily wandering the areas around it enjoying the coast and the scenery.  I loved the wood work in the doors and ceiling and the architecture of the overall station.  It was truly a beautiful place and not at all on the tourist radar (why I'll never know).
The interesting part is that it is still an active train station (although it didn't really feel that way when we were there).  There were trains that were there and I've talked with several folks both in and out of Turkey who actually took trains there to other destinations.  Obviously with the issues in Syria one cannot ride the entire line anymore…and there is no way to know when such a thing will (if ever) be possible again.  However there are destinations across the Asian part of the country that do have rail connections and part of me wishes to return and see where it goes.  Too many things in life and never quite enough time!
I'm not really sure why I had my hands up like that.  Completely the fault of my friend.  I'm sure there was a reason but I sorta just followed his creative direction.  It looks a bit like I'm giving up or just confused as to why we were here.  Perhaps he was just confused and wanted me to follow along!
Getting There:
It is fairly easy to reach here.  Take the ferry to the Asian side (Kadikoy) and walk along the water towards the train station.  I'm sure you can probably take a bus but it's a really short walk in general.  If you want a good photo of the entire station (such as in the beginning of the post) be sure to get a nice seat on the ferry to view it from the water.
Where to Stay:
There is no shortage of great areas in Istanbul. But if you are looking for somewhere to stay, we recommend checking out this guide to hotels Istanbul.