The largest Island in Lake Superior and one with a varied history, Isle Royale National Park is one that most people (even freq. National Park visitors) know little about. The park started life with ancient Ojibwe history from generations ago. With European settlers the area became known for mining which later turned into a resort for wealthy Michiganders.
Fishing and resort life declined considerably on the island and in 1940 the Island became a National Park. Following its new designation, exploitation of minerals, trees ended, and the few remaining settlers were moved off the Island.
Table of Contents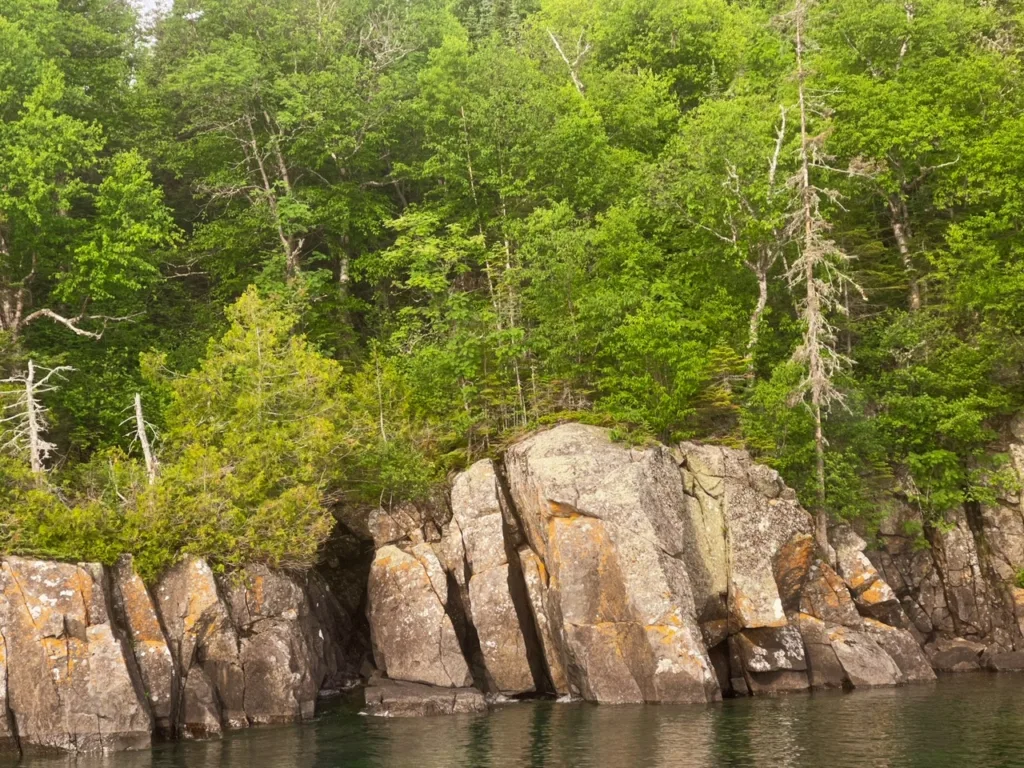 About Isle Royale
The 45 mile long (9 mile wide (at its widest point) National Park is located in the middle of Lake Superior and incredible when you forget that it's situated within a freshwater body. The main island is surrounded by almost 400 islands from ones that are tiny to more medium and larger sized islands. The park is generally open seasonally from April 16 through October 31 and hosts many plant and animal species. Many of which are surprising to find on the island such as Moose and Wolves.
These days, the island has some remains of its mining, fishing, and resort history, but much of the island now is designated as wilderness. Over 90% of the land is considered wilderness and exploration and camping requires a backcountry permit. The island boasts being a National Park, UNESCO International Biosphere Reserve, Historic Site, National Wilderness, and a Minong (the Ojibwe name for the Island) Traditional Cultural Property.
The park is one of the least visited National Parks in the United States, and boasts the fewest visitors of any National Park in the contiguous United States (lower 48 states). But it is known as one of the Parks the most frequent revisits. Follow along to learn what to do and why you should visit. This remote National Park, while closer to Minnesota, is completely within the state of Michigan.
| | |
| --- | --- |
| Established | April 3, 1940 |
| Area | 206.73 square miles (571,800 acres) |
| Approx. Annual Visitors | < 27,000 |
| Best Seasons to Visit | Summer |
| Time Zone | Eastern |
Things To Do
Hiking
Hiking is the most popular activity at the park. There are miles of scenic hiking trails that crisscross through the islands. If you are only staying for the day, pay attention to times for the hikes as you need to be back to the boat to leave. Below are a sample of popular trails to explore:
Grace Creek Overlook: Windigo: 3.5 miles; 1.5- 2.5 hours. Offers beautiful views over grace creek, and lake superior. One of the "highest" points on the island. Good place to snack and enjoy the views.
Windigo Nature Trail: Windigo: 1.2miles; 30 minutes: Easy Nature trail with boardwalks in parts. Recommend getting a guide from the visitor center or take a ranger-led hike.
Minong Ridge Overlook: Windigo: 6.6miles 3-4 hours: Moderate Trail with some nice overlooks over the lake and area. Can be done as a day hike but you need to walk fast.
Scoville Point (Stoll Memorial Trail): Rock Harbor: 5 miles; 2 hours; Moderate trail taking hikers through wooded lands, rocky areas near Rock Harbor. Trail ascends to Scoville Point for views of the area.
Greenstone Ridge Trail: 40 miles; 16+ hours: Windigo to Rock Harbor: this is the most direct route overland between Windigo and Rock Harbor. Popular for cross-island hikers. Most visitors take 3-5 days to complete.
Boat
Boating is a popular activity on the island. Some areas of the park are only accessible by private water vessels. You can arrive to the island by boat, or you can also bring small watercraft with you aboard some of the ferries.
Be sure to check with the ferry as you may need to make a reservation that allows you to carry a water vessel board. Kayaking and canoeing are very popular in the National Park.
Scuba Diving
There are multiple shipwrecks within the boundaries of Isle Royale National Park, and visitors have the opportunity to dive and visit the wrecks as part of their visits.
Diving Lake Superior is challenging and requires specialized equipment and experienced divers. Lake Superior waters are cold all year round, drysuits are recommended.
There are no services for divers on the island, you need to bring all equipment, air filling, etc with you to the island. Additionally, due to Isle Royal being one of the most remote national parks, emergency services are limited and/or unavailable.
Major wrecks are buoyed to allow mooring for vessels for diving wrecks. Check with visitor centers on current conditions before mooring/diving.
Permits: Divers are required to register prior to diving at Rock Harbor, Windigo, or Houghton Visitors centers. Permits must be kept on-hand and returned after completion of the visit.
Fishing
There is excellent fishing within Isle Royale as well as the coastal areas around the park.
For fishing in Lake Superior, you'll need to have a Michigan fishing license. This includes bays and harbors along the land. You can purchase a Michigan License online or in stores.
Fishing at inland lakes of the park does not require a license.
There are however, a lot of regulations to fishing in Isle Royale. Be sure to check the Isle Royale Fishing Regulations for more information.
Camping
Camping is a popular activity on the island and one of the best ways to explore and experience Isle Royale National Park. Camping on the island does require a free backcountry permit to stay overnight. Be sure to collect a permit at either Rock Harbor, Houghton, or Windigo. Check out our camping section for more information.
Stargazing
Stargazing is a popular activity on the island with some beautifully clear nights. Isle Royale is incredibly remote with little light pollution, so you'll be treated to great stars and occasionally views of the Northern Lights. You'll need to camp to experience stargazing here.
Getting to Isle Royale National Park
Getting to Isle Royale is half the adventure! The island is located in the heart of Lake Superior with its often rapidly changing weather and conditions. There are several ways to get here including ferries, private vessels, and seaplanes. We help you plan your trip to get there.
From Michigan
Ferry
Ranger III: This ferry provides service from Houghton Michigan to Rock Harbor on Isle Royale. Travel from Hougton to Isle Royale takes approximately 6 hours, so there are no day trips from this location.
Boats leave at 9am ET from either Rock Harbor or Hougton.
Reservations: Ranger III is a bit annoying to reserve. First check this site for availability, then you need to make payment on this site. Reservations are only available from January 3 – Mid-September. Reservations made outside those times will not be accepted.
Isle Royale Queen IV: Operates between Copper Harbor and Rock Harbor, Isle Royale. Ferries depart at 8am and take approximately 3 hours to reach Isle Royale. Ship departs Rock Harbor at 2:45 pm EDT
Ferry Day Trips are available from this Location, you'll have approximately 3.5 hours on the island for exploration.
Reservations: Isle Royale Line Website
Seaplane
Seaplane service in Michigan is only available from Houghton. Seaplanes provide service from Houghton to Rock Harbor and Windigo, as well as inter-island service between the two locations.
Prices are several times higher than ferry services. Travel time from Michigan is approximately a 40 minute flight.
Reservations: Isle Royale Seaplanes
Location: Hancock Portage Canal Seaplane Base, 21205 Royce Road Hancock, MI 49930
From Grand Portage Minnesota
Grand Portage is a popular spot to visit Isle Royale from. It is the closest mainland area with ferry service to the island, and popular for day or multi-day visits to the national park.
Ferry
There are ferries from Grand Portage to Isle Royale for both day and multi-day trips. Voyageur II and Seahunter III both service Isle Royale from Grand Portage Minnesota.
Sea hunter III only takes visitors from Grand Portage to/from Windigo, Isle Royale
Voyageur II sails both to/from Windigo but also at locations around Isle Royale. Check this map for its docking areas. If you need a dropoff/pickup at a location other than Windigo or Rock Harbor you MUST specify the location as the boat likely will not stop at another location without a known reservation.
You must be at the ferry dock 15 minutes before, but we recommend getting there about 30 minutes ahead.
Ferry Day Trip:
Day trips leave from Grand Portage at 830am (CDT) and arrive at 10am (CDT) at Windigo. They depart at 2pm (CDT) from Windigo and return at 330pm CDT. Pay attention to the time, as Isle Royale and Minnesota are in different time zones!
Be sure to park in the proper area depending on whether you are day or multi-day. Parking is $10 per day. You'll pay upon your return from Isle Royale.
Reservations: Isle Royale Transportation Lines
Seaplane
Seaplane service is available to Isle Royale from Grand Marais Michigan (about 40 minutes from Grand Portage).
Travel from Grand Marais is approximately a 30 minute flight to Windigo and a 45 minute flight to Rock Harbor.
Prices are upwards of $250 per person.
Reservations: Isle Royale Seaplanes
Location: Cook County Airport: 123 Airport Road Grand Marais, MN 55604
Visiting by Private Boat
Visiting by private boat is an option for Isle Royale National Park. However, there are requirements for visiting by private vessel to the island. Private Boating is the only way to visit certain areas of the park including many of the lesser visited islands.
All boating requires the park entrance fee (either an annual pass or paid at Windigo, Rock Harbor, or Hougton) and overnight stays require a boating permit in advance.
Advanced permits are obtained by calling (906) 482-0984. You'll need to print and sign the permit and display it on your vessel at the dock and any tent/shelter you are staying in. We recommend printing multiple copies.
Be sure to adhere to any quiet/no wake zones for Isle Royale National Park, also refer to this map for anchorage zones.
Fuel is available at Windigo and Rock Harbor during certain times of the year (and normal business hours. Bring Extra Fuel. Don't get stuck depending on the park for fuel.
2023 Fuel Availability Dates:
Rock Harbor: May 26 through September 12
Windigo: June 6 through September 9
Places to Stay in Isle Royale
There is one and one set of cabins to stay within Isle Royale National Park. Each is located at each of the maintained locations with visitor centers on the Island.
Rock Harbor Lodge
Located in the Rock Harbor Section of Isle Royale. Rock Harbor Lodges is the only full service lodging on the Island of Isle Royale. The lodge contains 60 rooms and 20 cottages that can be rented. Full service housekeeping, laundry facilities, Greenstone Grill Restaurant, gift shop, and wifi are available at the lodge.
Options Include a king room, double room, 2 double room, suite, and cottages which can house families and larger groups. Cottages have a kitchenette which is great for those bringing food.
Reservations Required, and can be booked here. Reservations can be made up to a year in advance.
Windigo Camper Cabins
Located in the Windigo area on the west side of the Island. Cabins accommodate 6 people and contain 2 twin bunk beds, full futon, electrical outlets, outdoor grill, and a deck. Bathrooms are shared with other cabins in a separate building.
Reservations Required and can be booked here. Reservations generally open in January for the year.
Camping in Isle Royale National Park
There are 36 Campgrounds located within the islands of Isle Royale National Park. All camping in the park requires a permit, which is part of the backcountry permit you'll obtain for your visit to Isle Royale.
Camping sites are first-come first-serve, and are not reservable ahead of time. For those who plan to stay close to the ferry drop-offs there are two campsites that many folks use for camping.
Washington Creek Campground: 19 sites: Located in the Windigo area of Isle Royale. This is a popular campsite for those who want to base camp and stay close to Windigo
Rock Harbor Campground: 23 sites: Located near Rock Harbor Visitor Center and the ferry.
Daisy Farm Campground: 25 sites; The largest campground on Isle Royale, and a popular basecamp for exploring the island. Not located near Windigo or Rock Harbor. Voyageur II visits the campground, but you need to make reservations.
All groups require a permit (issued at Isle Royale National Park at Rock Harbor or Windigo), however, groups greater than 6 require advanced registration (and payment). You need to fill out this form online to pay in advance.
We recommended buying supplies prior to visiting Isle Royale. There are supplies available such as food, stove fuel (including partial cans), and other needs at the camp stores at Rock Harbor and Windigo. However, supply is certainly limited and likely higher than you'd find on the mainland.
Places to Stay Near Island Royale
Minnesota
For those visiting from Minnesota, it's generally important to stay somewhere close to the boat launch to be sure to make the morning trips. We recommend a few places you can check out for staying. The next major town to Grand Portage is Grand Marais (40 minutes away)
Grand Portage Casino: The only hotel close to the Grand Portage ferry boat launch for those visiting from Minnesota. The hotel/casino is clean with a couple restaurants and a casino. There's also camping/RV options for visitors who prefer to RV or camp. There is a reservation site, but we recommend calling [ 1-800-543-1384 or 218-475-2401 ]
Best Western Plus Superior Inn: Grand Marais: Good Location, walking distance to restaurants. Nice, clean rooms, mid-priced option.
East Bay Suites: Grand Marais: Love this location near the water in Grand Marais. Walkable, beautiful rooms, some with kitchens. Limited inventory and books quickly.
Aspen Inn: Grand Marais: Good Location, nice rooms. Swimming pool/hot tub. Lacks 24 hr front desk, so be sure to plan ahead if you are coming late.
If you have difficulty booking these lodges, there are also AirBNB options available, although we haven't stayed at any to recommend.
Michigan
Since Isle Royale is in the state of Michigan (although closer to Minnesota), there's regular ferry services from Hougton and Copper Harbor on the upper peninsula. We recommend staying close to the ferry prior to heading to Isle Royale.
Copper Harbor
Bella Vista Motel: Great Location near the Marina and walking to restaurants. Offer cottages, and rooms, at a range of prices.
King Copper Motel: Clean Simple rooms next to the ferry. Located close to restaurants and right on the water.
Fanny Hooe Resort: Rooms as well as RV spaces and campground located adjacent to Lake Fanny Hooe. Good option but not walkable to restaurants like other options.
Hougton
The Vault Hotel: Gorgeous albeit pricier option. It has a mix of old-style history and modern luxury. You won't find a better option in town.
Hampton Inn: A nice option, with good, clean rooms next to the Houghton Visitor Center. Free breakfast. Close to restaurants as well.
Ramada Hancock Waterfront: Nice Location on the water, good prices, nice rooms. Not as walkable as other options.
Practical Information
For those visiting, this is some useful practical information for your visit. The park is seasonal, one of the least-visited national parks, and requires some logistics to visit. Hopefully this information helps in your planning.
Dates of Operation
The Park is open generally from April 16 – October 31st annually. However, most of the facilities have reduced operations in April, May, September, and October. The park is closed at other times of the year.
Visitor Centers
There are two visitor centers on the islands of Isle Royale National Park and one administrative office on the upper peninsula of Michigan.
Located in Windigo within Washington Harbor on Isle Royale, the Visitor Center has on-staff rangers, small exhibits, a movie, maps, and gift shop. Be sure to check out the big fresnel lens in the visitor center!
This is also where to find out about park ranger led tours and talks. They had some great talks when I visited. Nearby there is also the camp store, bathrooms, and laundry facilities.
Hours: Open Daily 8am – 5pm June 4 – Sept 16; reduced schedule otherwise.
The Visitor Center for those arriving at Rock Harbor. Has ranger information, maps, gift shop, small exhibits, and location to pay park fees. Also great to stop to learn about events such as ranger talks and hikes. The site is also near the restaurant for Rock Harbor Lodge, a camp store, bathrooms, and laundry facilities.
Hours: Open Daily 8am – 5pm June 4 – Sept 16; reduced schedule otherwise.
The main administrative offices for Isle Royale National Park. There is information for those visiting the islands, maps, etc. This is also a great place to pay fees if you are planning to visit Isle Royale by private vessel. Also a great place to park for those taking the ferry from Houghton to Isle Royale.
National Park Fees
Adults (16+): $7 per person
Children (15 and under): free
Isle Royale Annual Pass: $60 (covers 3 adults)
Annual passes such as the America the Beautiful Pass, Access Pass, etc. cover up to 3 adults.
National Park Passport Stamp
National Park passport stamps are available at the visitor centers at Windigo, Rock Harbor, Hougton, or on the Ranger III ferry.
Website: The Isle Royale Official National Park Service Website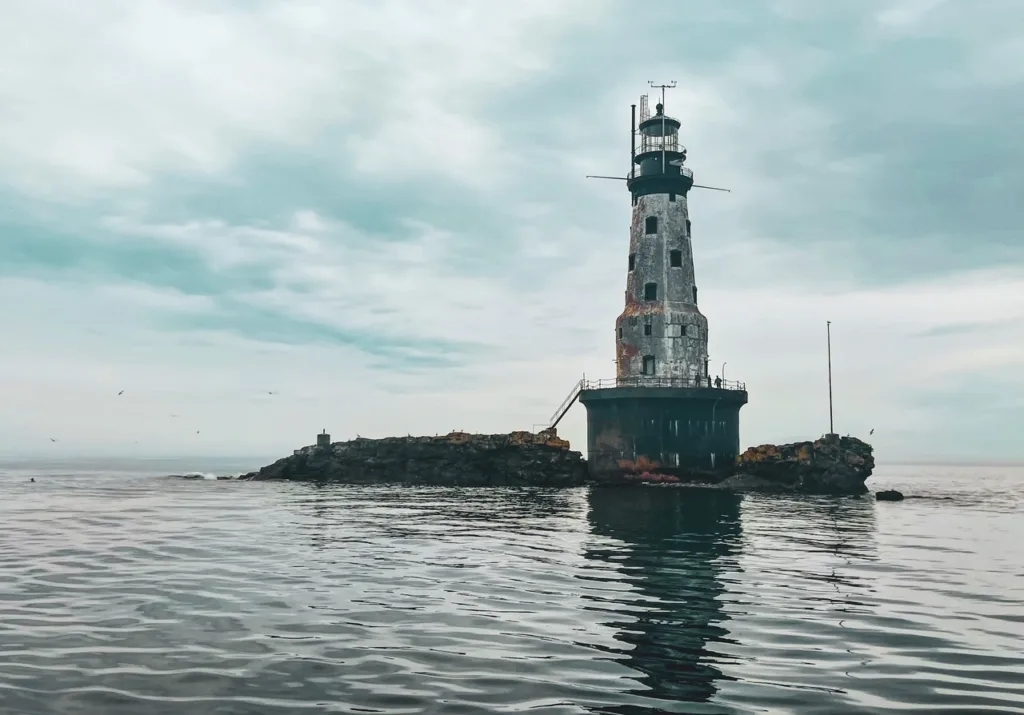 Lighthouses of Isle Royale
There are 4 lighthouses that served Isle Royale over its history. The following are descriptions of the lighthouse.
Rock of Ages Lighthouse
One of my favorite Lighthouses, with an incredible history, architecture, and definitely the best name. Rock of Ages is worth a visit even from afar.
Unfortunately while I was visiting Isle Royale, the Lighthouse was undergoing restoration. I did get to meet several of the restoration team who were also visiting Isle Royale at the same time I was.
Built in 1908, the lighthouse is a feat of engineering. Built on a small islet just outside Washington Harbor, the 117 foot lighthouse seems impossibly perched on the small rocky outcropping in the lake. The total cost for construction was 125,000 far higher than the Rock Harbor Lighthouse and quite expensive for the time. The light from the lighthouse on a good day can be seen for up to 29 miles away.
The lighthouse saw operation until 1977 with a lighthouse crew that resided at the lighthouse. These jobs were very lonely and isolating but incredibly important to shipping through the region.
The Rock of Ages Lighthouse is often seen from boats traveling from Grand Portage to Windigo.
Rock Harbor Lighthouse
Built in 1855, the lighthouse and tower has sat on the Isle Royale guiding boats through the foggy weather of the great lakes. In the mid-1800s following the Treaty of LaPointe with the Chippewa Indians, the exploitation of copper and wood on the island accelerated. With the increased boat traffic, the needs of a lighthouse on the Island was determined necessary.
Rock Harbor lighthouse was the first to be built on the Island, costing approximately $5,000 at the time with a light visible for up to 14 miles away. However, the mining on the island was short-lived, with the lighthouse going in and out of service for a period of approximately 25 years. Years later the island saw visitors come for parties and exploration, with a family living in the early part of the 1930s.
However, since the establishment of the National Park, the lighthouse has stood inactive and mostly a point of interest for visitors to the National Park.
The Rock Harbor Lighthouse is generally a stopping point (to view) for boats from Copper Harbor, Michigan to Rock Harbor or for boats traveling from Rock Harbor to Windigo.
Passage Island Lighthouse
Located on the Northeast side of the Island, the lighthouse was built to guide boats between the main Isle Royale Island and Passage Island. Passage Island is a remote island at the extreme end of Michigan within Lake Superior (close to the Canadian Border) and often a point where boats traveling between Canada and the United States will pass. This is why the lighthouse is an important fixture for transit within Lake Superior. This passageway was considered quite dangerous for boats passing through this "gap".
Completed in 1882, this lighthouse became the most important light within the Isle Royale chain of Lighthouses. It primarily serviced boats traveling from Thunder Bay Ontario and Sault Saint Marie, Michigan. Built for approximately $18,000 the lighthouse was manned through the 1950s and these days is still in operation however it is fully automated.
This lighthouse is generally not visited, and can only really be reached/seen by private vessel. The lighthouse itself is not generally open for visits.
Isle Royale Lighthouse
Built in 1875, the Isle Royale Lighthouse services the south side of Isle Royale at the entry to Siskiwit Bay. The 61 foot red-brick lighthouse stands watch on the small rocky islet of Menagerie Island.
In good weather and on a good day, the light from Isle Royale is visible up to 10 miles away. The lighthouse was built to support shipping to the island during the copper boom. Entry into Siskiwit bay is particularly dangerous and tricky and with the importance of mining and operations in the bay the lighthouse construction was authorized.
The lighthouse still operates, however like most lighthouses, it is fully automated. The lighthouse is not visited by any of the tour/ferry boats that visit Isle Royale and is only reachable by private craft.
Animals of Isle Royale National Park
There's a diverse animal population within the islands of Isle Royale. Some you'll have a good chance of viewing, with many others being rare but exciting to witness. We wanted to cover some of the amazing fauna you'll find within the National Park
Marten
The American Marten is a small weasel-like mammal that is known to inhabit lands within the northern areas of North America (north US and Canada). Martens were hunted extensively in many areas of the west for their fur in past generations. Martens used to be very plentiful in Isle Royale although they seemingly disappeared suddenly from view. There were sightings even after they were believed to have been completely gone from the island. More recently however, there were efforts to repopulate martens to the island. And while it works, they are very shy and difficult to view in the wild.
The Park Rangers when I visited had an interesting "What Happened to the Marten" presentation. Sort of a "who-done-it" mystery.
Moose
No one is sure exactly how Moose arrived on Isle Royale, the prevailing theory is that they either swam across or walked across an ice bridge to reach the island. There are certainly ice bridges that form in Lake Superior on occasionally very cold winters.
The Moose population tends to fluctuate over the decades. But there is quite a healthy Moose population on the island with current estimates over 2000 moose. Several areas of the Island are known for Moose sightings, Washington Creek, Ojibway Lake, Feldtmann Lake, Hidden Lake (Tobin Harbor).
Gray Wolf
Wolves have been part of the Isle Royale landscape for generations. However, in more recent times due to human settlement, disease, food scarcity and other reasons the wolf population has declined. In addition there was concern with the genetic diversity of the remaining Wolves. In 2018 and 2019, Wolves from Minnesota and Ontario were relocated to the National Park to help bolster the population and genetic makeup of the wolf population.
Wolves are an important part of the landscape of the Island and help to control various other populations such as the moose on the island. There are currently 28 wolves recorded in the National Park.
Beaver
Formally one of the most prolific creatures in this area of the world, beavers have certainly lost many of their numbers over the years. Beavers are the largest rodent in North America, and can grow to weights over 30lbs. You'll often notice beaver activity by their dam constructions.
Beavers on Isle Royale are known to work around the streams and lake areas building their dams which make important habitats for other animals on the island. There are several thousand beavers believed to be on the islands and hundreds of beaver ponds that have been created by them.
Red Fox
The elusive red fox is the few canines within the National Park. These smart creatures can be seen throughout the island but tend to be shy and solitary for much of their life. They are most often seen on trails or close to campsites. Foxes tend to be about 14-20 inches tall and 18-35 inches long. They have a pretty distinct look so are easy to identify.
Red foxes are scavengers and will eat human food, please don't feed them.
Otters
The playful otters are a plentiful creature in the bays and streams of lake superior. Members of the weasel family, the Northern River Otter can grow upwards of 40 inches long and 30 lbs in weight. Otters tend to be more adept at swimming and spend most of their life in and around the water.
There's a healthy population of otters within Isle Royale although I couldn't find recent population figures. Popular spots to see otters include along rivers and shores of the islands of Isle Royale.
Other Animals
There are lots of other animals to witness on the island that make up the ecosystem here. Including snowshoe hares, muskrats, white-tailed deer, bats, bald eagles, turkey vultures, coyotes, skunks, weasels, and more.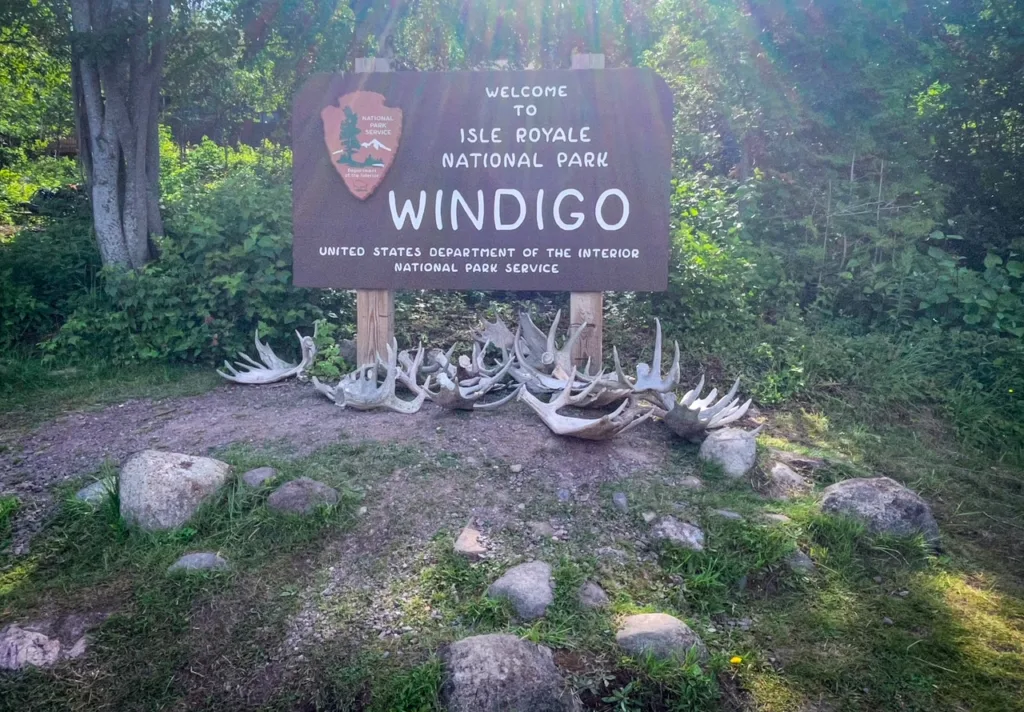 Tips & FAQs for Isle Royale NP
Cell Phone Service is incredibly limited or often non-existent. Most of the Island you'll get no service at all.
Hiking Boots or good trail shoes are a must. The trails outside of the developed area of the park are rocky and uneven. You'll want good footwear.
Plan your trip ahead. You'll need to reserve your return boat ahead of time. If you are doing multi-day trekking you'll need to know when you'll arrive at your destination. Be sure to arrive close to your destination early so you can get to your boat when you need to.
Camp in designated camp areas. There are a series of 36 campgrounds throughout the island. Camp in areas designated for camping to protect the fragile nature of the island.
Make sure your itinerary is known. The park is remote, infrequently visited, and with many miles of trails across 400 islands. You want to make sure people know where you are in case of trouble.
Isle Royale is in the Eastern Time Zone. If you are traveling to/from Minnesota (Central Time Zone) Be sure to pay attention to the time, especially if your watch has updated to ET.
Purchase supplies before you go. There are camp stores on the island but supplies are limited. You can also buy extra camp fuel if you are worried.
If you need a pickup/drop-off at a location other than Rock Harbor/Windigo YOU MUST reserve ahead of time. Boats may not stop without reservations. Also inter-island times are approximate so be sure to be there early before your boat.
Do not disturb any structures, mine remnants, fossils, or anything else you find on the island. There are still reminders of past activities such as its life as a resort and copper mine. Some of these can be dangerous and even if not it's illegal.
Water sources are readily available on the Island, but all water should be filtered.
Bring Bug Spray. Mosquitoes and Blackflies are a big problem on Isle Royale National park
Other Posts you May Like