I'm a bit of a plane geek.
Or rather an aerospace geek. It all started back when I was a kid wanting to be an astronaut or a military pilot. Sadly my eyesight was too poor for such a job possibility but it didn't stop my constant love for the technology. I tend to try to visit these museums whenever I find myself in various parts of the world.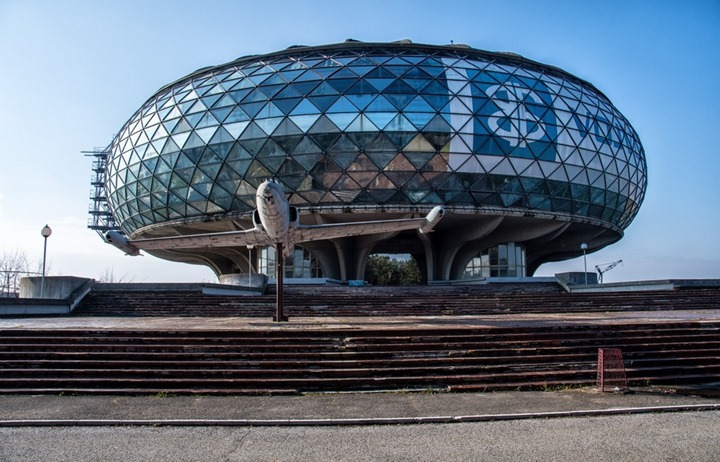 When I first saw photos of this museum I knew I wanted to go. Not only was it a aerospace museum but it was a fascinating looking building. One of the old socialist relics of the old Yugoslav era. And something that marries those two things? What could possibly be more perfect.
The Aviation Museum
Founded in 1957 in Belgrade, the museum houses several hundred aircraft formerly owned by the Yugoslav Airforce. The museum itself was not open to the public until 1989 which was not long prior to the collapse of Yugoslavia itself. The museum includes quite a few Soviet and Yugoslav aircraft including aircraft from World War 2. Additionally there was a downed predator drone on display from the NATO bombing campaign in the 90s.
As a tourist I was the only visitor during the time I went to this museum. It was nice to basically have the entire place to myself. Part of that might be that getting here is tricky as its located near the airport. I used a car I had rented for a trip to Nis to stop here before returning the rental. Otherwise I likely would not have taken the time to get out here alternatively.
The grounds of the museum has quite a few other planes as well on display. .Several of them though are not accessible as they are behind a barbed wire fence. I'm not sure why all those planes are parked there without having access to see them (some did seem like they were in different states of repair or disrepair).
Is it worth going?
Well I found the building fascinating as I was exploring a lot of the socialist architecture of Novi Beograd. The museum is a bit pricier than many other museums in Belgrade as well although honestly not prohibitively so. It doesn't take long to see most of the museum and if you don't speak Serbian you won't be able to read a lot of the displays so mostly it will be just wandering around and looking at planes. It is not as large or well done as other Aviation museums I've visited around the world (such as the amazing Smithsonian ones or the Duxford museum in the UK). I had my own car which made getting here easy, I don't know if it would have been worth the trip if I had to get here by public trans or taxi though.
Practical Information
Hours: The museum is open 8am – 4pm Monday thru Sunday
Price: 600 RSD (270 RSD for children)
How to get there: The museum is located next to the Nikola Tesla International Airport. Getting here by public transportation is a bit of a pain but you can get here via buses to the airport. You take Bus 72 from Zeleni Venac towards the Tesla Airport or Mini bus A1 from Slavija Square. You can also get here by taxi or with your own private vehicle. There is available parking at the museum.
Other Posts you May be Interested In