One of the oldest and most Visited Parks, Acadia National Park is certainly now one of my favorites as well. Also as someone who lives in the mid-Atlantic, one of the few really great parks that is reasonable distance from home as well.
Established in 1916, the park was named for the French settlers to the area. Most of the park occupies desert island, with a few spots in other locales.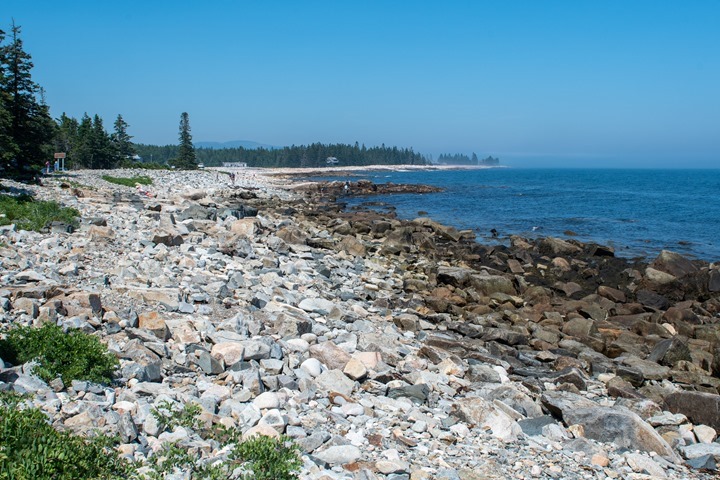 One of the most noteworthy parts of the Acadia, is the rugged coast line of the park. There are a few "sand beaches" in the area, but most of the coast looks like that above. I kinda like the rocky look more vs the sand beaches. But that may just be a personal preference. In the waters you can see the buoys signaling the lobster traps that are a mainstay of Maine waters.
One of the nicest parts of the area was Jordan Pond. There are several trails around the Pond as seen by the 2nd photos above. You can if you have a light watercraft float out on the water. There is also a visitor center and restaurant located next to the pond and several trails that originate and terminate by the Pond as well.
Located just outside of the park, is the Bass Head Lighthouse, which is run by the Coast Guard. You can't go into the actual lighthouse, but you can get some nice views of the lighthouse and water. Be sure to check out both sides of the lighthouse by following the various paths.
Getting there Early is key. It was still night and some time before sunrise when we got to the peak of Cadillac Mountain. You can hike up and many people do, or you can take the quick way and drive to the summit. I'm not going to lie, with the weather even during the summer it was nice to have the car.
This is Getting to see the first light over the United States is one of the highlights of visiting Acadia. You need to get here early if possible, as the parking lot does fill up and it can get hard to find a space. And since it can be (as it was for us), really cold, having your car close is super helpful.
I found the colors of the sky beautiful in the morning. The Oranges and deep blues lit up the sky so beautifully.
* * * * *
It may not be in Acadia proper, but we were lucky to be in the Bar Harbor area for the 4th of July. They did a pretty great fireworks display, and bigger than I would have expected for this size of town. I think they really know how to do Independence day celebrations!
* * * * *