As I wrote earlier I had taken a quick trip down to Mysore and Bangalore from Hyderabad with my cousins.  For all of us it was our first time in Karnataka and against my better judgment we ended up taking a day tour of each of the places.  Alas, however that doesn't mean I am without photos, although probably without as many good stories.  Beyond the sketchy hotel room, we stayed in Bangalore (ok not that sketchy but overpriced for sure).  So without much to really say as we were bussed around to various spots I wanted to show some snapshots from our time in the area.  Not among my better photos but we really couldn't help the timing and locations of where we were.  But they aren't bad either even if I sound very negative!  I hope you enjoy regardless.
* * * * *
They took us to the Srirangapatna Fort in Mysore. Srirangapatna was the capital of Mysore for many years under Tipu Sultan and others.  It looked liked a completely fascinating place with a lot of history.  Sadly they didn't bother to stop anywhere to let us explore the various buildings.
Instead, they took us to Ranganatha temple.  Normally I have no problem visiting temples but they basically took us here because there was a market next to it since they didn't get us near enough time to actually visit the temple.  If you wanted to take random pony rides or buy little trinkets then I guess it was the perfect stop for you.  The fort actually would have been wonderful to visit however they sort of just pointed out stuff as we drove quickly through.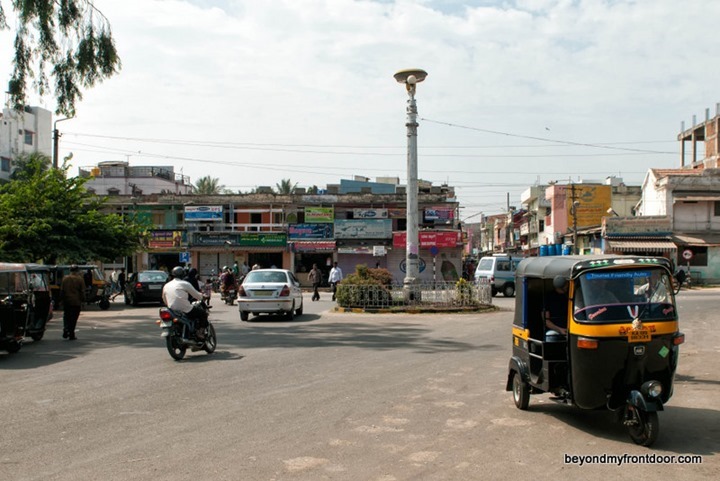 Driving through Mysore it was nice to see the actual city.  one of the various streets and supposedly traffic circle in the city.
I had poorly left my wide angle lens back in the United States, so I got as far back as possible to take a photo of St. Philomena's Church.  It is a large Catholic Church that was built in the mid-1900s with architectural inspiration from the large Cathedral in Cologne Germany.  You were not allowed to take photographs from within the church.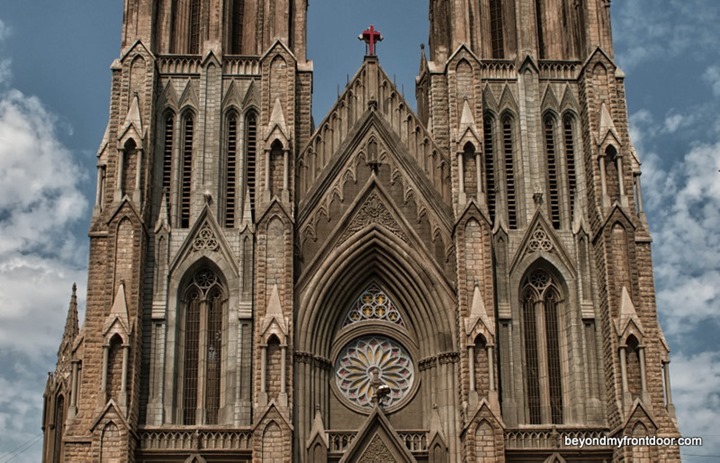 Since I couldn't get the whole church in the shot, I figured I would try to get a closer look as well as seen in the above photograph.  Such a stunningly designed and built church.
It was a bit past Christmas but I guess they were pretty unwilling to perhaps take down the Christmas Decorations.
One of the main attractions in Mysore is the Ambavilas Palace which was the seat of Wodeyars, the Maharajas of Mysore.  It is an incredibly beautiful palace in the "city of palaces" as Mysore is known due to its several places in the city.  You couldn't wear shoes in the palace but they told us to take off our shoes on the bus so we were walking quite a lot inside and outside barefoot.  Unfortunately, photography in the Palace was not allowed.
One of the statues on the outside of the palace.
One of the gates into the palace grounds.  It was a really beautiful palace indeed.
After taking us here they took us to another temple area.  I wish I recalled what this time was named but it was supposedly incredibly old.  We ended up with a lot of time in the area so it seemed it was expected to be used for shopping.  The price to enter the temple was expensive (although I don't recall how much at the moment) and more than either of my cousins were willing to spend.
I always seem to find myself on the wrong side of a cow.
Shopping for trinkets near the temple.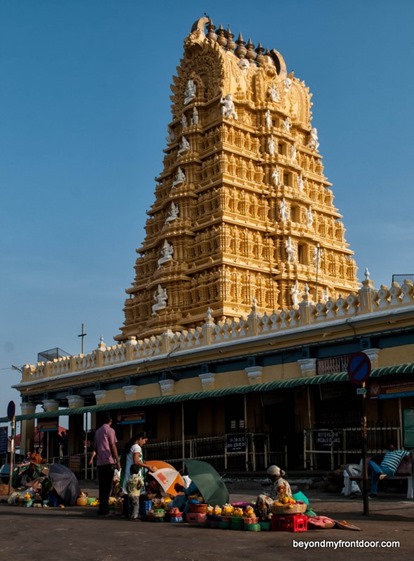 Outside the temple.
The gate to the famous  Brindavan Gardens in Mysore.  Or at least I was told they are very famous.  Apparently lots of Hindi movies are filmed in these gardens.  You an even see all the folks with big water hoses watering a lot of the flowers of the garden.
Krishnarajasagara dam is a massive dam built near the gardens along the Kaveri River.  It is named for one of the former rulers of Mysore Krishnaraja Wodeyar IV and opened in 1932.
The garden at night seems to be famous for its lighted fountains.  It was actually quite beautiful although it was difficult to get a good photo with the incredible crowds.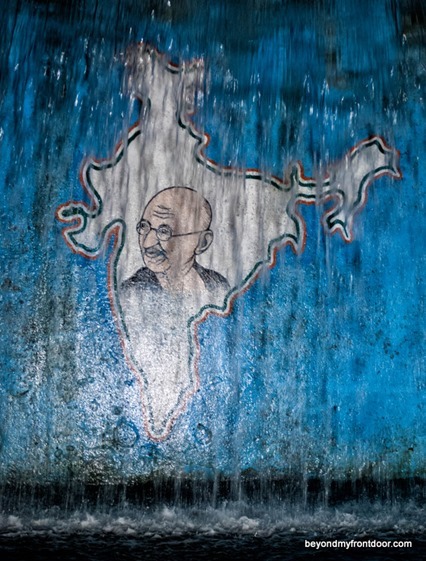 A random map of india with the face of Gandhi on it.
Another lovely lighted fountain near one of the ends of the garden.