Santa Fe is the oldest capital city in the United States, which was something that came as a complete shock to me. Really? But yes, it is the first European city west of the Mississippi and has been occupied in some way since the early 1600s.
These these Santa Fe is more known for its incredible Adobe architecture as well as its great food and arts scene. There's a lot of arts in New Mexico I learned and in Santa Fe in particular. And the architecture is pretty incredible, and old, much of it dating back hundreds of years. So, when I went, I realize how much there is to do and see in the town.
So if you are planning on going (and you should!). We wanted to give some advice to you on the best and most interesting things to do in Santa Fe New Mexico. Follow along.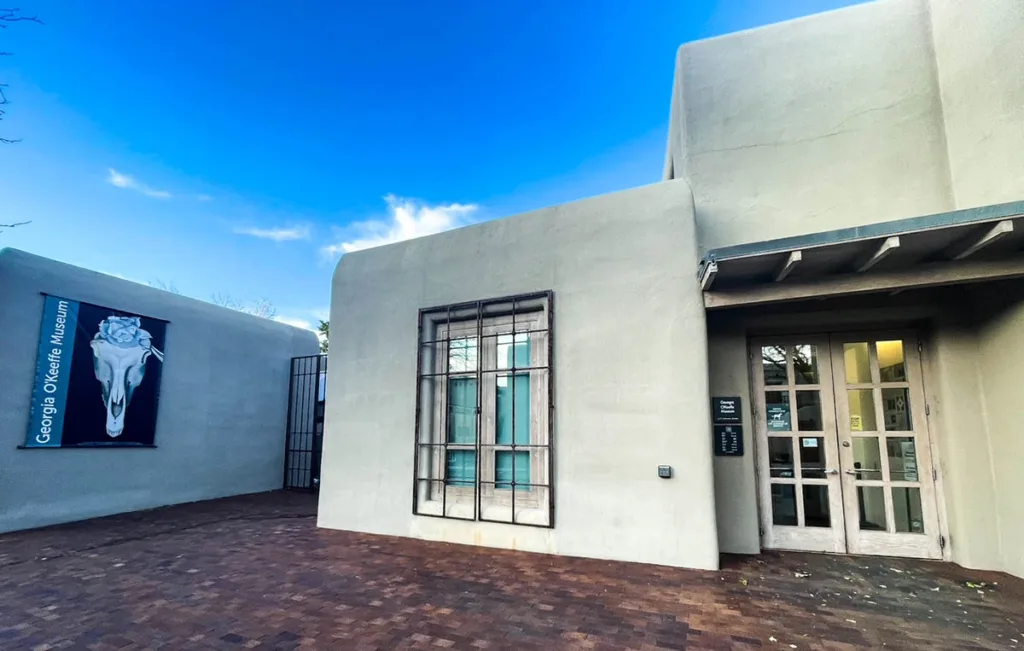 Georgia O'Keefe Museum
Address: 217 Johnson St, Santa Fe, NM 87501
Founded in 1997, the Georgia O'Keefe Museum contains an impressive collection of the artists work. O'Keefe lived and died in the Santa Fe area and the museum is dedicated to her life and work.
The Permanent contains some of her most famous works, including those on flowers known for its composition and color. In addition, there's quite a selection of impressive landscape works that the artist is known for.
Beyond this, the museum does host special events and exhibitions as well as lectures, workshops, and other art medium about her life, work, as well as art in general. It's one of the most famous and popular sites in Santa Fe.
The museum is open Thursday – Monday: 10:00 am – 5:00 pm. Admission is $20 for those 18+. Non-flash photography is allowed.
Canyon Road
Location: Canyon Road, Santa Fe NM
One of the most scenic and lovely streets in Santa Fe, Canyon Road is known for its great art galleries first and foremost. However, it also some some great options for restaurants too. If you are in Santa Fe (or anywhere in New Mexico), do yourself a favor and explore the art scene.
This road is known for being dedicated to some of the best art galleries you can find anywhere. There's more than 100 galleries to explore in the area and there's so much to see even if you are not planning on buying art. Or if you are too poor to buy art (like me).
Beyond the art, the studios and pueblo/adobe buildings are just so lovely to explore. It's even better if you can be here during one of the big events during the year such as Paint & Sculpt out in October or Farolito Walk in December (I'm hoping to get here around Christmas myself).
Much of the Canyon Roads sites are located pretty far from downtown Santa Fe, so we recommend having a car, or taking a taxi/uber to explore.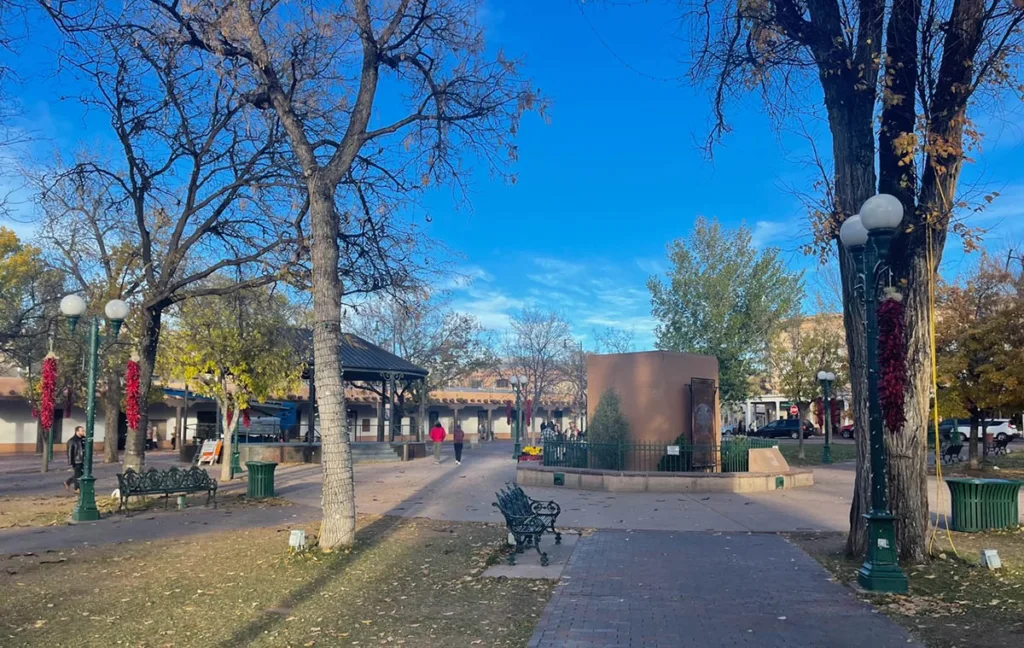 Explore and Shop around Santa Fe Plaza
Address: 63 Lincoln Ave, Santa Fe, NM 87501
The downtown center of Santa Fe is actually really pretty and scenic. it's also very walkable and compact as well. Centering around the square in the middle of the city, there's several blocks to explore both for food, sites, and shopping.
We recommend checking out restaurants or some of the shops here. You can buy plenty of local goods as well as some great gifts, chocolate and more. I really enjoyed the chocolate from cashmere and chocolate personally. Although I tend to love trying local chocolate places wherever I go.
There's a lot of local clothing shops as well down in this area. I didn't get anything myself during my exploring, but there's certainly options for any budget and style.
Be sure to also check out the marker signifying the end of the Santa Fe Trail. This is one is the most famous old trails in the US, primarily used for commerce.
Santa Fe Opera House
Address: 301 Opera Dr, Santa Fe, NM 87506
Founded in 1956, the Santa Fe Opera House is renowned for both its works performed here and the architecture of the site.
The Opera House is not located in central Santa Fe but on the outskirts close to Tesuque along Route 84. Actually it's a perfect place to stop either to take a photo or visit if you are heading north out of town.
The Opera House hosts regular operas within the facility, but there are also the option for docent lead tours if you are there at other times. The beautiful modernist style unique at its founding and creation.
Check the Opera House Website for more information.
New Mexico Museum of Art
Address: 107 W Palace Ave, Santa Fe, NM 87501
Founded in 1917, the New Mexico Museum of Art is one of several state museums in Santa Fe and run by the New Mexico division of Cultural Affairs.
The building itself is pretty impressive as well. Melding together Native American (Pueblo) and old Spanish Colonial Designs, it's a great example of Pueblo Revival Style Architecture.
The Museum contains over 20,000 pieces of art across paintings, photographs, sculptures, and mixed-media. And while all of the art is not on display at once, they have some incredible options that form permanent and rotating exhibits. Some of their notable works are from Ansel Adams, Georgia O'Keefe, Gustave Baumann, as well as many others.
Inn at the 5 Graces
Address: 150 E De Vargas St, Santa Fe, NM 87501
I wouldn't normally put a hotel as a "must see" place in a city. But this Inn is definitely the exception. I came to this area for dinner and was just stunned at how beautiful it is. This historic inn, has some of the most gorgeous exteriors and interiors.
It also has a very peaceful feeling. Or at least it did while I was there. There's also several restaurants to check out as well. The more upscale (and expensive) Pink Adobo or the more relaxed and bar-like Dragon Room.
I really loved the tree that is growing within the Dragon Room. I was told it's hundreds of years old, and certainly looks that way. This whole area had such incredible charm. It's really what solidified my love for the city.
Santa Fe Railyard
Address: 332 Read St, Santa Fe, NM 87501
Located on the site of the former Atchison, Topeka and Santa Fe Railway yards, the Santa Fe Railyard is a beautiful mix-used development of shops, galleries, restaurants, parks, and more.
The 50 acre area, reminds me of other areas such as the High Line in New York that repurposed old railyard areas and breathed in new life into local neighborhoods. The area now is quite a live and well with both incredible places to eat and shop as well as activities, concerts, and events.
There's even now a year-round structure for the local Santa Fe Farmers market in the area, which compliments all the other retail and restaurant structures now in the area as well.
It's definitely worth a visit and a great place to eat, and relax, and enjoy a success story of urban revitalization.  
The Cathedral Basilica of St. Francis of Assisi
Address: 131 Cathedral Pl, Santa Fe, NM 87501
What I hadn't realized is that the oldest Cathedral in the United States is located in Santa Fe. Founded in 1610, the Cathedral Basilica of St. Francis of Assisi is the lead church for the archdiocese of Santa Fe and an incredibly beautiful church.
The current version of the church however is from the early 20th century as the original church was destroyed during a revolt. The church is incredibly active as it hosts regular masses and other events within the church. When I was there recently I had visited just as folks were arriving for weekend mass.
The inside of the church as beautiful works of art, paintings, stained glass, and other local artifacts of the congregation and city.
Meow Wolf Santa Fe
Address: 1352 Rufina Cir, Santa Fe, NM 87507
An incredibly trippy art experience that can stimulate or even overstimulate the sense. Meow Wolf now in three cities actually got its start in Santa Fe. The Santa Fe installation called House of Eternal Return gives visitors over 70 rooms to explore. A cool footnote is the venue was a former bowling alley purchased by George R.R. Martin for the art exhibit.
You can even get glasses to enhance the light and colors of the exhibits as you explore. The experience for these events are pretty trippy. Some love them, some find them overwhelming. It can be overload for some people so be warned.
Currently Meow Wolf has 3 permanent installations in Santa Fe, Denver, and Las Vegas. There's another soon opening in Texas as well. Each is a completely different experiences and art.
New Mexico State Capitol
Address: 490 Old Santa Fe Trail, Santa Fe, NM 87501
Santa Fe seems like quite the sleepy little town to be a capital, and such a old capital at that. But yes, this beautiful stunning town is the seat of New Mexico and has been even before its statehood.
The Capitol Building however, is not quite as old, build in 1966, the building houses the different chambers of government and other state offices.
For visitors there's quite a lot to see. Beyond visiting the legislative chambers, you can see historical artifacts, sculptures, murals, as well as a kiva (traditional Puebloan circular meeting room), and a beautiful copper clad dome.
There is an option for both self-guided and docent lead tours. Reservations required for guided tours. Check out the State Capitol website for more information.
Palace of the Governors
Address:  105 W Palace Ave, Santa Fe, NM 87501
The Oldest Continuously operated public building in the US, the Palace of Governors these days plays its role as a museum. Built in 1610, it served as the seat of government for New Mexico and has been a museum since 1906.
The lovely long, one story adobo building is a beautiful example of architecture of the local culture and is decorated with incredible Spanish style carvings. The site is listed as a National Historic Landmark and a National Treasure.
The best part is visiting the patio area which hosts vendors selling local arts, crafts, and jewelry. The inside of the Palace displays exhibits and artifacts on the history of New Mexico pre and post statehood. Access to the Palace is from the Entrance to the New Mexico Museum of History.
For more information on hours and tickets, check out the New Mexico Museum of History Website.
New Mexico Museum of History
Address: 113 Lincoln Ave, Santa Fe, NM 87501
I probably could have combined this with the Palace of Governors, but I really think there are things to see differently at both places. In particular you can still enjoy the Palace of Governors after hours by visiting the vendors.
The New Mexico Museum of History was opened adjacent to the Palace of Governors and contains a variety of permanent and temporary exhibits on the history of the people, culture of New Mexico pre and post-statehood.
The New Mexico territory shocked me in how much history there is in the area, even from European colonization as it was an important city and area during the Spanish occupation. The museum also is the entrance to the interior of the Palace of Governors as other entrances are closed for conservation of the building.
Be sure to check out the New Mexico Museum of History website for information on visit.
Where to Eat in Santa Fe
Where To Stay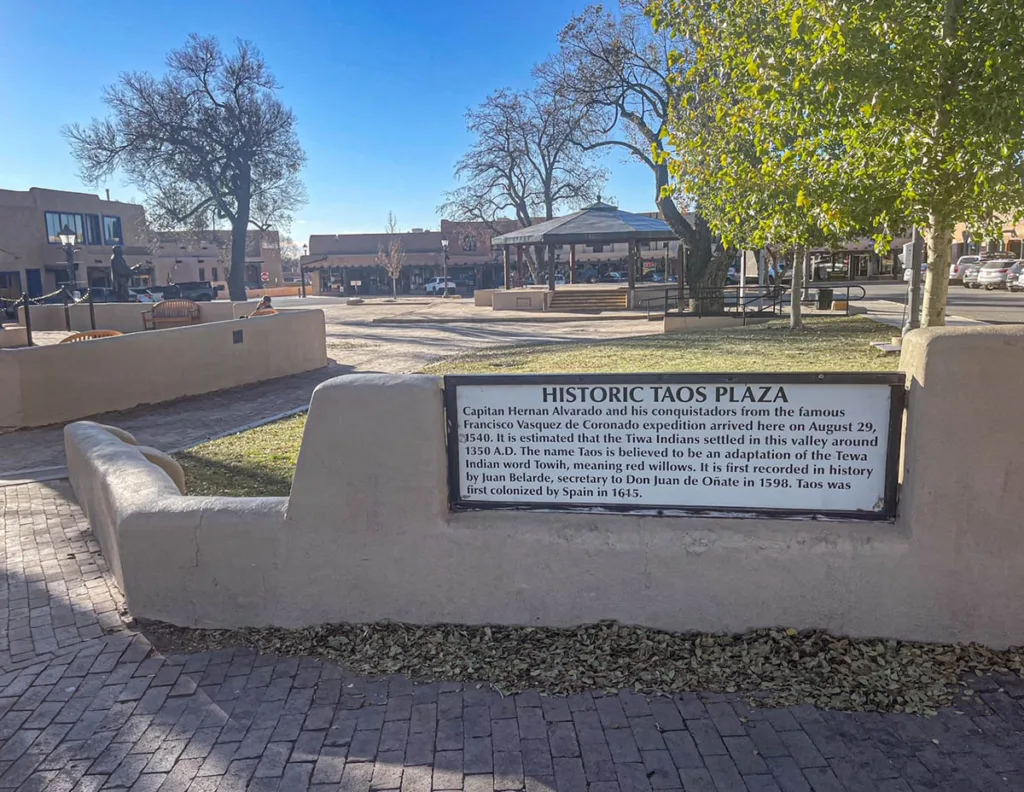 Side Trips
Other Posts you May Like