With more than 800,000 acres and 150 miles of trails, there so much to explore and see in Big Bend National Park. From wildlife, to beautiful starry nights, to the Rio Grande, canyons, and more, Big Bend with likely leave you in awe.
Like most folks, time is limited and I'm sure you are trying to maximize the best things to do while visiting the park. We're here to help you prioritize visiting. However, don't use this list as the be-all-end-all. There's so much more to do and this is just a starting point for your journey. Follow along to explore the Best Things to Do in Big Bend National Park.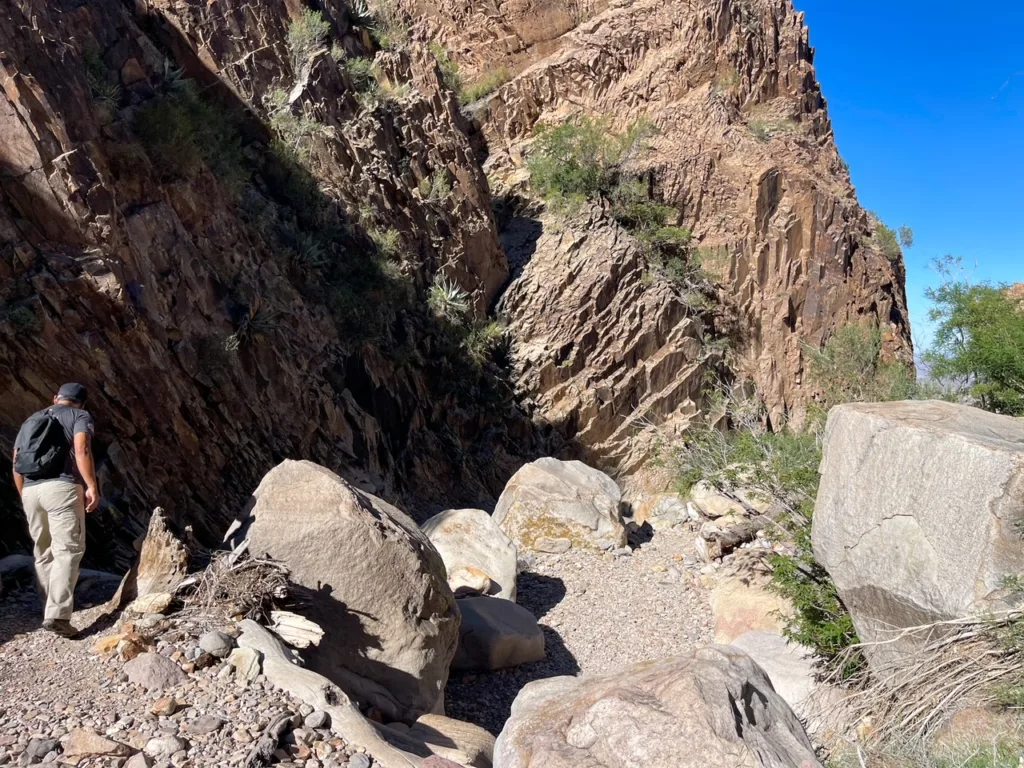 The Window Trail
Distance: 5.2 miles | Type: Out & Back | Difficulty: Moderate | Avg. Time: 2.5 – 3 hours
Probably the second most popular trail in Big Bend National park, the window trail takes you along desert landscapes, rocky terrain, and creek beds to the "window" which is an opening in the rocks with a viewpoint over the canyon.
The Window, is definitely the payoff for the trail, but its a great overall trail to explore and one that's not terribly difficult but definitely a solid moderate for hiking.
Note: The window itself is a bit tricky to get into. It can be very slippery so be careful going close to the edge. My friend was far more adventurous than I was in this regard. The nice part though is that there's a solid lip at the end of the window so it makes it harder to get into a really bad situation.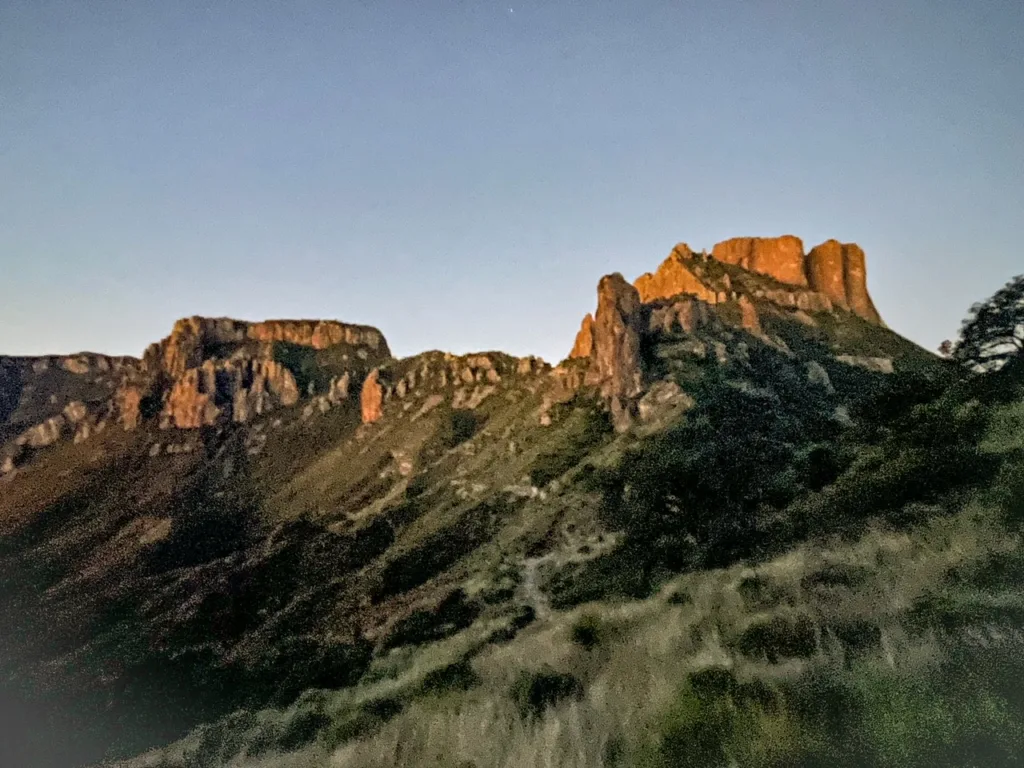 Sunrise at the Lost Mine Trail
Distance: 4.8 miles | Type: Out & Back | Difficulty: Easy to Moderate | Avg. Time: 2.5 – 3.5 hours
The Lost Mine Trail is the highest rated trail in Big Bend, and I had to ask, is it really that good? Yes, 1000x yes, it was the best trail and my favorite trail in the park as well. It's got just enough challenge, beautiful views to really make it worth visiting on any trip through the park.
The trail does meander a bit through the woods and as you get closer to the end you'll hit several switchbacks. However, nothing that is too difficult or too easy. Near the end, there's open area with a few peaks to hit and great views of the surrounding land. Sunrise especially was the perfect time to visit the peak and you'll need to head out early (in the dark) to make it there in time. But oh is it worth it. And getting there early avoided the crowds as well.
Tip: Bring a headlamp. And Go Early. You'll need time to get there by sunrise. Also going early gets your dibs on parking spots which are hard to come by. Depending on the season it can be really chilly, so bring layers. It also tends to be windy at the summit as well. Bring snacks too for enjoying the views.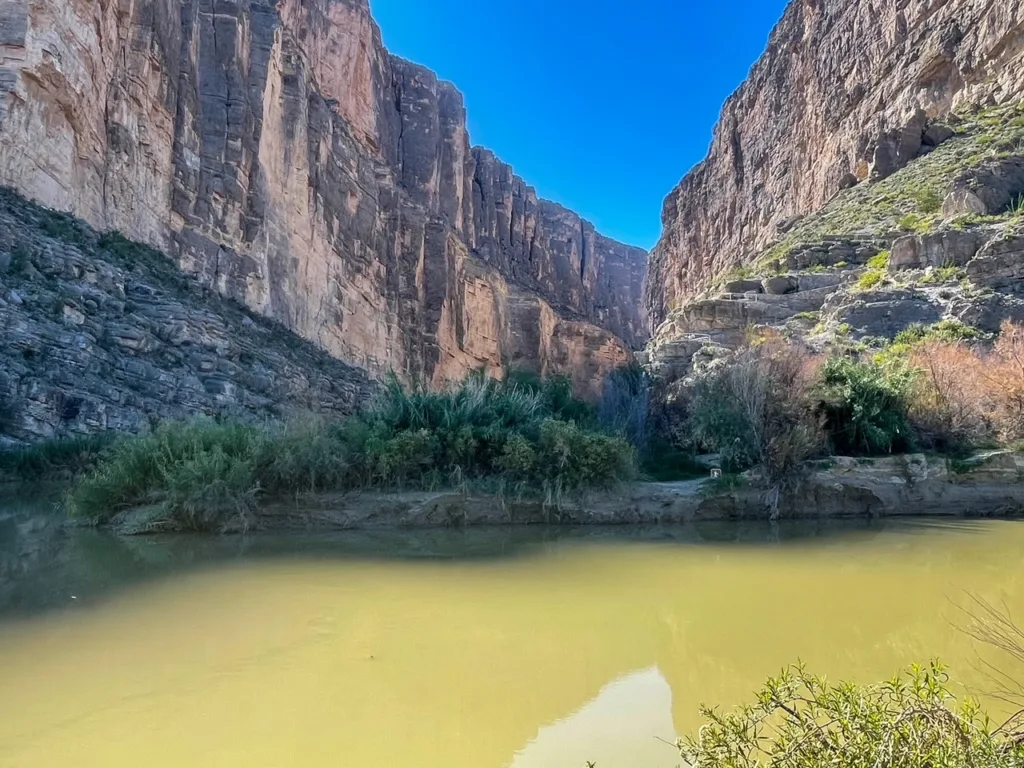 Gasp at the Canyon Walls at the Santa Elena Canyon Trail
Distance: 1.3 miles | Type: Out & Back | Difficulty: Easy(ish) | Avg. Time: 30-60minutes
This trail takes you through the Canyon at Santa Elena which is one of the most popular and beautiful hikes in Big Bend National Park. The canyon has some incredibly high walls and it's awe-inspiring to witness the height of the canyon as you traverse along the trail. The other side of the river is Mexico as well which is shocking how close you are to the border.
The trail mostly goes through the canyon, however the early part of the trail crosses over Terlingua Creek. If you are planning to hike the trail as marked, it does require you to wade through the water. Be sure to ask around for folks on conditions. When we were there the water was up to my chest and I'm 5'11", so depending on your height you may have to swim some. I'm glad we didn't turn around though, we would have missed out on some amazing views.
The trail is overall easy, except for the bit for crossing the creek, whether you wade or try to find an alternative route across.
Note: For those who don't want to wade or if the water if high. There was a crossing along the bank of the creek (go right when facing the trail) which allowed you to cross without getting wet. It was steeper however. We sadly didn't learn this until we were basically on the other side of the creek bank.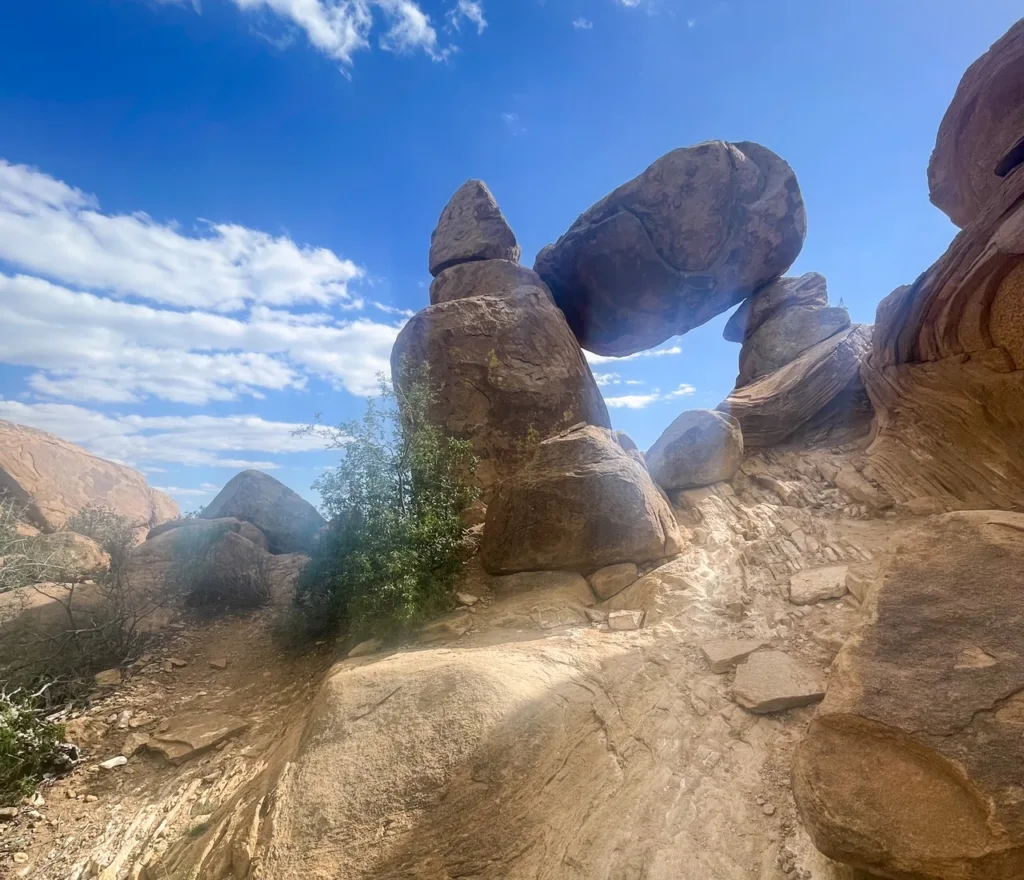 Balanced Rock Trail
Distance: 2.2 miles | Type: Out & Back | Difficulty: Moderate | Avg. Time: 1 – 2 hours
The Balanced Rock Trail is one of our favorite hikes in Big Bend National Park. I loved these types of Balanced Rock places, they seem to defy logic and sense, which makes them all the cooler to explore. The trail takes you through some exposed desert areas of the park, with some great views of the landscape and specimens of desert plants along the way.
The trail is overall pretty easy up until the last bit where it ascends up to the balanced rock area. There are warnings, however, I think it's easier than advertised. My friend almost bailed but was glad she didn't since it wasn't as bad as expected. But it's rocky and you need to be careful on footing.
Note: The Drive out to here requires traversing a unpaved road. It can be pretty rough, especially following bad weather. We were able to do it in a sedan. But you may want something with higher clearance.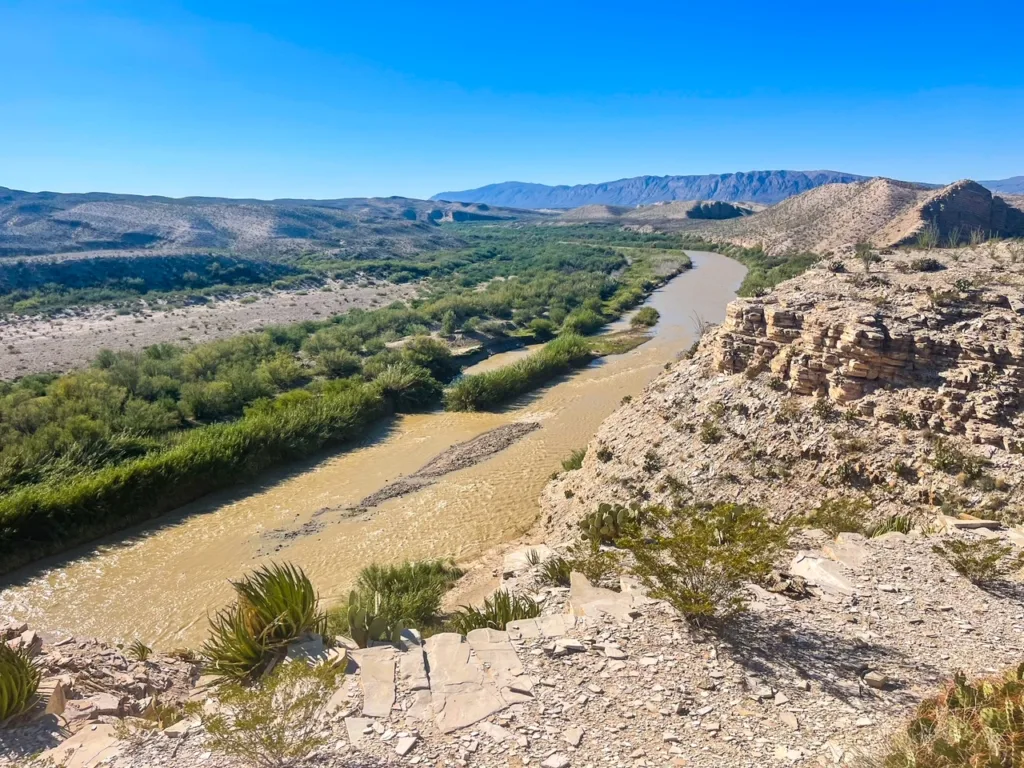 Big Bend Hot Springs Trail
Distance: 1.2 miles | Type: Loop | Difficulty: Easy | Avg. Time: 30 – 45 minutes
The Hot Springs Trail both bring visitors to the Hot Springs as well as through history in the Big Bend Area. I found the buildings and signage here to be great to explain the history of the hot springs, settlement, and tourism in the area. I think it's great that they managed to maintain and keep many of these buildings in the area.
The hot springs trail is a loop, although if you just want to visit the actual hot springs, you can do it as an out and back. But its worth taking the loop as you can get some high views of the Rio Grande and surrounding area.
The actual hot springs part is a small wall along the Rio Grande that is often to be honest submerged in cloudy Rio Grande water. It can be a bit difficult to actually find. The springs at least when we were there were more "warm" than hot and the waters were rougher than we expected. You should definitely keep an eye on conditions of the trail as they were doing some maintenance when we visited.
Note: Pay attention to weather and closings. Some of the area was closed off due to bad weather when we visited. It also made finding the actual springs a bit more difficult.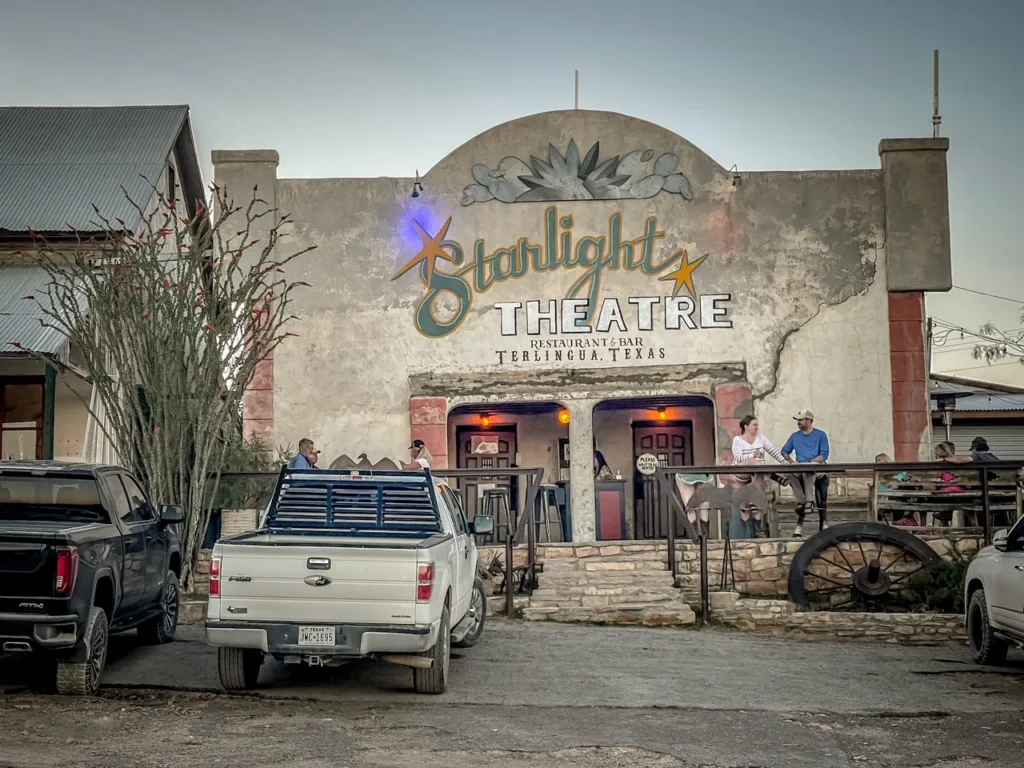 Explore Terlingua
For a "ghost town" it's pretty lively! But really the former ghost town of Terlingua was one of the highlights of our trip. It's got a funky atmosphere, interesting history, and some cool shops and restaurants. It's also one of the best places to stay outside of the park (and the closest if not staying the park).
We really enjoyed eating here too, especially at the Starlight Theatre, which is a beautiful restored theatre that has both great food and entertainment. We also stayed in town at a lovely AirBNB.
Even if you are not staying in Terlingua, it's worth a view and an explore. You can see some cool art, kitsch, and learn about some of the old mining history.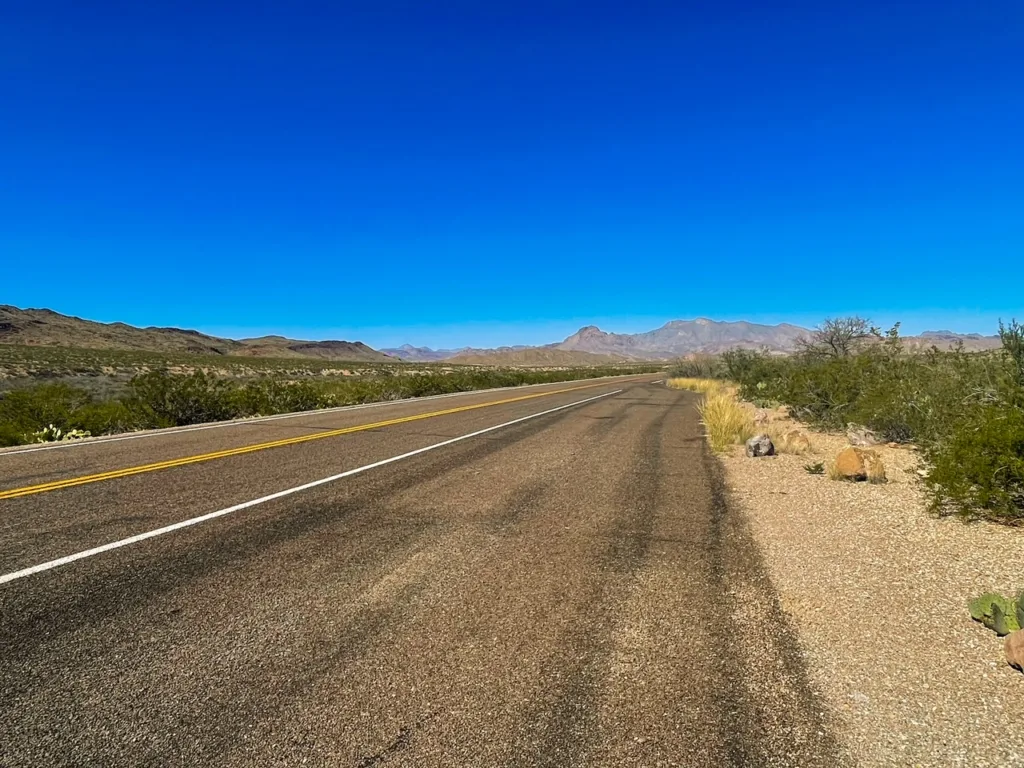 Drive the Ross Maxwell Scenic Drive
The Ross Maxwell Drive is one of the main roads through the park. You'll likely find yourself on this road at some point anyway as it's the route to get to many of the hikes (such as mule ears, Santa Elena canyon, etc.).
But, this 31 mile drive is more than just getting from point A to point B. There's a lot to see along the road, and you should take the time to stop at the various vistas as ranches. We recommend stopping at the Castolon Historic District, Blue Creek Ranch, Sam Nail Ranch, and the Mule Ears viewpoint, and Tuff Canyon overlooks.
Stargazing
Big Bend is huge and remote, which makes it perfect for stargazing. I wish I had my nice camera and tripod with me, as my phone and camera did not do the stars justice during our visit. But it was stunning, and if you can find somewhere either in the park or near where you are staying where you can remove light pollution you can really get some great views.
Tip: Turn off all lights and give yourself time for your eyes to adjust. It can be chilly late at night here in this part of Texas, so have a sleeping bag, blanket or warm clothes to allow you enough time to really enjoy and your eyes to adjust.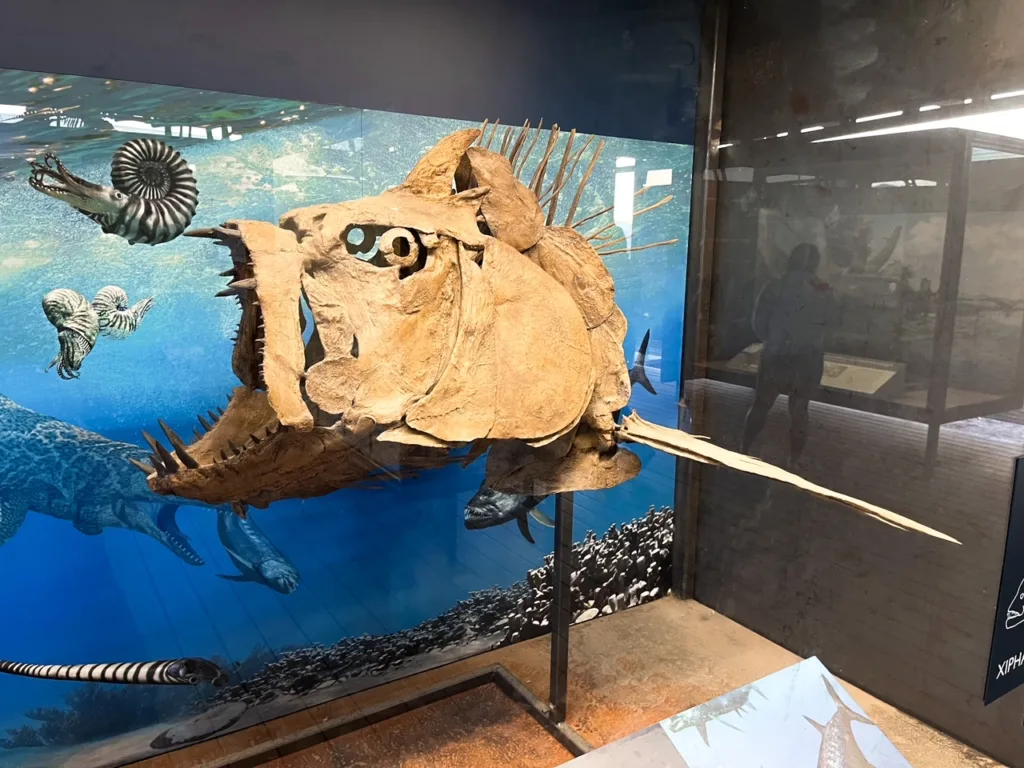 Check out the Prehistoric History at the Dinosaur Exhibit
Location: Fossil Exhibit
It's a very quick trip and view out here to explore the little Dinosaur Exhibit in Big Bend National Park but it's a perfect stopping point on your way in our out of the park. The park has some incredible fossil finds and history here and its worth exploring not just the human history but the ancient history as well.
It's really amazing to see some of the creatures that used to inhabit the land we now call Big Bend and Texas, and for me I'm a sucker for this type of history as well. One of the amazing things of the US and National Parks is that there's a lot of fossil and prehistoric history to explore across the entire system.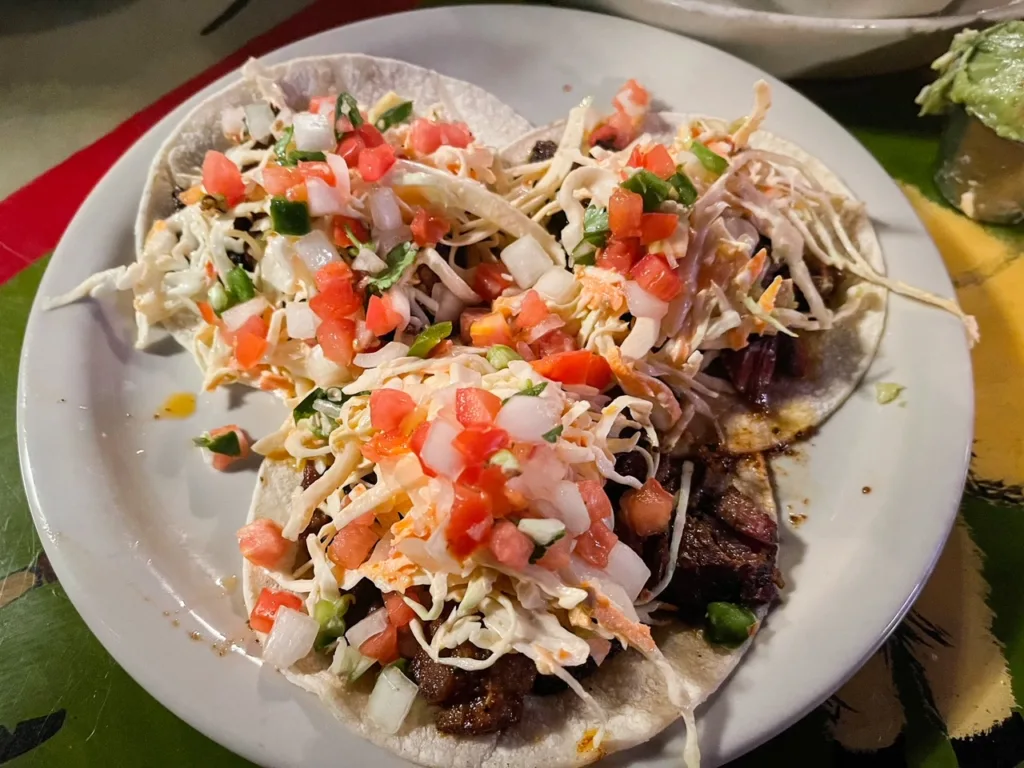 Where to Eat
Boquillas De Carmen: For those who are interested you can travel by boat to visit the Mexican town of Boquillas de Carmen across the Rio Grande. Be sure to have your passport! Just note, it's a time-suck, so if your time is limited, you are better off (in my opinion) spending it exploring Big Bend.
Starlight Theatre: This institution in Terlingua is beautiful and a perfect spot to have dinner. It's also incredibly popular, so be sure to get there early to put your name down. There's a bar and spots to hang out outside (with some funny chairs). So you can definitely kill time while waiting.
Chisos Mountain Lodge: This was our favorite place to eat in the National Park. The Chisos Mountain Lodge has a nice, simple restaurant and gift shop. There's a decent amount of seating and a pretty good menu. We found the breakfast option to be a bit pricy but lunch was good. Recommend the burger or french dip especially.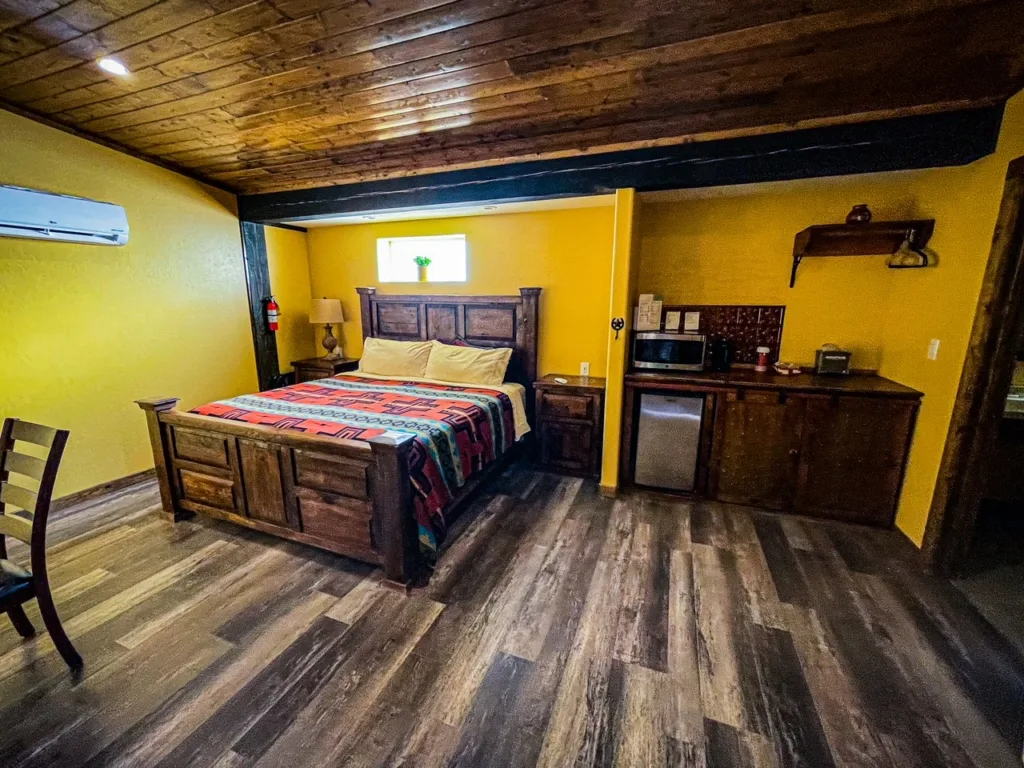 Where to Stay
Terlingua: This is our favorite area to stay. There's several AirBNBs and a few Inns in the area that you can choose from. We stayed in a lovely casita in town, and we recommend either getting an AirBNB or booking something through a hotel booking. There's options for all budgets. [Check hotel options]
Chisos Mountain Lodge: There's really no better place to stay if you want to stay within the boundaries of Big Bend National Park. As the only hotel option within the park, it also is super popular and books up quickly. If this is where you want to stay, we recommend booking early.
Other Posts you May Like