Most Visitors to Saguaro National Park do so en route to other places. We understand and respect that time is limited, so we want to help you maximize, with our take on the best one day itinerary of Saguaro National Park.
If you have more time, we also recommend checking out our guide on the best things to do in Saguaro NP. There you'll find these recommendations and more to explore if you have more time.
Using This Guide
I tried my best to try to put the activities in order that you should cover them. This way, you can stop the guide at any point and still have seen and done the most you could in the parks.
Additionally, I tried to think on time of day,, and plan activities with limited parking or that require cooler temps outside of mid-day
You can also obviously skip any items in the guide. You should definitely try to do at least a few of the items early in the guide to get a good view of the area and activities.
Start Early. If you really want to maximize your time, and because of the hot temps in the desert, starting early will allow you to best enjoy your time in the parks. If you want to see everything, it'll be a long day so prepare for that as well.
Bring Water. You can fill up at the visitor centers but water is limited in the parks. Also pack sunblock, proper clothing, walking shoes and more.
Should you Visit Saguaro West or Saguaro East?
Ideally you would visit both. However, for the purposes of time. You should prioritize Saguaro NP West Unit. It has the most Saguaro Cacti,, as well as the most compact area to explore top aspects and get a good feel of the cacti and park area.
This guide will start with Saguaro West Unit.
Starting the Visit to Saguaro National Park
The park is mostly a day-use only park. So the park generally opens around 5:00 am each day and closes around sunset. You'll need to plan your trip during those times. You don't need to stay at 5:00 am, however earlier will be better to avoid heat and crowds.
You should start at areas within the Saguaro West Unit and Bajada Loop Road. If you can do these early you'll be better as there is limited parking at many of those trails.
The Visitor Centers open at 9:00 am. We recommend starting your trip well before then.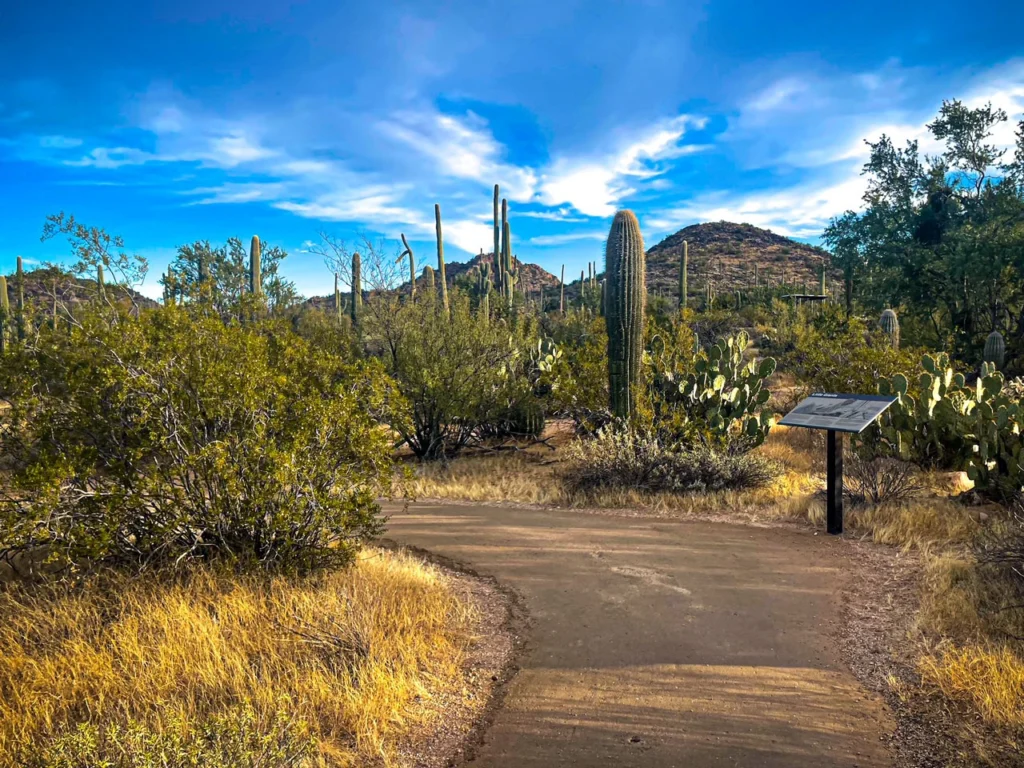 Desert Discovery Nature Trail
Trailhead: N Kinney Road, Tucson, Arizona 85743
The Desert Discovery Trail is the first trail you'll arrive after entering the Saguaro National Park West Unit. It's a short, paved trail 0.4 mile trail that takes you through some beautiful Saguaro Cacti as well as other flora in the area as well too.
It's the perfect introduction to the park, and has some great informational panels you can read about the park, cacti, and more.
If the parking area is full, you can either wait, or also visit following your trip around the Bajada Loop.
Bajada Loop Drive
The Bajada Loop Drive is an unpaved road that takes visitors around the main areas of the park. Bajada Loop is actually a combination of the Golden Gate Road and Hohokam Road and is open daily during park hours.
We recommend taking the loop counter-clockwise, which is how we'll also plan the following places to visit as well. While the loop is unpaved, it's navigable even by sedans and non AWD/4WD vehicles as long as the weather has been good.
Note: There are several places to visit o the road. Unfortunately parking can be limited at a few of them.
Valley View Overlook Trail
Trailhead: Hohokam Road Tucson, AZ 85745
If you have limited time, I still highly recommend the Valley View Overlook Trail. It was one of my favorite trails in the entire park.
The hike is actually really quick, you'll cross through various desert landscapes, including a wash on your way to one of the best overlooks in the park (see photo above).
The trail is about 0.8 miles and expect to take about 30 minutes to cover the trail.
Signal Hill Petroglyph Hike
Trailhead: Signal Hill Picnic Area, Signal Hill Rd, Tucson, AZ 85743
After you come around the loop for Bajada Road, you'll come to an intersection for Signal Hill Road. At the end of the road there's a picnic area and a small hike to the Petroglyphs.
The hike itself is really short, about 0.3 miles for the entire hike up to the peak and back down. The petroglyphs are visible once you get to the top of the trail, you'll also be treated to some lovely views of the area as well.
Be sure to keep an eye out for rattlesnakes when you are ascending the hill. I didn't see any, but its a known rattlesnake area.
Red Hills Visitor Center
Address: 2700 N Kinney Rd, Tucson, AZ 85743
NOTE: The visitor center opens at 9:00 am. So if you are here very early, you may want to do the King's Canyon Hike (below) prior to visiting.
The Red Hills Visitor Center is the only visitor center in this part of the park (there's another in the East Unit). It's highly recommended to visit the center and get information, see the exhibits, shops and more.
There is also a National Park Passport Stamp for those interested in those as well.
We highly recommend the film for Saguaro National Park. It covers well the area, history, and more. I loved hearing about the role Saguaro play in the indigenous culture.
It's also a great place to fill-up water bottles, use bathrooms and more. The Exhibits are ok, and shouldn't take long. I don't think they were as good as other visitor center exhibits in other parks I've seen.
Kings Canyon Wash to Gould Mine Trail
Trailhead: N. Kinney Road, Tucson, AZ 85745
This is by far my favorite hike of the park. It really includes everything you'd want to see in a hike. To complete this hike follow the follow the King's Canyon Wash Trail to the Sendero Esperanza Trail to the Gould Mine Trail.
You should hike along the Sendero Eperanza Hike a bit past the intersection for Gould Mine and see the old historic Gould Mine. It should only take a few extra minutes to complete.
Be sure to keep an eye out closer to the end of the King's Canyon Wash (about .75 – .8 miles in) for petroglyphs on the rocks. There's lots of great examples here although there is no sign pointing out where they area.
Note: there was one section of the wash that required me to actually lift myself with my arms to get up the rocks. Most of the rest of the hike you scramble or walk up rock steps. Just note if you are by yourself and/or unable to do that.
Mid-Day – Desert Museum or Biosphere 2
Address: Desert Museum: 2021 N Kinney Rd, Tucson, AZ 85743
Address: Biosphere 2: 32540 S Biosphere Rd, Oracle, AZ 85739
At this point you should at or close to mid-day. Given that this is the hottest point of the day, you should probably refrain from any of the exposed or difficult hikes. Depending on the time of year you are in Tucson will depend greatly on how long the days and the heat of mid-day.
You have several options on what to do at this time. For one, the Desert Museum nearby Saguaro West Unit is worth a look. The museum, is more like a zoo, museum, aquarium, garden, then just a simple museum. It's got lots of animals and plants you can explore as well as learn the history of the area.
If you are are desert out at this point, there is also the option of taking a drive out to Biosphere 2 run by Arizona University.. For those who many remember, biosphere 2 was an experiment that try to explore if people could live in such a closed environment, raise food, and get along. Reality show before reality shows.
While some aspects were a success, and others a failure, it was a remarkable experiment and one that you can still explore today. They hold daily tours of the facility that are self-guide. Note: it's about an hour between the West and East Unit to reach the facility with another 1 – 1.5 hour tour through the facility.
It's actually possible to do both the museum and biosphere 2. Beyond that you could also grab lunch in town as well.
Afternoon – Saguaro National Park East Unit
If you have time, there's still more you can do in Saguaro National Park in the East Unit. From here you can explore the loop road as well as a few hikes and scenes. If you are able to be here closer to sunset you can get some great colors and views of the area as well.
There is another visitor center on this area of the park, Rincon Mountain Visitor Center. If you have time, it's worth a stop, but if you already visited the other visitor center, you can certainly skip here.
Cactus Forest Loop
Cactus Forest Loop is the main road through this part of the park. It's paved and windy and takes in some great scenes of the mountains, saguaros and just beautiful desert scenery. It's also the main area to access the various stops along the park that we'll describe.
You can drive this in about 30 minutes if you don't. But you should stop! Either at at the various named overlooks such as Javelina Rocks or at the various trails that we are describing.
Mica View Trail
Trailhead: Mica View Picnic Area, Mica View Trail, Tucson, AZ 85748
The Mica View Trail is a fun, quick hike to see Saguaro, great views of the park, and potential wildlife as well. It was the only place that I saw a Javelina in the park which was such a cool experience for me. If you have time, there's even other hikes you can do as well as a few small loops through the area.
The trail is also the only place on this side of the park you can view Mount Mica (highest in the park), although its not that great of a view. You'll need to drive down a unpaved road to reach the picnic area and trailhead.
Desert Ecology Trail
Trailhead: Cactus Forest Dr. Tucson, AZ 85748
If there's a trail that's missable it's probably this one. However, it's short, and worth a quick look if you have time to kill. The loop is really short, although it has some great information on animals, plants, and history of the area. There's a small parking area across from the trail that can fill up. If it's full, don't worry, you have seen examples of everything you'd see here as well.
Cactus Forest Road Overlooks
You should try to visit here closer to sunset if you can. If not, no worries, but if so you'll be treated to some great light for your photographs. I think Javelina Overlook and the rocks is probably the best of the overlooks to view. However, it is also the most popular, and parking may be a problem.
Regardless, there are plenty others. Be sure to also stop at the Cactus Forest Trailhead before exiting the loop and the park. You'll get some beautiful views of the desert landscapes as seen in the photo above.
Overview of the Day
At this point, you'll have seen most of the park and at the very least the best highlights of Saguaro National Park. For those looking for more adventure or with more time. There's still quite a lot to do in the park including backcountry and other longer hikes (such as Wasson Peak). We cover these highlights in our post on the best things to do in Saguaro NP, which has those included as well.
Other Posts you May Like