I'll have to say, I had no idea what a rice roll was prior to ordering it from Joe's Steam Rice Roll on the Upper West Side. It is not the first location of theirs's but it was my first foray into the brand.
Steamed Rice Rolls are a Cantonese specialty from Southern China made from a thin rice batter. You have your choice of meat filling and optional egg and vegetables.
They make every request to order so it can actually take quite a while for you to get your food. The first visit, it took over 20 minutes to get my order, however it seems based on demand and efficiency they've managed to get the orders down to 5 – 10 minutes.
My favorite are the beef and shrimp (with egg) with corn/beansprout & scallion.
Practical Information
Location: 422 Amsterdam Avenue (between 80th and 81st Street), New York, NY 10024
Hours: Daily from 12pm – 8pm
Closest Subway: 1 Train (79th Street), B/C 81st Street
Joe's Steam Rice Roll Menu
I couldn't find the menu online anywhere, so below is a photo of the menu from the restaurant. You could also check them out on Instagram.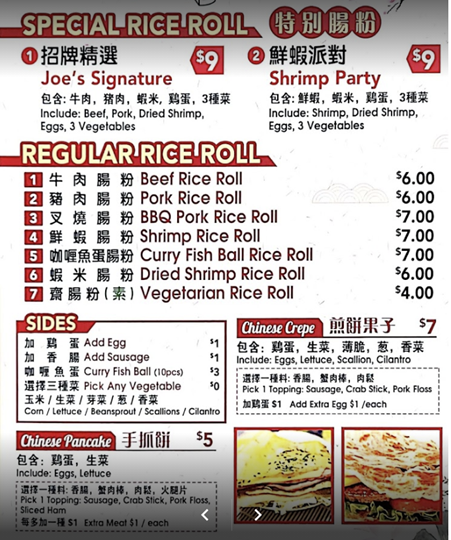 For any of the rice rolls you get a choice of 3 vegetables for each of the rice rolls. Corn, Lettuce, Beansprout, Scallions and Cilantro. I would recommend asking for the peanut sauce and spicy oil if that's something you might enjoy as well. They don't pack it unless you ask for it, and don't always ask if you want it.
Other Posts to Check Out