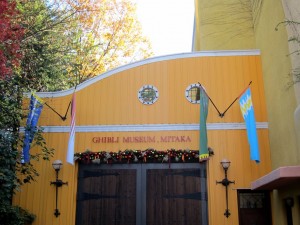 I've been to Tokyo more than a dozen times and never once seemed to find the time or the opportunity to make it to the Ghibli museum.  That is one of the general issues of business travel specifically is that you can never really know your schedule ahead of time and getting tickets for the museum requires advanced time and date reservation as well as a knowledge of Japanese to navigate the ticket buying system (although the Ghibli website helps somewhat with the latter).  It was also one of the few things I have not had the chance to visit during all my trips here to Tokyo so when I learned that I had a day off I quickly figured this would be a good chance to go.  I spent the evening out with some coworkers and then thankfully engaged their help to figure out the Lawson's buying system.  Even with both of their excellent Japanese they had difficulty with the system as well so if it wasn't for the help of the cashier in the lonely little store a little past one in the morning.
So why all the hassle to see the Museum?  Well I have been a big fan of Hayao Miyazaki's films for years now.  Ever since my older brother got me interested in the movies several years ago when we watched the movie Spirited Away.  Since then we had watched many more of his films including Princess Mononoke, My Neighbor Totoro, Kiki's Delivery Service, Howl's Moving Casle, and more.  There are quite a few other ones too that I look forward to seeing.  These films are a beautiful mix of story and animation and he is quite a wonderful storyteller. Many of them are a bit surreal in look and feel but they have a beautiful flow and spirit to them.  With the museum being world famous I knew I had to take the chance on one of my many trips to Tokyo to see them.  So many things had always gotten in the way, and this time I wanted to make sure I didn't have any more excuses.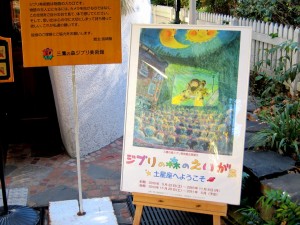 Friday morning I woke up and made my way to Mitaka (20 minutes from Shinjuku).  I wanted to make sure that I got there a bit early.  I really have no idea how this whole ticketing system works.  You have a certain time and if I'm late (or not early enough) I worry that they wont let me inside!  What a waste of a day that would be. The walk to the museum is a lot further than I had expected.  It was a bit more than 1 km away but it was a lovely walk along the water and through the small city.  Mitaka itself is basically a suburb of Tokyo, just outside of the 23 special wards that make up Tokyo proper.  And to be honest there seems to be a few parks but I doubt most tourists would venture out to Mitaka if it was not for the Ghibli Museum.  The Museum itself appears to be a big house.  There is a large garage like door and a few levels to it.  The museum has a large Ghibli Museum sign and a few decorations for the upcoming Christmas holiday.  The one thing I noticed here in Japan is that they know how to celebrate Christmas better than anyone else.  There was no lack of Christmas Decorations or specials going on in all corners of the city.
I wait in line along with hundreds of other wide eyed folks trying to get inside the museum.  The people take my ticket and then hand me a new ticket along with a movie ticket.  The movie ticket allows you into the Saturn Theater for 1 viewing of the Special Movie Exhibit.  The movies themselves rotate through and these short films can not be seen anywhere else but at the Ghibli Museum.  The one on display this time is Mr. Dough and the Egg Princess.  It is the story about an egg who falls under the spell of a witch and she keeps the egg to do all her chores around the mill.  One evening the dough that is being milled begins to rise and takes life as well and the two decide to run away together.  All of these exclusive movies make me want to come back here again to see if I can catch the rest of them.  But who knows if I will be back to Tokyo that many more times in the future! And unless the other exhibits change it will be an expensive trip just to see a short film.
The museum itself is made up of several small rooms.  Most of them lovely drawings and models of characters and scenes from the film.  I think the first floor was one of my favorites with the different animation wheels and scenes and showing how some of the work was done.  My other favorite exhibit was the one with all the animation stills and drawings.  This gave you a real sense that you were in an animation studio and watching a story come to life in the drawings and characters that hung from the walls and sat on the desks.  While the museum claims that there is no "one" way to go through the museum, it is quite clear there is an actual path to follow.  Many exit and entrance signs adorn the doorways of the exhibits telling you which way to actually go.  The greatest part of the museum however is that no cameras are allowed.  While I was a bit upset I had no pictures to document my trip inside, it was a welcome relief to be able to walk through the museum without having to constantly dodge people taking photos.  Especially given that it is a small three level museum.  The only other special exhibit during this time there (besides the new movie) was a grinding mill that you could try your hand at.  This was from the scene of the movie and the other figures in the room depicited the different shapes of the characters and the "Mr. Dough" in full form.
The entire museum itself was rather small, and took about 2 full hours to get through.  This definitely explains the 2 hr entrance times for the museums.  I picked up a few souvenirs for home (surprisingly not as overpriced as I would have imagined) and made my exit from the museum to go see other things on my day off in Tokyo.  I really think it was a good use of a morning in Tokyo, especially if you are a fan of his studio and work.  I wouldnt say it was my favorite thing to do in the city but if you have some spare time and a love of animation do make sure you take the time to venture to Mitaka and see the museum for yourself.