You are going to Jordan? Isn't it dangerous?
There were a lot of variations of this question when I had decided that I would be traveling to Jordan, to study, and live. Most people thought I was absolutely crazy. But was I?
To be honest, I hate these types of posts, but with the amount of misinformation out there it is certainly an important one. Also a lot of other travel bloggers write posts based on a 5-7 day trip (often as part of a group tour) and call it done. I am skeptical about those posts myself.
Before I get into the bad, the good
I loved Jordan, it was home, and it was certainly a safe home. Before going I contacted everyone from friends in the government (various agencies, state department, etc.) to those who had lived in Jordan and other countries (aid workers, students, etc.) and everyone basically said Jordan was ok. And it was more than that. In general the people, the food, the life, was really good. It was calm even with all the turmoil around Jordan; Jordan (and Amman) was an Oasis. The threats of ISIS, the wars raging, all seemed distant even if they were less than a few hours by car away in reality.
What are the people like in Jordan?
For centuries, the Arabs were legendary for their level of hospitality. It is something about the desert regions that with their harsh weather, they had to come up with a very important code of conduct for guests and travelers.
And the people of Jordan are among the most hospitable people I have ever met in the world. They were so often wanting to sit with me, invite me into their homes, talk with me. They shared what they had with me at times whether it was tea while watching the sunrise over Petra or breaking fast during the holy month of Ramadan.
What is the crime rate in Jordan?
According to the OSAC (Overseas Security Advisory Council), the threat in Jordan (and Amman) is considered to be low.
Issues in Western Amman (where most tourists would visit) are much lower than those in Eastern Amman and other areas. Special consideration also needs to be followed in areas close to the Iraq and Syria borders as well as in some of the southern Areas that are known for unrest (such as Ma'an).
Most crimes affecting western tourists tend to be those related to more petty crimes, thefts, etc. Murders are a problem, however sadly these tend to more affect locals (especially locals who know one another). Also the universities see a lot of fights and attacks (many of these tend to be more tribal related).
Special Note
There are times and events in Jordan such as protests (around unpopular policies, election times, civil unrest) that can be dangerous for westerners. Especially those who have little to no idea about Jordan politics, local culture, or language. While you may think it would be a good time to "get a photo" or experience something, don't be fooled into thinking it's completely safe. Things can change and you may be caught unaware.
Is Jordan Safe for an Independent Traveler?
Yes.. Very much so. Having lived here now over multiple extended trips, meeting people from all walks of life and countries and situations, I can emphatically say yes.
I have personally only done independent travel and I have been all over the country from Petra to Aqaba to the Eastern Desert Castles, and have not met with serious issues.
Is Jordan free of problems? No… Jordan like any country has its share of petty thefts and issues and murders. But as a traveler you are unlikely to face most of these.
Is Jordan Safe for Women?
Women traveling in Jordan do need to be more careful than men do unfortunately. Many reports of sexual harassment, assault, stalking, catcalling, etc. are reported in the country. However I know lots of women who live and travel and work in Jordan.
For instance, If you are taking a cab alone. You should always sit in the back of taxi as opposed to next to the driver (it is generally expected for men to sit next to the driver if they are alone as its more respectful).
Issues I have seen
I had friends who lived near me in a generally safe neighborhood in Western Amman. They had issues with a "peeping tom" who also at one point tried to cut the screens of their window. Their apartment was on a poorly lit street on the ground floor which gave the perpetrator easier access to them.
Many women I know have been harassed in taxi cabs when traveling in Amman. Catcalls and women being followed on the street are issues I have seen in areas outside of the city center mostly (where they are less likely to be admonished by people doing it). I have not known anyone who was attacked however and the men generally don't but these can be scary situations that require vigilance.
Read my post on taxis in Jordan for more advice here.
Will you be Harassed in Jordan?
In terms of harassment for buying or selling things, generally you will only see this in very few tourist locations such as Petra. In Petra you may get various people trying to follow you to sell things or buy things. Sexual Harassment is also present but less than some other areas given the sheer number of people.
Harassment does occur on the streets. Usually its groups of younger guys often near the University or in areas close to but not necessarily in the city center.
In Amman people in the city center generally leave you alone. Even for shopping which is a surprise compared to many other countries (Egypt and Morocco come to mind here). Also you are less likely to be harassed overall due to the sheer number of people (harassers tend to be scared of public visibility of their harassment).
Dressing in Jordan
Jordan while more liberal than some of its neighbors is still a very conservative country. Like traveling anywhere it is best to dress more like the locals.
For Men: Men in the country generally wear long pants out in public places. Shirts with short sleeves, etc. are fine. Sandals are common in middle eastern countries

For Women: Loose fitting clothing with long sleeves is best. Shorts, tank tops, skirts, are not generally worn out in public places. Sandals and open-toed shoes are fine. Covering of your hair is not necessary.
Beach-wear
In most middle eastern countries (and a lot of other countries in Asia in-fact), clothing like shorts and swimsuits etc. are generally only worn in those specific locations. Many of the large western hotels have pools and wearing of the clothing there would be appropriate but inappropriate in other areas of the hotel (such as the lobby). At the Dead Sea you might want to consider being more conservative in your beachwear choices at some of the more public beaches (like Amman beach) vs. a major hotel (such as Kempinski or Marriott).
Getting Around Jordan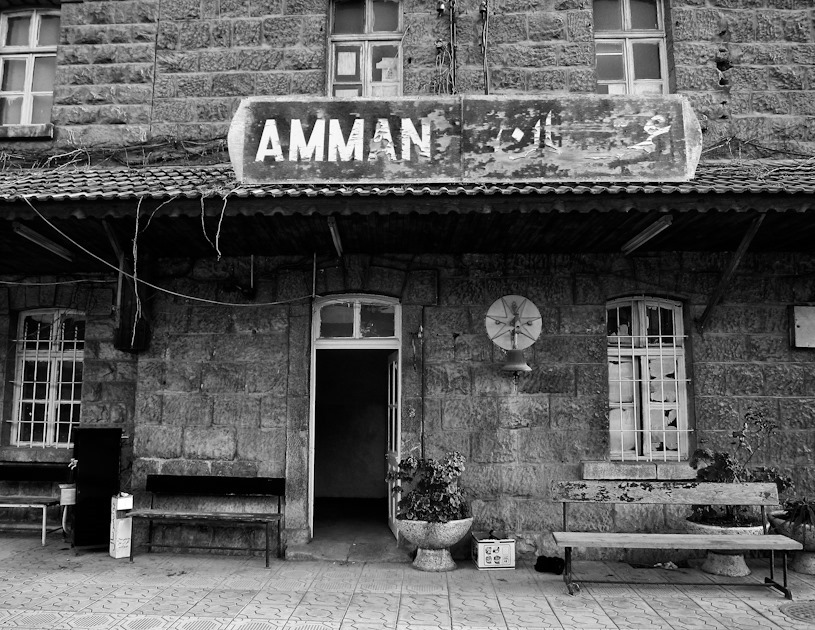 The easiest way to get around Jordan by far is driving. Although you do need a bit of nerves of steel to drive in many parts of Jordan (particularly Amman). Also we also destroyed our car when we hit an unmarked speed bump on a major road at high speed.
Public Transportation
Getting around Jordan is easy by public transportation. Large buses leave from one of the major bus station in Jordan.
The South Bus station (Majama AlHafila Janubia) is useful for traveling to areas such as Petra, Aqaba. Note that there is no transportation to Wadi Rum directly (you need to take a taxi from Petra).
For Jerash, Irbid etc., you can take the bus from the Northern bus station (Tabarbour). I find saying Northern Bus Station (Majama AlHafila AsShamalia) makes it easier. You can also take a shared taxi to the Allenby / King Hussain border crossing from this bus station.
There is a Train Station, although it's mostly more for show and tourism than regular transport. Hopefully in the near future it'll return more to it's old glory.
Jett Buses leave for Petra (and a few other locations) from the Jett bus station in Abdali.
Car Rentals
Major car rentals agencies are available at the Airport. You can also rent cars within Amman as well. Read my post about renting cars in Amman for more information about that.
Taxis
Taxis are plentiful in major cities and major tourist areas. If you go to a place like Wadi Rum via taxi, make sure you schedule your return trip (as well as get the number). If you find a good taxi I highly recommend you get their phone # to call as that can make your life easier. As a tourist, expect to probably get overcharged here but unlikely to have major issues in terms of safety.
Some taxi drivers are known to ask very inappropriate questions. It is recommended also for women (alone in a taxi or with a small group of women) to sit in the back. You are less likely to be harassed if you are not by yourself.
Shared taxis are also prevalent, but take a bit of knowledge to know where to pick up the right taxi for your destination. In shared taxis, women can be expected to sit in the passenger seat if there are men in the back and she doesn't want to sit next to them.
Read my post on taxis in Jordan for more advice here.
* * * * *
Final Notes
I hope this helps you, and helps those who are on the fence about knowing whether or not to visit Jordan. Jordan, is such a beautiful country and it would be a pity to skip it over due to the fear of the unknown. It is a very safe country and the vast majority of visitors will have little to no problems. I tried to mention issues that could happen both for you to be aware and to help you navigate such issues.
Have you been to Jordan? What are your thoughts on the safety there?