Cape town is one of the most diverse and vibrant cities anywhere and certainly one of the most beautiful places I have had the pleasure to visit. Certainly, photographs don't do this place justice (and trust me I tried…a lot).
There's a lot to do and see in this town and I worked through my travels to bring you the best things do to in Capetown.
* * * * *
Robben Island
One of the somber and moving testaments to the cruelty of the Apartheid system. Robben Island (Seal Island) where many of the Apartheid activists were imprisoned. Nelson Mandela was held here for 18 of the 27 years he remained incarcerated prior to the fall of Apartheid. The tours and views are somber and moving and worth a view into tumultuous history of the land.
Tip: It is recommended you book your tour ahead of time as they do fill up.
Hours: Tours to the Island run 3 times a day (9am / 11am / 1pm)
Tours run approximate 3.5 hrs.
Cost: R360 (~$25 USD)
Getting There: Access to the island is only available by Ferry (from the V&A Waterfront). Ferry ride is approx 30 minutes each way.
Website: Robben Island
Table Mountain
You can't miss table mountain, it seems to looming over you from anywhere in the city you may be. It is certainly one of the most beautiful landmarks in the city and honestly one of the reasons why Capetown is so beautiful. Taking a trip up Table Mountain (and the ensuing views) was one of my favorite moments in the city. There are two ways up, you can either hike about 6-7 hrs. or take the cable car.
Tip: There are two lines, the first line to buy your ticket and another line if you already have one. Pre-purchasing will save you a lot of time. It can also be busy on the way down so plan accordingly if you have plans after Table Mountain
Location: Tafelberg Rd, Gardens, Cape Town
Prices: R190 (R330 Return) Adults | R90 (R165 Return) Children
Cable Car Hours:
Sept – Oct: 8:30am – 7pm
Nov: 8am – 8pm
Dec 1 – 15: 8am – 8:30pm
Dec 16 – Jan 15: 8am – 9:30pm
Jan 15 – Jan 31: 8am – 8:30pm
Feb/Mar: 8am – 8pm
Apr: 8am – 7:30pm
May – Aug: 8:30am – 6pm
Paragliding from Signal Hill
If you are driving around Capetown you'll often see folks paragliding down from the mountains. One of the most popular activities from Signal hill is paragliding and weather permitting you'll see dozens of folks running and leaping from the hills around here. Signal hill is probably the most popular although you can during certain weather conditions jump from Lion's head as well.
Note: Weather is a huge factor here and you can be delayed or canceled if the winds are not right. Be sure to give yourself enough time to do this activity if its on your list.
Watch the Sunrise from Lion's Head Mountain
Sunrise is one of those great experiences on travel. Getting up early and watching the light slowly illuminate a new day. Lion's head is one of the best places in South Africa or possibly the world to catch a sunrise (and a sunset too). You can spend a few hours hiking up the peak either in the dark or during the day to catch it at various points when the sun is just right.
Read More: Be sure to check out my post on Hiking Lion's Head Mountain
Touring the Botanical Gardens
By far one of the most beautiful botanical garden's I've ever been to, the Kirstenbosch National Botanical Gardens are stunning. The Gardens were established in 1913 by the government for preservation and encouragement of botany sciences. Since then the gardens have grown and changed and now houses thousands of plant species (some of which are endangered).
Address: Rhodes Dr., Newlands, Cape Town, 7735, South Africa
Hours: 8am – 7pm (6pm winter)
Admission: R70 (Adults) [~$5 USD]
Boulder's Beach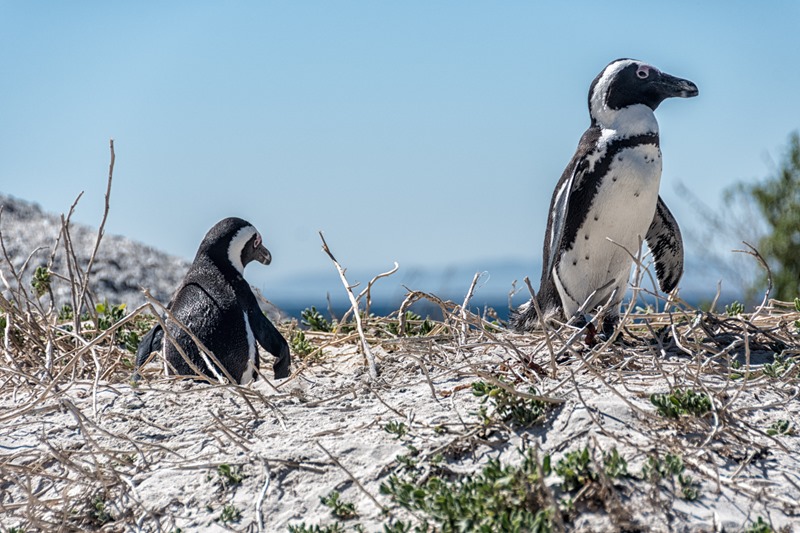 Definitely, one the easiest of the places to see the African penguins (also known as the Jackass penguin due to the sounds they make), Boulder Beach is literally full of these pint sized flightless birds. The place feels a bit commercial but it does allow you to get fairly close to the penguins without damaging their nesting areas. You can sometimes find penguins at other nearby beaches as well.
Location: 4 Boulders Place, Secluse Ave, Simon's Town
Hours: (Dec / Jan) 7am – 7:30pm; (Feb / Mar | Oct / Nov) 8am – 6:30pm; (Apr – Sept) 8am – 5pm
Prices: R76 (Adults) | R41 (Children)
* * * * *
Cape of Good Hope
Previously thought to be the Southern Most Point in the African continent (Cape Agulhas is the actual Southern Most Point), the Cape of Good Hope is still worth a visit even if the signage is a bit deceiving. The area is well maintained and beautiful. You can drive up to the Cape and do a bit of climbing and even take your picture with the sign telling you that you are at the Southern Most Point.
Tip: If you overstay past gate closing they will charge you a fine.
Location: Cape Point Rd, Cape Town, 8001
Hours: Apr – Sept 7am – 5pm; Oct – March 6am – 6pm
Admission: R303 (Adult) | R152 (Child)
Cape Point Light House
Located in the Cape of Pont Conservatory Area (along with the Cape of Good Hope Above), the Cape Point Lighthouse is worth a visit as well during your trip (we missed it on our first trip in) There are two ways up to the Lighthouse, you can either take the funicular tram or walk up the steps to the lighthouse.
Location: S34°21'22" E18°29'48"
Price: Tram: R55 (R80 Return) [Adult] | R25 (R35 Return) [Child]
Hours: Tram: 9am – 5pm
Go Shopping at a Night Market
There are various night markets throughout the city (most open on Weekends or on specific days of the week) and these are great ways to shop from some local Artisans and often try some of the local foods and produce of the area. Our favorite was the Bay Harbour Market in Hout's Bay (Fridays 5pm – 9pm, also open during the days on Saturday / Sunday).
Tip: The Bay Harbour Market is also a great place to eat with good mix of various international cuisines.
Bay Harbour Market: 31 Harbour Road, Hout Bay, Cape Town.
Hours: Fri (5pm – 9pm); Sat/Sun (9:30am – 4pm)
Boschendal Market: Boschendal Wine Estate, Pniel Road, Groot Drakenstein
Hours: Fri 6pm – 9pm (Summers)
Food Market (The Range): The Range, Orpen Road, Cape Town
Hours: Fri (4:30 pm – 9:30 pm)
City Bowl Market: 14 Hope Street, Cape Town
Hours: Thur 4:30pm – 8:30pm
Blue Bird Market: Blue Bird Garage, 39 Albertyn Road, Muizenberg
Hours: Fri 4pm – 10pm
Earth Fair Market: South Palms, 333 Main Rd Retreat
Hours: Wed 4pm – 9pm
* * * * *
Relaxing in Camp's Bay
Probably one of my favorite few days in Capetown was renting a Villa with my friends in the very posh neighborhood of Camp's bay. It had a lovely waterfront area and great little cafes and coffee shops to just sit and take it easy for some time. It's easy to just get lost relaxing though which is tough when you have so much to see, but so very fun to just sit, chat, or just contemplate on topics with your friends.
Take a walk (or lunch) in Bo Kap
The colorful and distinctive houses in Bo Kap are one of the most photographed areas of Capetown (I know I've seen photos of it long before I knew where it was). The area is a traditional home for the Cape Malay Muslims and the areas distinctive feel, color, and food, make it a worthy stop on any trip in Capetown. Be sure to try to local Cape Malay cuisine at one of the local restaurants.
Recommendation: We ate at the Biesmiellah Restaurant (2 Wale St & Pentz St Bo-Kaap) which was really good with some reasonably priced local choices.
Visit the Old Biscuit Mill
The old biscuit mill is a happening area of town on the weekends especially with the market. You can shop here for vintage items, clothes, various souvenirs and delicious locally made chocolates and other foods. My favorite part was the food market on the one end of the market area with a huge selection of local vendors selling a variety of different ethnic cuisines.
Bonus: Grab a Coffee
The coffee scene in Capetown is really good. Much better than I would have anticipated (not sure why I would have thought otherwise), and there are a plethora of great coffee shops and cafes to try. Here's a couple worth popping into if you have the time. Plus I can't seem to manage to do any of the other above items without my first cup of coffee.
Truth Coffee: A great coffee shop with some imaginative coffee drinks and pretty good food as well. (36 Buitenkant St.)
Caffe Neo: One of my favorite little spots along the water in Mouille Point. The food, coffee, and overall vibe are worth the stop. (129 Beach Rd, Mouille Point)
Haas Coffee: The space may be better than the coffee, although the coffee is good too (as is the food). (19 Buitenkant St.)
* * * * *
Have you been to Cape Town? What are your thoughts on our suggestions and choices? Anything you would add or argue? Or if you have places around Cape Town, that you would recommend? Let us know!
Read More
Pin It!