The largest city on Colorado's Western Slope, Grand Junction is a spot worthy of a visit. There's a lot to do in the town and area and it's famous for its beautiful landscapes, wines, peaches, and more.
We explore with you the best things to do in Grand Junction, to help you make the most of your time here.
Table of Contents
Colorado National Monument
Location: 11 Rimrock Dr, Fruita | Website
Fees: Car: $25 | Motorcycle $20 | Person (foot/bike) $15
If there's one place you should visit, it's here. Colorado National Monument is a vista into the western landscape of your dreams. The rock canyon and rock formations need to be seen to really understand the awe of the place.
The main attraction is the Rim Rock Drive that winds its way along the canyon rim. From here you can stop at a lot of overlooks and enjoy the changing view of the rocks and landscape. There's also quite a few trails including Otto's Trail (a quick favorite of mine), Canyon Rim Trail (from the visitor's center), Coke Ovens Trail, and Devil's Kitchen Trail.
Expect to spend several hours here to properly explore and if you decide to drive the full rim rock drive.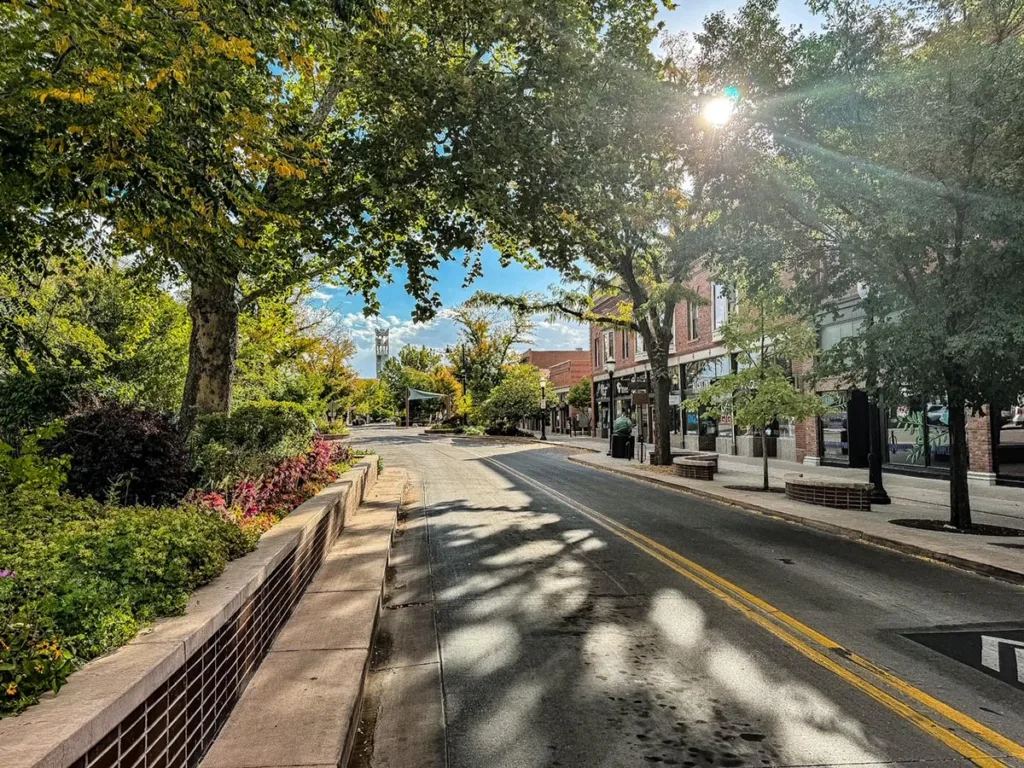 Historic Downtown
Location: Main Street, Grand Junction, CO
The cute downtown is one of my favorite areas of Grand Junction. It's not large, but there's a lot in the compact space of the downtown area. And it's beautiful. The buildings and the garden lined walkways are a great spot to walk, shop, and people watch.
The area also has lots of artwork on display. You'll see sculptures throughout the downtown area to view and wander by and some murals too. There's several art galleries, coffee shops, cafes and more to peruse, sample and explore. I do love sitting along the street on a nice day.
Eat at Great Restaurants
Location: Various
I was happily surprised to realize that Grand Junction has a pretty good food scene. There are restaurants of a decent number of cuisines and plenty of options for great cheap spots and nice date night ones too.
Among my favorites. Pablo's Pizza for some tasty pizza downtown. Bin 707 for a good mix of nice atmosphere and some delicious food of various styles. Devil's kitchen for some good burgers, salads and sandwiches and a nice spot atop the Maverick Hotel.
Breakfast at Main Street Bagels is a good quick option, or for a little longer sit perhaps Cafe Sole or Dream Cafe downtown. There's more and certainly you'll have plenty of choice for where to dine.
Enstrom: Toffee and Confectionery
Location: 701 Colorado Ave, Grand Junction | Website
Hours: M-R: 7am – 7pm; Sat 8am – 7pm; Sun 10am – 4pm
Founded in 1960, Enstrom candies is a local Grand Junction mainstay. The main store in Grand Junction is located right next to the headquarters / factory. In the store you can sometimes even see candy being made.
The store is a mix of a shop and cafe with options for coffee, ice cream, and of course candy. You can find quite a few varieties including some display case mix-match and some boxed treats. Be sure to try the almond toffee, one of their signatures. I recommend the one with a mix of milk and dark.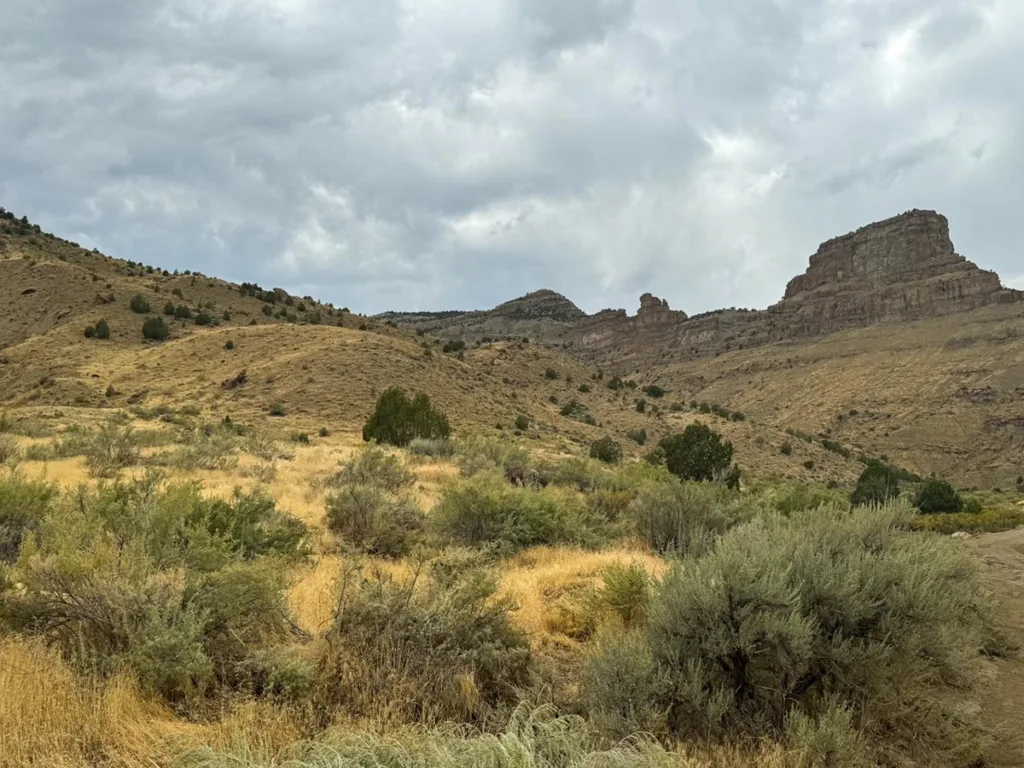 Little Book Cliffs Wild Horse Range
Location: Clifton, Colorado | Website
Located outside of Grand Junction in Clifton Colorado, Little Book Cliffs Wild Horse Range is an open range for feral horses in the region. There are several wild horse sanctuaries across the west and this one is particularly known for horses that are not as afraid of humans. This gives you a higher chance of actually seeing a horse (although you should still respect a reasonable distance).
Sadly on my most recent visit I didn't see them, but it's still a beautiful area to explore with several hiking trails through the area. There's also vault toilets available.
NOTE: The site is located down an unpaved road past the Cameo Shooting Education Center. Make sure to not start wandering before you exit the shooting area (there's lots of signs warning you about active firing areas).

Also the road can be rutted especially after rain. It got pretty bad on my recent trip past the first trailhead.
Museum of the West
Location: 462 Ute Ave, Grand Junction | Website
Hours: Tue – Sat: 10am – 4pm
Admission: Adults $7 | Kids $4 | Seniors $6
Museum of the West tracks the developments and history of the people of Western Colorado. This includes works and artifacts from ancient Anasazi people to stagecoaches and even flight from the western slope.
You can even see old firearms from wild west outlaws, to a one-room schoolhouse, and even a saloon! There's even a tower you can climb for a birds-eye view of Grand Junction. There's a lot of Colorado and western reality and lore in this museum.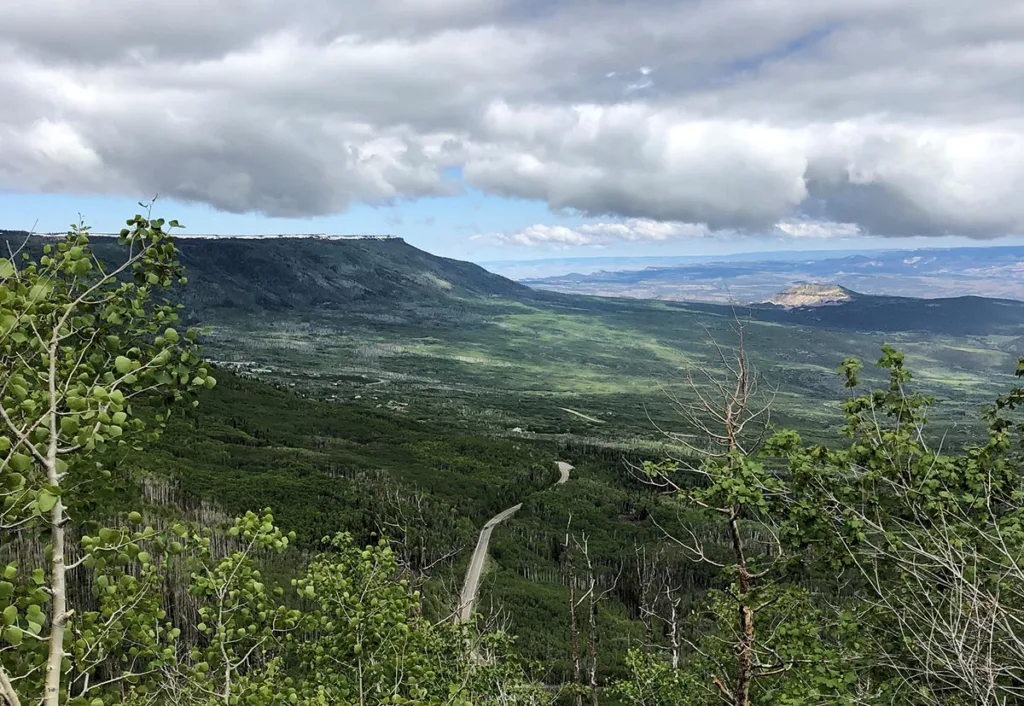 Grand Mesa
Location: Grand Mesa, CO | Website
Grand Mesa is the largest flat top mountain in the world and offers amazing outdoor adventures with over hundreds of miles of trails to explore. You can drive up around the area and explore the wilderness here and even get some amazing vistas of the area as well. It's the second most recommended outdoor spot after Colorado National Monument.
Be sure to check out the Grand Mesa Visitor Center (adjacent to Cobb Lake). It's a good starting spot to explore the area and there's lots of beautiful lakes surrounding this area too!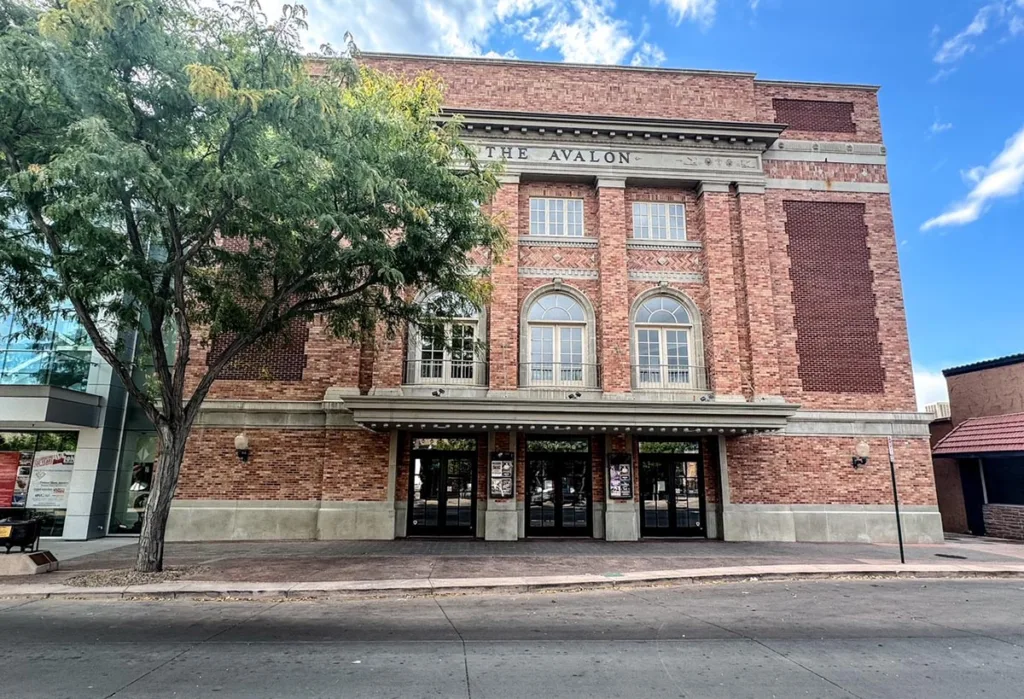 The Avalon Theatre
Location: 645 Main St, Grand Junction | Website
Built in 1923, the Avalon Theatre is the premier western Colorado venue for performances. Originally constructed for movies, you can catch all kinds of shows from theater productions, singers, dance performances, film screenings, lectures, and more.
We recommend checking out the Avalon Theatre website above for lists of upcoming shows and events at the theater. You can certainly fit a fair number of folks in the 1,100 seat theater but some popular ones can sell out.
Palisade Colorado
Location: Palisade, CO
Palisade, just outside of Grand Junction, is more of a farming town and you'll see lots of vineyards and orchards here along the land. The town is famous as a big wine making area in Colorado as well as famous for its peaches.
Palisades Peaches are well-known across Colorado (oddly not so much outside, as I never heard of them till i moved here), and you can find the peaches for sale over the summer across the state. They have stands often set up in towns like Denver and Colorado Springs.
The town is a lovely place to explore with a small downtown and areas along the Colorado River. You can explore vineyards, or farm stands, and enjoy some great days among the crops.
Grand Junction Motor Speedway
Location: 3002 N I 70 Frontage Rd, Grand Junction, CO | Website
Hours: Tues – Fri: 3pm – 7pm | Sat-Sun: 9am – 7pm
Who knew there were go-kart tracks like this! One of the top racetracks in the country, the circuit is 0.9 miles long and includes some great straightaways and technical turns around the track. The track even has some local leagues and races and there's opportunities for all skill levels.
There are some serious kart races for those able to qualify with karts able to go up to 100 MPH. There are different classes for different qualifications and opportunities for family fun at the track.
James M. Robb – Colorado River State Park
Location: Multi | Website
Hours: 5am – 10pm
Admission: Per Car: $10 | Per Person $4 | Included with Annual CPW Pass
The James M Robb Colorado River State Park is a "string of pearls" across the Colorado River through Grand Junction. The park is separated into 5 sections from Debeque Canyon in the East to Fruita in the West.
Across the sections are several lakes that are within the river of the Colorado. Several of the sections (from Cobb Lake to Fruita) are connected by a paved path. The park has ample opportunity for outdoor activities such as bird watching, boating, fishing, and camping.
Some areas don't have fee collectors, but you should pay at the local fee stations when visiting.
Big Dominguez Canyon
Location: Whitewater, CO | Website
Located South of Grand Junction, Big Dominguez Canyon offers some incredible hiking trails, big nature, and even swimming opportunities. You can even explore some petroglyphs and ancient rock shelters along the trails as well.
The overall BLM area has a lot of land to explore, with opportunities for miles into the wilderness if you have the skills and desire.
Get on the Colorado River
The Colorado River runs through the Grand Junction Area and there's ample opportunity for rafting and float trips down this iconic waterway. You can whitewater raft on certain sections as well as canoe or kayak (on your own or with guides).
You can find options for rafting from nearby towns and there are quite a few outfits such as Rimrock Adventures, Palisade River Trips, Centennial Canoes and more. There are some more options nearby in the Yampa and Green River as well as some more interesting waters in places like Gunnison.
Western Colorado Botanical Gardens
Location: 655 Struthers Ave, Grand Junction | Website
Hours: Tue – Fri: 9am – 4pm
Admission: Adults: $5 | Children (3 – 11): $3 | Seniors/Military/Children (12+): $4
The Western Botanical Gardens are a fun compact look at several different gardens representing different ecosystems. The park has several great places such as the succulent garden which includes plants from the deserts of Colorado and the Southwest. There's also a rainforest garden, Japanese garden, herb garden, rose garden, and a western heritage garden.
Be sure to also check out the lovely lily pond and butterflies. The butterfly house is super popular and there are lots of other animal friends in the tropical gardens (turtles, koi, tortoises).
Road and Mountain Biking Trails
Location: Multi
One of the things I was not expecting is how bike friendly the city is. There are quite a lot of bike trails through the city and along the Colorado river as well. For road biking, the riverfront trail is 28 miles along the river, or along the roads of Grand Mesa or Rim Rock trail in Colorado National Monument
There's also lots of opportunity for mountain biking in the hills around the city as well. Lunch Loops, Gunny Loops, Tabeguache, Joe's Ridge, and Lands End are some great options for mountain biking in the area as well.
Cross Orchards Historic Site
Location: 3073 F Rd, Grand Junction, CO | Website
Hours: Thur – Sat: 9am – 3pm
Admission: Free
Set over 12 acres, the Cross Orchards Historic Site is home to lots of historic buildings, machines, railroad cars, and other equipment from the agricultural history of the area. The barn and many of the items are vintage from several periods to showcase the various tools and changes of the trade. The 19th century shed and bunkhouse are even registered historic sites!
Visitors on Saturdays can even ride the small train (available from 9am – 2pm) for a small additional fee. During the summer there are also farmers markets [Wed & Sat 8 am – noon]. You can even schedule your wedding here!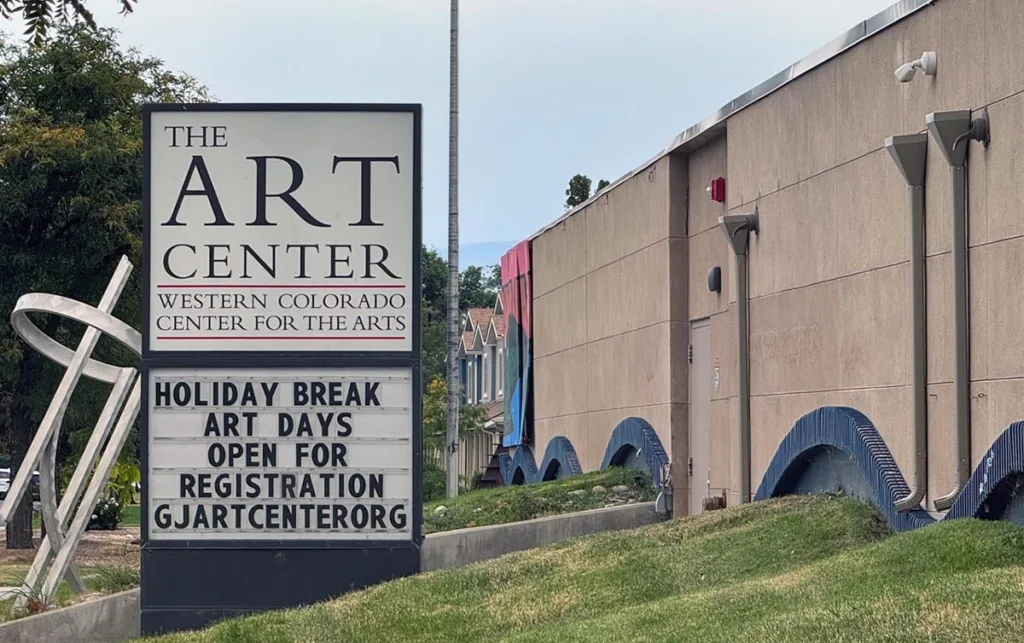 The Art Center
Location: 1803 N 7th St, Grand Junction, CO | Website
Hours: Tue – Sat: 9am – 4pm
Admission: Ages 12+: $3; Free Tuesdays
Established in 1953, the art center exhibits artwork from local artists all across the western slope. The center has rotating exhibits of artists as well as younger artists in school as well.
The Center also has lots of classes for locals in the area as well. There's adult, teen, and youth classes available year round in the center. The site also holds regular events in the space as well and is a popular spot for first fridays in Grand Junction.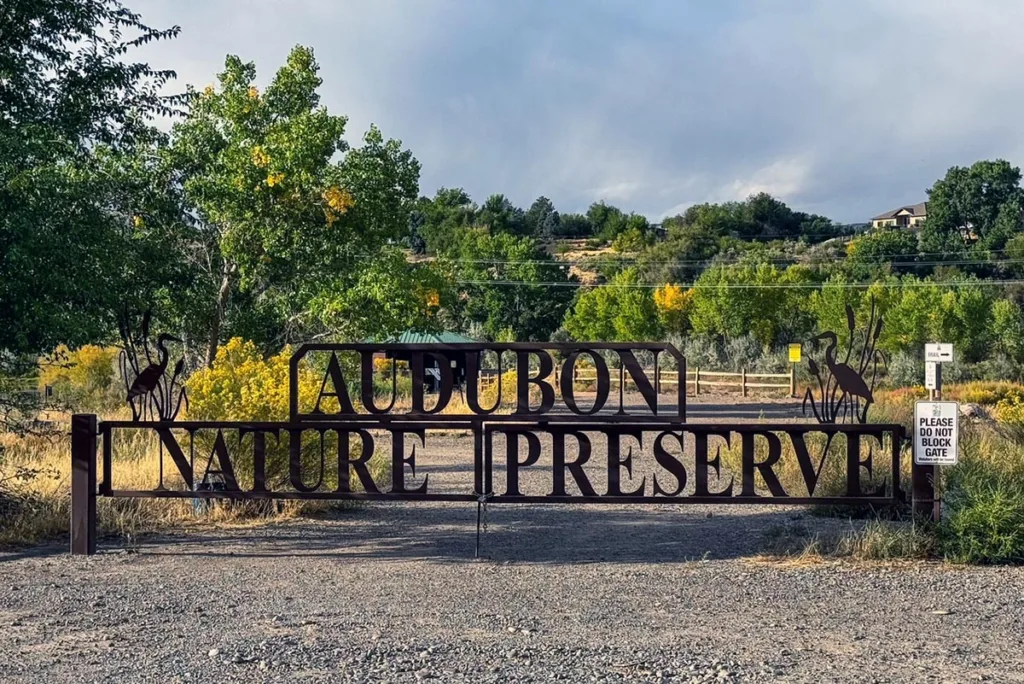 Audubon Nature Preserve
Location: 610 Dike Rd, Grand Junction, CO | Website
The Audubon Society is quite active in Grand Junction and opportunities abound to view lots of birds in the Western Slope. The society actually holds quite a few events each year and whether you are new to birding or experienced you'll find something for everyone.
One of the nice things is that they have a Nature Preserve you can explore (located outside one of the James M Robb State Park Sites). It's free to explore for those wanting to walk, bird and nature watch. Just be kind and make sure you leave the place as you found it.
Powderhorn Mountain Resort
Location: 48338 Powderhorn Rd, Mesa, CO | Website
Hours: Winter: 9am – 4pm
Tickets: Adults: $79 – $99 | Juniors: $39 – $59
While small by Colorado standards, there's still over 1,600 skiable acres to explore in Powderhorn. It's located in nearby Mesa Colorado which is about 40 miles outside of downtown Grand Junction. The resort has a good mix of skill levels and is a great place for those learning.
The resort is not on the major ski passes most folks buy but it's affordable for lift tickets at a time when many Colorado resorts have become unaffordable.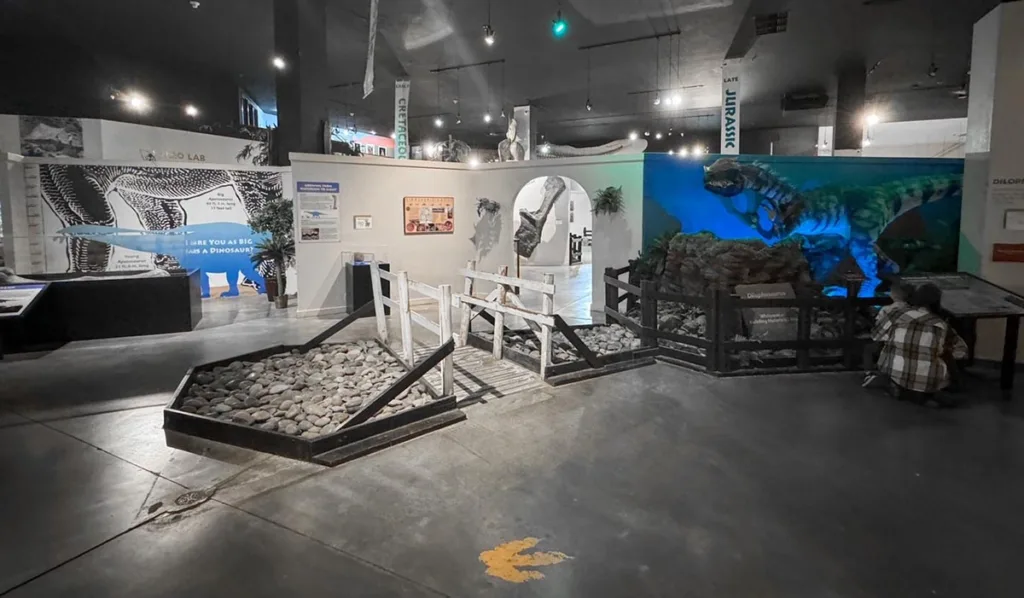 Dinosaur Journey Museum
Location: 550 Jurassic Ct, Fruita | Website
Hours: Daily: 10am – 4pm
Admission: Adults $9 | Kids $5 | Seniors $7
If you didn't know Colorado (and in particular Western Colorado) is well known for its dinosaur fossils. The site takes you through several of the time periods and fossils that are found both locally in this area and around Colorado, Utah, and the greater west.
It's a small museum and mostly geared towards kids. You can see it all in a pretty short time, but it's a fun stop for those who are interested in dinosaur bones.
If you have more time, check out the nearby fossils at the Trail Through Time or better yet, consider taking a day (or longer) trip north to Dinosaur National Monument. There's some interesting fossils to see there in a much bigger area and building.
Eureka! McConnell Science Museum
Location: 1400 N 7th St, Grand Junction, CO | Website
Admission: Adults: $8 | Children: $7 | Student: $6 | Under 3 Free
Hours: Tue – Sat: 10am – 4pm; Sun 12pm – 4pm
The Eureka Science Museum is a fun activity for families visiting the Grand Junction area. The museum has a variety of activities from a space shuttle simulator, light / shadow play, bubbles, and the importance of water in the west.
The museum even has a playground attached to the site as well with a fun small outdoor space. The museum hosts regular events and even summer and school break camps for children. So for those who are from nearby areas of Colorado these could be a great option as well!
Atomic Legacy Cabin
Location: 2597 Legacy Way, Grand Junction, CO | Website
Admission: Free
Hours: Tue: 9am – 12pm | Wed: 10am – 1pm | Thur: 1pm – 4pm
The Atomic Legacy Cabin, run by the Department of Energy, preserves the history of the atomic industry in western Colorado. Colorado was an important hub for uranium mining and processing and contributed to research during WW2 and the Cold War.
The cabin has gotten some renewed interest since the Oppenheimer movie and does help to provide some information on how the site impacted the Manhattan Project.
Other Posts You May Like