El Paso is such a cool and interesting city. However, if you are in the area, you would be remissed to not explore the areas around El Paso as well. There's incredible towns, national parks, historic sites, and more to see in the areas surrounding El Paso. Given the geography and history, some are a bit of a distance away, so we'll try to keep it to a few hours from the city. So we help you explore the best day trips from El Paso.
There are even more if you go across the border, however for this post given complexities of border crossings, we will stick to the US side.
Las Cruces, New Mexico
Distance From El Paso: 45 miles (50 minutes)
Located north of El Paso, Las Cruces is a cool little city located near White Sands Missile Range and the Organ Mountains. The town has a good art and food scene as well as really nice locals.
Be sure to also check out the nearby town of Mesilla, with its cute little square and great restaurants and shops. Be sure to also pick up some pecans, as the area is surrounded by pecan farms.
If you have more time, check out the Organ Mountains, Dripping Springs is a popular hike. There's also quite a few museums including the White Sands Missile Range Museum, Las Cruces Art Museum, and New Mexico Farm Museum.
Eat: La Posta De Mesilla serves up great Mexican food in a beautiful historic building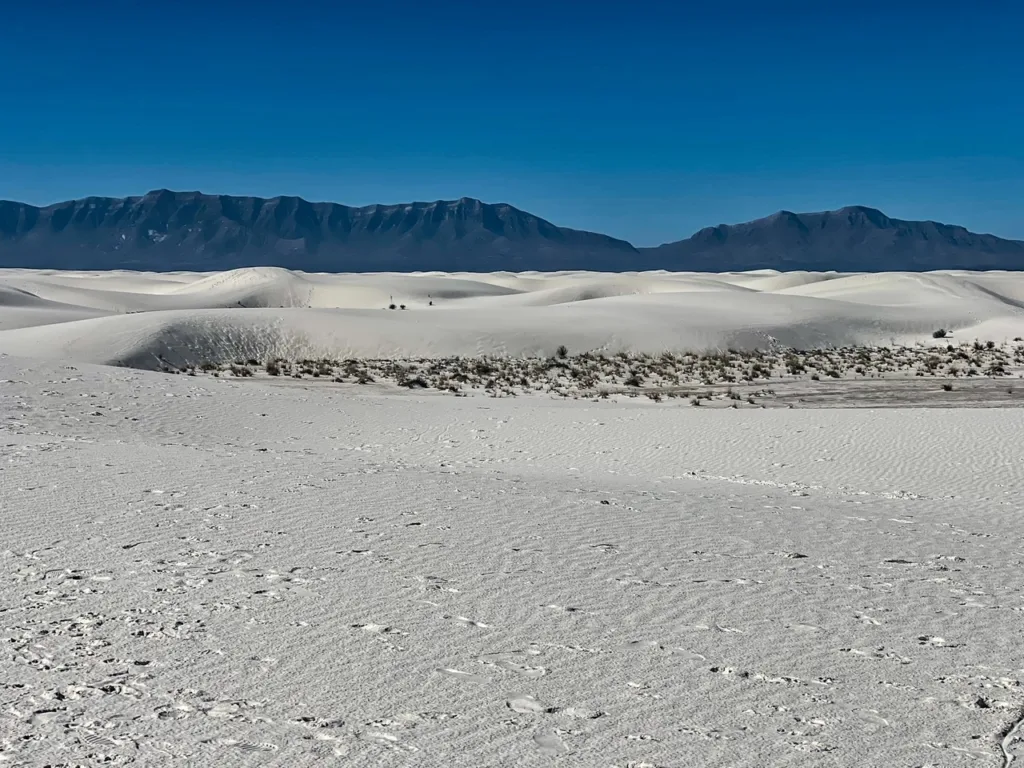 White Sands National Park
Distance from El Paso: 95 miles (90 minutes)
White Sands National Park contains the world's largest concentration of "white sand" which is compromised of gypsum crystals. It really is quite incredible to see the literal sea of white.
There's quite a bit to do in the area, including hiking,, stargazing, camping, and sledding. The sledding feels more like sledding on slushy snow does it does sand. It's really some unique stuff.
If you have additional time, nearby Alamogordo has additional things to do. Known for it's pistachios, you can even visit the "world's largest pistachio" which is a cute statue to take photos with. Also lots of pistachio foods and drinks and even trees if you want to grow your own.
You can also explore the the New Mexico Museum of Space History as well as other great hiking in Lincoln National Forest and Oliver Lee Memorial State Park.
Eat: Brown Bag Deli in nearby Alamogordo is a great option to great sandwiches (bring one for your trip if you can). Large delicious portions.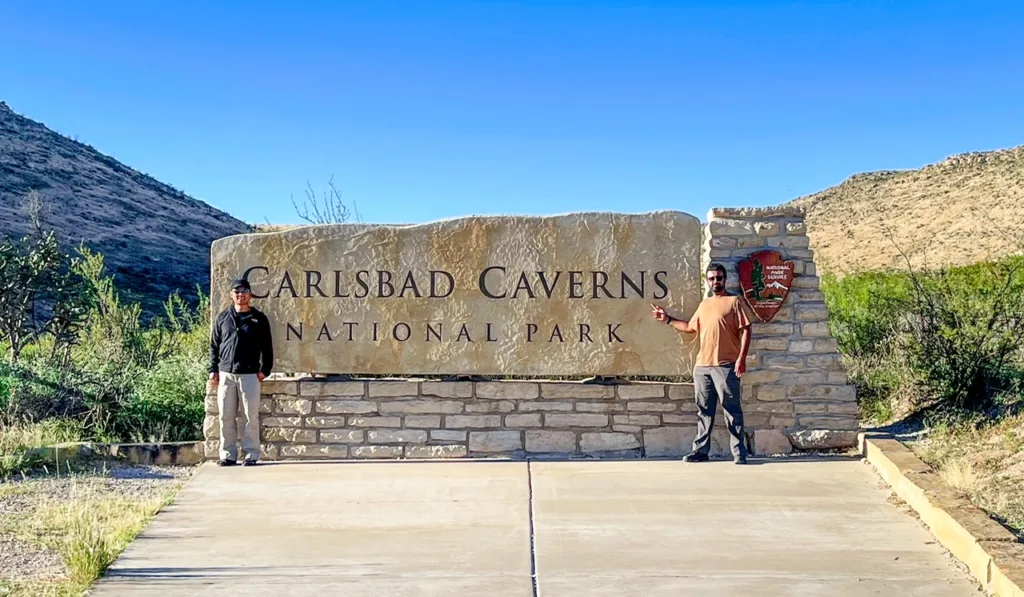 Carlsbad Caverns National Park
Distance from El Paso: 149 miles (2 hrs. 20 minutes)
One of the largest cave systems in the world, Carlsbad contains over 119 discovered caverns. While only a few are open to visitors, there's still quite a lot to see. Be sure to check out the "Big Room" which is the largest cave chamber in North America.
Entrance to Carlsbad requires a reservation from recreation.gov. We highly recommend also doing a ranger guided tour of a cave, which book up quickly!
For those with enough time or want to explore more, we recommend coupling with Guadalupe Mountains below.
Eat: Cactus Cafe cooks up a great selection of burgers and breakfast selection. Also some of the nicest staff I've met anywhere.
Tip: There's no services between El Paso and Carlsbad. None. So be sure to have enough fuel for the trip. There is gas, food, and groceries however when you get near the park entrance.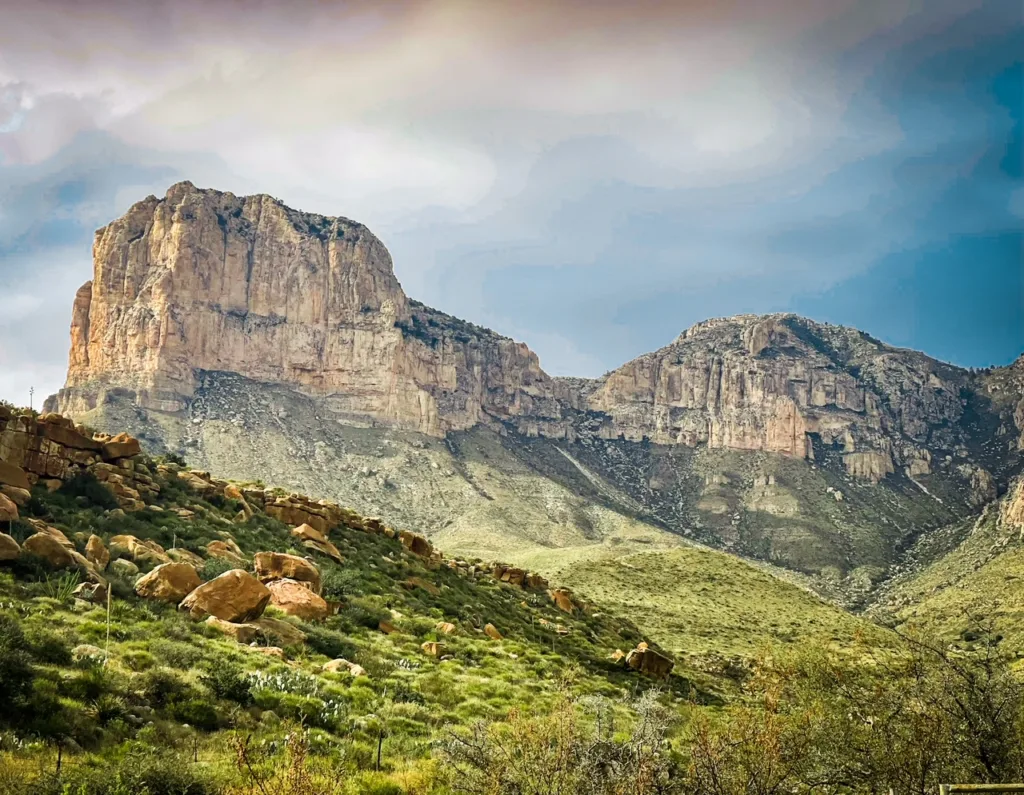 Guadalupe Mountains National Park
Distance from El Paso: 113 miles (2 hours)
One of the least visited National Parks, Guadalupe Mountains contains over 86,000 acres of mountains and valleys that can be explore. Including the "roof of Texas", the highest point in the state at 8,751 feet (2,667 m). Although, hikers should be careful as winds at the top can be pretty high (sometimes over 80 MPH) which may be difficult to believe near the trail head.
There's quite a few great trails to explore in the park including the Devil's Hall Trail, McKittrick Canyon, and El Capitan. There's also some interesting history including old cabins, ranches, and even mail relay stops from long ago.
Eat: Bring your own food. There's literally no services close by. the closest is White's City 30 miles away.
Tip: There are no services between El Paso and Guadalupe Mountains. The closest services are 30 miles after in White's City. Be sure to pack everything you need for the day and gas up your car before going.
Lordsburg, New Mexico
Distance from El Paso: 162 miles (2.5 hours)
Lordsburg is a small town along I-10 that originally came into existence during the railroad days. And while there's not a lot to the town, there's still quite a bit to see and do in the area.
Shakespeare Ghost Town was one of my favorite things in the area. It is an old ghost town come ranch come tourist area. The town grew up around the silver rush days in the area but then fell into disrepair as the rush moved elsewhere. It's pretty impressive that these buildings still exist and that's the coolest part about visiting. The folks who bought the land for a ranch have kept the area in the family and are still the ones to give daily tours. They breathe life and stories into these old historic relics.
There's also a small veterans park to explore with old military equipment as well a World War II Internment and POW exhibits at Lordsburg-Hidalgo County Museum (which also has exhibits on ranching as well).
20 Miles north, for the wildlife, hiker, or angler, there's Gila Lower Box Canyon managed by the Bureau of Land Management. Since removing livestock from the area, the river canyon has come to life with cottonwood, willows, smallmouth bass, catfish, birds, and more.
Eat: Ramona's Cafe is a small place, but one of the best establishments in this small town. Delicious southwestern/Mexican cuisine choices.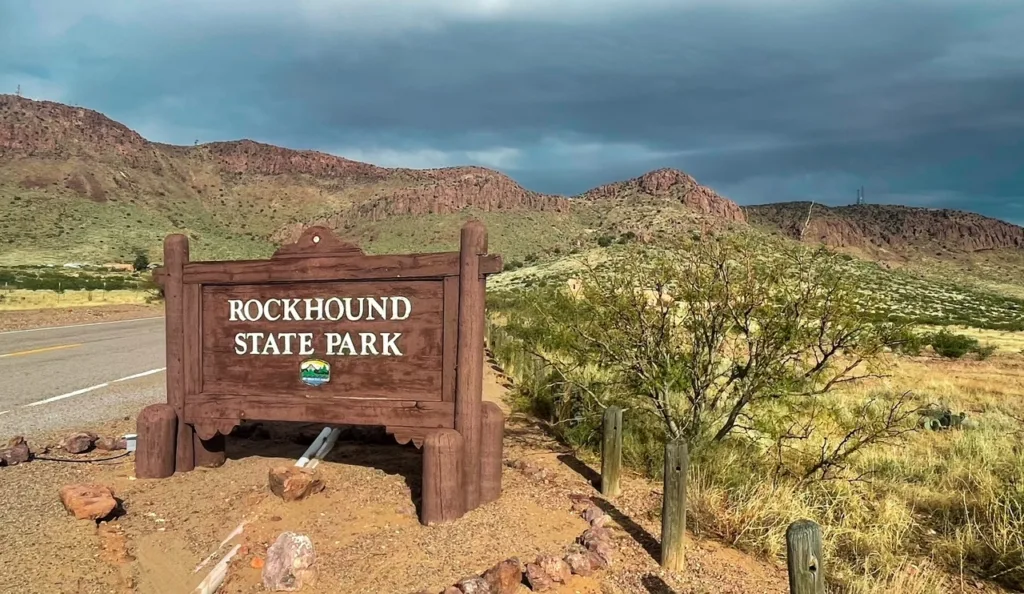 Deming, New Mexico
Distance from El Paso: 102 miles (1 hr. 45 minutes)
Named for Mary Anne Deming Crocker, wife of one of the big railroad men, the town became the biggest railroad town between Las Cruces and Lordsburg. The town is also where the "silver spike" was struck, completing the second transcontinental railroad (the golden spike is in Promontory Point Utah).
The local Mimbres Museum and Custom house contains artifacts and exhibits that showcase early western history and culture. The town is also a gateway to great natural resources. From the nearby Rockhound State Park famous for its abundance of gems. Other great options to check out include Spring Canyon which is about 2 miles from Rockhound.
Eat: Check out Cactus Cafe for some delicious local tex-mex cuisine.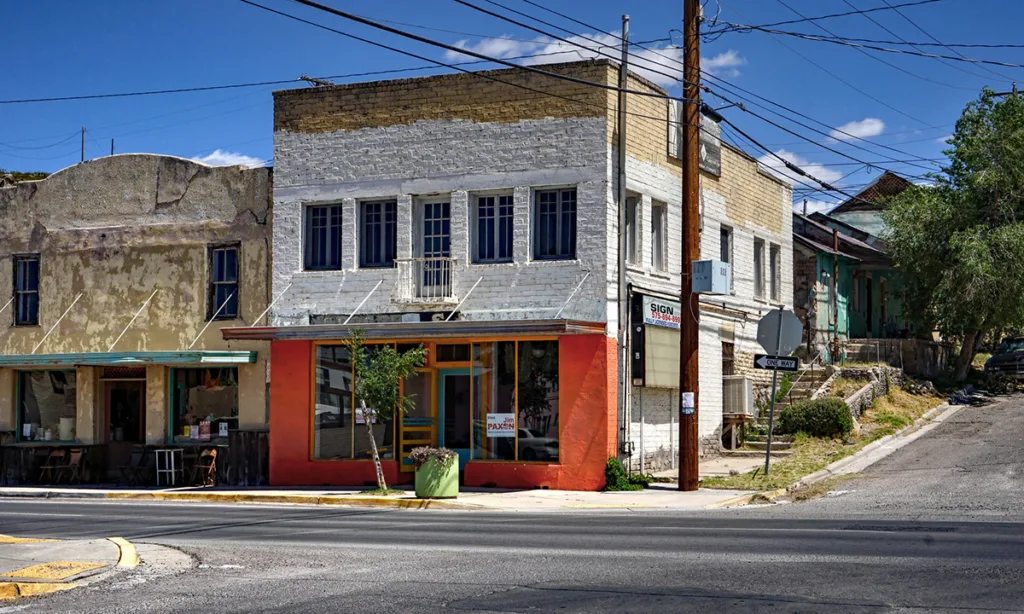 Truth or Consequences New Mexico
Distance from El Paso: 119 miles (2 hours)
The oddly named town is an interesting stop within New Mexico for those who love art, space, spas, and more. Originally named Hot Springs, the town took its current name from the radio game show Truth or Consequences.
The town is known for its "sweet" hot springs, which mean they don't have the Sulphur smell that is characteristics of many other hot springs. This means you can enjoy the rich mineral water without having to hold your nose!
The town is also the gateway to space, as the location of the first "commercial spaceport", Spaceport America located southeast of town. The spaceports most famous tenant is Richard Branson's Virgin Galactic that is taking reservations for tourist spaceflight. Visitation of the facility is possible via tours.
Tip: For those who are wanting to spend more time. T or C has become a destination for great hot springs glamping opportunities. There are several resorts in town that specialize in great options such as yurts, trailers, and more.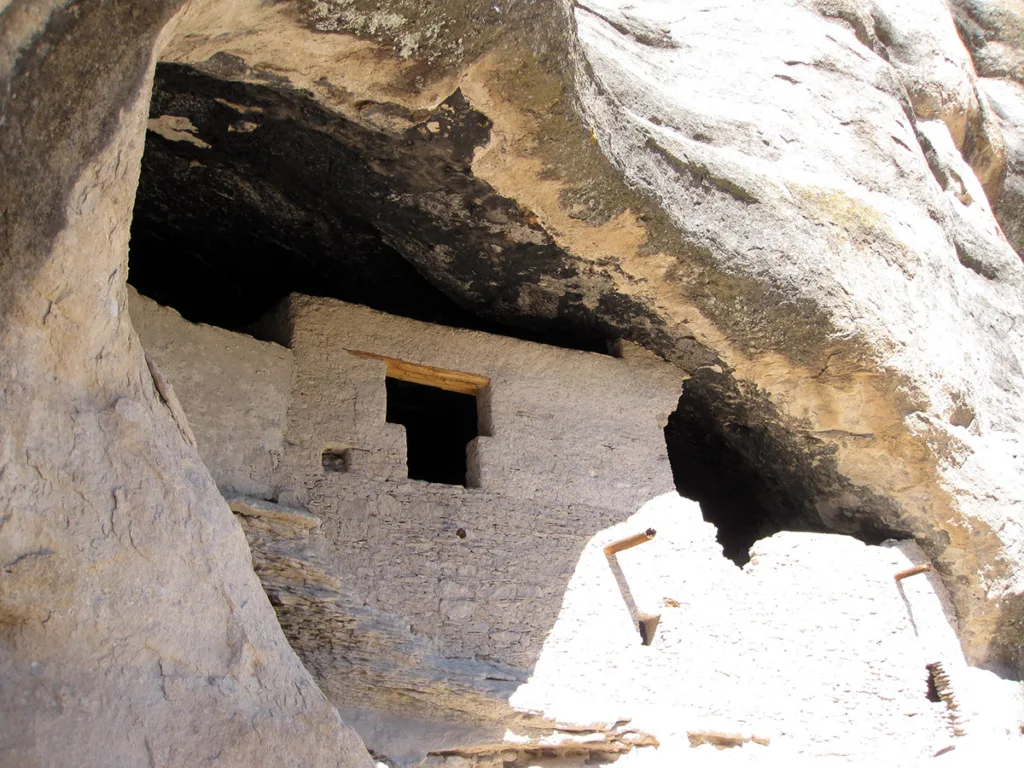 Silver City, New Mexico
Distance from El Paso: 154 miles (2.5 hours)
Named for its place in the silver industry (which is still ongoing in Silver city), the town has way more to offer than it's mining heritage.
The old west town has a great set of history, a cute downtown, interesting places to eat and shop, as well as the gateway to the Gila National Forest.
One of the best things to do is explore the nearby Gila Cliff Dwellings National Monument, located up a winding road in the mountains. Here you can explore the Puebloan Cliff Dwellings (like the ones in Mesa Verde National Park), and its worth the visit, but be sure to go early as you need to be out by 5pm closing time.
City of Rocks State Park, the 1 square mile boulder strewn park features great hiking, biking, rock climbing, and more. It's also a great site for bird watching as well.
The town itself has a great art scene, food scene, and of course its history. Several famous western personalities passed through here such as Billy the Kid, who was also arrested here for robbing a Chinese laundry before fleeing to Arizona.
Eat: Diane's Restaurant is a great option for delicious breakfast, brunch, and dinners.
Skiing in the Lincoln National Forest
Distance from El Paso: Cloudcroft: 111 miles (2 hours); Apache: 153 miles (3 hours)
Winters are generally mild and great in Texas, but if you are like me, there are some winter activities one misses down south. Surprisingly there are two quite good ski areas that make a reasonable day trip from El Paso. Of the two, Ski Apache is certainly the farther, larger and more difficult of the mountains. For those looking for good skiing with more moderate challenge, Cloudcroft offers great skiing for a reasonable price. Great skiing within 2-3 hours of El Paso.
While neither is as big or well known as New Mexico's most famous ski resort, Taos, it certainly won't take you as long to go or cost as much.
Fun Fact: Ski Apache has been owned and operated by the Mescalero Apache Tribe since 1963!
Other Posts You May Like