I got several emails regarding my last posts and people were wondering about how easy it is to get to Auschwitz, things they should know etc. So here are a few tips for visiting the concentration camps for those who may find themselves in the region and interested in going.
Also if you want to read more about the visit there, please free to also check out my posts on Auschwitz I and Auschwitz II – Birkenau as well.
Of note, I've been working on a longer Visitor Guide Post to Auschwitz that is worth checking out too. Let me know what you think.
Tour Options & Transportation Options
There are many options for getting to Auschwitz, you can take an organized tour at one of the tourist agencies in Krakow or take the bus or train on your own.
If you decide to take an organized tour, note the cost and how much time you are going to have at the camps. Remember that it takes about 1.25 – 1.5 hours each way to and from Auschwitz. Generally, these tours include the museum tour although you are still going to pay significantly more than you would pay to do it independently (and you'll have to adhere to the tour company's schedule). But if you feel more comfortable with an organized option there are tons available and easy to book while in Krakow. A good place to book tours is the tourist info booth in the Cloth Hall in the old market square.
Visiting Auschwitz Independently
If you decide to go independently, I would recommend taking the bus. The bus and train station are near each other in Krakow and the will drop you near the entrance to the museum (while the train station is 2km away). Look for buses that say Auschwitz or Oświęcim (the polish city name).
The buses are also really cheap. It cost us 10 zł one direction and 12 zł the other.
Buses
You can get bus schedules at the tourist info booth explained above in the Cloth Hall. Make sure to get to the bus early, as they fill up pretty quickly. We got aboard about 20mins before departure and we were full about 10minutes before departure (and they even let extra people in the bus for standing, but who wants to stand for 1.5 hrs.). There are both mini-buses and regular buses and they go at different schedules so the bus at your preferred time might not have a lot of room. There are generally buses and mini-buses about every half hour (less frequently with the large PKSiS buses) until about 8pm in the high season and less frequently in the low season.
All buses back to Krakow arrive and leave from Auschwitz I. So please do keep that in mind if you are in Auschwitz II and it is getting late in the day. You still need to get back to Auschwitz I to catch your transportation back.
Buy a one-way ticket. There are multiple bus companies that service the Auschwitz route and each has a different cost (about 10-12 zł) so not buying a return ticket up front gives you some options with your return times. Also works out well in case you need to take the train back to Krakow.
Trains
There is a train option too if it is too long between buses (the train and bus stations in Krakow are near each other), but the Oświęcim train station is 2 kilometers from the museum. You should plan for the added time in your schedule.
The train costs about 15zł for each way and has a fair bit of options in terms of getting between the sites. Check here to see the latest schedule and book your train ticket.
By Car
Driving is certainly an option to Auschwitz. It takes about 1 – 1.5 hrs from Krakow to get to Oświęcim (the Polish name for the city). There is parking near Auschwitz I. You could also park in various areas on the street.
Visiting the Camps
If you want to visit the museum by yourself unguided during peak season (April 1 – October 31) you need to enter the museum before 10 am or after 3 pm. These days however you need to book through the official website for the free ticket. Select "Tour for individuals without an educator". I understand the reason for the change but it is a bit of an annoyance (since people often book and don't show up since it's free).
The entrance to the museum is free, although the guided tour of the museum is 85 zł (75zł for students) and includes the film. For Polish it's 75zł (65zł for students). Supposedly you can pay for the film separately although I swear I saw nowhere to do that. They just ended up letting us in when we asked about buying tickets for it.
Tickets can be booked up to 3 months in advance. So if you know your dates, it is recommended to book your slot as soon as you can. Times fill up regularly.
The guided tours run several times during the day. They seem to change a bit depending on the peak season, but officially the English tours run at 10:30, 11:30, 12:30, and 13:20. Polish tours run at 11:00 and 13:30. French, German, Italian, and Spanish tours run at 12:30. The film screens every 30 minutes but does alternate to different languages, so verify the language before going in.
If you want to book a guided tour at the camps, particularly during the high season, you need to book these ahead of time through the Auschwitz Museum Website. The tours can fill up fast (particularly English), so this is a good way of guaranteeing your spot. I've seen them start more tours (if guides are available), but this is not guaranteed.
To get between the camps there is a free shuttle bus. It runs generally twice an hour and takes visitors to the gates of both camps. You can alternatively walk between the camps if you prefer.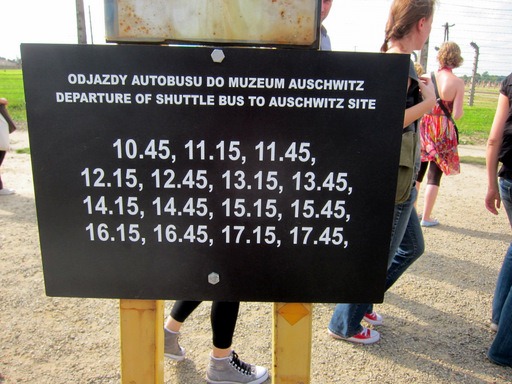 Also, remember that traveling to Auschwitz from Krakow is a full day affair. Expect to spend a total of 6 – 8 hours for the visit. It takes about 1.25 – 1.5 hrs. each way to and from the camp, and then expect to spend at least 4 – 6 hours visiting the camps. It is an exhausting day both mentally and physically, so plan accordingly. Several people, I had met thought they would try to do several things in one day (like the camps and the salt mines) only to later realize how impractical that is.
While in the Camp
Photography
Photography is allowed in the camps. But please do be respectful. There are several places where they ask you to refrain from taking photos, and please do. Remember this a place where millions of people suffered and died, so tread carefully.
How to Dress
There is no specific dress policy for Auschwitz. However, in terms of what to wear it is recommended to dress respectfully for the location. It is a place for many people lost their lives.
Be sure to wear comfortable footwear as you will be walking around a lot, particularly on uneven ground. Birkenau can be especially muddy, so plan for that as well. Your shoes may get pretty dirty.
Be sure to also dress season and weather appropriately as you will be outdoors much of the time.
What to do with your Bags?
Small bags are permitted to be carried with you. But larger bags will need to be stored. There are lockers on-site, although they can fill up. Price for luggage lockers are 5 zł.
Other Things of Note
Food options do exist at Auschwitz I (there are no options by Auschwitz II). The cafeteria at the museum that serves some hearty (and what I thought heavy) meals. There is also a hotel nearby that also does lunch (and breakfast if you get there before the museum opens).
There are hotels in Oświęcim and at least one very close to the museum (Hotel Olecki). Although honestly, there isn't much to do in the town in the evenings, so I would recommend staying in Krakow instead. But it is an option if you prefer to stay here or are stopping here on your way to somewhere else.
The weather in Auschwitz varies a lot throughout the year. Winters are really cold (and days short) and the summers are quite hot. Be sure to dress weather appropriately as you'll be spending the majority of the time outdoors.
* * * * *
I hope this makes someone else's trip a bit easier when trying to plan a visit to Auschwitz while in Poland. It is a tragic and emotional place, but one that I was very glad to have had the opportunity to see and experience first hand. Also recently many folks have emailed me about recommendations on guidebooks for Poland/Auschwitz. I really like the one by [amazon asin=1631216236&text=Rick Steves]. It has a great deal of info on Auschwitz and does a good job of taking you on a self-guided tour.
* * * * *
P.S. Did you find the information useful? Please feel free to share (social links at left) so others can benefit as well. If there is information you are still seeking please contact me or leave a comment below. Any other recommendations (format, additional info, changes) please let me know as well so I can continually improve the information. Also, consider supporting this site by booking through our various affiliate links here. It costs you the same and helps defer hosting costs.

* * * * *