Designated a National Monument in 1923, Aztec Ruins National Monument protects an incredibly well preserved Puebloan village. Up to about the mid-11th century there were no inhabitants in this area and then folks continued to stream here and this village came to life.
The area was cleared and built up quite considerably and was really well planned and engineered in its building. It took quite a few decades (or more) to build the village into what you see from the remains today.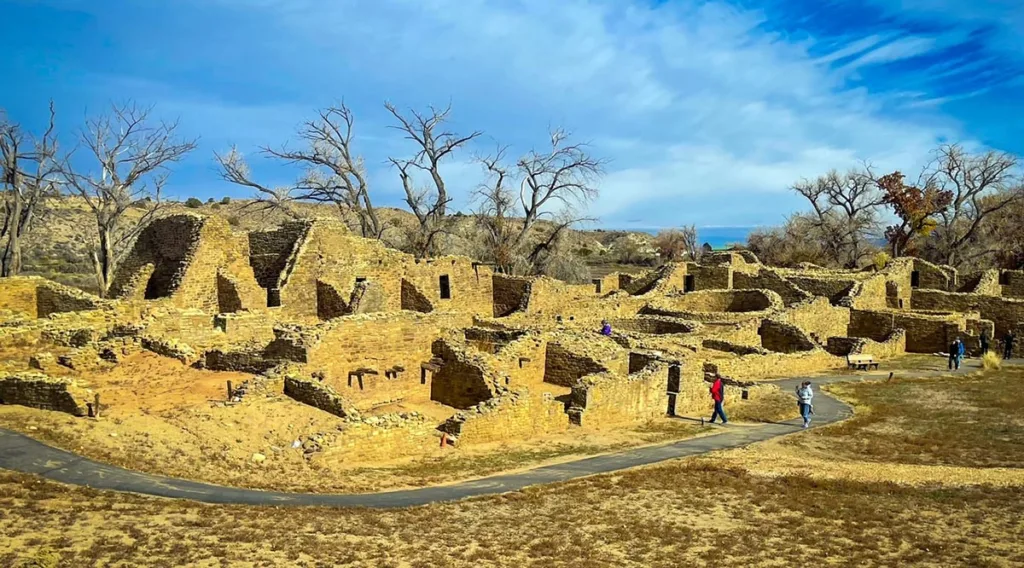 About Aztec Ruins National Monument
Aztec Pueblo National Monument protects the 900 year old pueblo village in New Mexico. If you have been to any of the sites north such as Mesa Verde, you'll know that folks moved further south about 900 years ago.
People left these areas for a variety of reasons. While the prevailing theory was due to drought, it's not 100% known what all the real reasons are. Regardless, it's an incredible site to explore and learn about.
The ruins are some of the best preserved, and you'll be able to tour through these incredible buildings and history. Folks inhabited this area from the mid-11th century until the late 12th century.
Best Time to Visit Aztec Ruins National Monument
Aztec Ruins National Monument is open year round. It is only closed for a few holidays (Thanksgiving, Christmas and New Year's Day).
Summers in this area of New Mexico can be incredibly hot, and winters can be surprisingly cold. You'll have to determine how you feel if you are here during this time. Overall the hikes are short so can still be done this time of year.
Weather wise, the best time is in the fall, with still long but generally more cool days. I visited in November and it was a perfect time to visit the site. It was cooler weather and easy to explore.
How Long to Spend at Aztec Ruins National Monument
Most folks spend about 1 – 2 hours at Aztec Ruins National Monument. There's a great self guided tour of the ruins as well as some exhibits, a movie, and information at the visitor center. There's really not much to do at the site beyond this tour so we think it works best as a quick stop on the way to elsewhere.
We recommend visiting Aztec in enroute to other sites such as Mesa Verde, Canyons of the Ancients, and Chaco Culture National Historical Park.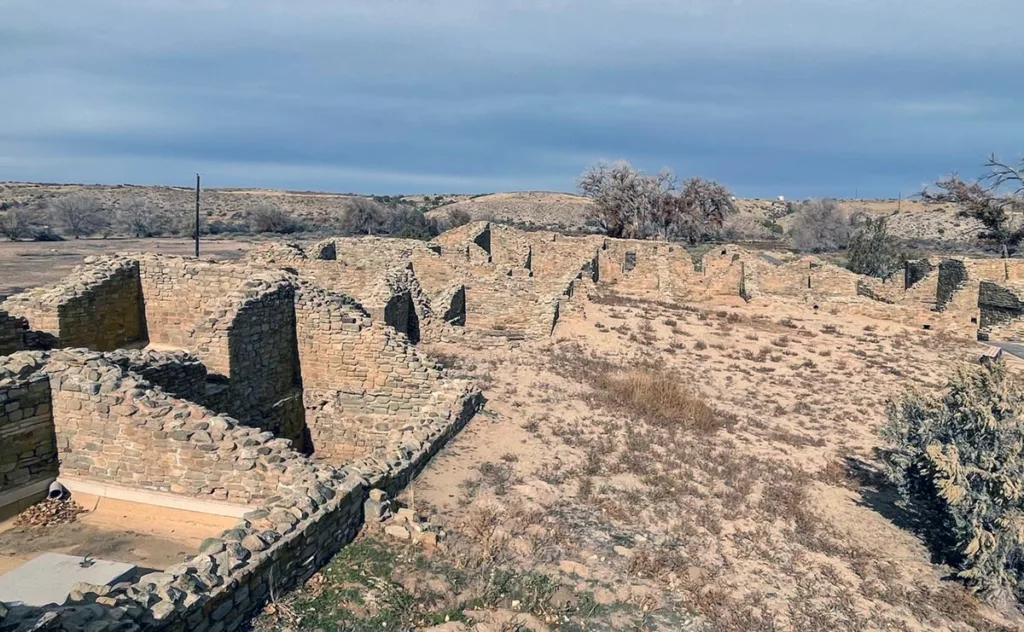 Things To Do at Aztec Ruins National Monument
Ruins Tour
The self guided tour will take you through the pueblo village and quite a few of the buildings in the area. You'll get up close to some of the real ancient walls of the village as well as get to enter some of the buildings as well.
You can even see one of the largest kivas in the United States. Although from the description it is a reconstruction, it is still quite impressive to see. If you've been to any of the other Puebloan areas or National Parks/Monuments, you'll have experienced several of these too.
You'll actually be able to explore some interior rooms as well. There is a guided route through some of the rooms in the Northwest Block. This is not the case in a lot of other places which makes this place very special.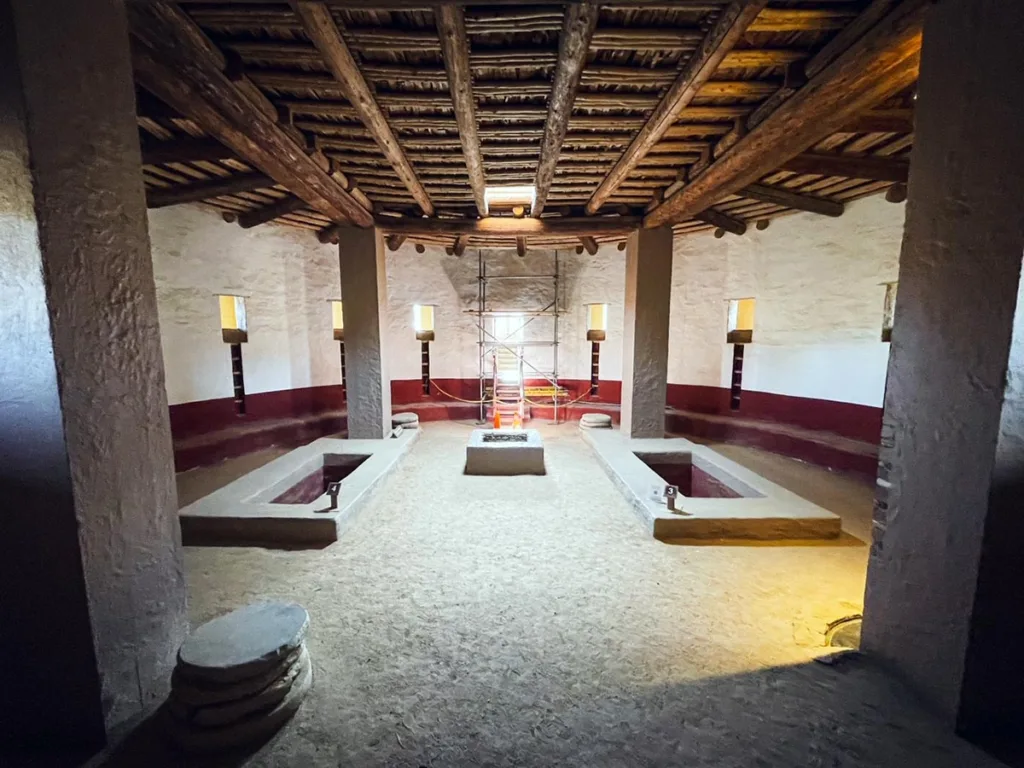 You can also explore the great Kiva. This is a reconstruction of the Kiva, as much of the original had worn away/collapsed. The Park Service did work on reconstruction (instead of burying or leaving it in ruins). You can actually go inside as well which is a lovely thing to explore too.
Please don't climb on or enter anything that is not designated for that.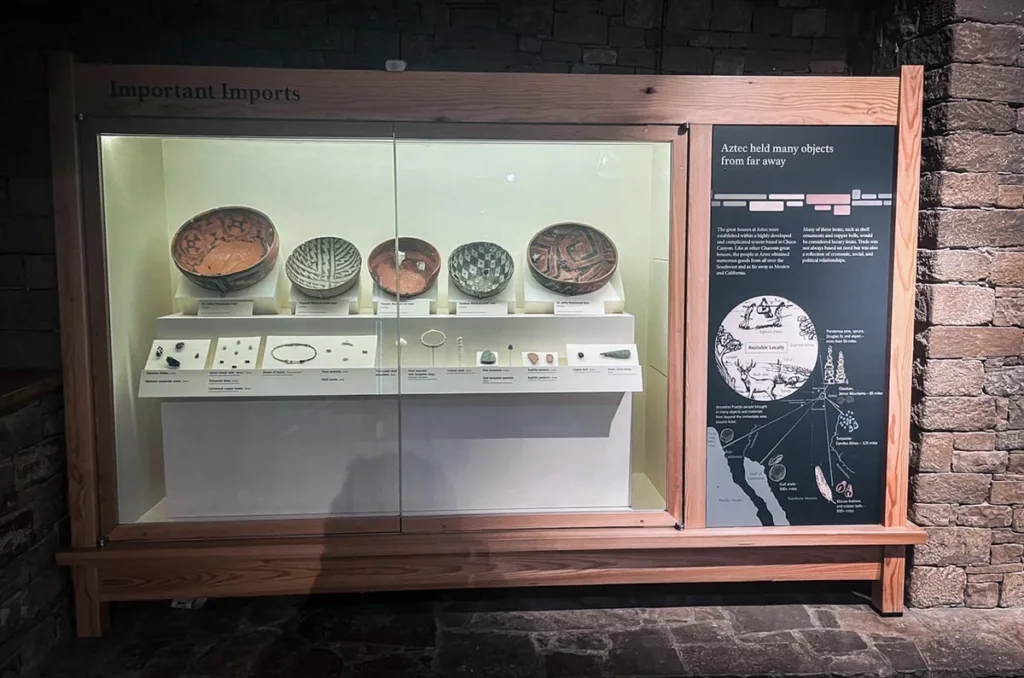 Exhibits & Movie
Do yourself a favor and take time to watch the 15 minute movie Aztec Ruins: Footprints of the Past. It is actually a lovely movie to get a perspective on the site, people, and history. I think it was worth the time to sit and watch. But then again I try to watch the movie at every site I visit.
Inside the visitor center is also a set of exhibits that are worth exploring. Many of the artifacts are original from this site that were discovered during excavations. You'll also find some information on history and timelines of the area.
Camping
Hotels
There's not much in terms of choice in adjacent Aztec New Mexico. So we also recommended 2 places in nearby Farmington. I really liked Aztec, but there's more to eat / do in Farmington if you are staying the night.
RV Parks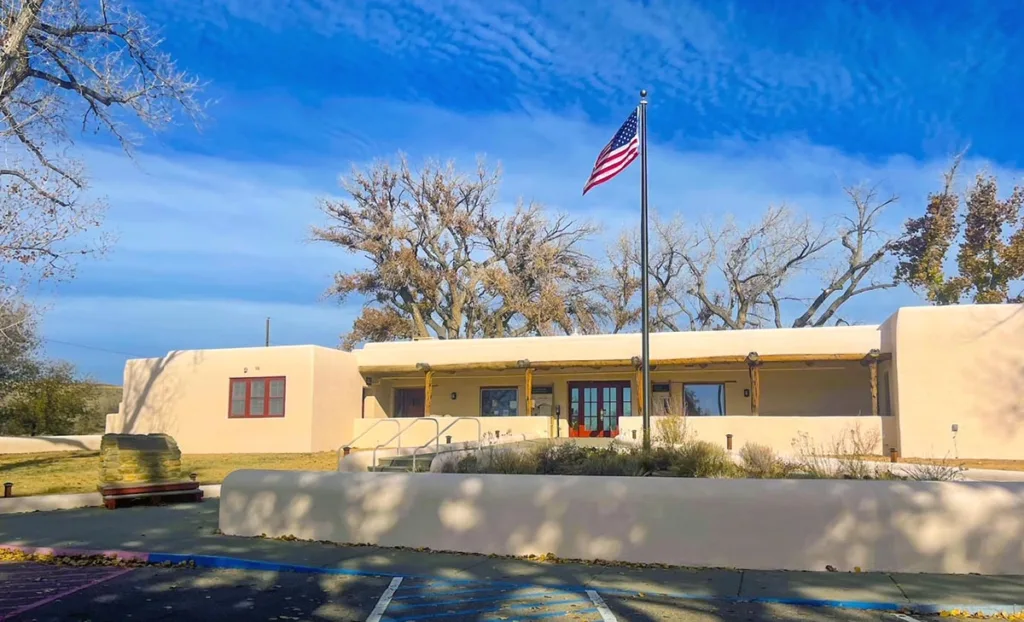 Basic Information
Visitor Center
The visitor center to Aztec Ruins is open for the same hours as the National Monument (see below). The center has great information on the history, information on a self-guided walk through the national monument, film, book/gift store, and passport stamp.
You can't avoid visiting it, so you might as well stop in and check it out before you do the tour. You can start the tour from outside the back of the visitor center.
Fees
Address
725 Ruins Road Aztec, NM 87410
Hours
Summer Hours: 8:00 am – 6:00 pm
Otherwise: 9:00 am – 5:00 pm
Closed: Thanksgiving, Christmas and New Year's Day
The monument and the visitor center are open for the same hours.
Passport Stamp
There is a National Park Passport Stamp for Aztec Ruins available in the visitor center of the site. You can't miss the visitor center as you'll park here.
Website: Official NPS Website
Getting To Aztec Ruins National Monument
By Car
Aztec Ruins is located on the northside of Aztec New Mexico. It does feel a bit remote but it's a good spot enroute to other sites and locations.
Distances From Nearby Places:
Farmington NM: 16 miles (25 minutes)
Durango, CO: 36 miles (45 minutes)
Mesa Verde NP: 68 miles (1.5 hours)
Chaco Culture NHP: 70 miles (1.5 hours)
Pagosa Springs, CO: 86 miles (1.5 hours)
Santa Fe, NM: 207 miles (3.5 hours)
By Air
The closest commercial airport to Aztec Ruins is Durango-La Plata (DRO) which is about 35 miles (42 minutes) from Aztec Ruins National Monument
Other Posts You May Like