I have been to many different types of eateries while in Tokyo, so it is always exciting when I get to try something new. When my friend asked if I wanted to go to a Himono Restaurant, I was both excited and well curious as to what that was. Himono is a style of preparing fish that consists of drying the fish and then later grilling it for preparation. The Himono-ya place we were going was actually called Himono-ya, and an interesting little establishment among the streets of Shinjuku. We had stopped here for the night prior to a evening out in Golden Gai to come later.
The Restaurant
This particular place does cater to foreigners as well. Although I probably would never have found it myself had it not been for my friend here who lives in Tokyo. There are so many places in Tokyo. It is overwhelming for a visitor to the city to be able to process all that is going around them let along navigate and understand the areas.
The Food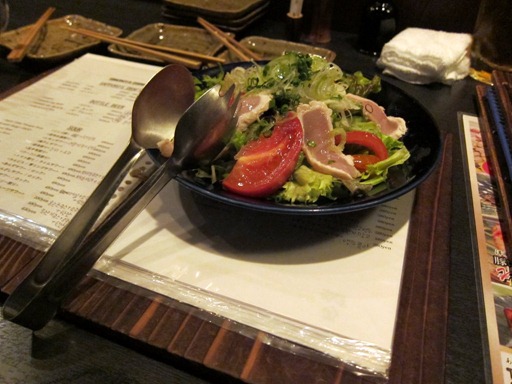 Yes that is salad, and yes, that is nearly raw chicken in the salad.
I did eat some of the the nearly raw food as well. The chicken was probably the hardest thing to swallow down but I did eat some and I'm still alive so that is good. It is not rare to find raw chicken in Japan as this is not the first time I've come across it. I'm guessing they don't have a big issue with salmonella in this country perhaps.

Delicious!

Some of the various grilled fish from our dinner there.

Some Manta-Ray, dried and grilled.

Thankful for some grilled vegetables finally too!
Overall Thoughts
Overall the dinner was great! It was a new type of cuisine for me here in my time in Tokyo and I have to say the fish was surprisingly delicious and juicier than I would have expected dried fish to be. Well the manta ray was still tough but it was good as well too. I tried basically everything that had came out for us, and I think between the 3 of us we ate a fair amount of fish and vegetables. This is something that I have yet to find outside of Japan (I had not seen it prior to this night) and I hope to one day get a chance to sample again.