Denver is a fun city. But many of the things people come to Colorado for are actually outside of Denver. Even when my family visited, they had no idea the Rockies were actually an hour outside of the city.
And while we recommend spending time and seeing the best things in Denver, for those who have more time, doing some great day trips from Denver is a way to really explore the area. So we help you with this process.
We look at day trips within 1 hour, 1 – 2 hours away, and a few 3+ hours away.
Table of Contents
Under 1 hour from Denver
Boulder, Colorado
Distance from Denver: 30 miles (30 minutes)
Sometimes I think of Boulder as a suburb of Denver, but really it is a hip nearby city that is worthy of a day trip or more. The town has some interesting history and an even more interesting mix of people. It's got a big mix of liberals, Buddhists, mountaineers, students, but even that's just one aspect of the place.
The town has a great downtown area along Pearl Street with a wonderful selection of restaurants and shops. There's even a really unique Tajik teahouse which is worth a photo but even better a stop-in for lunch or dinner. You should also embark on the outdoor activities in town whether riding your bike on the trails or hiking in Chautauqua park.
There's a good set of museums in town from art to history. And one of the best farmers markets in all of Colorado. You can visit here either by car, bus or train from Union Station.
Read More: Best Things to Do in Boulder Colorado
Golden, Colorado
Distance from Denver: 15 mile (20 minutes)
The only thing I knew about Golden was that it's the home of Coors. But there's so much more to the town than just that single employer. It also is beautiful and has that "wild west" look that most people imagine for the region.
Golden has a lovely historic frontier downtown with great restaurants, shops, and other places to go out.. There's a few food halls worth checking out such as Tributary and the Golden Mill.
The town is very famous for its beer, not just Coor's (which you can tour) but also lots of local brewers. And the outdoors here and some of the best in the front range.
You can do the whitewater park for some water fun, there's hiking and biking galore. Get up and explore Table Mountain, Mount Galbraith Park, or Apex park among other paths to explore. Table Mountain in particular is a great spot for hikers and mountain bikers.
There's plenty to do here in a few hours or a full day.
Red Rocks Park & Amphitheater
Distance from Denver: 15 mile (20 minutes)
While the park and amphitheater are technically owned and operated by Denver, it sits outside of Denver in neighboring Morrison Colorado. The theater and park are popular attractions for visitors at all times of the day.
For those who can find good tickets, it's great to visit here in the evening. But even during the day it is a fun place to explore. Lots of folks come here to do yoga and other exercises along the tiers of the amphitheater. You can also watch some people doing really impressive exercises.
Beyond that there's also a small museum for both the amphitheater and Colorado Music Hall of Fame. These can definitely take up some time and you'll learn some great music history. Otherwise for outdoor lovers there are a myriad of hiking trails through the rocks here.
There's plenty to do in the area for a few hours or even a half day or more! Definitely a worthwhile quick trip from the city.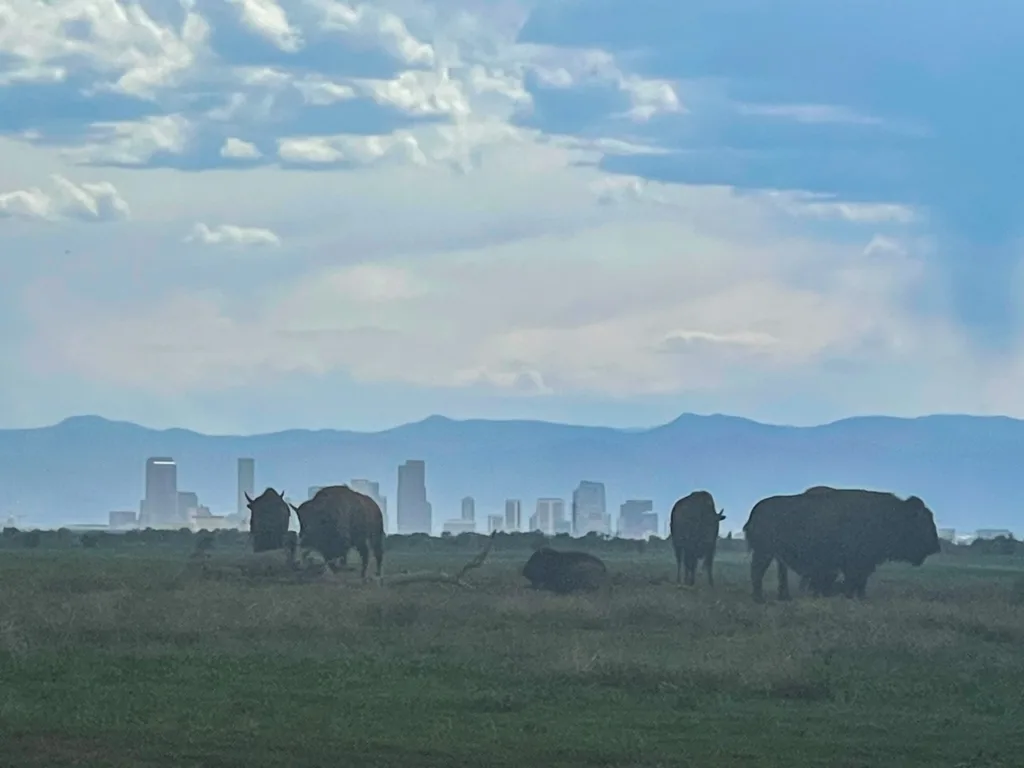 Rocky Mountain Arsenal National Wildlife Refuge
Distance from Denver: 8 miles (18 minutes)
Located right outside Denver Colorado in neighboring Commerce City, Rocky Mountain Arsenal is a former military base that is not a park and wildlife refuge.
The nearly 16,000 acre park has an incredible array of plants and animals within its borders including a herd of Bison. Seeing the bison here with the backdrop of Denver is a pretty impressive site.
There's also several lakes and hiking trails within the park as well. Visitors can drive the scenic drive which will take you through areas of the bison herd and prairie dog towns. Catch and release fishing is also available within the reserve as well (barbless hooks only).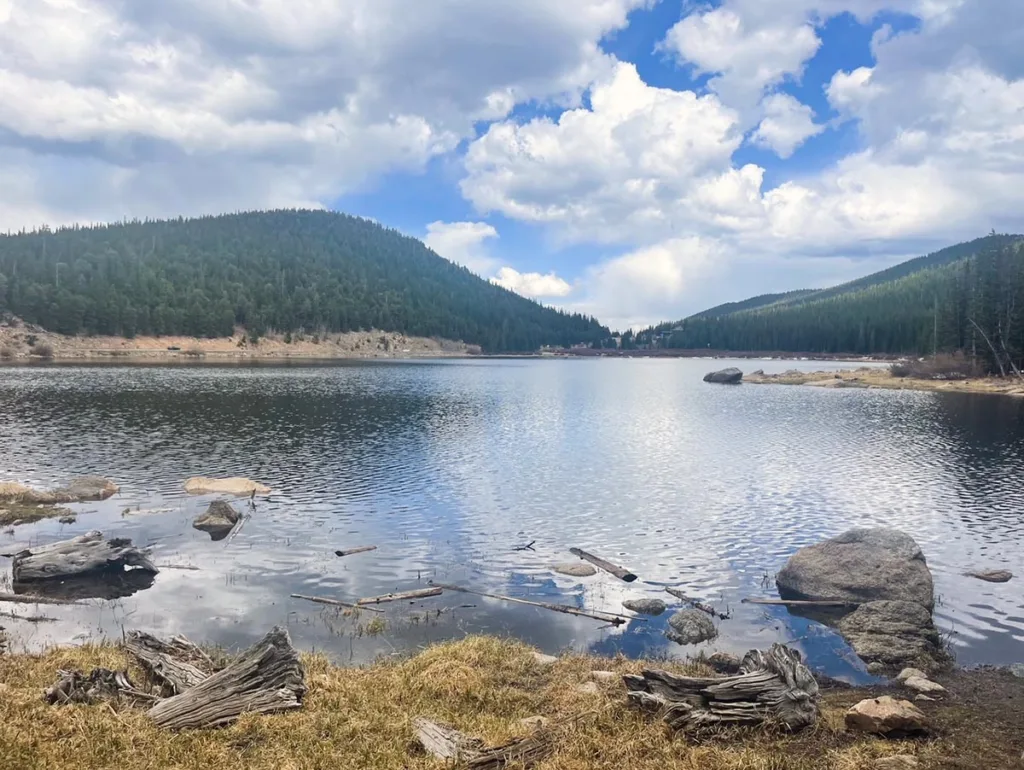 Idaho Springs, Colorado
Distance from Denver: 33 miles (40 minutes)
A Mining Town, Idaho Springs has lots of old Colorado History and some great adventure and nature to explore. You can do a historic tour of the Argo Gold Mill and Tunnel, which is a prominent building you often see from the highway. You can also check out the Phoenix Gold Mine and maybe even strike it rich. And of course the Indian Springs which at least then you know where the Springs name comes from.
You can explore Echo Lake which is on the edge of town. And it's such a beautiful spot with some great hiking areas too (and near the base on Mount Blue Sky Scenic Byway). There's plenty of hiking trails around the area. There's a cute historic town to explore with nice restaurants, shops, and coffee shops.
There's a via ferrata, rafting, off-roading and so much more in town. You can easily spend a day or more exploring the area.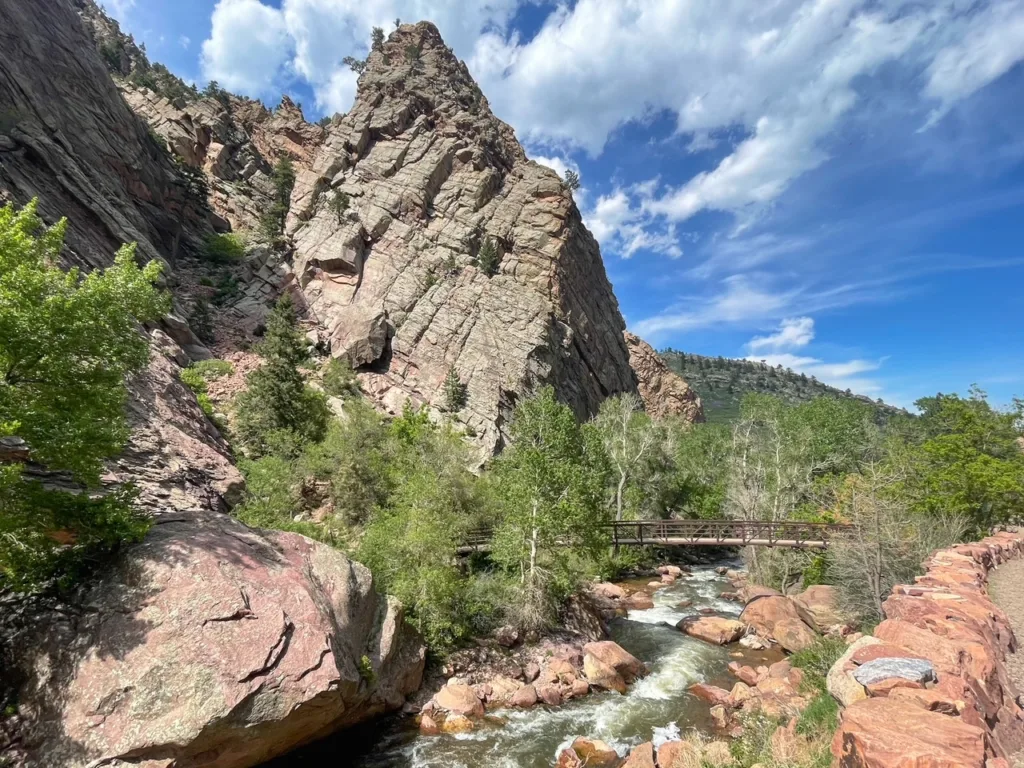 ElDorado Canyon State Park
Distance from Denver: 30 miles (40 minutes)
Located close to Denver, ElDorado is a stunning canyon area that is worthwhile for a few hours or day to explore. Don't sleep on the state park name, it's even more beautiful than many of the federal NPS sites.
The park has some amazing opportunities for outdoor hiking and adventure. It's a very popular spot for rock climbing as well. For those looking to hike, my favorite hike, Rattlesnake Gulch Trail is one that's worth taking the opportunity to explore. You can even see ruins of an old hotel that was in the area. There are even trails that connect to nearby trails in Boulder for even more exploring.
Visiting the park requires a day-use fee that you pay either at the entrance or visitor center. On weekends during the summer, visitors must get a timed entry to park, or take the free shuttle from various locations between Denver and Boulder. The shuttle is great, and runs quite frequently if you are thinking of that option.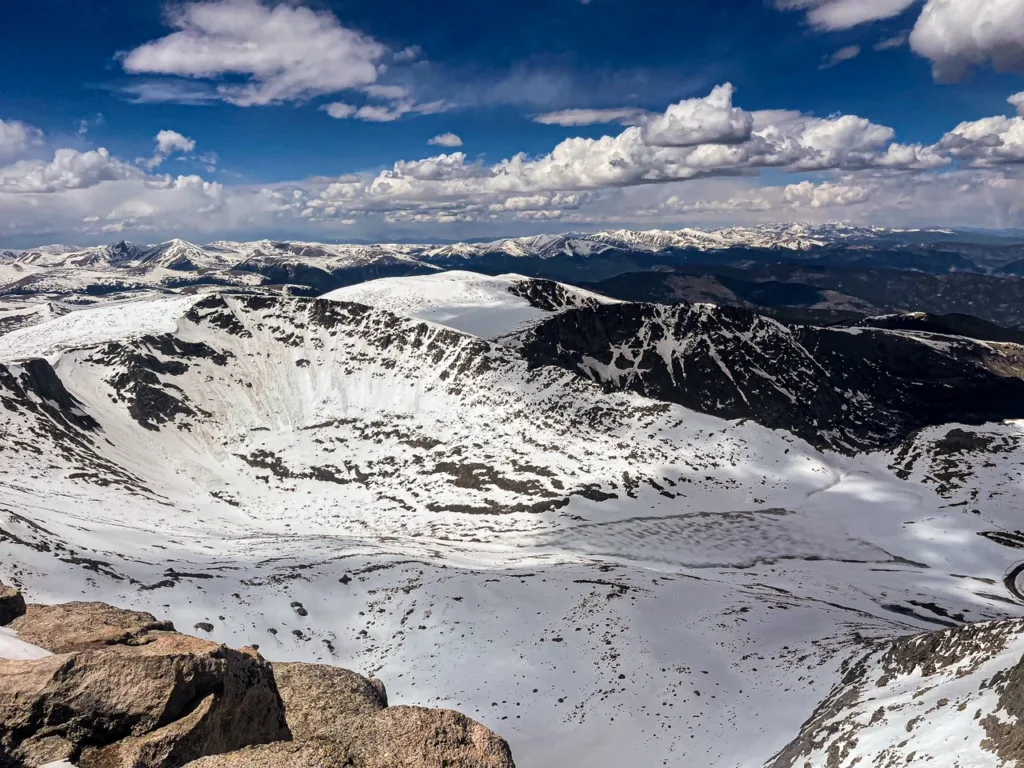 Mount Blue Sky Scenic Byway
Distance from Denver: 46 miles (1 hour)
The most easily accessible 14er from Colorado, Mount Blue Sky makes a great day trip from the city. The entrance to the drive starts about 45 miles from Denver on the outskirts of Idaho Springs.
The 28 mile drive takes visitors up through various different landscapes to near the peak of Mount Blue Sky. It is also the highest paved road in the United States. Visitors can stop at various places along the way for beautiful views and even some hikes. There is a visitor center along the way as well.
At the summit parking there is just a short walk left for visitors who want to "claim this 14er". While it would be called cheating you would have submitted a 14er if you finish that little bit left.
Keep an eye out for wildlife along the way and the summit. We saw Bighorn sheep and Mountain Goats. While mountain goats are not native, they were introduced to Mount Blue Sky and you have a good chance of seeing one (we saw one near the summit).
Mount Blue Sky Scenic Byway does require a timed-entry ticket during its operation. This is usually from about Memorial Day through early October. The road can close early depending on weather. For those with a NPS Annual Pass, you only have to pay the $2 reservation fee.
On Sept 15, 2023, Mount Evans was renamed to Mount Blue Sky. This was in regards to the former territorial governor's anti-Indian policies and role in the Sand Creek Massacre.

Currently the park still calls it Mount Evans Scenic Byway, but we expect that to be updated soon as well on official sites and documentation.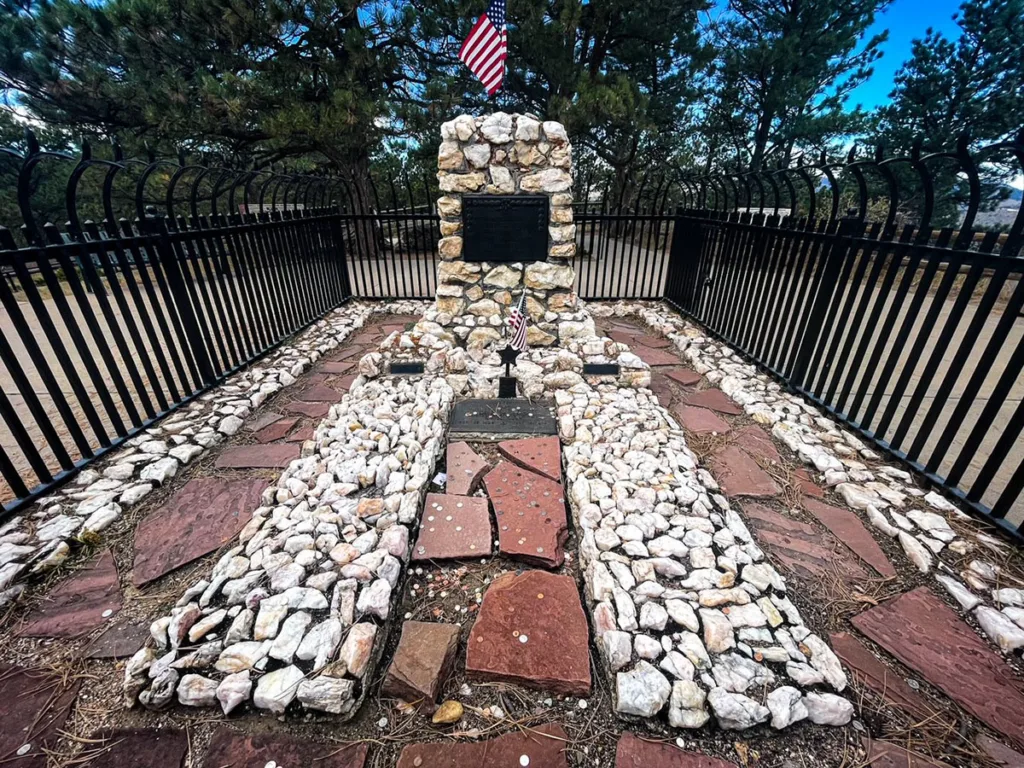 Lariat Loop
Distance from Denver: 17 miles (25 minutes)
The Lariat Loop actually runs through several different sites and towns within the Denver area. The loop is a great way to explore not only some of the fun towns and sites but also check out some fun shops and restaurants along the way. The 40 mile loop can be done in a few hours or a full day depending on where you stop.
Some of the highlights of the loop include Buffalo Bill Cody's gravesite, Evergreen and Jefferson County Open Spaces, Golden, Red Rocks and Dinosaur Ridge, and Morrison. And some fun eateries like The Cow, The Fort, and Evergreen Bread.
It's a fun way to explore the area and see some of the best highlights along the way.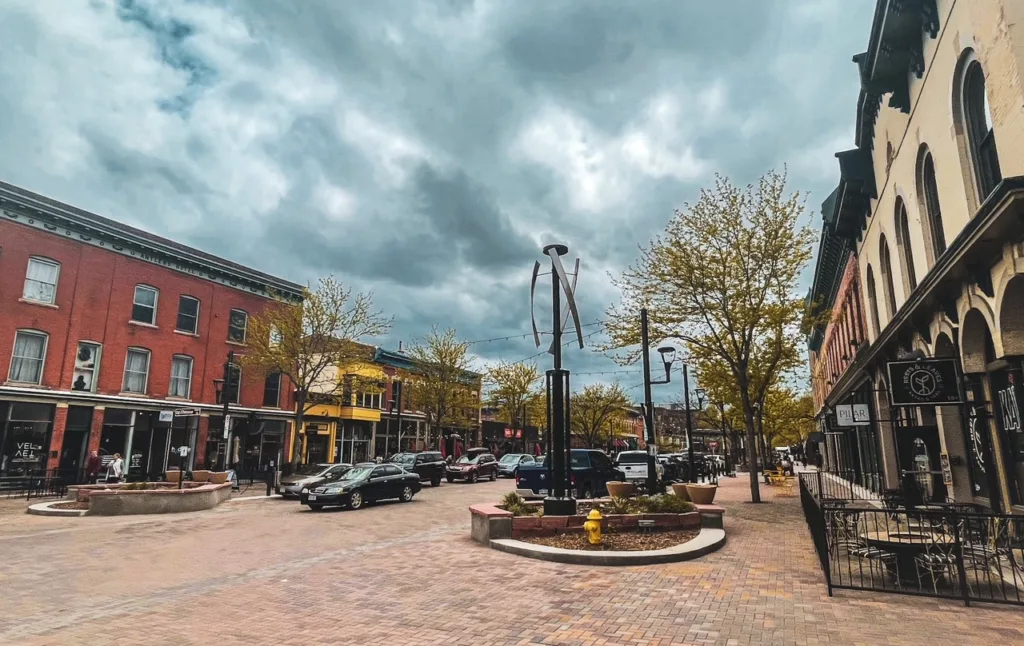 Fort Collins
Distance from Denver: 66 miles (1 hour)
Fort Collins is one of the loveliest small cities in the area or even in the United States. I don't know if there's truth to it, but there's word that Walt Disney based his "Main Street USA" on Fort Collins.
The town has a really great downtown and a lot of fun places to explore, restaurants to eat at, and cute shops. It's also a bustling university town so there's always something going on in terms of events, lectures, and activities.
There's also a great deal of nature in the area. Horsetooth Falls, Arthur's Rock, and Coyote Ridge are some of the lovely hikes and nature areas to explore near town as well. Along with some great parks (such as Gustav Swanson) in town you can visit too. And of course some great walks along or tubing in the Cache la Poudre River.
Garden of the Gods
Distance from Denver: 70 miles (1 hr)
If there's one day trip I recommend for folks, its the Garden of the Gods in Colorado Springs. It's the one I always seem to do myself for folks visiting Denver.
The park really does live up to its name, the huge sandstone structure does feel like it's the playground of the gods. It's a very photogenic place with the beautiful red rocks against the background of the landscape and the sky. Pretty much instagram heaven.
There's a lot of hiking trails through the park. Many of which wind through the sandstone structures. There's even rock climbing opportunities (requires a permit). There's plenty of other hikes too and the further you get from the sandstone the less folks you'll see. It's worth the drive from Denver to explore.
Staunton State Park
Distance from Denver: 39 miles (46 mins)
One of the highlights of Colorado are the incredible state parks. Staunton State Park was the product of one family who donated the land to Colorado to create this park.
The park contains some great nature you can explore within the park. The main hikes include some cliff views over the landscape and towards some of the mountain areas. You can even supposedly see Pikes Peak near Colorado Springs from one of the overlooks.
There's also some waterfalls within the park, a historic old mill you can visit, wildlife viewing opportunities, climbing areas, an archery range, and horseback riding trails. The park is also far less visited than some of the other nearby state parks, so that's a plus too!
Within 1 – 2 hours of Denver
Breckenridge, Colorado
Distance from Denver: 81 miles (1.5 hours)
If you are looking for an awesome ski town that is great in any season, Breckenridge is it. First, if you are here during the winter, you should definitely check out the ski resort. Peak 6 is my favorite area of the mountain, and shockingly seems to be ignored by a lot of the skiers.
The town is one of the nicest in the area as well. There's a cute downtown with lots of good restaurants, shops, art galleries, and bars. Hearthstone, The Canteen, and Aurum are great options in town for those looking for a great bite.
You can get here by car, bus, or shuttle. If you are looking for options for getting to Breckenridge you can check out or post on that too.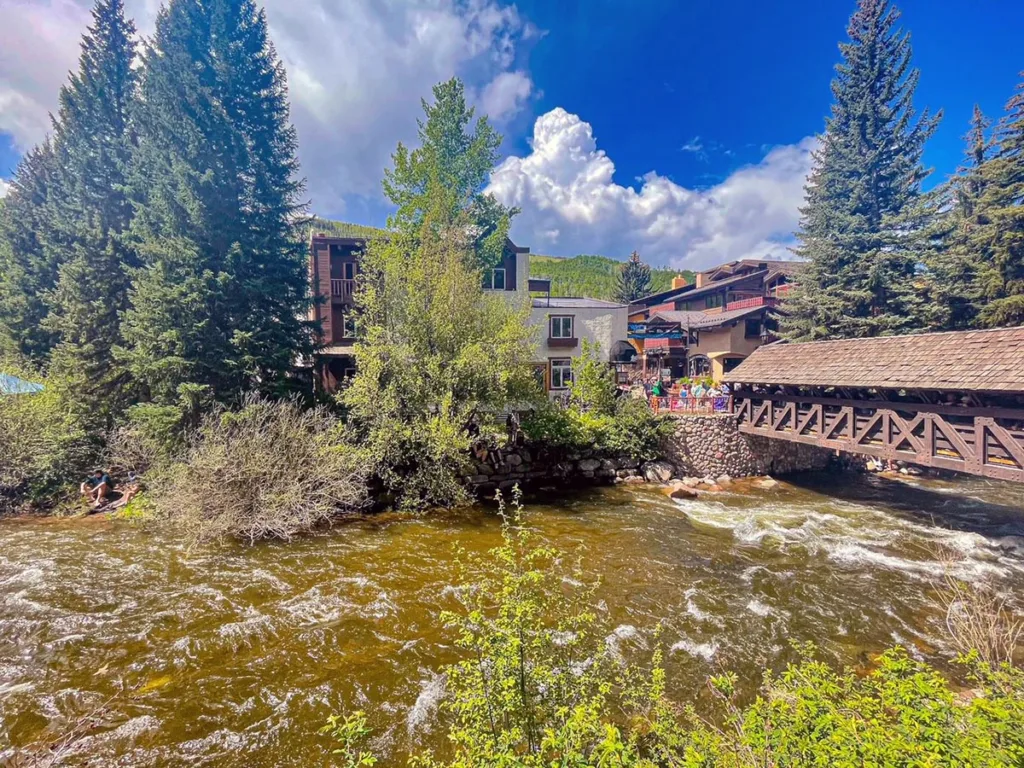 Vail, Colorado
Distance from Denver: 97 miles (1 hr 45 mins)
Vail brings up images of the rich and wealthy. And that is mostly true. The village does have a bit of a swiss village kinda "theme" to it. Which is both good and somewhat a little odd in my opinion. But the area is beautiful and the mountain and streams of the town are worth a visit.
Also if you are here in the winter, Vail is one of my favorite ski areas in the area. It's huge and there's some great spots to explore and they do an awesome job maintaining runs (and grooming those meant to be groomed).
There's also a lot of events and activities in town. There's a nordic center, races, bike areas, and plenty of events. Ones such as the Go-pro games are really fun to see sports that normally you wouldn't see.
One of the tricky parts of the city is that parking and costs are pretty high. Parking for skiing is pricey (there's only paid parking normally) and restaurants are often higher end. Hotels too can be insanely pricey during high-season. So a day trip may even be the best option for those wanting to visit.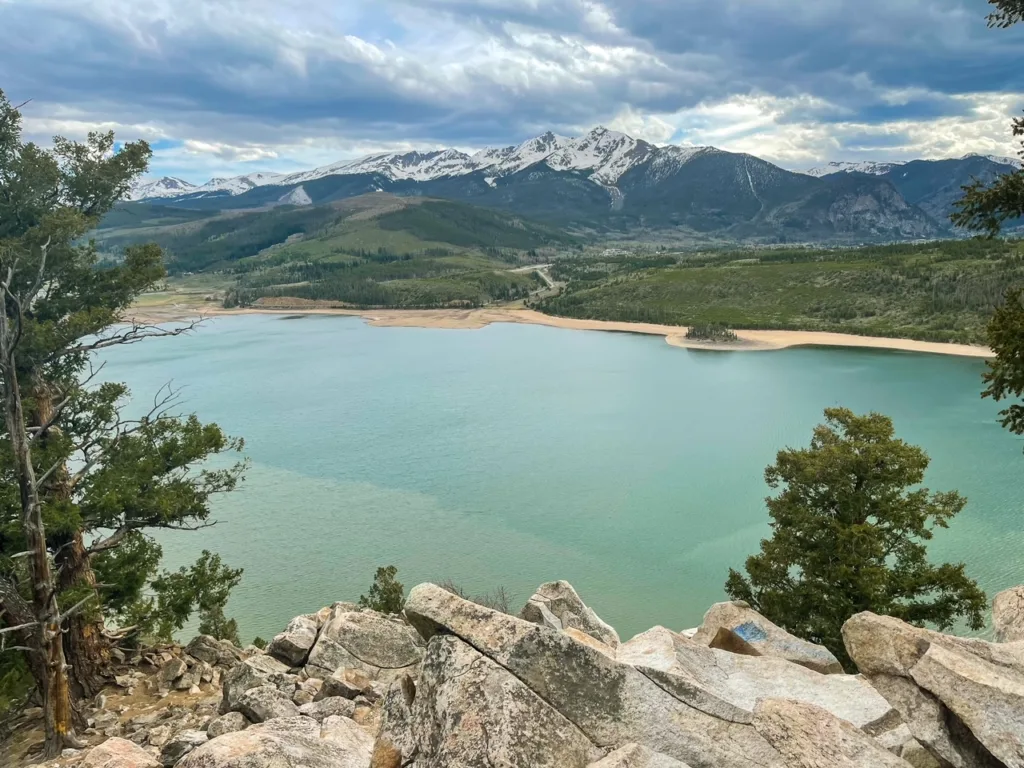 Siverthorne/Dillon/Frisco, Colorado
Distance from Denver: 67 miles (1 hr 15 mins)
Silverthorne, Dillon and Frisco are all neighboring towns up in Summit County. It's a popular jumping off point for skiing and other activities in the region. The area is convenient for folks wanting to ski at Copper, A-Basin or Keystone and close to others as well.
There's also a lot to do in the area for hiking, biking and boating. There's boating on the Dillon Reservoir in town, it's a popular kayaking and stand-up paddle board spot in particular and there's rental places if you don't have your own.
You can do some great hikes, either up some of the nearby mountains (like Buffalo Mountain), or trails and views around the reservoir as well. Sapphire Point Overlook and trail is also a popular spot to get some beautiful vistas.
In town there are quite a lot of restaurants and shops. I love the Bluebird market in Silverthorne or any of the lovely places on main street Frisco.
Winter Park/Fraser, Colorado
Distance from Denver: 67 miles (1 hr 20 mins)
Located in Grand County, Fraser and Winter Park are a all-year round destination for outdoor adventure. Winter Park (and in particular the Mary Jane area) is one of my favorite ski resorts in the region. It has a lot to do and is closer to Denver than others, there's even a train to the ski resort as well.
The area has some great hiking, biking and fishing in the summertime. Winter brings alpine, backcountry, snow tubing, and cross-country skiing to the area. As well as snowshoeing and snowmobiling opportunities. There's plenty to do for all folks in the family.
Getting here is part of the adventure. The windy roads of the Berthoud pass is quite a drive as well. It's a bit hairy in the winter however, so drive carefully. But I've seen big horn sheep and other wildlife along the way through here as well.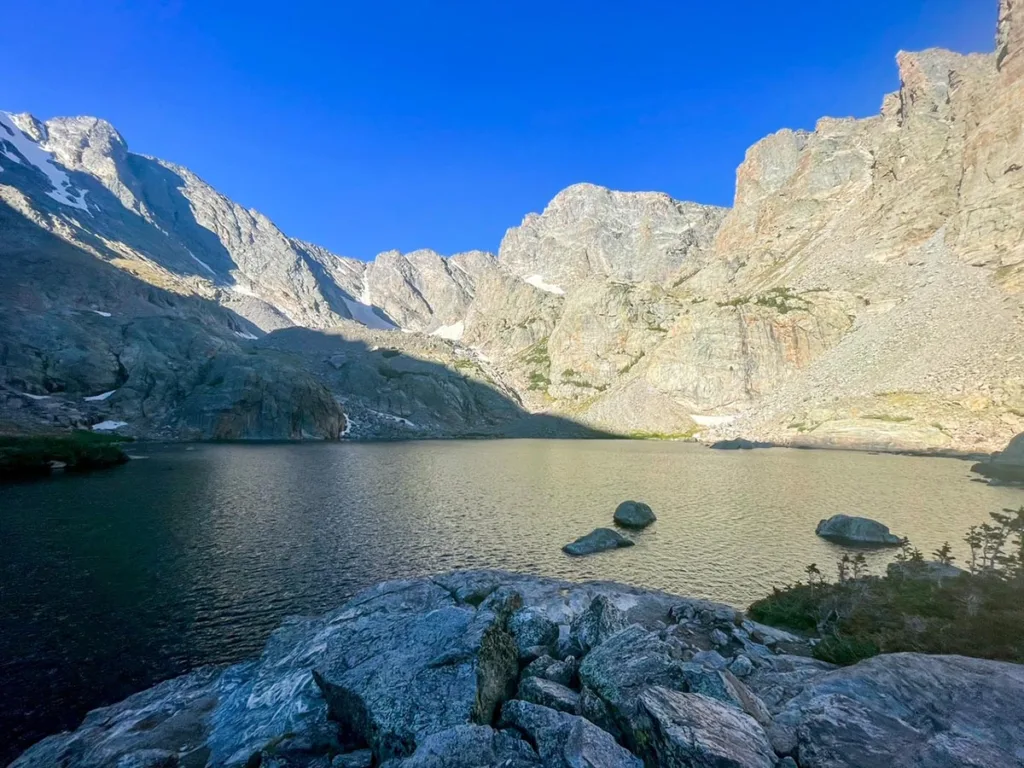 Rocky Mountain National Park
Distance from Denver: 66 miles (1 hr 20 mins)
Founded in 1915, Rocky Mountain NP protects a beautiful slice of the Rocky Mountains in Colorado. The park includes some of the most incredible wilderness of Colorado. There's actually quite a lot to explore in the park and even a day trip isn't enough.
There's a lot of great hikes to explore. Bear Lake is one of the most beautiful in the area and there's several lakes to visit in the area. Some of my favorite hikes in the area include Sky Pond (which requires hiking through a waterfall), Alberta Falls, and the Four Lake Loop.
Beyond this area some other great hikes are Chasm Lake, Deer Mountain, Twin Sister Peak, and Mount Ida. For those looking for less hiking, you should definitely drive on the scenic trail ridge road and old fall river road. You'll get to see some of the most beautiful vistas the park has to offer.
A perfect day for those looking to just drive is to drive through the entire park from Estes Park to Grand Lake. You can make a loop back to Denver this way and it'll make a pretty incredible day trip.
Leadville, Colorado
Distance from Denver: 101 miles (2 hours)
Known as the highest city in Colorado (Alma, the small town is higher by a couple hundred feet), the city is one of the most interesting spots to explore in Colorado. It has an old mining feel that was founded when gold was discovered here in the mid-19th century.
The town did have gold and while that really sparked settlement, it's most known for molybdenum. The difficult to pronounce substance makes steel harder and was important both for industry and war. The area and mining grew extensively for WW2 in particular. The trouble is that it also made the area dangerous for chemical exposure as well (although much has been cleaned up).
These days the town is a popular tourist spot and jumping off point to nature and nearby areas. Twin Lakes nearby is one of my favorite towns in Colorado. The town also has some nice hotels, restaurants, and shops, as well as theaters, arts, and museums. The mining museum is interesting and helps to understand the history of the area.
Be sure though if you go to check out the nature nearby. And if you can get a reservation to buy some hoodies from local Melanzana.
Estes Park, Colorado
Distance from Denver: 65 miles (1 hr 20 mins)
I decided to put this as separate from Rocky Mountain NP because there's so much to do in Estes Park than just a gateway to the park (although you should visit the park).
Within the town there's a lot of places to eat, shop, and explore. You should definitely check out the Stanley Hotel, said to be the inspiration for the Stephen King Novel the Shining. There's scenic drives through the area.
There's several hiking trails not in the National Park worthwhile to see and lots of climbing opportunities too. Also there's a via ferrata in Estes Park that is a fun addition to the activities to explore. Or the Mustang Mountain Coaster for something less scary but still thrilling. There's a ton of activities to do in town from biking to classes and more.
I also recently stayed at the YMCA Rocky Mountains which is a destination unto itself. There's so much to do from activities to classes, hiking, swimming, that you could make it the entire vacation.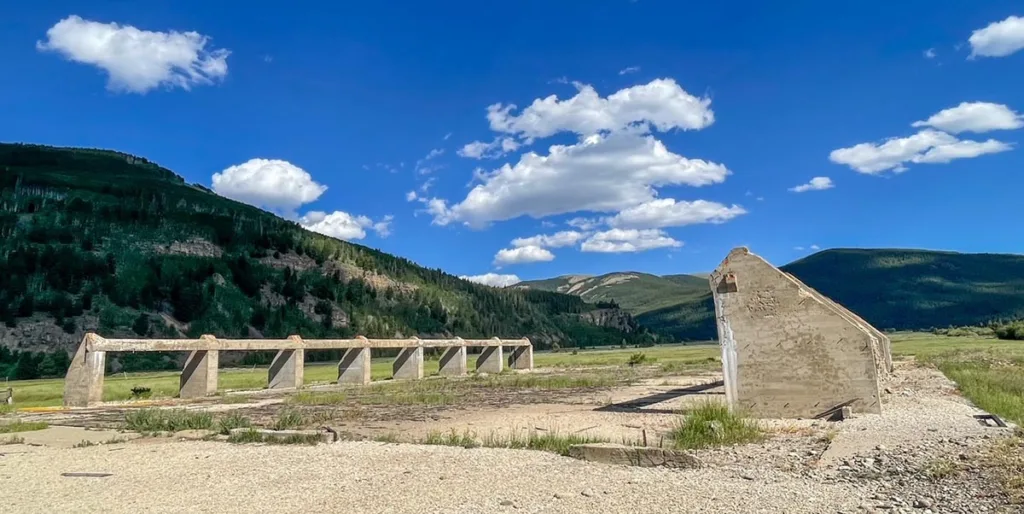 Camp Hale National Monument
Distance from Denver: 114 miles (2 hours)
As one of the newest National Monuments, Camp Hale protects and commemorates the camp and troops of the army mountain division. This area was chosen and purpose built to train troops for assaulting the mountain strongholds of Europe during World War II. The troops who went to Europe used their skills here to scale cliffs and help to defeat Italy and Nazi troops in harsh conditions.
The camp beyond that was important in so many other ways as well. The skills here translated into advancements in areas of skiing, climbing, and warfare. Camp Hale is credited with foundations of the Colorado Ski Industry, and many of the troops here went to found nearby ski areas including Arapahoe Basin and Steamboat Springs. Important climbing skills really build that industry as well into the recreation industry it is today.
These days camp hale is a large swath of the White River National forest and lots of activities abound in the area. Visitors can explore parts of the National Monument (some areas are off-limits to protect historic buildings and tourists from military refuse). There's camping, hiking, a ski area, and even historic huts that can be visited (or stayed at).
Read More: Guide to Camp Hale National Monument
Cheyenne Wyoming
Distance from Denver: 102 miles (1.5 hours)
Located across the border in Wyoming, Cheyenne actually has some pretty neat things to check out for those interested in the area. The town has a great western feel with some great rodeo, train tours, hiking, nature, museums, gardens, and more.
For those looking for some odd war history you can visit a missile site. Q-02 was a secret site that's now a state park. Also my friend from DC is even in a photo from working at the site. You should also check out the Vedauwoo Recreation area which is stunning and great for hiking and climbing.
It's a nice day trip from the city for a great change of feel from Denver. And one that is surprisingly closer than you figured it would be.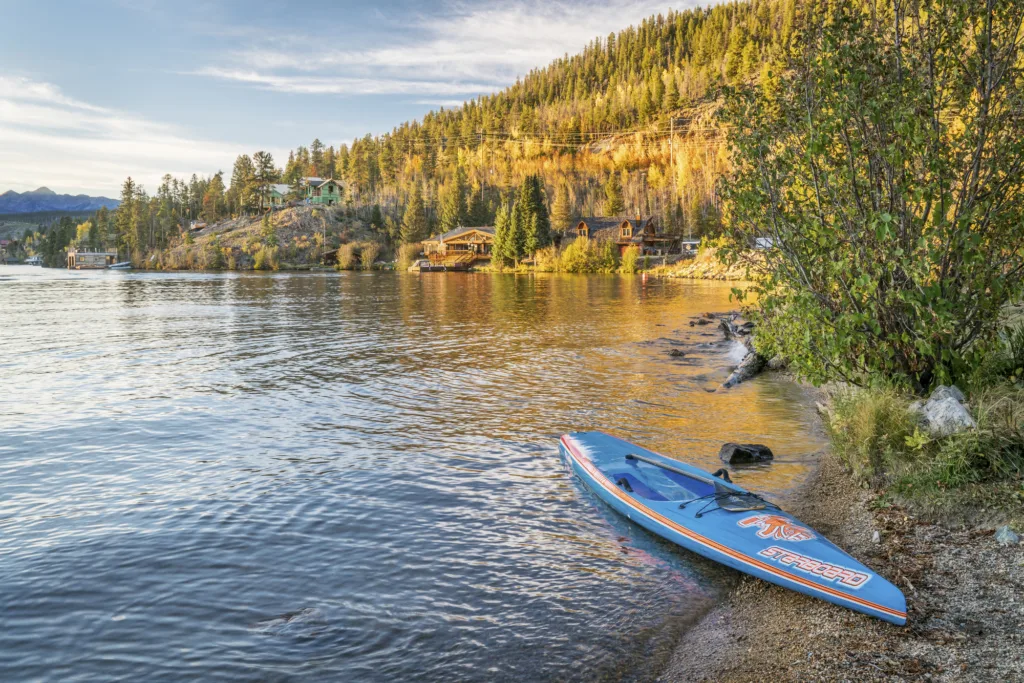 Grand Lake
Distance from Denver: 102 miles (2 hours)
Grand Lake, on the western side of Rocky Mountain National Park is also a great spot to stop for a day trip as well. You can also visit the eastern side of RMNP which is far less frequently visited than the eastern side. Which makes it an easier entrance to get in and out of as well!
The town is situated on a pair of lakes in the mountains making it an idyllic place to relax. There's plenty of opportunity for water sports, and it's a popular kayaking spot on the lakes. You can explore trails in the area, several waterfalls, and even get into more adventures in the Arapaho Roosevelt National Forest.
You can also check out the Kauffman House Museum which is the only remaining log hotel (built prior to the 1900s) within the town. There's quite a few great restaurants including One Love Rum Kitchen and the Historic Rapid Inn. Also some fun shops, a nice beach area, and just lots of places to just relax and enjoy nature.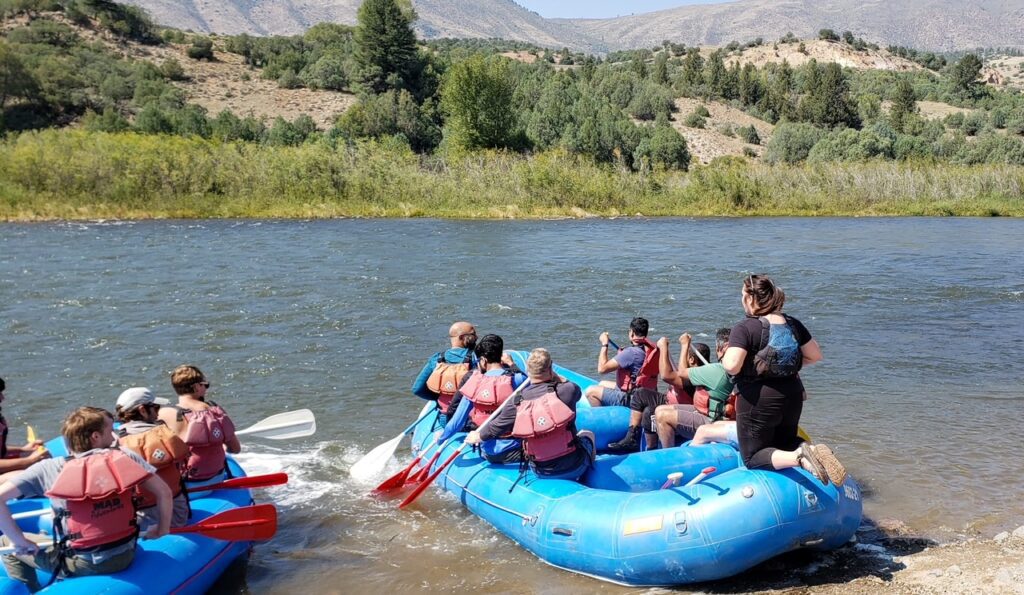 Kremmling, Colorado
Distance from Denver: 104 miles (2 hours)
The town of Kremmling is probably nothing to get excited around. It's the nature and adventures in the area that bring people here.
Kremmling is a popular spot for adventure along the Colorado River and in the nearby mountains. I've come here with friends to do whitewater rafting trips, and it's a fun excursion for the day for folks traveling from Denver.
You can certainly pair visiting here with some other nearby spots like Grand Lake or Fraser as well.
Over 2 Hours from Denver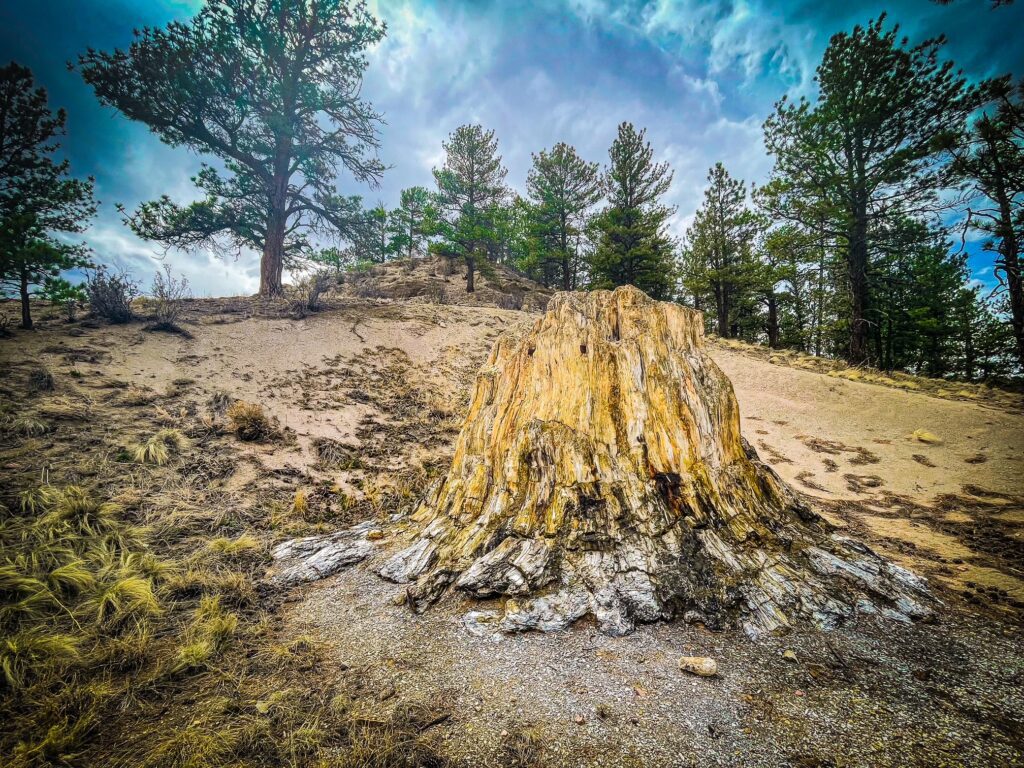 Florissant Fossil Beds National Monument
Distance from Denver: 104 miles (2 hrs. 10 mins)
An impressive monument, Florissant fossil beds contain some of the most important fossils of its time period. It doesn't have any of the really large fossils that most people think of. But it does have important insect and plant fossils (mostly from the Eocene area). These fossils even led to discoveries of new species.
You won't be able to see any of the fossils on the grounds (other than the visitor center), but there's a lot to do in the park as well. One of the most fascinating pieces of the park are the petrified redwood trees. There was a large redwood forest millions of years ago and from that we have these impressive specimens.
Beyond the fossils there's a lot of great hikes in the area, including a geological hike with information panels. There's a homestead to visit, night sky programs, and even winter activities for skiing and snowshoeing.
Read More: Guide to Florissant Fossil Beds National Monument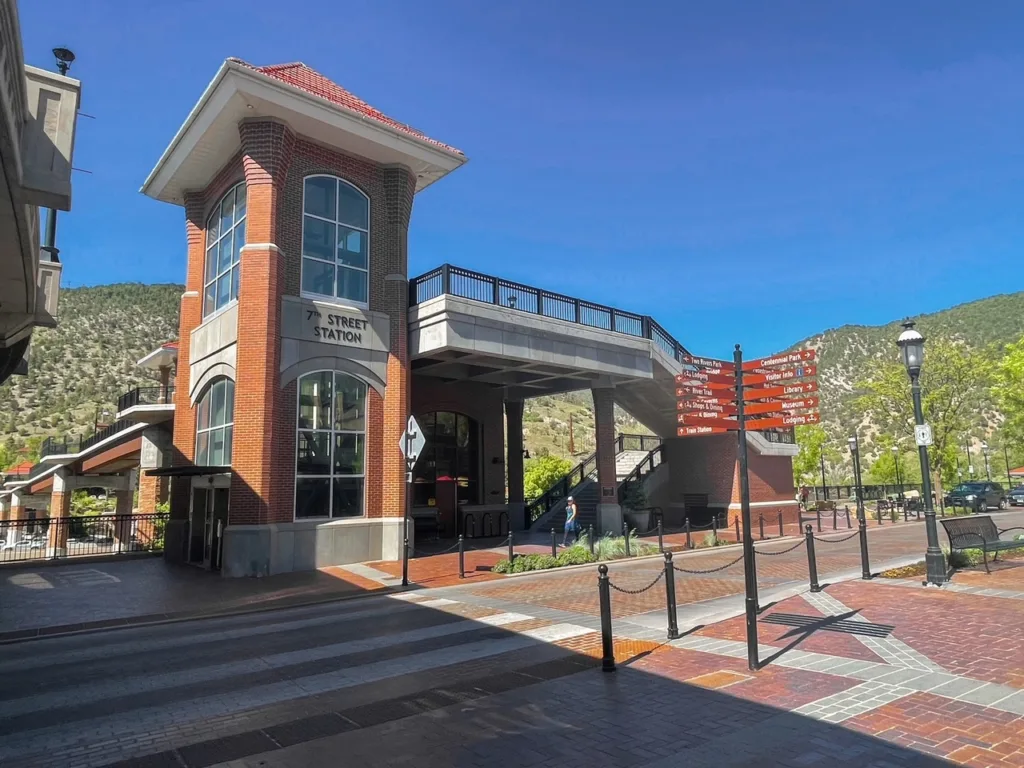 Glenwood Springs
Distance from Denver: 157 miles (2 hrs. 45 mins)
This is on the outer edge of day trip distances from Denver. But Glenwood Springs is a pretty special place. It's a fun and cool little town along I-70.
The town has some great hot springs you can explore. There's the Glenwood Hot Spring hotel which you can visit as a day visitor (although you can stay here as well). There's also the Iron Mountain hot springs which may be my favorite in the area.
Beyond that, you can see the gravesite of the favorite westerner Doc Holliday in Linwood Cemetery. You can also get to Glenwood Springs via Amtrak. There's some great restaurants downtown and fun shops as well. It's a long trip but one of my favorite towns in the mountains.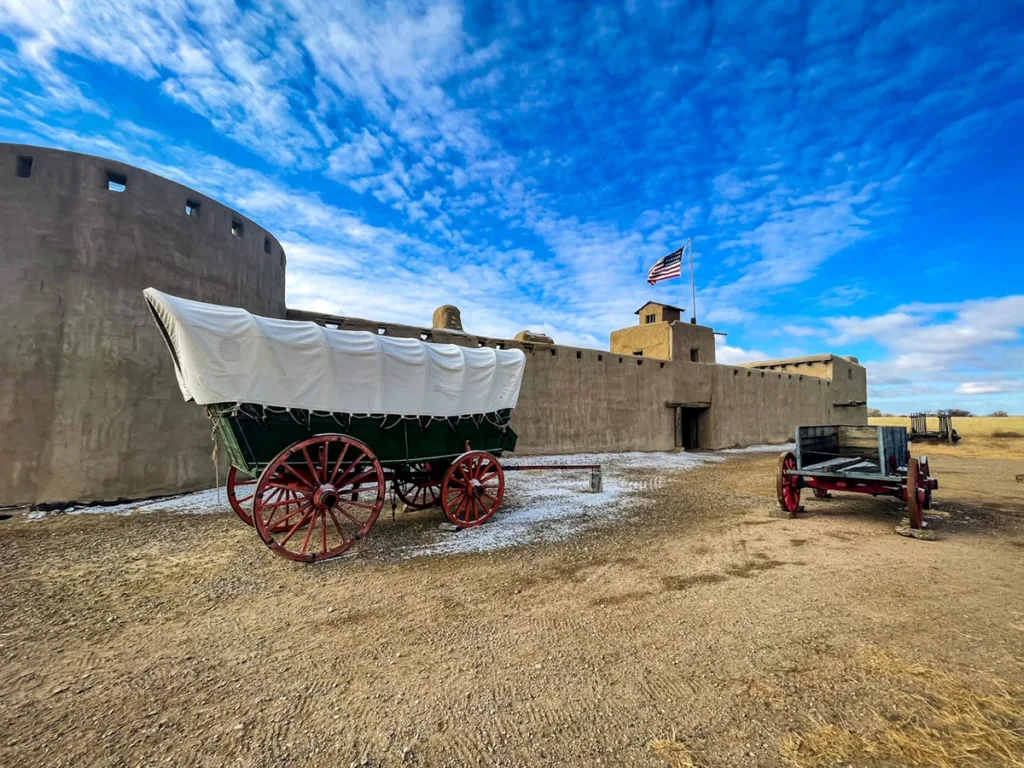 Bent's Old Fort National Historic Site
Distance from Denver: 184 miles (3 hours)
Believe it or not, Bent's Old fort used to be an important transit and trading post on the US / Mexico border. I didn't realize how far north the border went, but it was along the Arkansas river in this part of the country.
The old 1883 fort is a great place to explore and wander around. They have rooms with historical type artifacts, lots of information, and even farm animals. The best part is the NPS rangers even get into it with period clothing and activities.
You do get to realize that places such as this were important ports for people from soldiers to native americans, mexicans, and travelers. It was an important meeting point and trading post for everyone in this region.
In December the park also hosts historians to discuss the history of the site all the while the fort is lit up with candlelight. I have not yet visited then, but I've heard it's quite magical.
Read More: Guide to Bent's Old Fort National Historic Site
Great Sand Dunes National Park
Distance from Denver: 236 miles (3.5 hours)
Great Sand Dunes is an incredible site but on the outer edge for day trips. It is possible to do it as a day trip and I have and I know others that have as well. That being said, you should make sure to leave early.
The park seems to defy logic, how did this immersive dunefield end up here in the middle of the Colorado Mountains. It really is something to behold. You can also find the highest dune in North America within the park. It's possible to hike out to them along with other big dunes over the course of a few hours. Note that the Dune's do move so the time fluctuates with the err.. moving of the sands.
The dunefield is by far the biggest draw. If you are interested you should rent a sled or sandboard from local outfitters. For those looking for more there are some hiking trails in the mountains surrounding the dunes and some 4WD tracks through the park to explore.
If you have the time, an overnight stay may be more accommodating. However, you can see most of the highlights of the park in a long day. If you can secure a backcountry permit, camping on the dunes is a sublime experience.
Read More: Guide on Great Sand Dunes National Park
---
Do you have any other great experiences in the Denver area? Anything We've missed? Always looking for both things to update and places to explore in the area. Drop me a note and let me know also if you visit anything listed here. Looking forward to hearing from you!
Other Posts you May Like