Glacier National Park is one that cannot help but inspire awe in all those who explore it. From those first views from Going to the Sun Road, or vistas over Glaciers, it really showcases the incredible beauty of the American West.
The park is so far my 2nd favorite park in the National Park system (after Yosemite), but its a hard toss-up in terms of sheer beauty. We cannot help but gush at the park, and this guide along with supporting posts will hopefully help you see why and to plan your trip as well.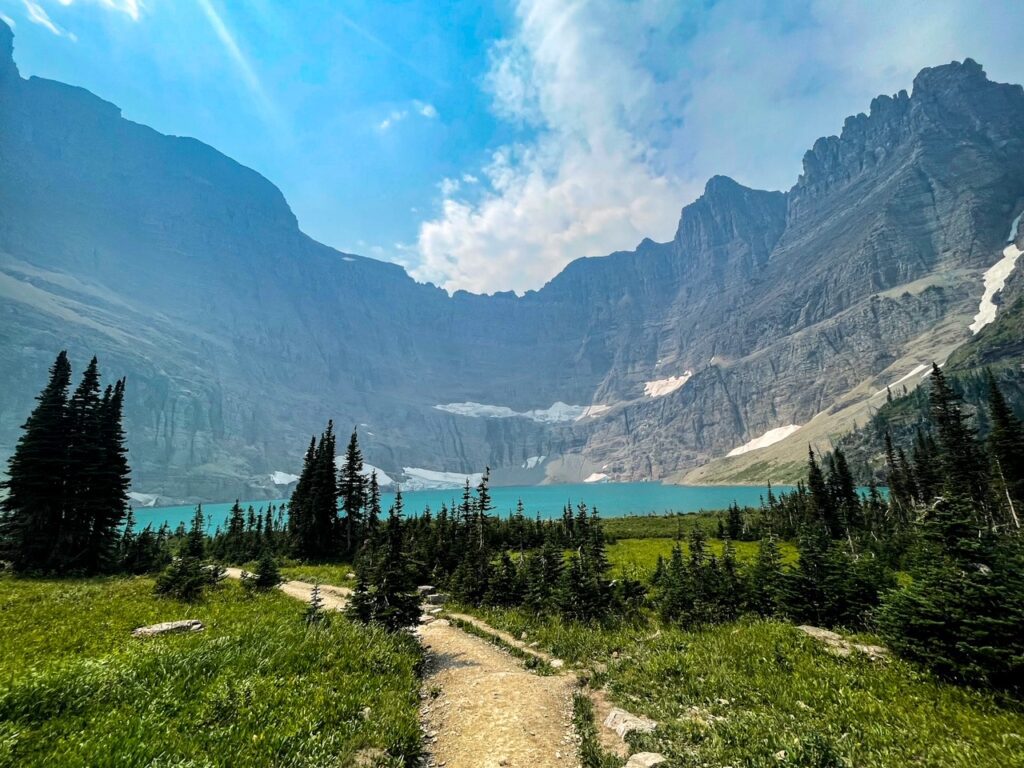 Table of Contents
About Glacier National Park
| | |
| --- | --- |
| Established | May 11, 1910 |
| Area | 1,013,572 acres |
| Approx. Annual Visitors | 3 million |
| Best Seasons to Visit | Summer |
| Time Zone | Mountain |
Established in 1910, it was the 8th US National Park at the time. And I'm shocked it wasn't even earlier as it has some of the most incredible beauty you'll find in the lower 48 states and in the entire National Park System.
Glacier protects the incredible glacial carved valley of this section of the Rocky Mountains, it's more than 1 million acres includes several glaciers (although that number is quickly dwindling), beautiful valleys, diverse wildlife, and more.
The park is a UNESCO World Heritage Site in combination with Waterton Lakes National Park in Canada. The combined Waterton-Glacier International Peace Park is important in it's stance as park between two countries. You can actually hike between although there is some logistics to that.
How long to Spend in Glacier NP
You could spend a month in Glacier National Park and still be left with things to see and do. However, I know that's not practical for most folks visiting the park.
In my opinion 3-7 days is the sweet spot for folks visiting the park. One day is too short to really even get a sense of the park. You should spend at minimum of 3-4 days to really see a few sections of the park and do a few of the hikes.
The Going-to-the-Sun Road is the most popular and impressive drive through the park. However, the park really doesn't begin until you get off the road. Most of the park is only accessible by foot (or in some cases boat).
If you are able to spend a week in the park you'll be able to hit many of the iconic hikes in the park. We have recommendations on hikes later in this post and in our post on Best Hikes in Glacier National Park.
Timed Entry System
Glacier National Park has implemented a timed-entry system for all of the entrances to the park. This started a few years ago due to the popularity of the park and in particular the Going to the Sun Road.
Initially the timed entry only affected the Going to the Sun Road, however these days all entrances have some sort of timed entry program. You need to make these reservations on Recreation.gov
During peak season, passes can book up super early. Part of the passes are released approx. 4 months ahead of the date (at 8am) and the remainder at 8am the day before.
Block Release Dates
Going-to-the-Sun Road Corridor and North Fork Release Dates (8 am MT release):
February 1st: For May 26th – June 30th
March 1st: For July 1st – July 31st
April 1st: For August 1st – August 31st
May 1st: For September 1st – September 10th
Many Glacier and Two Medicine Release Dates (8 am MT release):
March 1st: For July 1st – July 31st
April 1st: For August 1st – August 31st
May 1st: For September 1st – September 10th
Advanced Tickets can book up quickly on popular dates. So be sure to try to book as soon as you can when it is released.
We recommend if you can, to arrive prior to the Timed Entry System. The popularity of the park and hikes means that if you are not there early you may not get a parking spot.
If you can't get a ticket or if you don't want to get up early. Consider the free Glacier National Park shuttle. It's a good way to get to lots of popular spots albeit less conveniently than driving.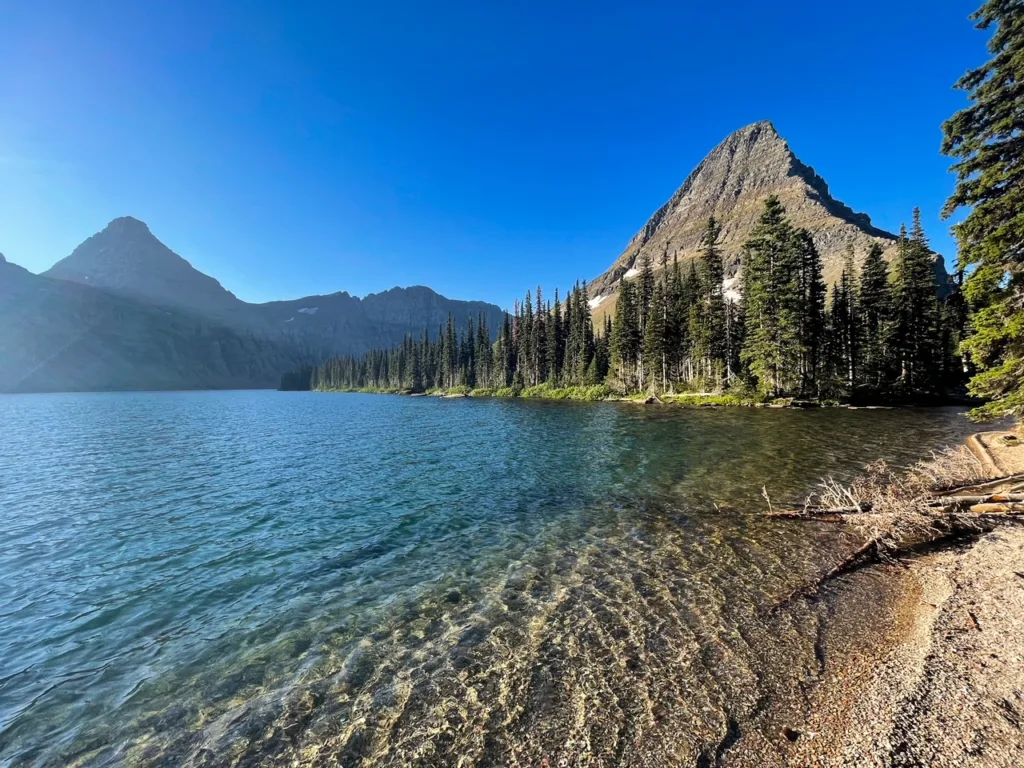 Best Time to Visit Glacier National Park
The high season for Glacier National Park is the summer. This is also the best time to visit as most of the park is open and the most facilities are available then too.
Generally summer in Glacier is from mid-June to Mid-September with the busiest (and best weather) in August. During this time you'll also need Timed Entry tickets for the various entrances to drive into the park. See the section on Timed Entry System for more details on the program.
Glacier National Park in Winter
Winter is both a difficult time to travel as well as a special time in Glacier National Park. Officially the park is open during the winter, but accessing sites within the park during the winter can be difficult.
There are some entrances that are open during the winter and access is highly dependent on the weather. For Apgar in the west entrance, the entrance station is open (and takes the entrance fee), but the road will eventually be blocked.
From there you'll need to continue on foot, snowshoe, ski, or other manual means. There are some hikes and you can actually travel pretty far based on your personal skill/provisions. However, note that access and rescue in the winter is exceedingly difficult. Do let folks know your plans before setting out.
Things To Do
There's quite a lot to do in Glacier National Park. We break down some of the highlights below. Be sure to use this as a guide to further explore things to do in the park.
Going to the Sun Road Drive
Completed in 1932, the Going to the Sun Road is an incredible feet of civil Engineering. The road is literally cut into the side of the mountain and you'll feel it as you wind your way through the mountains and valleys of Glacier National Park.
The entire road is 50 miles long and takes visitors from the Apgar Entrance in the west to St. Mary's in the east. The road is named for the Going to the Sun Mountain which can be seen from the viewpoint in Logan Pass.
The road is only open during the summer months. This is due to both the amount of snow the park gets and the difficulty in actually plowing the road. It takes weeks to successfully plow the entirety of the road.
It takes about 2 hours (without stopping) to drive the entire 50 mile road.
Vehicles longer than 21 feet or wider than 8 feet are prohibited between Avalanche Creek Campground and Rising Sun Motor Inn. Vehicles over 10 feet may have issues westbound between Logan Pass and the Loop due to rock overhangs.

Bicycles are prohibited 11 am – 4pm (June 15 through Labor Day)
Hiking
Highline Trail: In my opinion a must for folks in Glacier National Park. My favorite and one of the most diverse hikes in terms of scenery and wildlife.
Grinnell Glacier: Beautiful Hike to one of the few remaining glaciers in the park. You'll see the glacier you will look down on during the Highline Trail (if you take the added overlook)
Iceberg Lake: Beautiful glacial lake in the Many Glaciers region of the Park
Avalanche Lake: Easy hike to a beautiful lake near the Apgar entrance to the Park.
See More: Best Day Hikes in Glacier National Park
Backcountry / Multi Day Hikes
There's hundreds of miles of hikes within Glacier National Park. While you can see quite a lot on day hikes, if you truly want to get into the park you'll need to camp overnight. For this you'll need to apply for backcountry permits and learn about hiking restrictions within the park.
Also be sure to be wildlife aware. You'll need to properly store your food to protect from bears and othe wildlife as well.
Stargazing
Glacier National Park has some amazing views of the stars in many of the places. Due to the size and location of the park it is possible to get areas with low light pollution. If you are camping or otherwise staying the park at night, you should be sure to take the opportunity to see the stars. Nights can be chilly so do bundle up!
You can see still stars from some of the nearby towns but it won't be the same due to the light pollution.
Snowshoeing / Skiing
Winter brings some amazing opportunities to explore the park in the snow. It has a incredible beauty and some really deep snow. You can easily get away from everyone if you travel just a bit from the open roads.
Boating
There's a few opportunities to boat in the park. You can take some of the boat rides across various lakes in the park. Such as in Many Glaciers, and Two Medicine. You can also pilot your own boats whether powered or unpowered.
We also rented a boat on Lake MacDonald to drive across parts of the lake. You can go pretty far and be sure to pay attention to times to return if you are renting a boat.
Glacier National Park Entrances
There are quite a few entrances to Glacier National Park. Several are more popular than others. These days I believe all require timed entry tickets (in the past it was only ones connected to Going to the Sun Road).
Be sure to check on restrictions on the Timed Entry System section and be sure to have your pass (or enter outside of the restriction time).
West (Apgar) Entrance
Address: Going to the Sun Road, West Glacier, MT
By far the busiest entrance to the Park. Most folks stay in the west side of Glacier National Park (most accommodations / food), so this entrance see far more visitors than any other entrance.
The Apgar Entrance has a visitor center, shops, restaurant, and access to Lake MacDonald.
Getting There: The west entrance is located off US-2E about 18 miles (22 minutes) from Columbia Falls MT or 28 miles (40 minutes) from Whitefish MT.
St Mary's Entrance
Address: Going to the Sun Road, Browning Montana
The east entrance to the sections along the Going to the Sun Road. There is also the St. Mary's visitor center in this part of the park as well.
Getting There: The St. Mary's Entrance is located west of St. Mary's Montana. From town you'll turn onto the Going to the Sun Road (you should see signs). There is also a Visitor's Center located at the Entrance.
Many Glaciers
Address: Route 3, Browning Montana
This Entrance allows you access to the Many Glacier Lodge, Campground and hikes on this area of Glacier National Park. This entrance does not connect to other areas of the park by road and you'll need to drive back out to get to other sites.
Getting There: The Entrance is located west of Babb, Montana. To get here, from Babb, take Route 3 west for about 8 miles.
Two Medicine
Address: East Glacier MT
Two Medicine Entrance gives you access to trails and campgrounds in the South Eastern Side of Glacier NP near the Two Medicine Lakes. This entrance does not connect to other parts of the park.
Getting There: From East Glacier Park, MT head North on Route 49 for about 3.5 miles. You'll see the road split, stay to the left onto 2 Medicine Road. The entrance station will be about 4 miles down the road.
Camas Creek Entrance
Address: Camus Road, Polebridge, MT
Located off North Fork Road, Camas Creek Entrance was a popular "backdoor" entrance into Glacier National Park. The Entrance until recently didn't even have an official entrance station. However, I learned a new one opened spring 2022. These days it's popularity also requires a timed-vehicle entrance.
Getting There: North Fork Road (Route 486) is a mostly dirt/gravel road, so make sure you are ok with that with your vehicle. Its still a good option and isn't popular with tourists at all. Most don't know it exists. You'll drive about 22 miles on North Fork Road from Columbia Falls MT. After passing several campgrounds, N. Fork Road will continue left and you'll see a turn for Camas Road on the right. Turn right and continue to the entrance station.
Polebridge Entrance
Address: 714 Glacier Dr, Polebridge, MT 59928
Also located in Polebridge Montana. The Polebridge Entrance is located north of the Camas Creek Entrance.
This is the Northern most entrance on the west side and a good option for those looking for hikes away from the busy Going to the Sun Road.
Getting There: The road is mostly dirt/gravel in terms of access to the entrance and certainly one that is not well visited. From Columbia Falls MT take Route 486 (N Forks Road) north for about 35 miles. You'll actually pass the turn-off for Camas Creek on your way to this entrance.
You'll cross into the town of Polebridge and turn left on Glacier Dr. Once you cross the river you'll be in Glacier NP and should see the Ranger Station nearby.
Chief Mountain Way
Not an "official" entrance since it's more a traverse road between the US and Canada. However, the road does bring you into the park and there are trailheads and parking you can access from the road as well.
Glacier National Park Shuttle System
We have a section about the Glacier National Park Shuttle System in our Guide to getting to Glacier National Park.
The Shuttle is a great way to get to areas of the park without having to drive! It's not as convenient as driving for sure, but given the logistics, permits, and lack of parking, it can be a great alternative to folks visiting.
It's worth it as a option for those who either don't have a timed entry ticket, or don't want to get in super early. Even with a timed entry ticket you may have difficulty finding parking at your preferred area.
Where to Stay
There's quite a few options for places to stay inside and outside of the park. Note that many of the in-park accommodations do book up very early in the year. So we also try to pick some options for places located near the park as well.
My preference is camping along Going to the Sun Road or one of those hotels. If not I prefer somewhere like Whitefish as it has some good options, reasonably close, and good coffee/restaurants too.
Hotels in Park
The following hotels / lodging are located within Glacier National Park and managed by a contractor in partnership with the National Park Service. Many of these hotels book up very fast when blocks open so we recommend you trying to book as soon as you know your plans.
Hotels Outside Park
For many folks you'll need to stay outside the park. There are a lot of options available and more so on the west side of the park. We offer a few options here for visitors. I personally prefer to stay in Whitefish, as it's one of my favorite Montanan towns.
Prices during the high season are generally not cheap at many of the places.
Columbia Falls / Coram
Whitefish
Pine Lodge: Beautiful option, very clean. pricier.
Chalet Inn: Surprisingly Lovely Place. Bit Further from Downtown.
Farmhouse Inn: Cute B&B. Great Location Downtown.
Kalispell
East Glacier
Camping
RV Parks
I can't speak as well for RV parks as I don't have an RV currently. But I get the question a lot and hopefully the following will help with your research.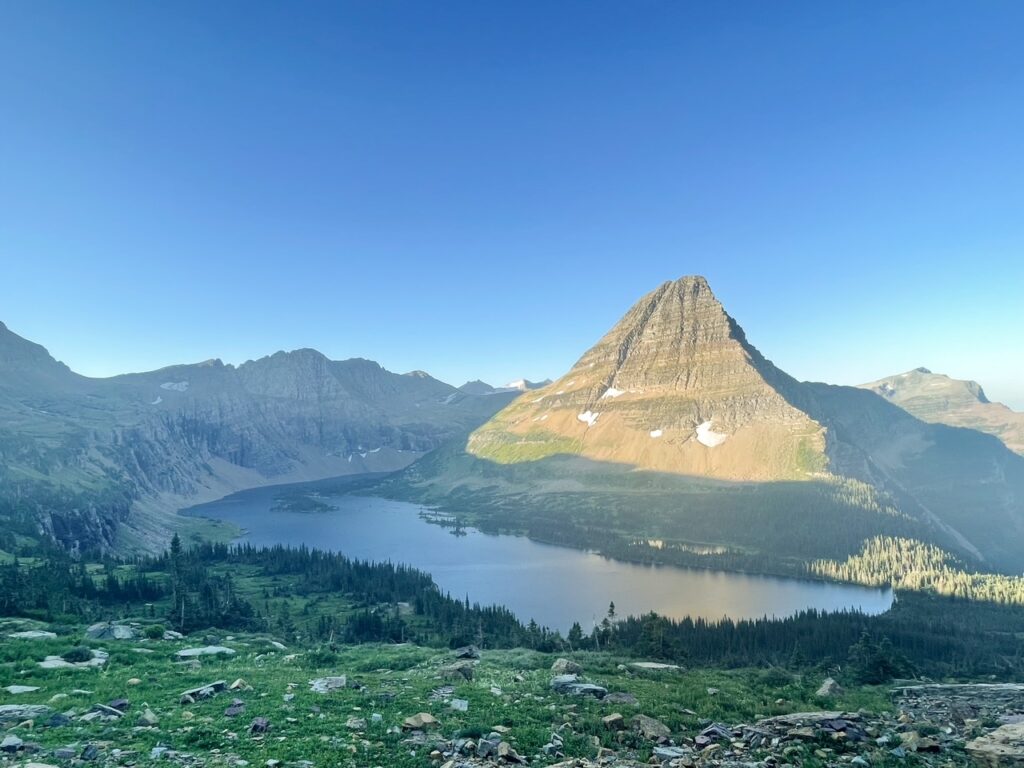 Basic Information
Visitor Centers
There are 3 main visitor centers for Glacier National Park and all are located along the Going to the Sun Road. Beyond that there are several Ranger Stations that are manned at varying schedules. For this guide we are only enumerating the visitor centers.
Apgar Visitor Center
Address: West Glacier, MT
This feels like the main Visitor Center and it's the one most folks do visit when they come to the park. The visitor center has lots of information, book/gift store, exhibits, movie, as well as other things in the area. Nearby you can get supplies at the camp store, there's another gift shop, as well as a restaurant. We had a pretty good lunch at Eddie's Cafe and can recommend it.
You can also rent boats nearby for trips on Lake MacDonald.
St. Mary's Visitor Center
Address: Browning MT
This is the main visitor center for the east side of the park. It's the visitor center you'll reach if you enter the going to the Sun Road from the east. It's got information, rangers, bathrooms, exhibits, passport stamp, and movie. It's worth a stop if you haven't visited the other visitor centers.
Logan Pass Visitor Center
Address: Browning, MT
Located near the continental divide at the highest point on the Going to the Sun Road, Logan Pass Visitor Center is a popular place to visit and park. There's onsite rangers, information, passport stamp, bathrooms.
It's also a start for several hikes in the area. Expect that the Logan Pass parking lot will be full much of the day, so we recommend if you are coming to arrive early. You'll likely have to arrive before the visitor center opens to get a spot, so visit after your hikes.
Fees
Private Vehicle: $35
Per Person (foot/bike): $20
Motorcycle: $30
Glacier Annual Pass: $70
Vehicle Reservation: $2
The Park also accepts the Annual America the Beautiful Pass. This is by far the best deal if you are planning to visit more than 2 parks in a year.
Timed Entry
The important yet controversial timed entry system is something of a recent addition to the national park system. We cover the timed entry system in another section which we recommend reading on how to plan your trip as well.
Reservations Cost $2
Hours
The Park is open 24 hours a day 7 days a week. There are restrictions during certain times for driving into the park.
Wildlife Awareness
There are a lot of wildlife in Glacier National Park and if you plan on doing any hikes you are likely to encounter them. These include Grizzly Bears, Big Horn Sheep, Mountain Goats, Moose as well as other smaller wildlife too.
Be sure to keep clear of all wildlife, do not get closer than 100 years to any predators (or even any large animals) and do not feed any wildlife.
We recommend carrying Bear Spray with you. You can find this online, at any local stores, or better yet at Montana Costcos which often have the best prices.
Passport Stamps
National Park Passport stamps are located at each of the visitor Centers.
Apgar Visitor Center
Logan Pass Visitor Center
St. Mary's Visitor Center
Website: Official NPS Website
Getting to Glacier National Park
We cover getting to the park in depth in our Guide to Getting to Glacier National Park. To save managing two different posts, we recommend you read that if you have questions on how to get here.
Tips & FAQs
Plan to enter the park early. Like definitely before 7am (if not 5 or 6). Timed Entry is fine, but if you are not in the park early, it'll be tough to find parking at most of the popular trailheads.
Be Bear Aware. I can't stress this enough. Carry bear spray. Make noise while walking, Hike in groups if you can. Bears don't want to attack you, so protect yourself and them as best as you can.
If you are planning to visit opposite sides of the park. Consider driving around the park. I know that seems counterintuitive, but the Going to the Sun Road is slow and busy. It'll be faster.
Plan your hikes in similar regions together. If you can manage it, it's best to try not to spend too much time driving between sections. Plan your big hikes early and if you can bonus on others in the same area. Pick the most popular hikes for the earliest part of the day so you can find parking.
Other Posts You May Like