Colorado's second city, The Springs has a lot of amazing things going for it. We find there's tons of things to do in Colorado Springs. But for those who have longer trips or have visited before, there's more to see and do in Colorado by getting away from the city.
So for here, we have come up with some lovely day trips from Colorado Springs. For these we look at ones at different distances so you can have some good options no matter how far you'd want to go.
Destinations within 1 hour of Colorado Springs
Destinations between 1 – 2 hours from Colorado Springs
Destinations further than 2 hours from Colorado Springs
So Follow along and we'll help you find some great options for your next trip in the area.
Table of Contents
Destinations within 1 hour of Colorado Springs
Garden of the Gods
Distance from Colorado Springs: 5 miles (15 minutes)
Located about 15 minutes outside of downtown Colorado Springs, Garden of the Gods is a must-do for any visitor to the area. The park is known especially for its impressive red sand stones, and it does feel pretty heavenly to be here.
The park has more than just sandstones and there's miles of hiking trails to explore through the park, but the stones are the highlight. Many of the garden areas are pretty well paved so it's great for folks of all abilities. My parents really found it easy to get around when they visited me.
Best times to go are early or late in the day when the sky is just at its best color. Early is also best for those hoping to avoid some of the crowds.
You can climb in the area too, but you'll need to obtain a permit from the visitor center and have proper climbing equipment with you.
Pikes Peak
Distance from Colorado Springs: 20 minutes (12 miles)
Pikes peak is probably America's most famous mountain. The beautiful peak looms over the skyline of Colorado Springs and was an important landmark for native tribes through the area.
The peak is named for Zebulon Pike who claimed no one would be able to climb the peak. And was he wrong!
These days there are a lot of ways to get to the top of the mountain. You can hike (via a 13.5 mile hike each way), drive (19 mile drive), or take a train. Each option has its pros and cons for sure.
For those looking to drive, you'll need a reservation for the road up to the top. If you are interested in the train, it begins in Manitou springs and requires tickets (and paid parking).
Manitou Springs
Distance from Colorado Springs: 6 miles (14 minutes)
While close to Colorado Springs, the town of Manitou Springs has some of the best activities within the area. The town itself has a lovely downtown area with some shops and restaurants. There's also some great lodges and even hot springs in the area too.
Beyond this, there's so many activities to do. Be sure to explore the Cave of the Winds which include exploring the cave as well as other activities top-side. You can also check out the nearby Manitou Cliff Dwellings. It's an interesting site to see a cliff dwelling here and worthwhile if you've not seen them elsewhere.
For those who are maybe a little masochistic and want some intense exercise, the Manitou Steps can offer some hard work with some great payoffs.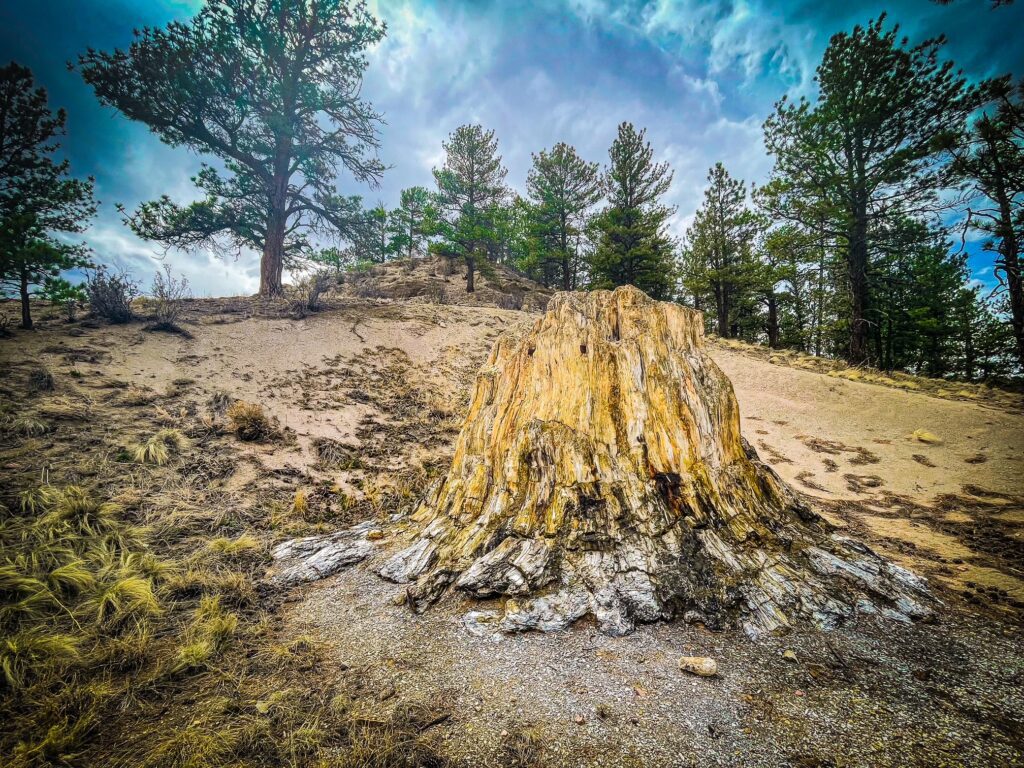 Florissant Fossil Beds National Monument
Distance from Colorado Springs: 35 miles (50 minutes)
Located outside of Florissant Colorado, the National Monument protects an important fossil bed. The fossils here are primarily insects and plants. It's one of the most important sites for insect fossils (primarily from the Eocene period) and many species were discovered among the finds within Florissant Fossil Beds.
There are also an incredible array of petrified Redwood Trees, which was something very unique to me. The mountains in this area used to contain an ancient redwood forest and now all that remains are these petrified remains. It's impressive to see the scale and beauty of these fossils.
Beyond that there's a homestead to visit, several nature trails, night sky programs, and opportunity for riding, snowshoeing, and skiing. 
Read More: Guide to Florissant Fossil Beds National Monument
Painted Mines Interpretive Park
Distance from Colorado Springs: 37 miles (45 mins)
One of the most unique open spaces near Colorado Springs. Painted Mines is named for its beautiful multi-colored clays. These clays were used by Native Americans to create paint and are the product of oxidation of the iron compounds.
There's been evidence of human life in the area for over 9,000 years, so this open space is also a very important archaeological site! The park contains 4 miles of trails and interpretive signs for you to explore through the area. You can see amazing rock formations including many spires and hoodoos throughout the park.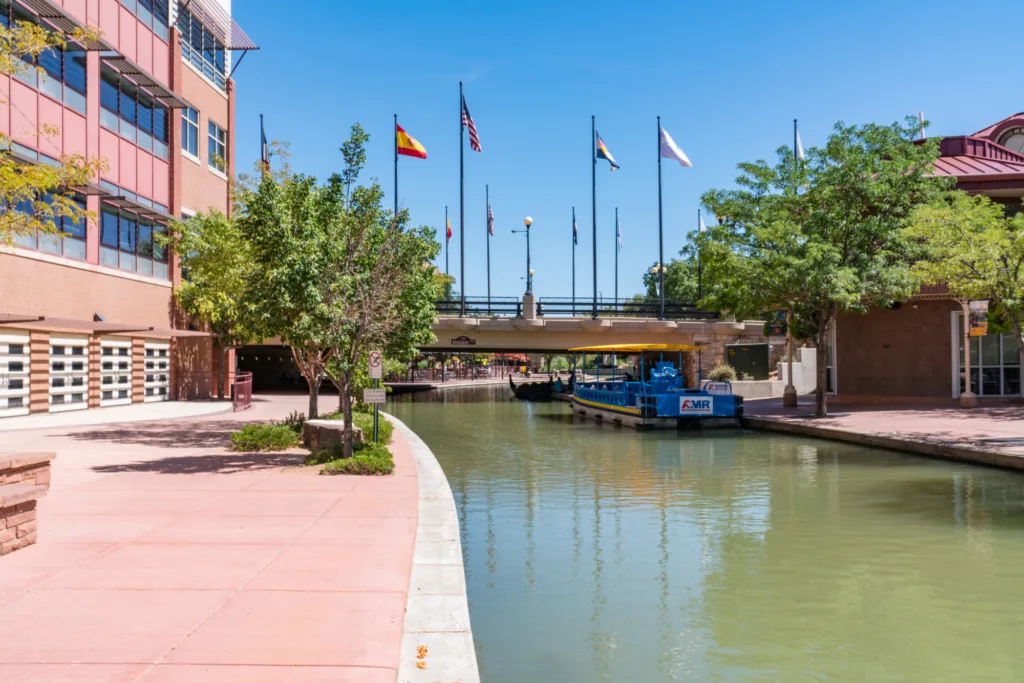 Pueblo, Colorado
Distance from Colorado Springs: 45 miles (45 mins)
Pueblo is such a great although often overlooked town. Pueblo has a cute downtown, some nice restaurants, shops, and bookstores (I really like Analogue Books & Records). There's also a really cool riverwalk along the Arkansas river that is a worthy stop and stroll for those in the area.
There's several museums such as the El Pueblo History, Weisbord Aircraft, Rosemount, Railway, and Heritage museum. There's opportunities to get out into nature within the city as well as nearby. Such as hikes within the San Isabel National Forest.
There's definitely a fun few things you can do, explore a nice albeit quieter city, and enjoy some cool food, coffee, and times in this town. 
Red Rock Canyon Open Space
Distance from Colorado Springs: 4 miles (10 minutes)
Red Rock Canyon is like a hidden gem in the area. It's definitely more frequented by locals than tourists. It's basically lots of the beauty of Garden of the Gods without the throngs of tourists!
The park is super close to downtown Colorado Springs and offers great hikes, climbing, and mountain biking. There are even off-leash areas for those with dogs. There really is a lot to explore and lots of trails that you can easily spend more than a day exploring!
Destinations 1 – 2 hours from Colorado Springs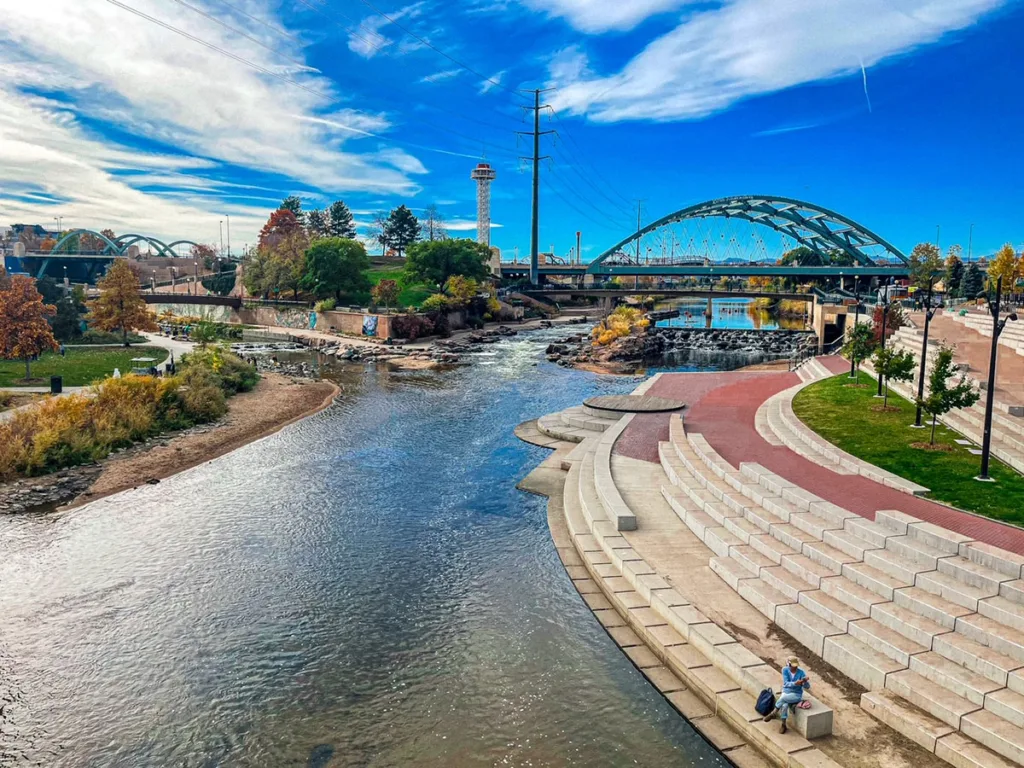 Denver, Colorado
Distance from Colorado Springs: 70 miles (1 hr 10 mins)
If you haven't been to Denver, you should definitely do it as one of the day trips from Colorado Springs. The largest city in Colorado, it has so much to do in the town. There's tons of things both free and paid to do.
Among the things you can check out include, Meow Wolf, State Capitol, Denver Art Museum, Red Rocks Amphitheater, several parks, Science Museum, Botanical gardens and more. You don't even have to spend a lot of money as there are tons of free things to do in Denver.
You can spend a day or more in town. Grab coffee at great cafes, have incredible food, and explore art in galleries and neighborhood walls around town.
Read More: Best Things to Do in Denver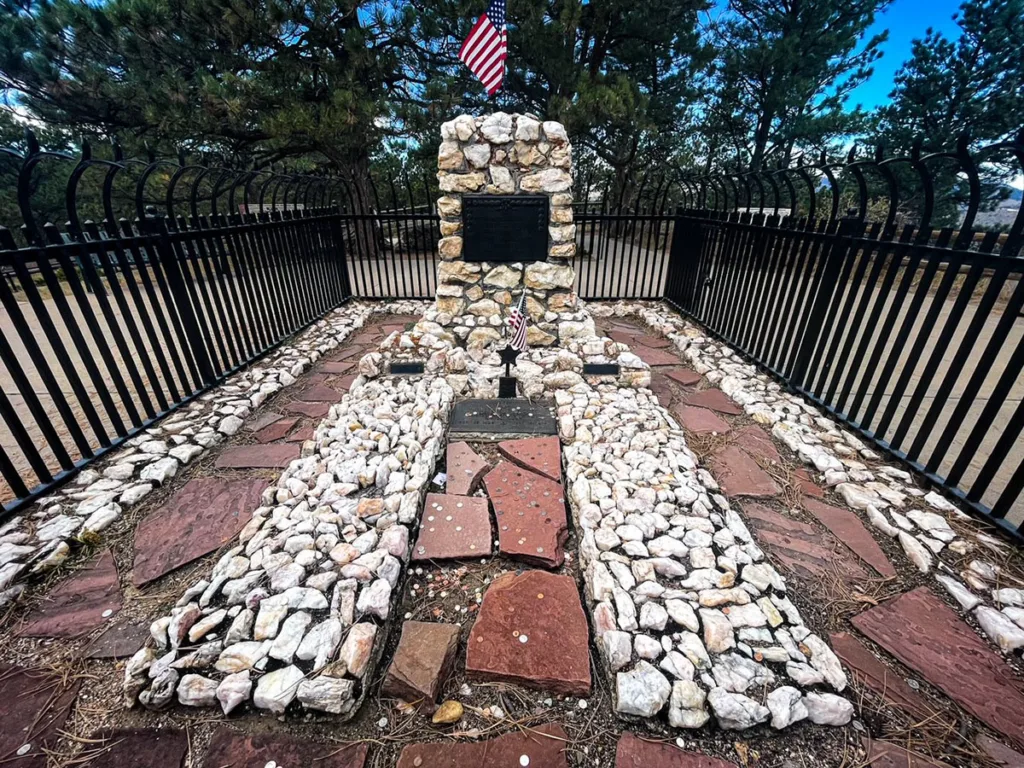 Lariat Loop Scenic Byway
Distance from Colorado Springs: 75 miles (1 hr 5 mins)
The Lariat Loop is a great way to see several beautiful spots in Colorado along a loop. Visitors along the loop will get to see some incredible sites such as Dinosaur tracks, vistas, parks, overlooks, and even a famous gravesite.
Important stops along the way include Dinosaur Ridge (for the dinosaur tracks), Lookout Mountain (for views and Buffalo Bill Gravesite and Museum), Evergreen, Jefferson County Open space, and more. There's also some great shops and restaurants to explore.
It's a worthy half day or more trip for those looking for a nearby road-tripping adventure.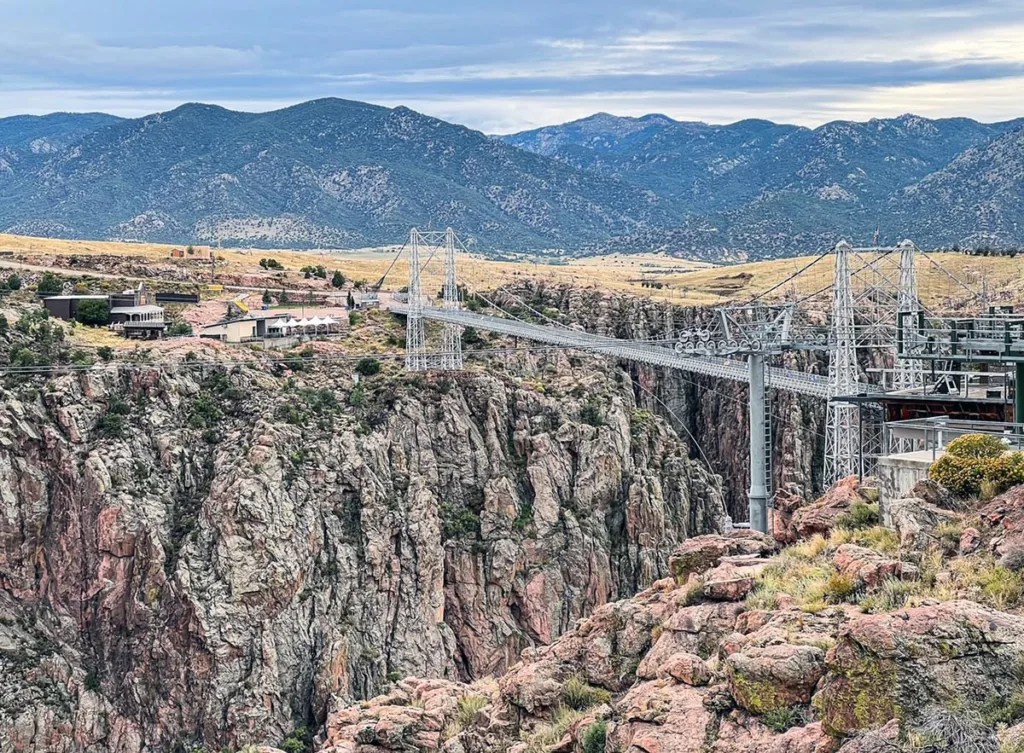 Canon City, Colorado
Distance from Colorado Springs: 55 miles (1 hr 15 mins)
One of the coolest areas in Colorado, Canon city is famous for the Royal Gorge and all things that go along with it.
There's a lot to do in Royal Gorge Park, including exploring the highest bridge in the United States. The pedestrian Royal Gorge bridge may give you some vertigo with the height above the canyon and Arkansas river. There's also a gondola, via ferrata, zip line, and sky coaster you can check out as well in your time in the park.
My favorite is outside of the park area with the Royal Gorge Train. You take a train along the track into the gorge along the Arkansas river. You'll even go below the bridge so you can get a real sense of how high it is!
Beyond that there's also kayaking, rafting, biking, hiking, and camping options. There's so much to do for a day here. Or even some amazing spots to stay the night if you want to make it longer.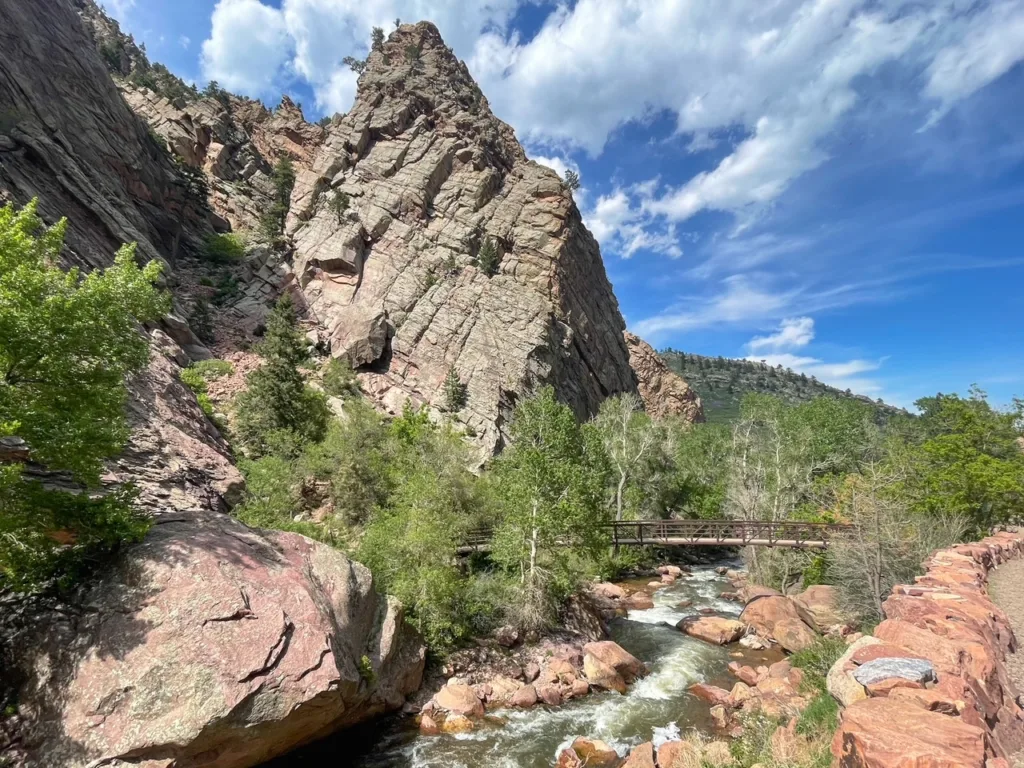 ElDorado Canyon State Park
Distance from Colorado Springs: 97 miles (1.5 hrs)
ElDorado Canyon is one of the most beautiful state parks in the front range. The park is known for its canyon, which is something remarkable to see. Especially when the south boulder creek is flowing well, it is so picturesque.
The park has several hiking trails to explore, including Rattlesnake Gulch, Eldorado Canyon Trail, and Fowler Trail. It's also very popular for rock climbing with hundreds of named routes through the park.
These days the park is super popular and so between Memorial Day and Labor Day you'll need to make a timed entry reservation to drive/park in the park. There are free shuttles which are actually super convenient (I've taken them and they are easy and frequent).
Boulder, Colorado
Distance from Colorado Springs: 97 miles (1.5 hours)
One of my favorite towns in the area, Boulder is an ideal day-trip for visitors to Colorado Springs. The college town has a beautiful downtown and lots of things to do in the area. For visitors, the first stop is Pearl Street with the multi-block downtown pedestrian street with shops and restaurants.

There's also several museums, including the Museum of Boulder, Museum of Natural History, Contemporary Art, and Fiske Planetarium.
Hiking opportunities abound with lots of trails in the area, including some wonderful ones in Chautauqua Park including the flatirons. And of course the beautiful Dushanbe Tea house which is a must to visit and eat at for its history and beautiful architecture. 
Read More: Best Things to Do in Boulder
Destinations Over 2 Hours from Colorado Springs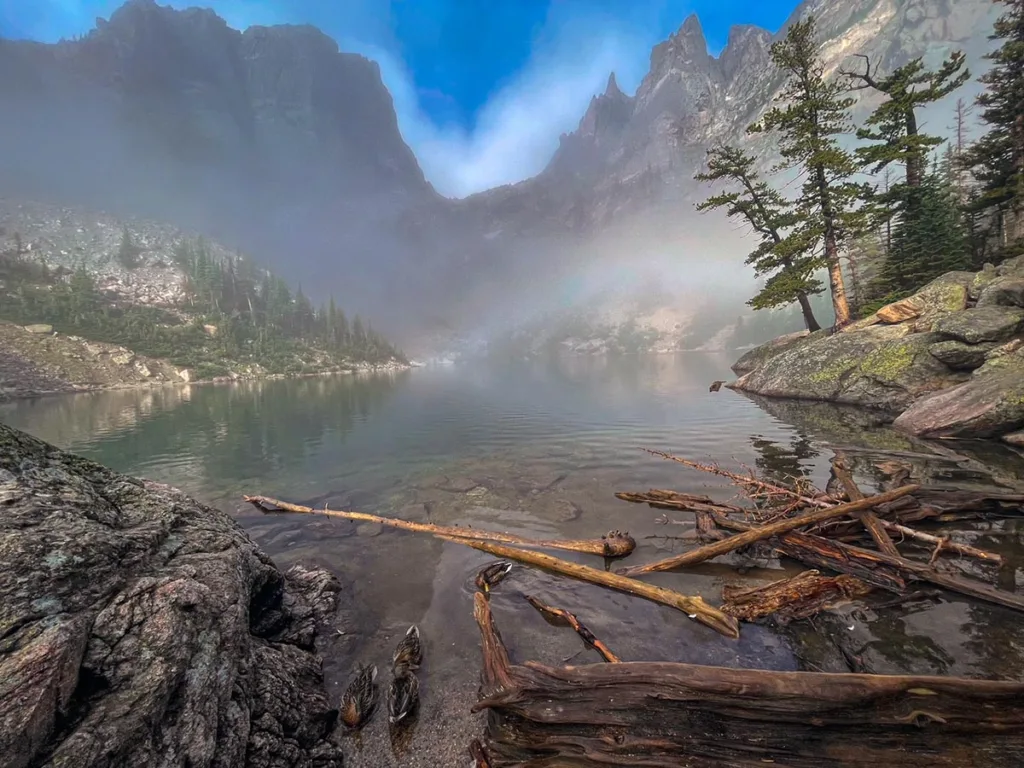 Rocky Mountain National Park
Distance from Colorado Springs: 134 miles (2.5 hours)
It's a long day trip from Colorado Springs, but Rocky Mountain National Park is a must for visitors to Colorado.
The park is a stunning representation of the beauty of the Rocky Mountains. There's endless opportunity to hike, bike, and explore beautiful mountains, alpine lakes, and old forests.
Some of the best places to explore are the lakes around Bear Lake such as Sky Pond. Scenic drives along Trail Ridge and Old Falls Road. And of course the towns of Estes Park and Grand Lake.
While it's a great day trip, getting there early is key. The park is known for afternoon thunderstorms during the summer and often parking can fill up super early! You may want to consider booking a hotel in Estes Park.
Note: Rocky Mountain NP requires Timed Entry Tickets for hours of 6am – 5pm (Bear Lake) or 9am – 2pm (rest of the park). You can book these either months early or they also release an allotment the night before (at 5 pm MT sharp!). 
Great Sand Dunes National Park & Preserve
Distance from Colorado Springs: 166 miles (2.5 – 3 hours)
You may not even realize the highest sand dunes in North America are in Colorado. Great Sand Dunes National Park seems like a strange sight among the snow capped Sangre De Cristo mountains.
The dunes can take a full day exploring and if you have the skill and desire doing some sand boarding is a highlight of a trip here. You can rent boards at various outfits around the park and be sure to do so before you get there as it's a pain to go in and out.
There's also several hiking trails in the mountains around the park, some 4WD tracks you can explore and also the dunes. If you have time, be sure to see if you can find Star Dune or whichever is the highest dune of the time (it changes with the wind). 
Read More: Our Guide to Great Sand Dunes National Park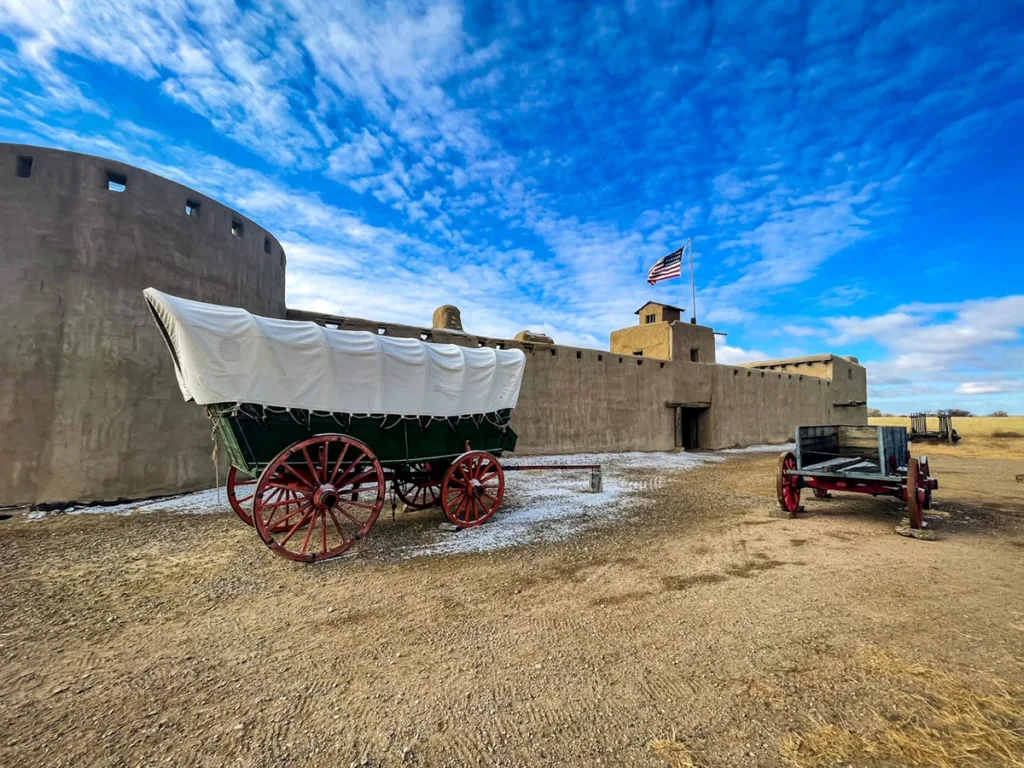 Bent's Old Fort National Historic Site
Distance from Colorado Springs: 115 miles (2 hours)
One of my favorite historic sites in Colorado, Bent's Old Fort is an interesting bit of American History. It was primarily used as a trading post, and one that brought together folks from US, Mexico, Indian, and others to trade and share ideas.
What shocked me was the fort used to be on the border of US and Mexico along the Arkansas River. I had no idea the border was this far north prior. The fort is a great place to wander, explore history, see artifacts and often even livestock.
If you are here in December, they have a candlelit night with historians which is one of their most popular events. Something truly special. 
Read More: Our Guide to Bents' Old Fort National Historic Site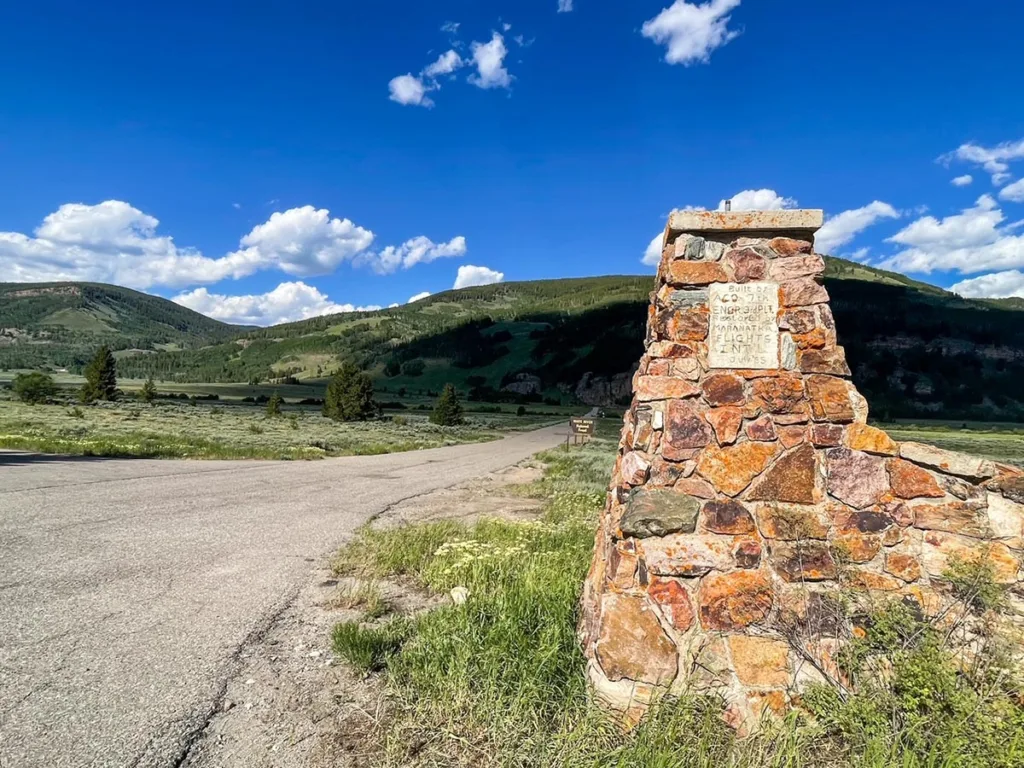 Camp Hale National Monument
Distance from Colorado Springs: 142 miles (2 hr 45 mins)
Camp Hale is one of the newest National Monuments in America. It commemorates the camp here that trained troops for harsh mountain assaults in World War 2 Europe.
The camp sits high on a flat area among the peaks of White River National Forest. Here thousands of troops lived, trained, and made the mountains home. They learned techniques in skiing, cold weather battle, climbing, and more.
The work here also led to many innovations for commercial and recreational activities. Lots of climbing and skiing technologies were invented by the folks here at Camp Hale. And many of those who trained here went on to found Colorado's ski industry.
Those visiting today can explore historic buildings, camp, hike, and even stay in historic mountain huts throughout the National Forest. 
Read More: Guide to Camp Hale National Monument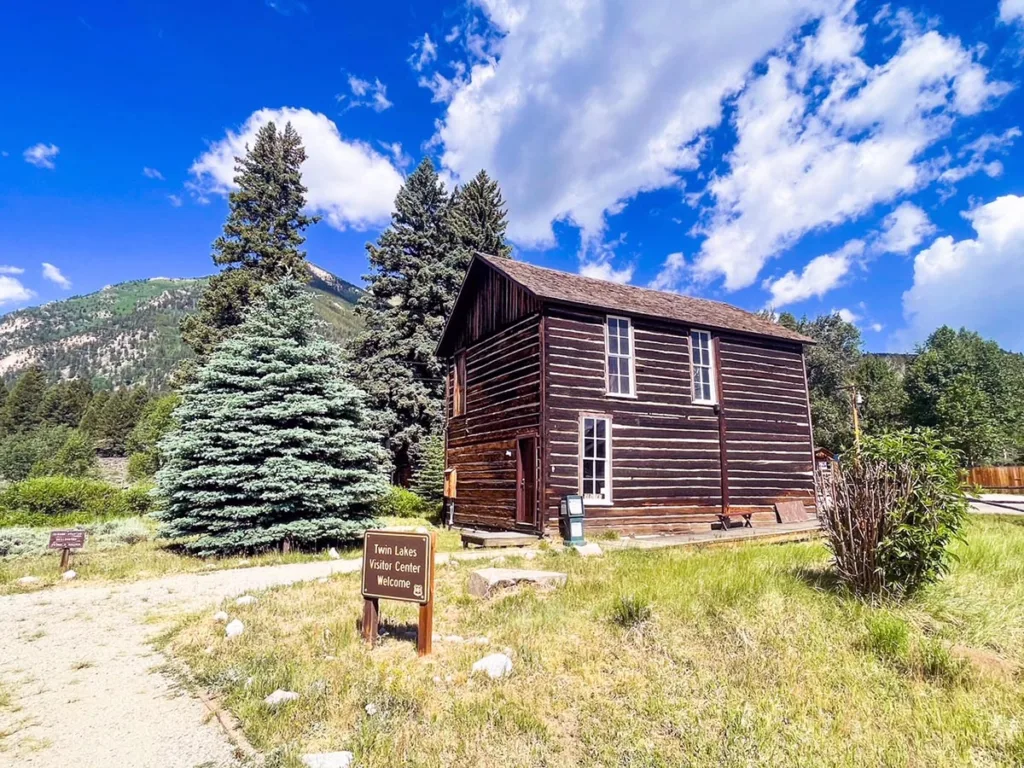 Twin Lakes, Colorado
Distance from Colorado Springs: 119 miles (2.5 hrs)
Twin Lakes is one of the most beautiful spots in Colorado. Several of my local friends have listed it as their favorite towns within the state. And it's easy to see why.
The twin lakes region has quite a few hikes to explore, ghost towns, and some 14ers as well. Mount Elbert, the highest mountain in Colorado, is accessible from here and one of the easier 14ers to hike (from a trail difficulty).
There's activities to do on the water, you can visit the nearby Continental Divide, and even get a bite in town. Or just relax and enjoy one of the most serene settings in the state.
Sand Creek Massacre National Historic Site
Distance from Colorado Springs: 143 miles (2.5 hrs)
Sand Creek was the site of one of the most horrific moments in Colorado History. Over 200 Cheyenne and Arapahoe (mostly women and children) were brutally murdered by Colorado Cavalry. The moment impacted Colorado history, its relationship with Native Americans, and even the job of then territorial governor John Evans.
The site is important to explore to just see and understand the situation of the murder and it has become even more important with Sand Creek more recently coming into the news in Colorado. On Sept 15, 2023, the name of Mount Evans was changed to Mount Blue Sky due to John Evans' role in the massacre.
Read More: Our Guide to Sand Creek Massacre National Historic Site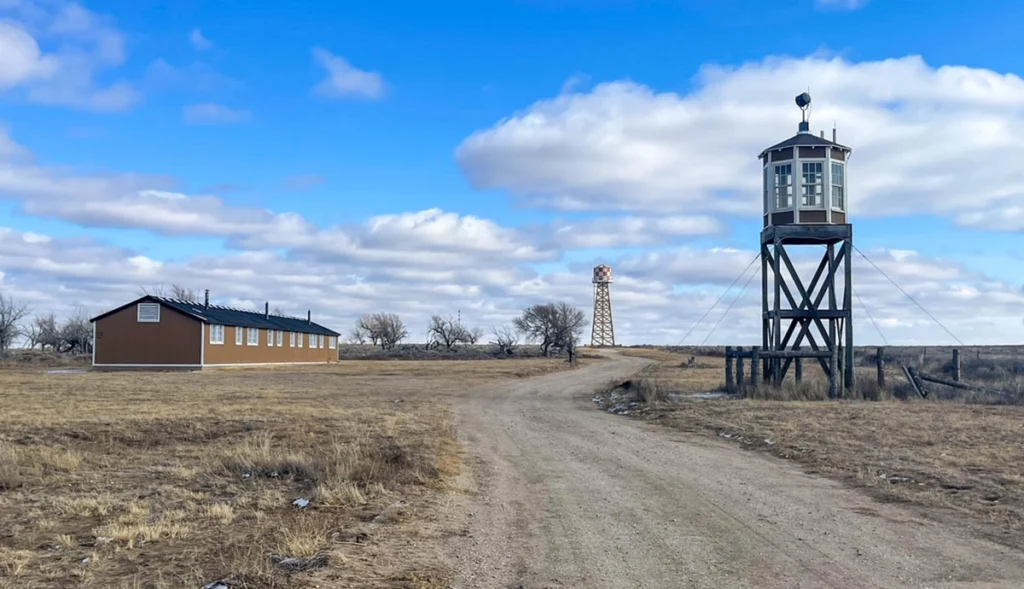 Amache Japanese Relocation Camp
Distance from Colorado Springs: 178 miles (3 hours)
In 1942, Roosevelt signed Executive order 9066 relocating people of Japanese ancestry to internment camps across the United States west. For Amache in particular, over 10,000 people passed through the camp.
For those who've never visited a Japanese Internment Camp it is an important look at the US history and a sad moment of history we can hope to never repeat.
The internment camp here is pretty stark in many ways, there are few buildings visitors can explore. The ones that you can are worth a look. In particular a visit to the cemetery here is incredibly humbling.
This site is still new as a National Park Site so infrastructure is minimal. I don't recommend it yet as a stand-alone day trip but it is a good addition for folks already planning to visit Bents' Old Fort or Sand Creek Massacre NHS. There is a museum in Granada that is open occasionally with more information. 
Read More: Guide to Amache National Historic Site
Other Posts You May Like