The road trip focuses on the best options along the fastest path from Minneapolis to Yellowstone. This takes drivers from Minneapolis, north to North Dakota, and across through Montana. Finally travelers cross eastern Montana south to Yellowstone and optionally Grand Teton National Park.
Want to go via South Dakota Instead? Check out our other Road Trip!
Travel can take anywhere from a couple days to a week or more depending on how long visitors want to spend in each location. Some require only a quick stop and others can definitely benefit from a couple nights.
Read along for our best tips and itineraries for a Minneapolis to Yellowstone National Park Road Trip (via. North Dakota).
Table of Contents
Best Time to Do this Road Trip
This road trip assumes you are doing it during the warmer months from Late Spring to early-mid Fall. This is the best time weather wise and has the most options for places to explore and things to do in each area.
For those who want to do the road trip in the winter, many things will be closed, in particular National Park and other related sites.
How Far is Minneapolis to Yellowstone
Minneapolis to Yellowstone National Park is 1,009 miles (via North Dakota) and takes on average 15.5 hours to drive.
Through South Dakota, the distance from Minneapolis to Yellowstone is about the same at 1,016 miles, and requires 16 – 16.5 hours on average to drive.
Suggested Itineraries
Below are two itineraries that we are recommending. One for those with very little time (the shortest we recommend) and one who wants to see the vast majority of the things. If you have a different amount of time, we also give you great overviews (later section) to build you own itinerary.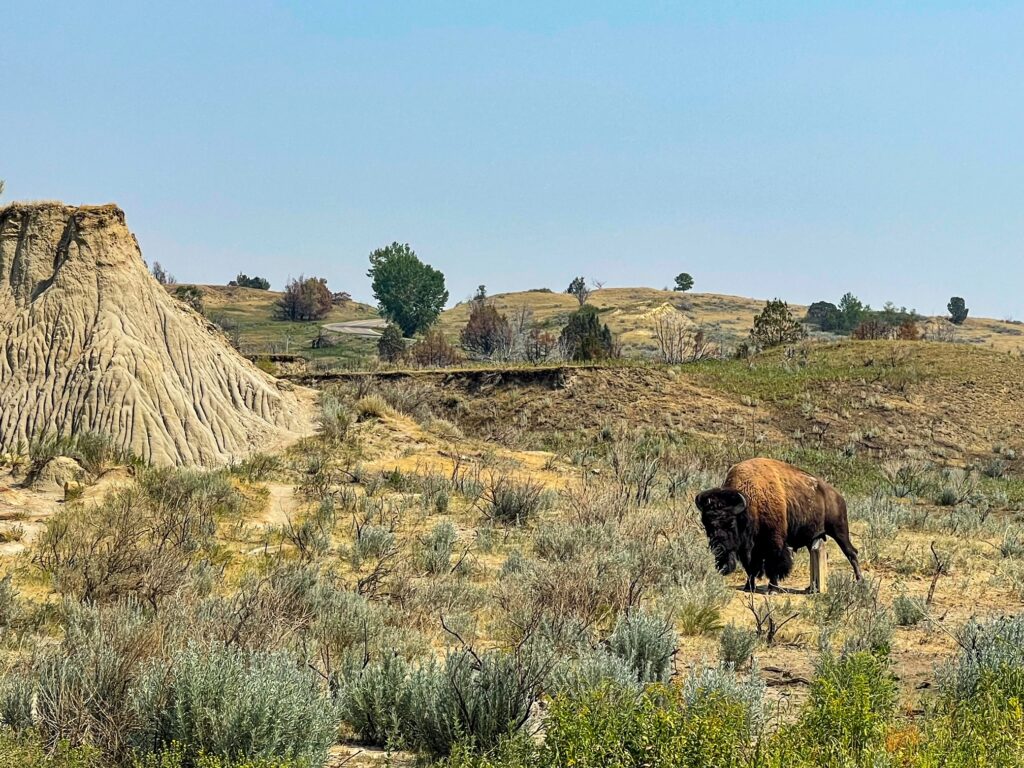 5 Day Itinerary
This is the shortest we recommend. It is a lot of driving and a lot of long days exploring. But we think with our guide you'll still get a great overview of the places, although still surface area on most spots.
Day 1: Minneapolis Minnesota
Start the morning in Minneapolis. We recommend picking a few things from our list of things to do below that interest you. You should definitely explore some of the nature of the city which is one of my favorite parts. Walk along the river and check out some of the nearby cafes.
Have a good lunch. We recommend checking out the places of the Somali community which has some fabulous restaurant options. If you want to shop, hit up the Mall of America, or if better yet, eschew shopping for a nice Museum (Minneapolis Institute of Art or Weisman Art Museum) or the Minneapolis Sculpture Garden.
Drive to Fargo in the evening (3.5 hours). Eat dinner either in Minneapolis before you go or in Fargo if your plans get there early enough. In Fargo, Brew Bird or the Toasted Frog are nice options with later closings.
Day 2. Fargo & Jamestown
Start the day fresh in Fargo. If you get an early start, have a quick coffee and breakfast at a local cafe, like Babb's Coffee House. Or if you get a later start, stop by Nichole's Fine Pastry & Café which is one of my favorites.
Take a wander around the town, keep an eye out for the famous "colored buffalo" which are hidden art around the town. Send a photo postcard back with a "Greetings from Fargo" mural photo.
While still early, wander the incredibly well done Plains Art Museum. You can spend as much or as little time as you want. And it's free! After a quick lunch, pop over to the Hjemkomst Center to see one man's dream of sailing a viking ship to Norway. It's an incredible story.
Head out later in the day and take a quick stop at Jamestown to see the old village and world's largest buffalo. From here head to Bismarck (90 minutes) or if it's not too late to Dickinson (3 hours) or Medora (3.5 hours) to spend the night.
Day 3: Theodore Roosevelt National Park South Unit
If you only have one day in Theodore Roosevelt National Park, then we recommend spending it all in the south unit.
The south unit has the vast majority of the items that folks will want to see. Start your day early with breakfast at your hotel or in Medora, which is the closest town to the south entrance area.
First thing you should do is take the scenic drive loop through the park. You'll have plenty of opportunities to stop at various locations including the various "prairie dog towns" and Peaceful Valley Ranch (to view historic buildings).
While our favorite trail is the Big Plateau Trail in the park, it will also take a long time. Instead with your time take smaller hikes at Painted Canyon Trail and/or the Wind Canyon Trail. 
Drive to Billings Montana (4 hours) to spend the evening. FYI: It's still about 2.5 hours to a Yellowstone entrance from here.
Day 4: Yellowstone
Leave early from Billings and head towards Gardiner Montana to enter the North Entrance of Yellowstone. Yellowstone is big, so you want to minimize driving between places if you can. Explore the area near the north entrance and Mammoth Hot Springs.
Hike along the travertines in Mammoth which are some of the most incredible in the world indeed!
Grab a snack, ice cream or even lunch in Mammoth Village. It's a nice spot to spend some of the hotter hours of the day.
Head south along 89 towards the geyser basins. This is the area that is most famous for Yellowstone. To Avoid backtracking, take the opportunity to stop at various locations along the way south.
There's always something to pull you in such as roaring mountain and others. However, time is short, so we recommend stopping at a few other spots.
Of the spots, Norris Geyser Basin is a great place to see a variety of geyser and mud pools. Don't let the Steamboat Geyser sign scare you!
After visiting, continue south but skip over Midway Geyser Basin and head to Old Faithful. Remember where you park in the massive parking area and head over to the viewing area. If it's a long time until the next eruption, wander the upper geyser basin to check out the other geysers! Lion is one of my personal favorites.
After watching the show, and hopefully with still some decent daylight left. Head towards the Fairy Falls parking area. Hike towards fairy falls and be sure to stop at the Prismatic Pond Overlook for the best view of the pond.
Continue on to the falls if there's still time, You'll likely have it all to yourself at this time of day! If you are staying local grab dinner at one of the inns by Old Faithful or head to dinner wherever your hotel may be.
Day 5: Yellowstone
Get up early and head towards the Grand Canyon of the Yellowstone. And boy is it grand! This place gets crowded later in the day, so you'll beat the crowds hopefully! Try to head over to Artist Point and if it's open Uncle Tom's Trail.
Drive out to a few of the other viewpoints including the upper and lower falls and Inspiration Point. If you have time, you can hike along the rim, although the best views are from the Overlooks.
Enjoy midday however you like. It'll probably be hot and very crowded. Grab food at Canyon Village or spend some time relaxing along Yellowstone Lake.
When things start to cool down, make your way to Hayden Valley. This is the 2nd best place to view wildlife in Yellowstone. While Lamar valley can be better, it is also much further, so unless you are heading out in that direction it is a far backtrack.
Keep your eyes peeled for folks with scopes, it'll likely indicate wildlife nearby and ask rangers. They get reports on where is what and also places to avoid (sometimes they close roads due to high activity). The best time is closer to sunset when animals are most active.
From here head to your hotel or on towards your next destination. If you have an extra day, be sure to take a detour and visit Grand Teton National Park. You can still see a lot in a day.
Two Week Road Trip
With two weeks you'll see the best highlights of all the various stops. Even with two weeks there's still so much to see, and while we try to pack your schedule, we recommend making sure to take time for nothing as well.
If there is anything else you are looking for, let us know! We have lots of other spots nearby but tried to limit to things close to the path, but we want to know how people are traveling to better recommend excursions.
Day 1: Minneapolis
Start your morning early with a walk through the Minneapolis Sculpture Garden. There's a lot to see in this area and you can catch some beautiful artwork. Actually quite a few you'll recognize from local adverts around town.
After exploring head over to the Mill City Museum. The museum showcases the history of Minneapolis and its industrial past. In particular from flour milling. Grab lunch locally at one of the restaurants on Washington Street. Clay Oven is a good option for Indian food.
After lunch explore one of the local art museums. Minneapolis Institute of Art is a great place to explore and it's free! Weisman Art museum too is also free and a good alternative choice.
Take the early evening to explore some of the regional lakes. Explore either the closer Bde Maka Ska (the largest in Minneapolis proper). Or you can head over to the larger Lake Minnetonka to the west of the city. This has lots of areas to drive around and explore including some beaches!
Head back to Minneapolis and grab dinner in Uptown. One of my favorite neighborhoods and one with lots of local restaurants to explore.
Day 2: Minneapolis / St. Paul
Awake as early as you want and head towards the river. There's a lot of great cafes along Washington street. There's a lot of parks along the river to explore. If you are National Park Unit hopping, St. Anthony Falls is a great quick stop.
If you want to explore the Somali side of Minneapolis. Head over to Kemal Mall to grab some snacks and Somali coffee. Or even do some shopping or window shopping. Alternatively Midtown Global Market is a great place to stop for a bite and try out food and goods from various countries around the world.
After coffee head to downtown St. Paul. Explore and take a tour of the Minneapolis capitol building.
Grab lunch at one of the eateries in Lowertown St. Paul, an old manufacturing district now with lots of great restaurants to explore.
Walk or drive over to visit the iconic St. Paul's Cathedral. It is an iconic landmark in the city with some truly incredible architecture.
After lunch explore one of the local St. Paul museums. The Science Museum of Minnesota along the river has some great interactive exhibits and is one of my favorites. For those with little kids the local Children's Museum is also a good choice.
In the evening take a stroll along the river. You can even explore nearby Indian Mounds Regional Park which is a historic and important site for local Sioux communities.
For dinner grab dinner locally or head back towards Minneapolis. If you haven't tried Somali food earlier, dinner tonight is a good opportunity to try something. Hamdi or Hufan Restaurants are good choices to explore.
Day 3: Fargo
Get a jump on the day. If you get up early, have a quick coffee and breakfast at a local cafe, like Babb's Coffee House. Overall it should be a relaxed day, so if you start later, stop by Nichole's Fine Pastry & Café which is one of my favorites.
Take a wander around the town. If you are there on the right day, stop by Red River Market. Perfect to pick up some local snacks from local Fargo Businesses.
As you wander the town, keep an eye out for the famous "colored buffalos" which are hidden art around the town. Send a photo postcard back with a "Greetings from Fargo" mural photo.
Take a visit to the incredibly well done and free Plains Art Museum. Or if art is not your style, maybe check out the fun Fargo Air Museum. Catch a lunch downtown, or if you don't mind a short drive or longer walk, get lunch at Luna (my favorite).
After lunch head over to the Hjemkomst Center to see one man's dream of sailing a Viking ship to Norway. It's an incredible story.
Afterwards take a wander along the Red River Trail if it's not too late. If you are tuckered out, hang out downtown. Dinner in the city is a nice way to end the day. If you want fancy you can't go wrong with Mezzaluna or if you want more chill Vinyl Taco is a nice spot to checkout.
Day 4: Jamestown / Louis & Clark Sites / Bismarck
Head out of Fargo early in the morning. Grab breakfast or coffee at a local coffee house.
Drive 1 hour to Jamestown. Depending on the time you'll be too early for frontier town, but get your "buffalo photos" and other photos and head out. There's still a lot to do.
Drive to Fort Mandan. You should go here first as you'll want to get in on a tour to visit the fort. Overall, expect to spend about 90 minutes – 2 hours at the site.
Head over to nearby Knife River Indian Villages. You may even have the place to yourself. Head to the visitor center for the film and information on any local excavations. Go behind the visitor center to explore the earth lodge. Take one of the trails and visit the river as well as the various archaeological sites.
Drive to Bismarck. Depending on the time you get here, explore the river as well as the capitol areas of Bismarck. Take a trip downtown. It's small but it's a great area to find some dinner options
Day 5: Theodore Roosevelt National Park (South Unit)
Start the morning early with local breakfast. Or with a stop in Medora. Farmhouse Cafe is a good option. Pack a lunch if you can for your day exploring.
Drive the scenic loop through the park. Stop at the various overlooks and special sites. Be sure to visit at least one prairie dog town. Check out the Peaceful Valley Ranch. While there are no more horseback rides, the buildings are interesting to explore. Check out various overlooks including the badlands, scoria point, and others.
Avoid the hottest part of the afternoon. Have your packed lunch in the park or head to Medora for restaurant options.
Take an afternoon hike. If you prefer, stop by the visitor center to ask for any ranger led hikes. If none are to your liking, pick one of the other top hikes in the park. Our favorite is the Big Plateau Loop which is one of the best views as well as a great spot to see wildlife. 
The hike should take about 2 – 2.5 hours to complete. If you have more time add in another short hike. Or head back to Medora or your town for dinner. If you are staying locally, ask about evening programs.
Theodore Roosevelt has fabulous stargazing options and also during the summer rangers lead talks at Cottonwood Campground.
Day 6: Theodore Roosevelt National Park (North Unit)
You have two options this morning. If you only want to see Theodore National Park, head straight to the north Unit. If you want to see Fort Union Trading Post (1 hour each way driving), we recommend you go there first.
For Fort Union Trading Post, you'll see one of the most important trading posts during the mid 1800s. The park does close at 4pm, and ignore the google maps arrival time, the timezone it gives you is Mountain Time, while the park is in Central Time.
After Fort Union, head to the North Unit.
In the North Unit, take the only road available and drive to the end, stopping at any overlooks of interest along the way.
The end of the road has some of the best vistas of the area from Oxbow Overlook. There are also several trails that spawn off from here, such as the Achenbach. Be sure to ask about conditions and weather before attempting.
Take one of the trails in the area. Caprock Coulee is one of the best and most popular. Connect to the Buckhorn Trail or even if you are short of time stop at the Buckhorn Trailhead. The large boulders are worth a view and there's even a great hike here too. Keep an eye out for Bison as one trapped me on the trail for a while.
Day 7 Theodore Roosevelt – Billings
Start your day with catching any of the exploring or trails you missed. If you haven't yet, visit the Painted Canyon Overlook and Trail near the Painted Canyon Visitor Center.
After your exploring, make your way towards Billings (4 hours) from Theodore Roosevelt National Park. If it's not too late in the day, consider stopping at Pompey's Pillar National Monument (gates close at 4:30 pm).
Arrive and spend the evening in Billings. There's plenty of restaurants for dinner in the evening.
Day 8: Pompeys Pillar / Little Bighorn / Billings
Grab Breakfast or Coffee in Billings: We recommend Sassy Biscuit for food or Black Dog Coffee for coffee.
If you didn't make it to Pompey's Pillar the prior day, stop here today. It is easily on the way to your other sites so it's worth a quick visit. Exploring the site will take you no more than an hour. Visiting the signature does require some stair climbing.
Afterwards head to Little Bighorn National Monument. Be sure to explore the cemetery and overlooks. Unless you are really interested you can ignore the auto-drive. The views are nice can be skipped if short on time.
If you are not exploring, head to the north side of Bighorn Canyon National Recreation Area. The site is huge and the two sides are not connected by road. Bighorn Canyon has lots of recreation opportunities and incredible views. Float on the river or even take in the canyon vistas.
Unfortunately the horse sanctuary and the historic ranches are on the south side and not easily reached from here.
Following your explorations, head to Bozeman. Grab dinner downtown. We recommend Blackbird or Montana Ale Works.
Day 9: Bozeman Montana
Start your day with a good breakfast or brunch. Our favorite is Jam! a local brunch place in town. Weekends and high tourist days can be packed. So also consider a local coffee spot like Rockford Coffee.
Head over to The Museum of the Rockies. Spend as long or as short as you like, but be sure to explore the impressive Dinosaur Fossils. Some of the best in the world.
Take a stop over at Emerson Center for the Arts & Culture which has some great local artists and studios you can explore. It's important to not arrive too late as many close early. While there, grab lunch at Sidewall Pizza, our favorite pizza spot in town.
Take a drive out into the countryside. Exploring nature is the best part of Montana. Drive out towards Bridger Bowl. While you are outside of ski season likely, the scenery is beautiful and worth the view. There's also local hiking options as well.
Grab dinner in Bozeman, eat at the other option you didn't do last night. Afterwards tuck in for the night in Bozeman or head towards Gardiner Montana. Gardiner is located outside the north gate of Yellowstone which will allow you an early start for Yellowstone.
Day 10: Yellowstone National Park
If you want, grab breakfast in Gardiner, although options are a bit limited. If not, head towards the north entrance. Be sure to stop and check out the Roosevelt Arch. Drive towards Mammoth Hot Springs and stop near Fort Yellowstone for food in one of the restaurants.
Explore the Mammoth Hot Springs Area. You'll see the outcropping at the far side of the village. Hike up along the terraces and marvel at the incredible travertines of the area.
Afterwards, if time allows Beaver Pond Trail (5.5 miles | 2 hours) is another great spot to wander and get away from some of the heavier crowds.
Take time for lunch at Mammoth Village. There's some good restaurants in the hotel as well as a cafe (decent burgers) as well in the area. Explore Albright Village and the visitor center. There's lots of historic information on the park.
Head South Towards Bunsen Peak (4.4 miles | 2.5 hours) . The popular trail is moderately challenging (with a steep incline) but has rewarding views of the area. Carry bear spray.
Head towards the area of your hotel. If you haven't checked in this is a good time to do so and grab dinner locally.
Yellowstone is really big, so distances between places are incredibly large. Try if you can to book a place within the park (you'll have to book early). If not possible, we recommend staying in Gardiner or West Yellowstone.
Day 11: Yellowstone National Park
Head as early as you can towards Old Faithful. It's good to get here early as even though the parking lot is huge, it fills up and traffic can get incredibly bad!
Either before or after Old Faithful (depending on eruption time), take a walk to the Upper Geyser area. There's a lot of geysers in the vicinity of Old Faithful. None of them are as regular so you could end up waiting a lot of time. The Lion Geyser Group was my favorite to watch in the area. But others are worth waiting for too.
Head towards Grant Village. Stop and check out the Continental Divide along the way. Grab Lunch in Grant Village and take a wander and relax along the Yellowstone Lake. Stop by the Yellowstone Lake Overlook trail for a short walk to see geothermals near the lake.
In the early afternoon drive up to Norris Geyser area. This is home to Steamboat Geyser (the largest in the park). Head the warning in the parking area, but note it is unlikely to erupt while you are there.
Head south on 89 and stop at the Artists Paintpots. These are some great examples of geothermal mud pots in the park.
Continue south after and stop at any roadside overlook you find interesting. Continue south past Midway Geyser to the Fairy Falls trail. While Midway is amazing, the best view of the Grand Prismatic Pond is from the Fairy Falls Trail.
Hike the trail and make sure to stop at the overlook. Late afternoon is best due to temperature, or else the pond may be obscured by steam. After your photos, continue on the trail to check out the falls. You will likely have it all to yourself.
If time allows, backtrack and visit Midway Geyser and walk the boardwalk to get another view of the Pond and other features.
Day 12: Yellowstone National Park
Get another early start and head towards the Grand Canyon of the Yellowstone. This canyon is incredibly impressive as in the multi-stage waterfall.
Be sure to explore the falls from both sides of the river. Drive over and be sure to visit Artist Point and Uncle Tom's Trail (if open).
Check out the various overlooks including Upper and Lower falls views, Grand View, and others. If you have time you can hike down to the brink of the lower falls to get closer to the river. The rim trails are an option too, but they have obscured views (best views are from overlooks).
Drive north from here to Tower Falls. There's a short trail to the overlook to watch this incredible 40m falls drop. You can continue the trail onto the overlook of the Yellowstone River if you want (although you've seen the river as well at the Grand Canyon).
Grab a snack at the Tower General Store or drive north and grab lunch at the Roosevelt Dining Room. The restaurant has a great selection of options.
After lunch you can take a quick drive to the Petrified Tree locally. Following this, drive towards Hayden Valley. Getting here late is actually better. Hayden Valley is one of the best places for wildlife viewing. Sunset is when wildlife is more active.
Keep an eye out for folks with scopes. It'll often indicate where wildlife has been spotted. Ask rangers if you see them. They often have good info on wildlife activity. Keep your eyes peeled for wolves and grizzly bears. If you have or can rent a scope, this is when to use it.
After you tire of waiting or watching, head back to your hotel for dinner and an early night.
Day 13: Yellowstone National Park
Start early. And I mean early. If you can get up and out before sunrise that is best. Drive towards the Lamar Valley. Lamar Valley is the best place to see wildlife in Yellowstone.
Early morning drives mean be prepared for wildlife on roads. Expect to see Elk and Bison crossing roadways on the way. Stay in your cars if you see any close to the road.
Take the morning and drive along route 212. Keep an eye out for activity along the sides of the road. This is where I saw my first grizzly bear and also a few wolves too. Scopes are the best indication of the location of wildlife.
Note: Some folks are happy to let you look through their scope and others not. Many of the "wildlife safaris" only let paying customers view. I had the best luck with people who looked independent.
After you complete the drive, you can either head out of the northeast entrance (if you are going that way), or backtrack. If it's midday consider stopping in Cooke City for lunch. My most recent visit I stopped at the Beartooth Cafe for lunch.
If you backtrack, keep your eyes peeled again but also take the time to stop at sites on the way back. There's a few trails along the way, but if it's hot make sure you have lots of water. Be sure to keep your distance from wildlife!
Following this, head to your hotel, or if you plan to visit Grand Teton, stay somewhere close to that park. Jackson WY is a better option than somewhere near Yellowstone.
Day 14: Grand Teton National Park
If you can muster an early start, catch sunrise from Mormon's Row. One of the best places to view the light in the morning over the Tetons. You'll unlikely be alone though, so an early start is important.
Take a scenic drive along the park road. Stop at the various overlooks for some beautiful views of the Tetons.
Take a drive down to Schwabacher Landing. The road is rough but even sedans should be ok. Be sure to drive to the end (near the toilets) and park and hike out. This is also one of the best places to see moose in the park wading in the river. The views of the mountains are great too.
Be sure to especially stop at the Snake River Overlook where Ansel Adams made his famous photo of the Tetons. Other overlooks are worth a stop too.
Continue along the loop in the park. If you are hungry consider stopping at one of the lodges (such as Jackson Lodge) along the lake for breakfast or lunch.
Continue along Jackson Lake and the road. Stop at any overlooks you find interesting. Continue on to Jenny Lake.
Take a quick stop at the visitor center to explore information and history of the park. This is also near where you take the boat across Jenny Lake. Boats tend to leave about every 10-15 minutes from the nearby dock.
Take the boat across the lake. Pay attention to the last boat (otherwise you'll need to walk back).
Take the trail from the boat dock up towards Inspiration Point. Along the way you'll pass Hidden Falls. Don't do what I did and miss it on the way up!
Following this you can continue along Cascade Canyon or turn around. Just remember the further you go the further the return!
Catch the boat back across the lake or walk if you are up for it. It's about 2 miles (30 – 40 minutes) back to the visitor center.
If you haven't visited, drive to Jackson and grab dinner somewhere locally. My favorites include Bin22, Liberty Burger, and Gather. Two of those I know are pricey, but so is Jackson.
Build Your Own Itinerary
Use the information and details on all the locations described in the suggested itineraries. This gives you a list of even MORE things to do in each spot.
Make your own itinerary by taking ideas from the locations in this guide.
Minneapolis & St. Paul
The Twin cities are one of my favorite cities in the United States and require a few days to explore properly.
They are both beautiful towns with a lot to see, and they are super clean, well run, and a joy to explore.
There's differences for sure between the two towns. Even though St. Paul is the capital, it is smaller, and very quiet in comparison to Minneapolis.
There's obviously some of the famous spots like the Mall of America, but there's also great nature, culture, art, and more.
I found it very interesting to find both strong Scandinavian culture in the city as well as a strong Somali community too. So much to explore between the two indeed as well.
Things to Do
Where to Stay
There's a lot of spots to stay in Minneapolis. Below are just a few we recommend.
Moxy Uptown: Fun hotel in one of a great neighborhood
Radisson Red: Nice Location, clean hotel. Downtown but close to the River
Hyatt Place St. Paul: Nice spot with an extended stay feel. In quieter St. Paul by the River
Where to Eat
Detour: St. Croix National Scenic Riverway
Location: 401 N Hamilton St, St Croix Falls, WI 54024
This is for the dedicated National Park unit collector. The site protects over 252 miles of river along the St. Croix and Namekagon River as well as land along the river banks as well.
The main attraction of the park is the river, and really without getting on the water you'll miss a lot of what there is to experience.
There is a visitor center with history of the area, its impact and importance to native cultures, national park stamps and more.
There are also walking trails from the visitor center along the river and bridges you can visit as well. There's also good opportunities to see wildlife.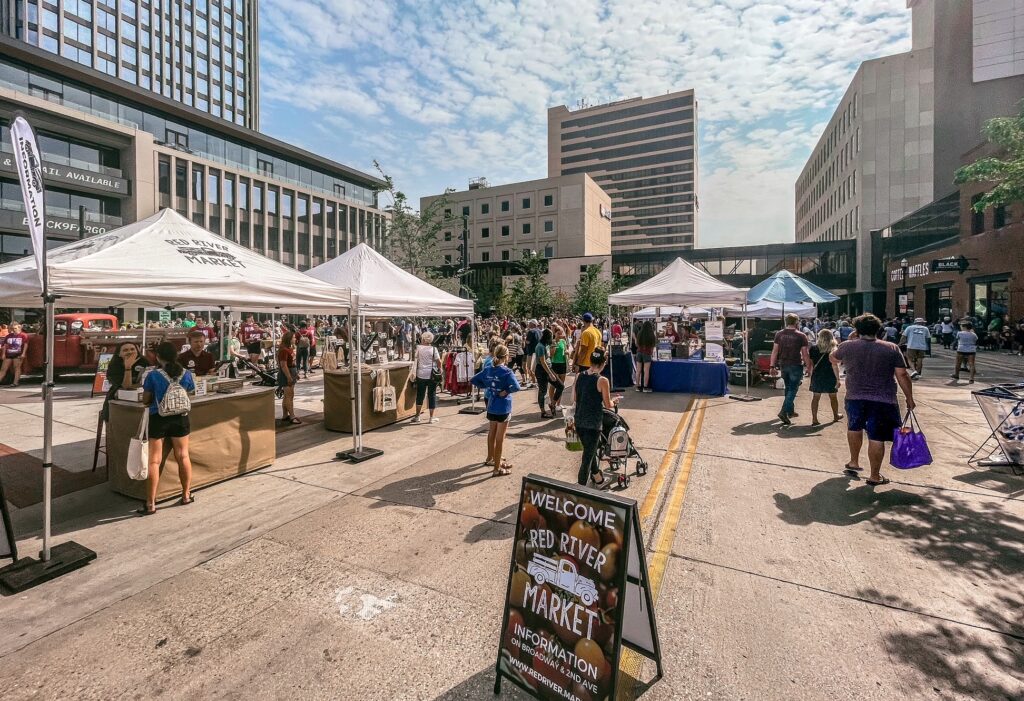 Fargo North Dakota
One of my strangely now favorite towns is Fargo. It's got a hip feel and it certainly was not what I expected. Mostly because my only knowledge was a movie that didn't take place in the city.
Fargo has an interesting history, lots of cool spots to explore, nice folks, and an overall fun feel. You'll be passing by here on your travels and would do yourself a disservice if you didn't stop.
Below are some of our recommendations on things in Fargo to check out.
Be Sure to Check Out: Best Things to Do in Fargo North Dakota
Things to Do
Places to Stay
Places to Eat
Quick Stop: Jamestown
Location: 404 Louis Lamour Ln, Jamestown, ND 58401
There's not too much to the town of Jamestown for the road tripper through North Dakota. However, it does have a cool little historically created "frontier village" you can explore.
Beyond that, the most "famous" thing in the town is the world's largest buffalo. You'll find this buffalo at the end of the road through the frontier village.
Overall, you can spend a bit shopping at stores and wandering around, or take a quick photo and leave. Several of the shops and galleries are definitely fun to wander through. Either way it's worth a quick pop in as it's along the route.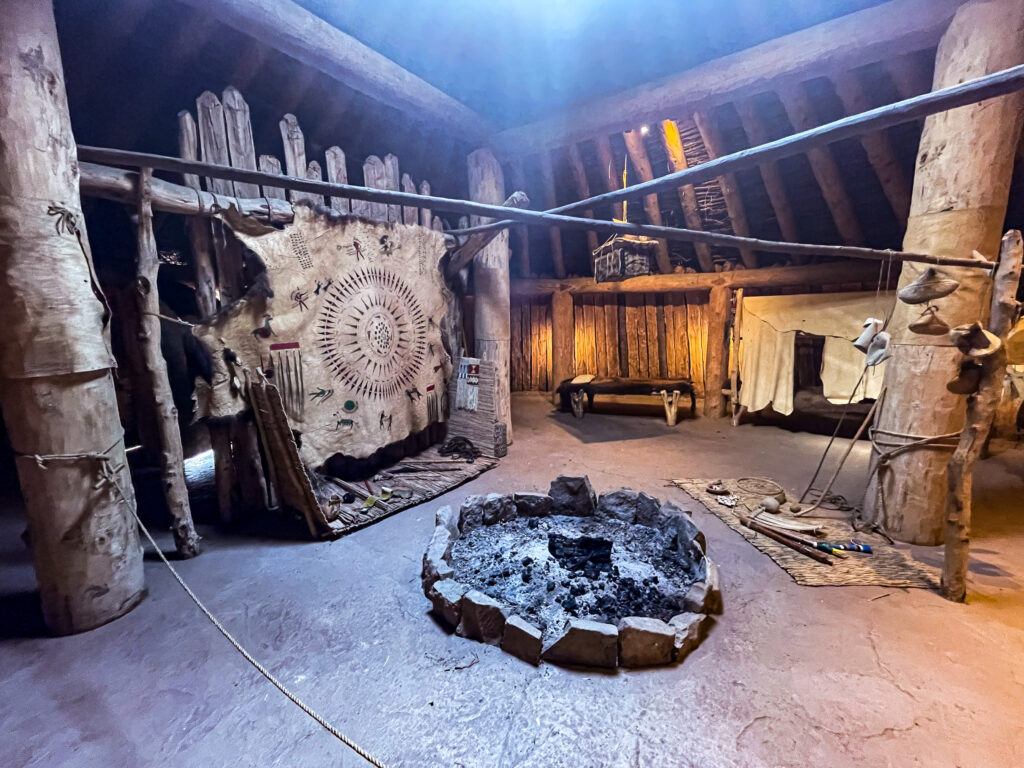 Detour: Knife River Indian Village NHS
Location: 564 County Rd 37, Stanton, ND 58571
The site was a major Native American village and trading post area for hundreds of years before European settlement in the area. These days there are a lot of archaeological works that have been ongoing in the area to unearth (literally) and understand life and history of the area.
It is also an important Lewis & Clark historical location as well, as it was where Sacajawea was born and lived. It's worth a quick stop for an hour or even more, you can see a local earth lodge and maybe even some archaeological digs!
Read More: Guide to Knife River Indian Village NHS
Detour: Fort Mandan, North Dakota
Location: 2576 8th St SW, Washburn, ND 58577
Fort Mandan is a North Dakota State Park that protects the location of the winter residence for Lewis in Clark during the journey west.
The expedition spent the winter of 1804 – 1805 in the fort and it was where they planned much of their westward trip, connected with locals, and even met their important Indian guide Sacajawea.
The fort itself is not original, it is a reconstruction of the fort that existed here based on expedition journal entries. The location is a best guess as well as the original location has been lost.
The site has a Lewis & Clark exhibition center as well as trips to Fort Mandan. You'll need to book a tour to visit the fort. The fort is a state park so no National Park passes are accepted.
Bismarck North Dakota
Bismarck, while the capital of North Dakota, is a sleepy town in comparison to many other capitols I've visited. It's a lovely town along the Missouri River and the outdoors are actually quite great in this town as well.
For those visiting on a road trip, it's a cool stop for those interested. However, based on a lot of the activities you'll be up to, it is also skippable if you are short on time.
At the very least, it's a great place to spend the night between Fargo and Theodore Roosevelt National Park.
Things to Do
Places to Eat
Places to Stay
Holiday Inn: Not close to downtown, but close to the highway for easy on/off
Radisson: Best option for walking to downtown spots.
Fairfield Inn: I always have to recommend a Marriott (lifetime platinum here). I liked this hotel. Also Usually has better prices.
Theodore Roosevelt National Park
Named for the 26th US President, Theodore Roosevelt National Park protects incredible sections of the North Dakotan Badlands.
Visitors here can explore one of the most beautiful but strangely infrequently visited parks with lots of incredible landscapes, hikes, wildlife, and history.
The Park is divided into two units, north and south. The two units are not connected by roads internally, although there are options to hike between. Hiking between is traversing wilderness that is not frequently visited and requires extra planning, camping permits, and supplies.
If you are short on time, focus your time on the South Unit with most access to hikes, history, and some great opportunities to view wildlife. There is a great scenic loop to drive to hit many top overlooks and sites.
Instead of trying to type out some options in this post. It is better to check our post on Visiting Theodore Roosevelt National Park.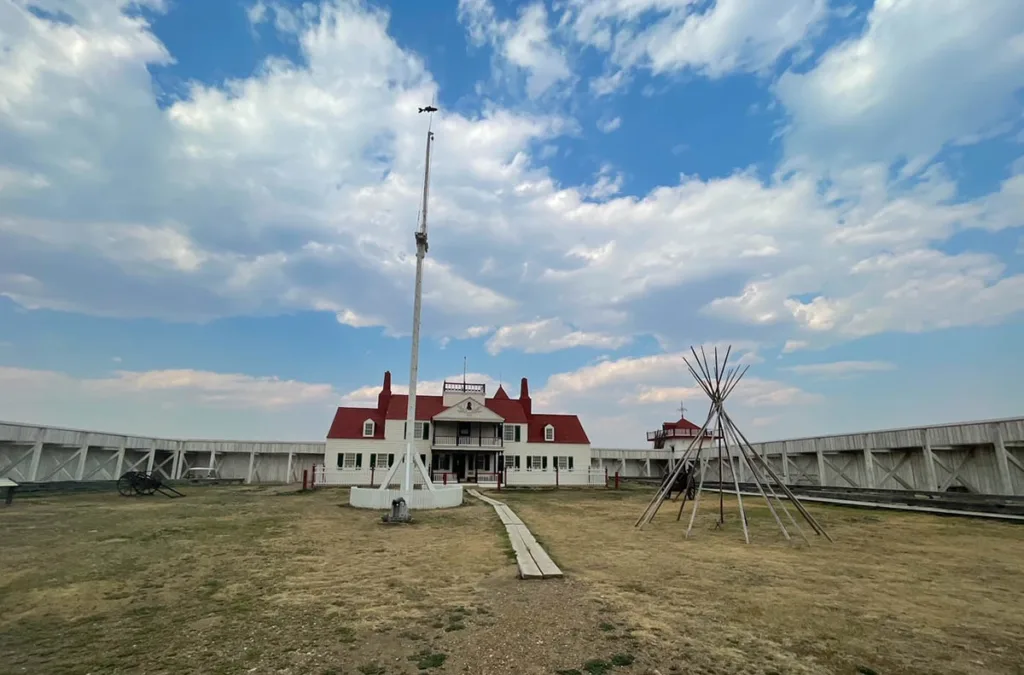 Detour: Fort Union Trading Post
Location: 15550 ND-1804, Williston, ND 58801
As described to me, Fort Union was once the "center of the world" in the 1860s. While, these days it seems to be far from anywhere, it was once a hopping trading post for fur trappers and others along the western Frontier. It was the most important fur trading post in the region.
The Park protects the beautiful Fort Union and even has rangers often in period dress who will discuss and display activities from the time period. You'll find lots of artifacts from the period, although many are replicas but it still gives off a sense of the time, importance, and place of the area.
Billings Montana
The largest city in the state of Montana, Billings really does large for the region it's in. It's also a great spot for jumping off to a lot of nearby attractions as well.
If you need to fill up on supplies during your road trip, there's lots of opportunities in Billings. I ended up buying a suit here once even when I had to fly to a wedding while on a road trip!
But Billings itself is probably not as exciting of an attraction as other places. It is a good base camp for exploring some of the sites below such as Pompey's Pillar and Little Big horn.
Billings is also great for those traveling between Bozeman and Theodore Roosevelt National Park as there's lots of hotels, camping, RV and other options in the area.
Note: The fort hours are on Central Time. Google Maps will give you an arrival time to the parking lot in Montana (Mountain Time) while the park itself is in North Dakota (Central Time).
Where to Stay
Where to Eat
Sassy Biscuit: Such a great breakfast/brunch option in Billings
Athenian: Delicious local Greek restaurant.
Stacked: Great spot if you want a burger. Other options as well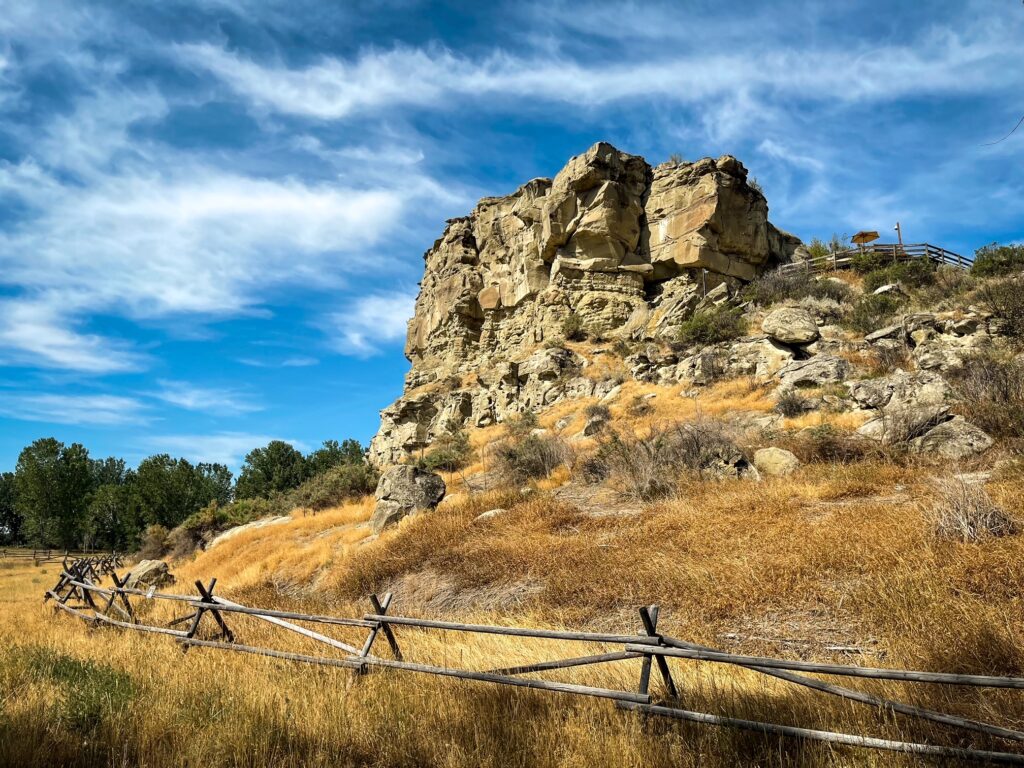 Quick Stop: Pompey's Pillar National Monument
Location: 3039 Hwy 312, Pompeys Pillar, MT 59064
Located on the banks of the Yellowstone River, Pompey's Pillar protects a rock outcropping that contains the signature of famous explorer William Clark (of the famous Corps of Discovery).
Visitors to the monument can explore both the pillar as well as a lovely interpretive center with information, movies, a shop, and more about the Pillar and the Lewis & Clark Expedition in general.
Even though this National Monument is not administered by NPS, you can still get a discount on entry for National Park Annual Passes. The site is open seasonally from May to Late September (8:30 am – 4:30 pm). The interpretive center is open 9 am – 4pm during operating dates.
Read: Our Guide to Pompey's Pillar National Monument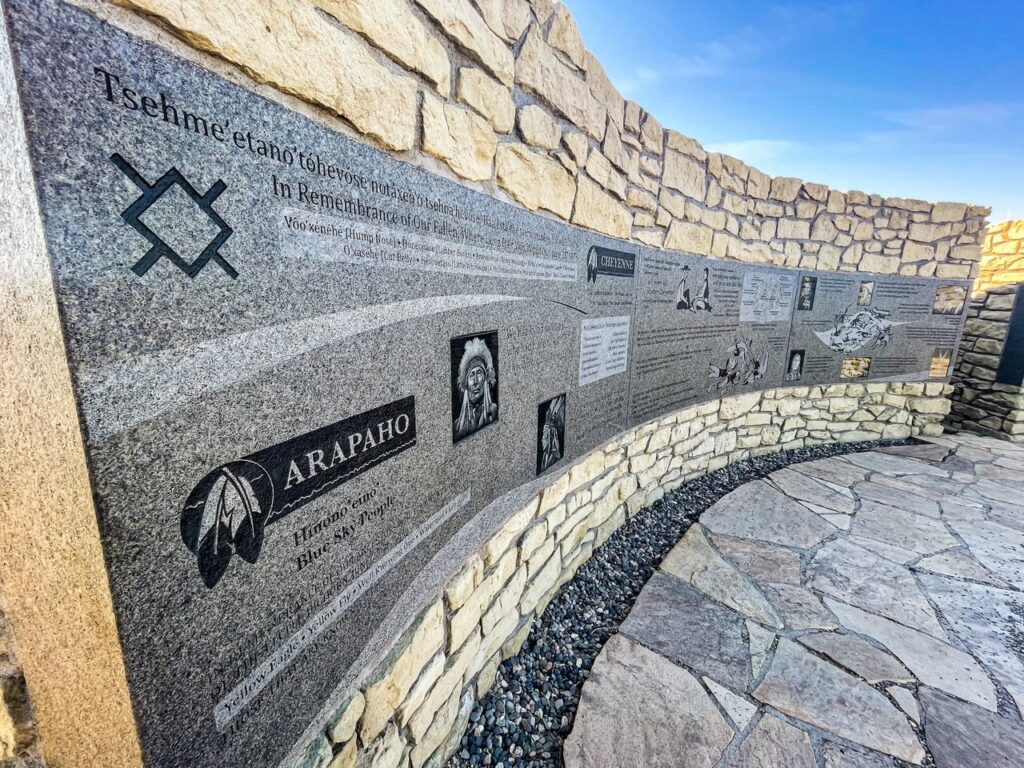 Detour: Little Bighorn Battlefield National Monument
Known by most school children in the US as "Custer's Last Stand", the Battle of Little Bighorn was an important battle in the American West.
The battlefield tracks the history of conflicts between natives and American troops and settlers as well as the important history of the location.
For most Americans, the most important American Indian names leaders they know like Crazy Horse and Sitting Bull come from this conflict.
The battle saw the troops of Custer engage the local Lakota, Arapahoe, and Cheyenne troops. This was one of several important battles that occurred during the Great Sioux wars throughout the west.
While the tribes were victorious, it was in a way hollow. There were soon to be steady declines and losses following this battle. Tribes and leaders including Sitting Bull eventually fled to Canada and facing starvation would eventually capitulate to living on reservations.
The site used to primarily focus on American actions, cemeteries, and monuments. However, over the years important markings for Indian gravesites and monuments were erected which finally acknowledged the struggle and losses of their people.
Explore More: Read Our Guide to Little Bighorn Battlefield National Monument
Bozeman Montana
Bozeman is one of the most visited locations in Montana and a top spot for exploring nearby areas as well as a fantastic destination itself.
The town is named for John Bozeman, who opened the Bozeman Trail which was an offshoot north of the Oregon Trail. The town has grown in size over the years although it still holds onto many of its own frontier roots.
There's quite a few popular attractions in town and the vicinity. Bozeman along with Montana is most famous for access to some incredible natural attractions.
Things to Do
Places to Eat
Places to Stay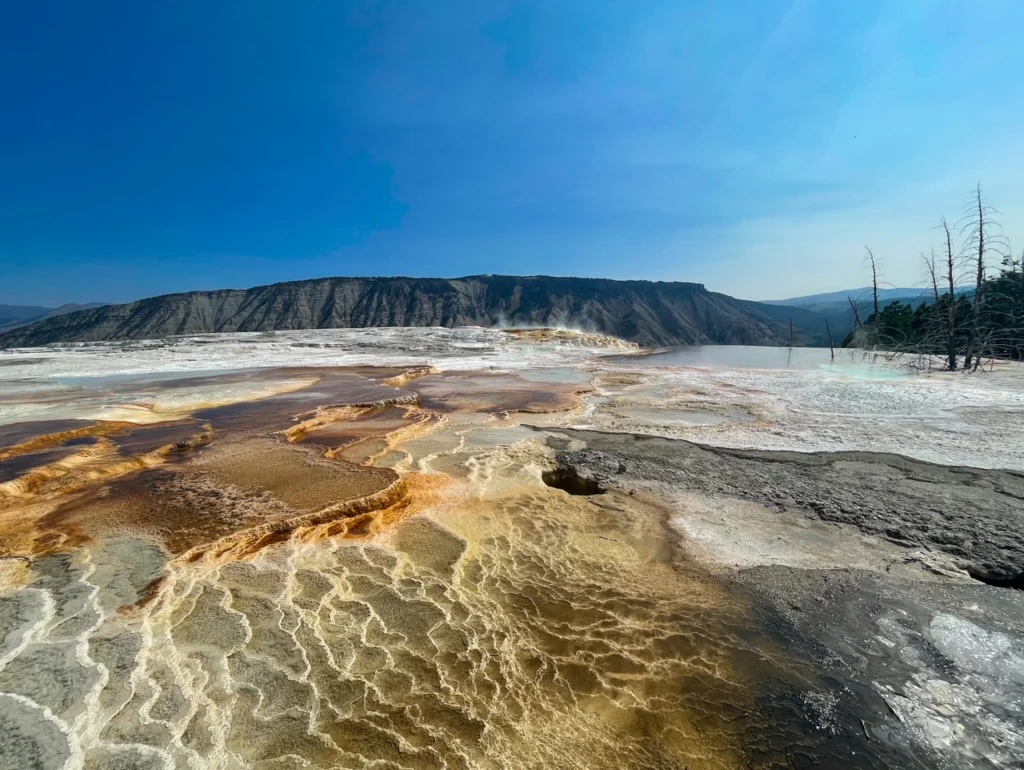 Yellowstone National Park
America's first National Park. And for good reason, it's one of the most diverse landscapes and habitats for some of the biggest North American wildlife. It's the first place I saw a wolf and a grizzly bear, and a place that I can't recommend enough to visit.
There's so much to do in Yellowstone, and while I work on a more complete guide it's important to know that it's huge! Like really big. And because of that distances between areas are far.
You'll need multiple days to see the park (and that's only for the highlights). And you should base yourself in an area and see things before moving on. As getting between places can take hours!
If your time is limited I would recommend visiting the geyser basin area, mammoth hot springs, and Hayden valley. If you have more time, expand to additional places such as near tower falls, lamar valley, and some of the longer hikes and mountains.
Things To Do
Old Faithful: Touristy, yes. But it's the most famous spot in the park. Don't limit yourself to this geyser, explore the adjacent upper geyser basin.
Upper Geyser Basin: There's a lot of geysers near Old Faithful and the upper geyser is an easy path to follow behind old faithful. My favorite was Lion Geyser, but all of these geysers are not as predictable.
Midway Geyser Basin: More Geysers and the famous Grand Prismatic Spring. It's crowded and the boardwalk is nice but the best views are from the overlook on the fairy falls trail.
Fairy Falls: Lovely waterfall, but even if you don't go, stop at the overloop for the best way of the Grand Prismatic Spring. Waterfall is definitely worth a stop if it's flowing well.
Artist Paint Pots: Colorful mud pots on a nice hiking trail. Best place to see this type also you'll see similar on some other trails
Steamboat Geyser: The warning about your car is scary but, You probably won't be there for a major eruption. However, as the largest geyser it can send water over 300 feet in the air. The rest of the geysers are worth a wander about as well.
Mammoth Hot Springs: Beautiful hot springs and travertine fountains. Be sure to take the hike up to explore
Fort Yellowstone: 1891 Fort. Most of it is now National Park administrative buildings. But there is also a museum and visitor center. Also a great spot to grab food and relax.
Grand Canyon of Yellowstone: Impressive canyon with an even more impressive waterfall. There's two parts to the waterfalls and I'd recommend taking the trails to both. The lower falls are the most impressive. Catch the views from Artist Point, Inspiration Point, Lookout Point, and Uncle Tom's Trail.
Hayden Valley: Hayden valley is a great place to catch various wildlife. There was high bear and wolf activity during my time here. Ask rangers about activity and closures
Lamar Valley: The best location for wildlife viewing but further from other sights in the park. Especially worth exploring if you are coming / going from the east entrance to the park.
Tower Falls: Beautiful waterfalls with a 132 foot drop. There's a trail as well as an easy to reach overlook.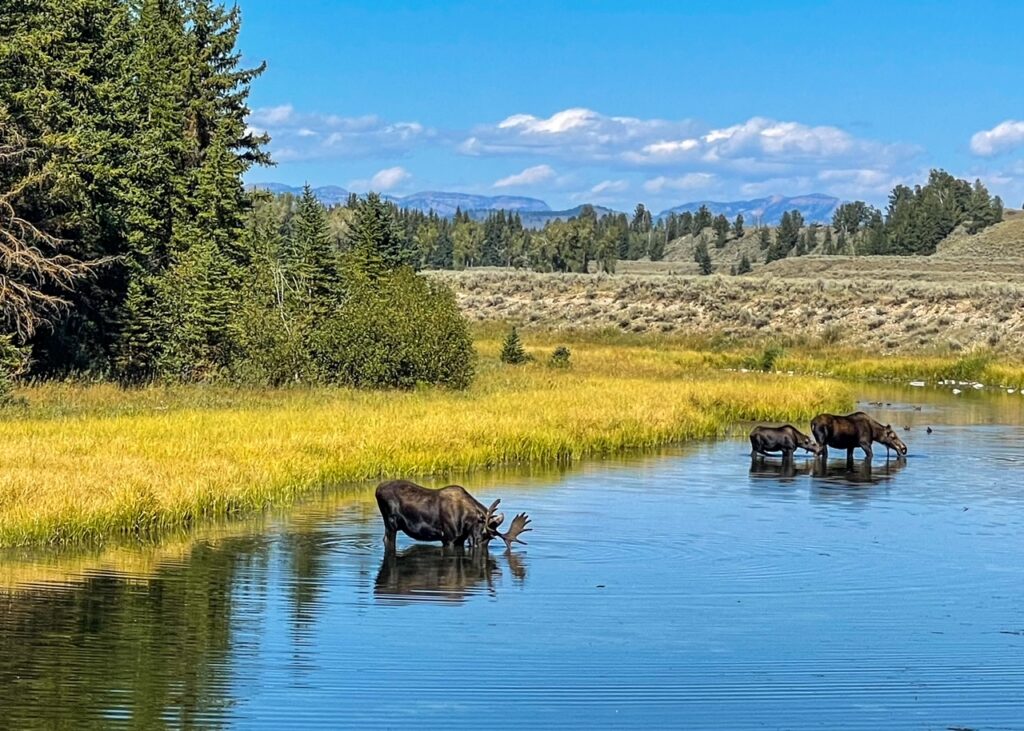 Detour: Grand Teton National Park
While this guide is to Yellowstone, don't sleep on Grand Teton NP. It is one of the best national parks in the country and one of the most beautiful places in the US. The distinctive peaks of the Tetons rise up so dramatically from the landscape.
Much of the park requires some work getting to. However, you can visit quite a lot of the highlights easily from the road as well as on a day trip from Yellowstone.
The park has some amazing in-park hotels as well as camping. However, they tend to book up even faster than those in Yellowstone. Consider staying in nearby Jackson if you can't book in the park.
Things to Do
Catch the views and hopefully wildlife from the beautiful Schwabacher Landing.
Spend sunrise catching colors from Mormon Row
Take a hike and the views from the Tetons over the landscape from Inspiration Point
Hang on the shores or catch a boat across Jenny Lake
See if you can get the same photo as Ansel Adams at Snake River Overlook
Go horseback riding at one of the adjacent ranches
Where to Next?
There's a lot of spots to go after Yellowstone. If you are continuing your travels north, we have a nice road trip to Glacier. Or if you are heading south follow our guide to Salt Lake City.
Tips & FAQs
Be sure to fill up when you see gas. It can be long distances between towns and gas stations
Bring a cooler. This was clutch for lunches, drinks and more. You can get a cheap one at Walmart
Bring bear spray for Yellowstone. Best place to get it is Costco
Keep your Distance from Wildlife. I've seen people do really dumb things. Don't be a statistic or someone's YouTube/TikTok video.
Pack it in / Pack it out. Leaving nothing behind. Don't disturb areas, make cairns, etc. Leave it as good or better than you found it.
Start Early. It's better to view wildlife, for temperatures, crowds, etc. If you have few days, expect long days to really pack it in.
Get a National Park Annual Pass. You'll visit at least 3 parks on this trip. You'll benefit from it on this road trip alone.
Other Posts you May Like