A Colorado National Park Road Trip is one of the best ways to see this amazing state. Colorado is one of the most beautiful and diverse states in the United States. Did you know that the highest Sand Dunes in North American, incredible Alpine mountains, historic Puebloan dwellings, dinosaur fossils, and more are in this state?
Yes. It's really one of the most incredible diverse set of National Parks.
I tried to visit all of the parks not only to explore these myself, but also to provide information to you on how to best visit them.
About This Road Trip Guide
This road trip will take you through the National Parks and several National Monuments of the State. To give you the highlights of what to see.
This Road trip gives you options for 10+ days. It's not really doable for less time unless you really haul and then you'll basically miss a lot of things. Sadly the distances are huge between some of the locations. We did our best to give you what to do and how to go between places.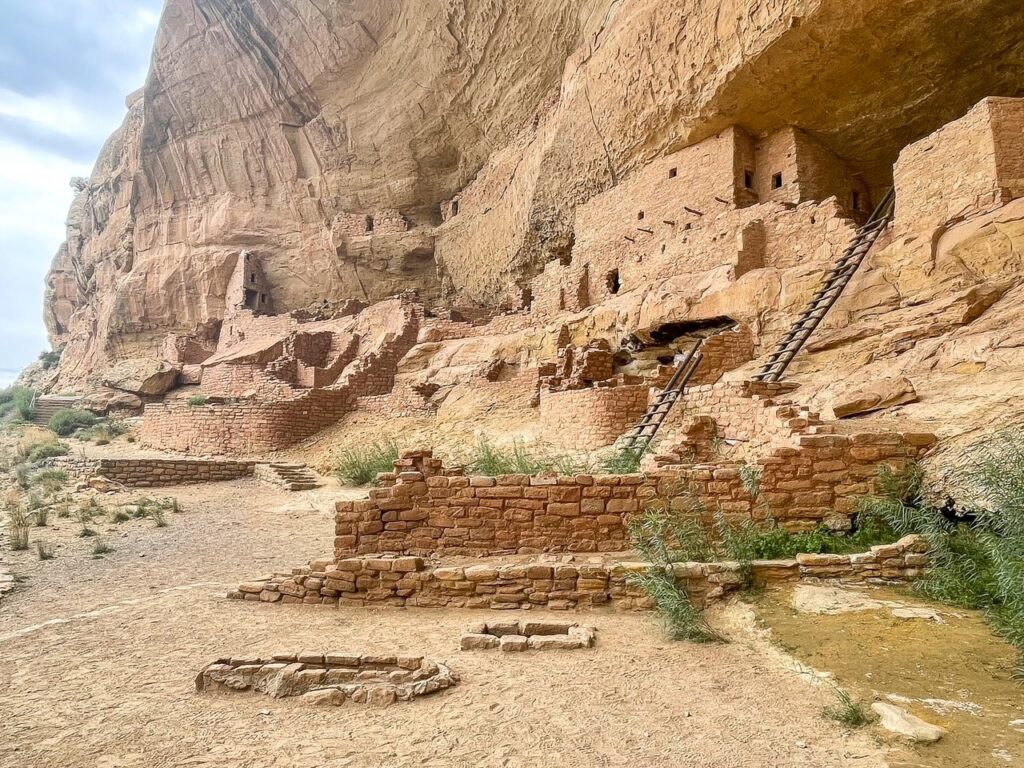 Where should you Start this Road Trip?
I purposely made the road trip a loop to allow you to start at any point in the trip. I think Denver, For Collins, Colorado Springs, or Grand Junction are probably the best locations to start for access to airports and services. Denver would be my choice due to the large airport, access to rental cars, and more. It's also about 1.5 hours from Rocky Mountain National Park.
When Should you Do the Road Trip?
In reality this road trip is really only possible during the warmer months of the year. That's because many areas will be closed due to snow in the late fall to early spring.
Summer is definitely the high season for most of these parks. However, some of the parks, in particular in the sand dunes and desert areas will be really hot in the summer.
Our recommendation is September for the road trip. It's the perfect blend of weather as well as services and crowds for the various parks.
Recommendations for Other National Park Sites
There's a lot of driving to this road trip as well as a lot of stops. We'll also suggest other possible stops if you have extra time or interest.
Some of them, like the monuments near Mesa Verde have similar things to see as you would in Mesa Verde. They are ok to skip if you are short on time.
The other parks in eastern Colorado are worth visiting as well, such as Sand Creek Massacre. Although they are not really on the way to anywhere else and are a bit longer to visit. They could be visited as side trips or another trip all together.
Recommended Itinerary
There's no perfect itinerary. However, we think this will give you a chance to see the highlights of the various places.
You can certainly cut a day (or extend) Rocky Mountain National Park. Or extend any of the other places as well.
Day 1: Rocky Mountain National Park. Drive to the park early and explore some of the recommended sites. In particular if you can do Bear Lake today or tomorrow.
Day 2: Rocky Mountain National Park: Continue your time in the park. Explore hikes within the park that interest you. Drive through the park.
Day 2: Rocky Mountain National Park: Continue your time in the park in the morning. Drives to Denver. Overnight in Denver.
Day 3: Denver. Explore this beautiful city. Drive to Colorado Springs in the Evening. Overnight in Colorado Springs.
Day 4: Colorado Springs and Florissant Fossil Bed National Monument. Explore Colorado Springs and the National Monument. There's enough for you to see that day.
Day 5: Great Sand Dunes National Park. Drive early (or the night before) to Great Sand Dunes National Park. Pick up your sand board, hike the dunes, and explore the area. Overnight in Great Sand Dunes.
Day 6: Mesa Verde National Park: Leave early to Mesa Verde National Monument. This is a long drive. Breakfast or early lunch in Durango or Mancos. Do an afternoon tour (recommend Long House) and explore Wetherill Mesa. Mesa closes at 4:45. Take in other hikes.
Day 7: Mesa Verde National Park: Pick another one or two tours (Balcony House and/or Cliff Palace). Explore Archeological Museum and other areas of the park still remaining. Drive to Black Canyon of the Gunnison. Overnight near Black Canyon of the Gunnison.
Day 8: Black Canyon of the Gunnison: Head to the park early to catch sunrise at the park. explore to south rim in the morning, have lunch in Montrose and then afternoon on the north rim. Drive to Grand Junction in the evening. Overnight in Grand Junction.
Day 9: Colorado National Monument: Spend the day explore Grand Junction and Colorado National Monument. Do the rim drive which will take a few hours and stop at any hikes or overlooks that interest you. Drive to Dinosaur National Monument in the evening. Overnight in Dinosaur National Monument.
Day 10: Dinosaur National Monument. If you can get moving early explore the canyon area of Dinosaur National Monument and other parts of the park. Visit the Dinosaur Quarry after it opens. Complete any other hikes you may be interested in. Drive to Steamboat Springs. Overnight in Steamboat.
Day 11: Steamboat to Next Destination. If you are planning to head back to Rocky Mountain, Fort Collins, or Denver, recommend taking in a few sights along the drive.
A / J. Rocky Mountain National Park
The most popular and well known of the Colorado National Parks. Rocky Mountain National Park protects some of the most stunning alpine areas of Colorado and the Rocky Mountains overall. Established in 1915, the park covers over 265,000 acres. You can see many of the highlights in a day or two. However, definitely to really explore the park. more time is required.
Note: There's quite a lot of the park, including roads above 10,000 feet. You should be sure you are acclimated to the altitude before visiting the park.
Best Times to Visit
Summer is the most popular and best time to visit Rocky Mountain National Park. It's when the most services and areas of the park will be open. During other parts of the year, roads within the park will close due to snowfall.
September is great to visit the park in particular. Crowds start to die down during this time as well.
Note: You'll need to reserve timed entry tickets to enter the park. There are two options, those with and those without Bear Lake. You can also enter before the times if you are an early riser. Reserve yours on recreation.gov.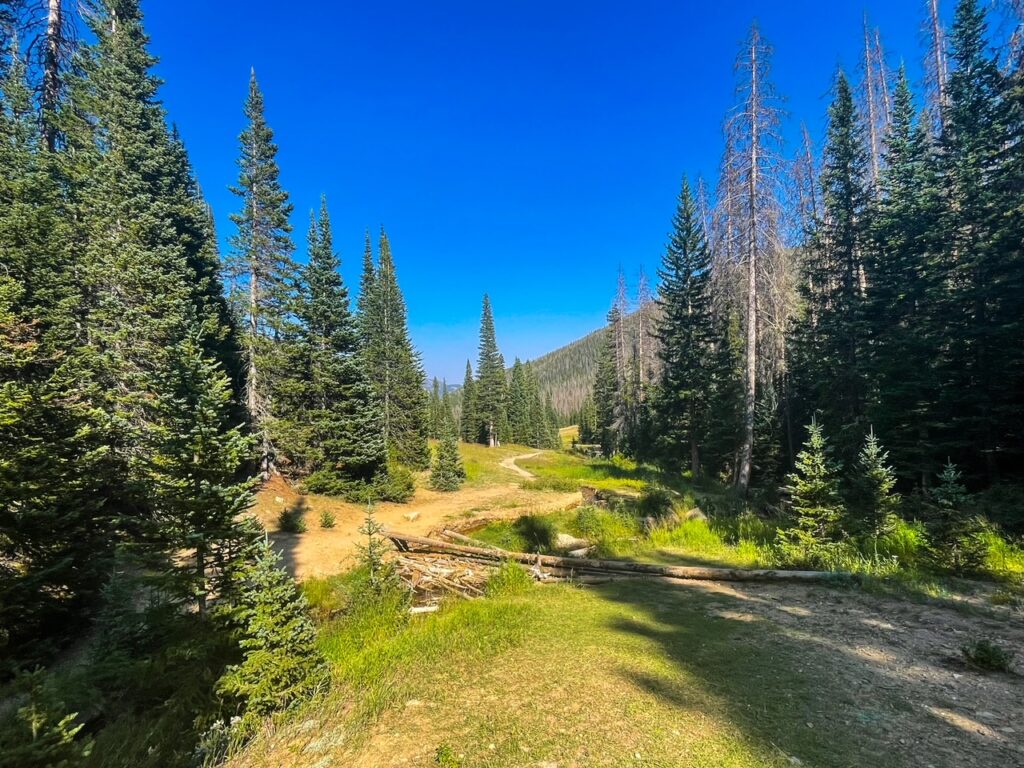 Things to Do
Drive the Scenic Trail Ridge Road: The 48 mile road travels through the alpine area of the park and tops out at over 12,000 feet. You can feel the elevation up at this point. And just stunning views.
Bear Lake: The beautiful Lake is one serene and just stunningly beautiful. And very popular. So be sure to go early.
Spend at least a night Camping: Camping out in the park is quite magical with high altitudes and beautiful clear skies. It's also the only way to stay in the park boundaries.
Alberta Fall Hike: One of the more popular hikes. 1.7 mile easy trail to a beautiful waterfall.
Nymph, Dream, and Emerald Lakes: Moderate hike that allows you to see beautiful alpine lakes. You can do 1, 2, or all 3 of the lakes (as well as Bear Lake). Starts in the Bear Lake area.
Deer Mountain Trail: 6 mile out & back hike close to Estes Park. Moderate hike with sweeping views.
Chasm Lake: Strenuous hike with beautiful mountain views and peaks surrounding he lake. 8.8 miles.
Long's Peak: Highest Point in Rocky Mountain National Park. This strenuous hike will take most of the day and give you serious bragging rights. Difficult hike with rock scrambling and exposure. Not for the unprepared.
Places to Stay
If you want to stay in the park, camping is the only option. Below are several of the campgrounds available in Rocky Mountain National Park. Additionally, there are backcountry primitive campsites for those with backcountry permits.
For hotels, staying in Estes Park is a good base of operations. Also recommend checking options on vrbo or AirBNB.
B. Denver
Denver is the perfect transit location for all of the parks in this guide. However, we recommend spending at least 1 full day in Denver. You can do it after Rocky Mountain National Park or at the beginning or end of your trip. We think it makes a good way to break up the travel after the park.
Things to Do
Below are some of the great things to do in Denver. For more information, check out our post on Best Things to do in Denver.
Explore Capitol Hill area: The oldest area of the city and one of the most beautiful. Explore Capitol Hill, museums, the old mansions. There are also some cool ghost and city tours of this areas as well.
Eat at a Food Hall: Explore and sample local cuisine at one of the food halls. This includes Edgewater Public Market, Denver Central Market, Milk Market, the Source, and more!
Immerse in Art at Meow Wolf: It's very trippy and one of the more interesting art installations I've seen. Pricey but a unique experience.
Denver Art Museum: One of the world's premier art museums. Beautiful collection of art and photography from around the world.
Red Rocks Amphitheater: If you happen to be in Denver during a show, highly recommend catching a performance here. Even if not, it's a cool place to explore, hike, and exercise.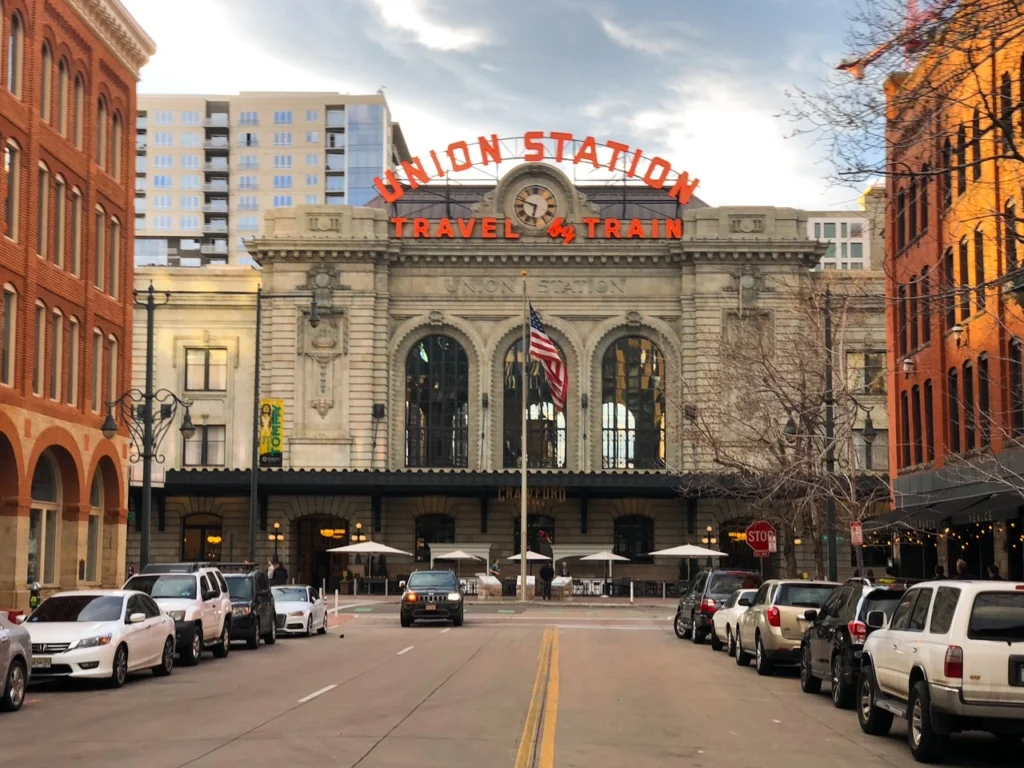 Places to Eat
Places to Stay
Denver hotels are ridiculously expensive, in particular anywhere that would be easy for walking. Some of the below are downtown and some outside of the city area to save money.
C. Colorado Springs
Colorado's second city, the springs are worth a stop on their own. However, for the purposes of this guide, we will be using them more as a layover point. We are recommending to combine your time here with section D. below.
You should take the time to see some areas of Colorado Springs during your stay. We are recommending you spend the night here on the way south towards Great Sand Dunes and beyond.
If you have more time, spending extra time in Colorado Springs will not be wasted.
Things to Do
There's so much to do in Colorado Springs. We'll recommend a couple places below, and be sure to check our post on best things to do in Colorado Springs.
Places to Stay
Places to Eat
D. Florissant Fossil Beds National Monument
Exploring Florissant Fossil Beds National Monument is worth a quick side trip. The Monument protects interesting insect fossils as well as petrified redwood trees. You can see the highlights of the park in a few hours, or if you really want there are ways to spend the entire day. We recommend doing this for part of the day and either starting or ending in Colorado Springs.
Note: Many areas of the park close at 5pm, such as the parking lot (they lock the gate). So be sure to be out by then. You can access other areas later in the day.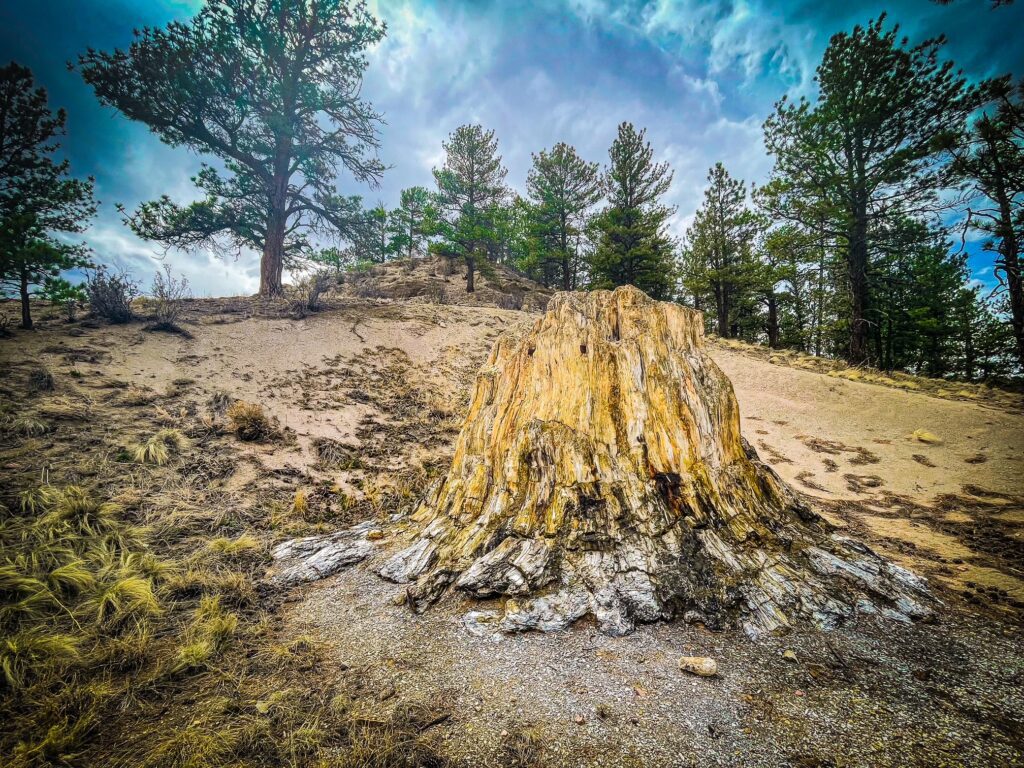 Things to Do
You can explore our full post on what to do at Florissant Fossil Beds. However, these are also a few of the highlights below.
Petrified Forest Loop: Explore the really interesting Petrified Redwood Trees. I had no idea there was a redwood forest here in the distant past.
Geological Trail: An interpretive (has signs on different aspects along the trail) that follows the geological history of the area.
Hornbeck Homestead: The 1878 homestead is in great condition and still on the original location. The homestead was owned by Adeline Hornbeck a single mother of four children.
Places to Stay
We recommend staying somewhere in Colorado Springs above. However, if for whatever reason you need to stay near Florissant Fossil Beds, we have a couple recommendations.
Rampart Range Resort: Located in Woodland Park. Pricier, but has some great rooms and options.
Pikes Peak Paradise: Also in Woodland Park (but closer to the monument). Gorgeous Property with beautiful views and lots of charm.
Microtel Inn & Suites: Decent option with clean rooms and free breakfast. A bit more of a drive.
E. Great Sand Dunes National Park & Preserve
When you think of Colorado, you don't think of sand dunes. But in reality, the largest dunes in North America are in this landlocked mountainous state.
The sands have gathered here for millennia, being blown from the south and then trapped within the mountain range here. It's pretty incredible to see the snow capped peaks surrounding this field of sand.
It's unlike anywhere else you've likely been. And you'd be amiss to not visiting it yourself.
Best Times to Visit the Park
Summers are very hot in the park and winters quite cold. Late spring to early autumn is the best time to explore Great Sand Dunes National Park. We recommend September as our favorite month (and favorite month for the entire trip). You'll get the best opportunity for weather and access to everything.
Winters can be fun in the park, although cold. You will also likely have it all to yourself. There will also be more rain and snow to contend with too.
Overall the weather is also very windy. We recommend to wear eyewear during your visit.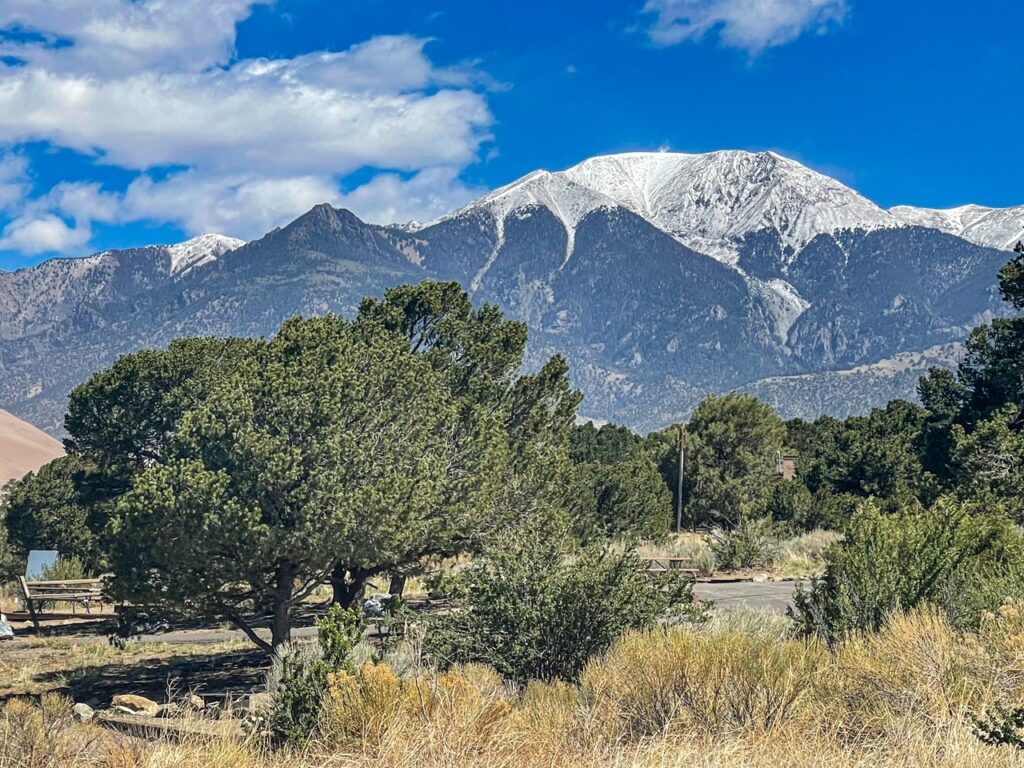 Things to Do
There's a lot more to do than we can explore in this post. Be sure to check out our Guide to Great Sand Dunes National Park & Preserve for more advice.
Hike the Dunes: And if you are feeling bold, hike to the highest sand dunes in North America (Star and Hidden dune).
Camp out under the Stars: If you can snag a permit, camping on the dunes is a highlight of any trip. You'll need to reserve a backcountry permit however.
Go Sandboarding or Sledding: You'll see tons of folks zooming down the mountain. Rent a sand specific board from a local retailer.
Places to Stay
F. Mesa Verde National Park
The beautiful Mesa Verde National Park includes over 600 cliff dwellings and thousands of other important archeological sites. There's an incredibly rich history of human civilization in this park and seeing these places is a privilege. Established in 1906, the park protects these areas that were inhabited for over 700 years.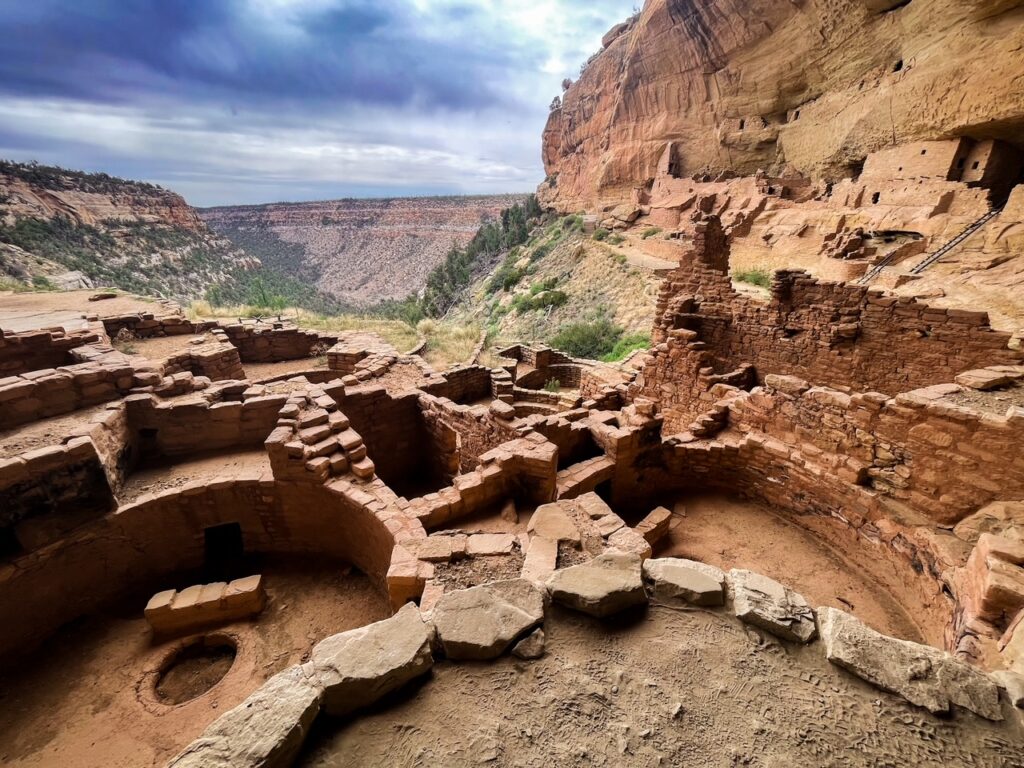 Best Times to Visit
Late Spring to Early fall is the best time to visit Mesa Verde National Park. During the winters, tours are no longer being held and most of the roads through the park close. While it is possible to access trails and certain areas of the park, the main attractions for the park are not accessible.
Things to Do
There's a lot to see and do in Mesa Verde National Park. We recommend also checking out our Guide to Mesa Verde National Park for more information on things to do. Below are some of the highlights.
Explore Cliff Palace: The Largest of the Cliff Dwellings in the Park. Be sure to book your reservation ahead of time.
View the Beaver House Dwellings. The set of 4 pit houses is a quick high around along Wetherill Mesa.
Take in Step House. One of the best small examples of cliff dwellings and pit houses adjacent to one another. And one you don't need a reservation for.
Descend into Balcony House: One of the most popular of the toured cliff dwellings. It's small with limited availability so be sure to reserve!
Explore the Archeology Museum with it's collection of local artifacts and exhibits on Mesa Verde's history.
Places to Stay
Morefield Campground: 267 sites. Located 4 miles from the entrance. Camp store, laundry, showers, and internet.
Far View Lodge: 150 rooms. Some with great views. Private rooms, baths. Facilities also have a restaurant and store.
G. Black Canyon of the Gunnison National Park
The imposing canyon walls are the first thing you probably notice when you enter Black Canyon of the Gunnison. Also, while the canyon walls are black, the black in the name comes from the fact that many areas of the canyon only see a few minutes of sunlight per day.
Exploring the canyon rims is beautiful, with the changing colors of the walls throughout the day. Entrance into the canyon is possible, but requires preparation and permits.
Things to Do
There's a lot to do in Black Canyon of the Gunnison National Park. You can see most of the highlights in a day unless you are entering the canyon. Below are a few suggestions. For more information, check our Guide to Black Canyon of the Gunnison National Park.
Painted Wall Overlook: Beautiful Overlook of the walls of the canyon. Great for sunrise or sunset as well.
Other Overlooks: Highly recommend stopping at various view points on the north and south rim. Some good ones include Chasm Point, Sunset View, Kneeling Camel, and the Narrows.
Warner Point Nature Trail: Moderate 1.5 mile trail. Quick trail out to viewpoints on the south rim.
North Vista Trail: 3 – 7 mile trail. I recommend hiking at least to Exclamation point. Beautiful view of the canyon and rivers.
Deadhorse Trail: Easy 5 mile round trip trail on North Rim. Along an old service road. I recommend the other trails first though.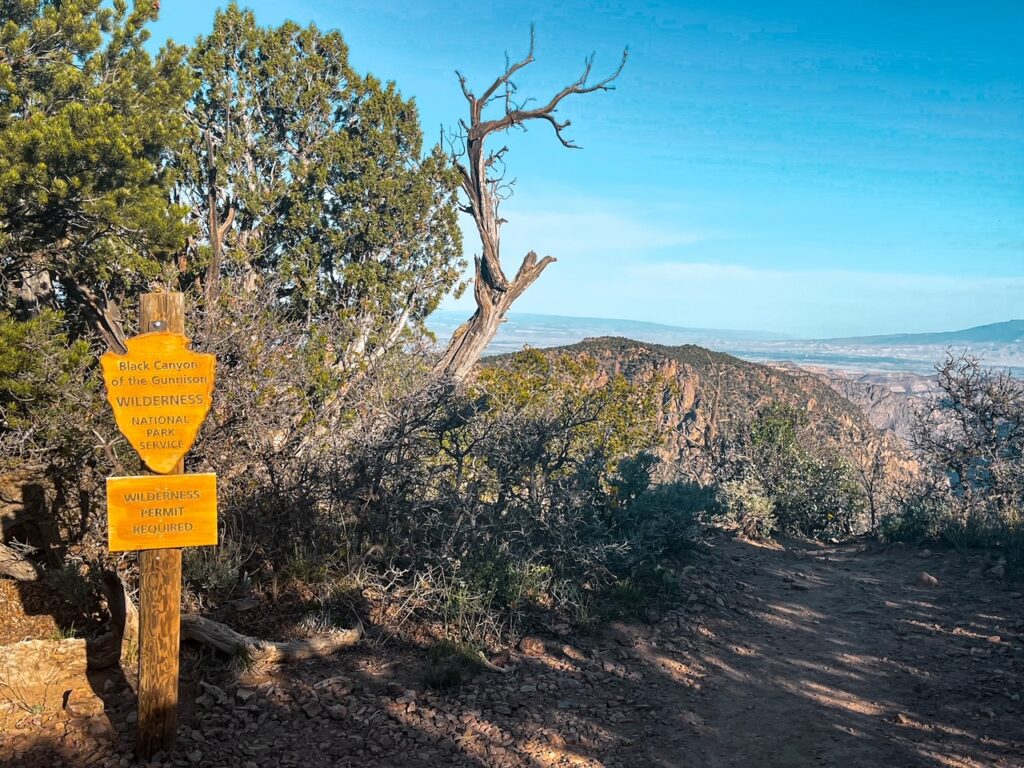 Places to Stay
There are two campsites within the park where visitors can stay, one on the north rim and one on the south rim. We recommend the south rim to reduce driving distances if you are following this guide. If you are going south after, staying at the north rim may be easier.
South Rim Campground: 88 sites. Most popular of the campgrounds. Reservations Recommended in summer.
North Rim Campground: 13 sites. All sites are first come first serve. More primitive of the two campgrounds.
There are several hotels in the area. If you are near the south rim, Montrose has quite a few options. For the north rim, Delta or Hotchkiss are great places to check out.
What to Eat
Lighthouse Eatery: Great place to grab a bite in between the two rims. Be sure to try their famous green chili.
Fiesta Guadalajara: Good selection of Mexican food. Large portions. Good Service.
H. Colorado National Monument
Colorado National Monument is an amazing canyon area nearby Grand Junction Colorado. It really feels like it's just out of place and rises up along the lower valley area. You'll see some beautiful junipers, rock formations, and expansive views. The area is larger than I had expected and it takes awhile to drive the rim road.
Things to Do
Drive the Historic Rim Rock Drive: The 23 mile drive takes you up to the rim and along the rim of the canyon and down into Juniper forests. Beautiful views and overlooks along the way.
Hike Otto's Trail and get a close up view of several monuments including Independence Monument
Or If you are here on July 4th. Watch the local climbers plant a flag at the top of Independence Monument
Canyon Rim Trail: Starts at the visitor center and takes you along the canyon walls. Continue past bookshelf to window rock.
Coke Ovens Trail: Unique rock formations that look like coke ovens. You can see from above or hike down for a closer look.
Places to Stay
For hotel options we recommend staying in Grand Junction below. It's our recommendation of places to eat and stay locally to Colorado National Monument.
H. Grand Junction
Grand Junction used to be a pretty sleepy Colorado town. However, over the years it has certainly grown both in things to do but in places to stay and eat as well. Some great restaurants are in Grand Junction. For this road trip itinerary, we are recommending using Grand Junction as a place to eat and/or stay the night en route to other places.
Places to Eat
Devil's Kitchen: Quite good food, located in the trendy Maverick Hotel. I would say nice views, but there's not a ton to see.
Bin 707 Foodbar: Pricey but good food with some local options. Meat is excellent
Cafe Sol: Tasty, reasonably priced salads and sandwiches. Locally sourced.
Places to Stay
Hotel Maverick: Great Hotel, Clean Rooms, and excellent service. Also home to the Devil's kitchen above. Surprisingly affordable for the area.
Springhill Suites: Great for the Bonvoy Point junkie. Clean rooms, good service and location.
Tru Hilton: New hotel with very clean rooms, good service, and good location. Hilton chain.
I. Dinosaur National Monument
This park is over 250 square miles of just wilderness. There's the western end where the Dinosaur fossils were discovered and the other areas that are just expansive canyons, rivers, and wilderness. It's possible to get lost and away from civilization for days.
The monument feels like a rarely felt isolated and wild place. Something that is harder to find these days. Also, having the opportunity to touch real bones is unique, as is getting to stay under the stars in a truly dark place.
Best Times to Visit
Late Spring to mid-fall are the best times to visit Dinosaur National Monument. Actually pretty much any time is going to guarantee small crowds as its not one of the most frequented parks.
Even during high season in the summer you'll see far fewer people than any other park nearby and even the campsites may even have open camping spots available.
Things to Do
There's a lot to do over this massive national monument. Be sure to explore our Guide to Dinosaur National Monument for more in-depth information and hikes. Below are some highlights.
Touch Dinosaur Bones in the Dinosaur Exhibit Hall. Located in the Dinosaur Quarry area, you can view in rock bones and even touch some!
Stargazing: Spend the night in the park (or even part of the night) and just see the incredible star illuminated sky. Spring you can even see the milky way too.
Take in the Canyon Views in the Canyon area of Dinosaur National Monument
Find Silence in the Sounds of Silence Hike. A lovely high through an old desert "wash".
See beautiful Petroglyphs in the cub creek area of the park. Including the famous "lizard" drawing.
Go Rafting on the wild Yampa river. The only remaining free flowing river in Colorado.
Places to Stay
There's hotels in some of the nearby towns. But if you are prepared and willing to do so, camping in the park is magical. It is one of the most beautiful dark sky areas I've been to. The night sky is without words.
J. Drive from Dinosaur to Rocky Mountain National Park
It's a bit of a drive from Dinosaur National Monument back to Rocky Mountain National Park or to wherever you want to end this trip. Maybe you are heading all the way to Denver for your return flight or to areas further east. If you are heading west you can check some of our other guides.
For those heading back east, we recommend breaking up the drive. Perhaps spending the night in a location on the way such as Steamboat or Fraser. There's also plenty to see and do along the way as well.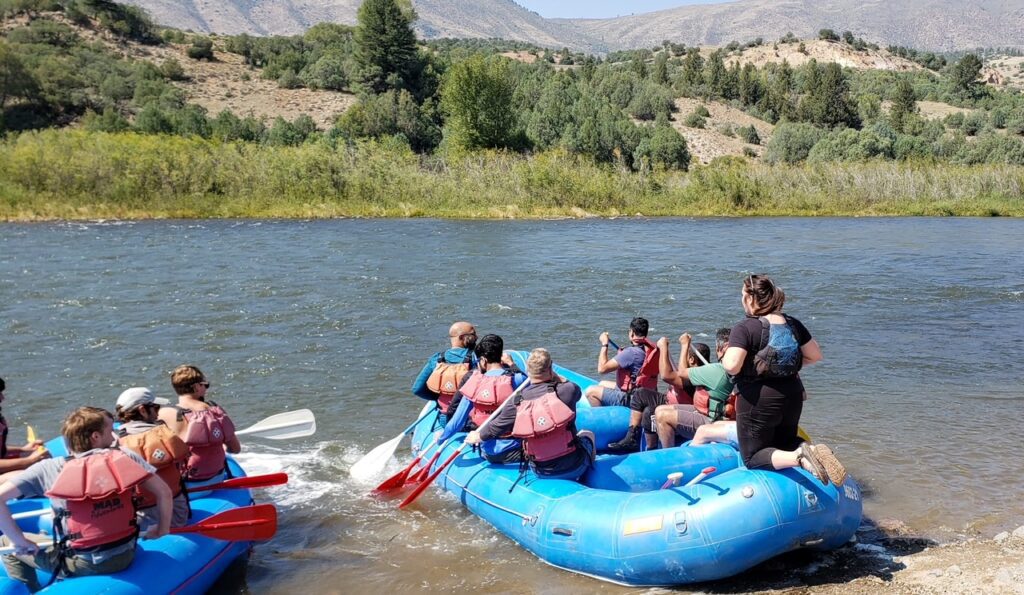 Things to Do
Strawberry Hot Springs: The first hot spring I visited in Colorado and one of my favorites. Open daily and even late into the evenings. Rest your muscles after this intense road trip. There's shuttles if you don't want to navigate the bumpy road.
Whitewater Rafting: There are quite a few whitewater rafting options along the way, including in Kremmling on the Colorado River and Clear Creek.
Mountain Biking: Steamboat has some great mountain biking opportunities. Also great options along the way in Fraser, Kremmling, Winter Park and more.
Gondola Rides: Scenic Gondola Rides on Steamboat Springs Mountain. Or for skiing in the winter.
Hiking: There's a ton of options for hikes along the way between Dinosaur and your final destination.
Places to Eat
Places to Stay
Other Posts you May Like